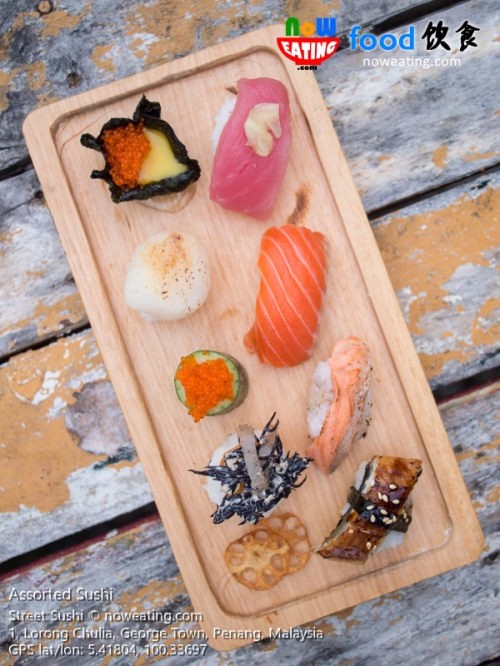 Shake, Maguro, Aburi Unagi and Hotate – the premium sushi usually found in Japanese restaurants in malls, are now available on food truck at much affordable prices.  Introducing Street Sushi (GPS: 5.41804,100.33697) – a food truck offering quality sushi (and a little more) at street price.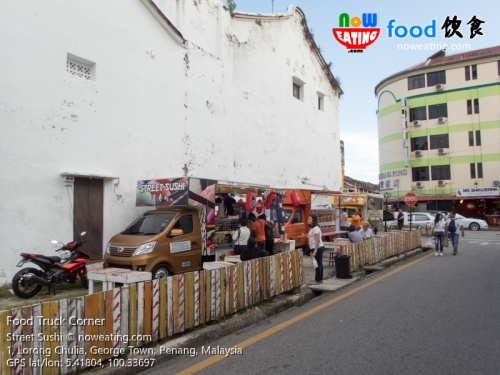 Operated since May 2017, the pork-free Street Sushi is one of the food trucks found at the entrance of Lorong Chulia adjoining Chulia Street, opposite of the famous Chulia Street's Wan Tan Mee stall. Street parking is available along the main road or in the narrow alley of Lorong Chulia. Street Sushi opens daily from 5pm to 12am and is closed on Tuesday. Dining tables are available in the premise and customers are free to order food from different food truck.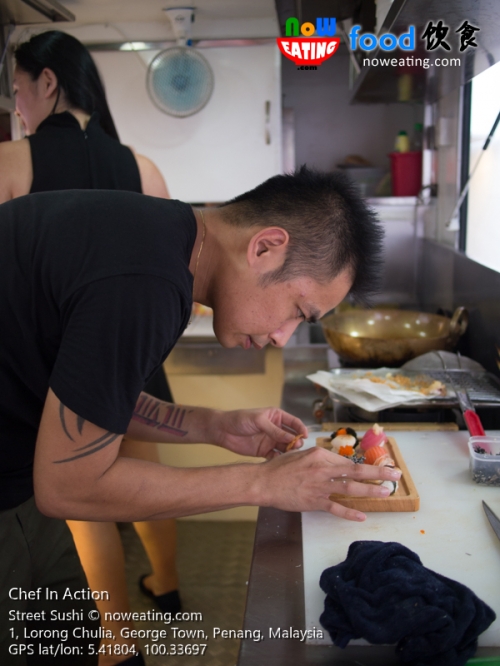 Street Sushi is run by a handsome former Omakase chef from Singapore – Paul Alan. Omakase is a meal in which there is no menu provided and dishes are selected by chef subjected to ingredients available. The woman behind? Good news is that she is his sister so our female readers probably still have chance.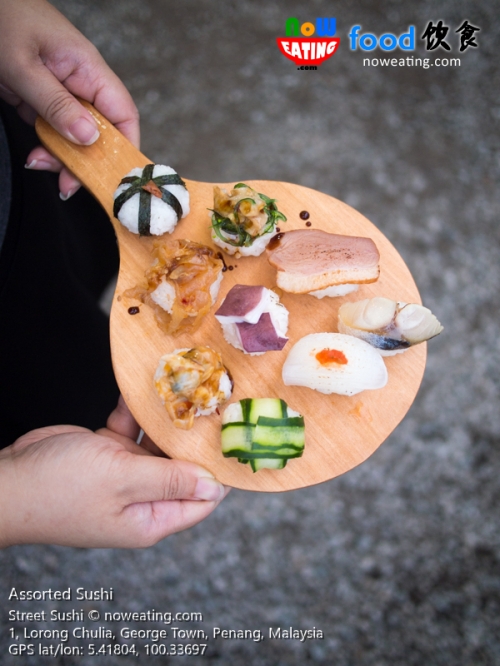 Having said that, some sushi we tried during our visit were actually not in the menu displayed on truck. For instance, smoked duck, clam and jellyfish sushi from figure above are just few surprises we had that evening.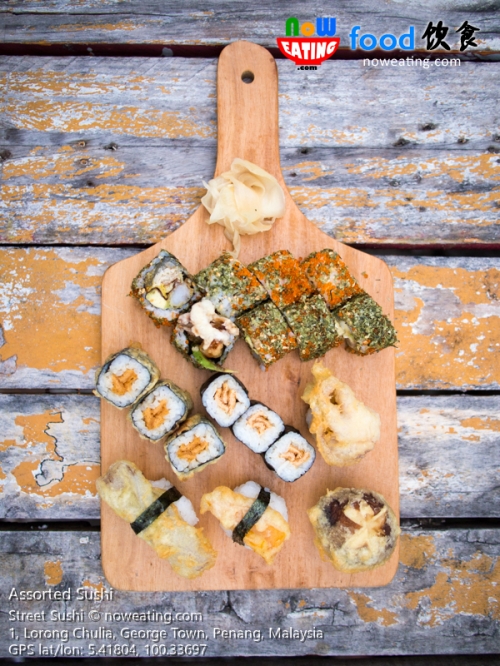 Our suggestion to first time customers wish to try the very best from Chef Alan is to forget about the menu. Ask the former Omakase chef for daily special or go for Sushi Temari – a plate of assorted sushi consisting of 6 or 12 pieces handmade vegetarian/seafood sushi.
Vegetarian Temari
6 pcs = RM14.00
12  pcs = RM26.50
Seafood Temari
6 pcs = RM17.00
12 pcs = RM31.00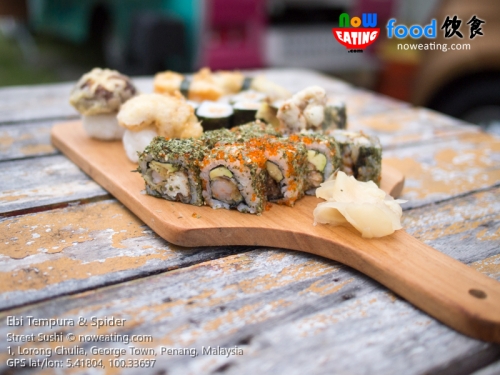 Among those sushi, our endorsement being Ebi Tempura (Prawn Maki, RM7.00) and Spider (Soft Shell Crab Maki, RM8). Crispy and juicy are two words best describing the texture of the mouthwatering Maki.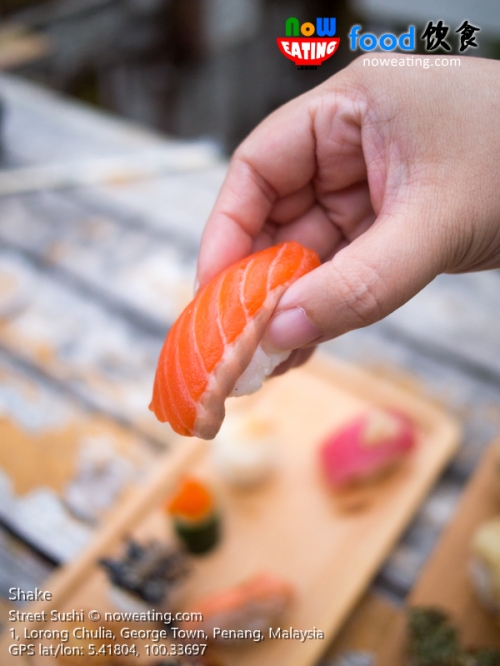 A trump card about Street Sushi is its seasoned sushi rice which easily outperforms some Japanese restaurants. Unlike some restaurants in which we feel obnoxious after having few plates of sushi, we can go for dozens at Street Sushi thanks to its firm texture and "secret recipe" by Alan.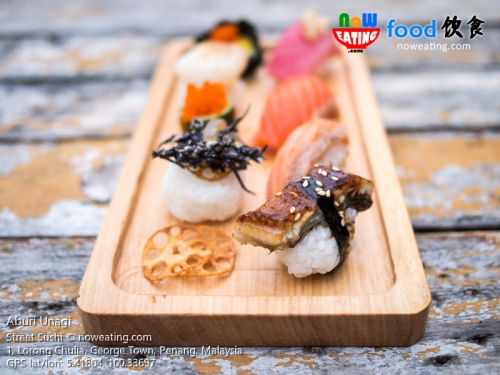 As mentioned, the food truck offers both vegetarian and non-vegetarian sushi. For vegetarian sushi, we nominate the secret menu – Inari Maki whereas for non-vegetarian, other than Ebi Tempura and Spider, Aburi Unagi Sushi (RM6) is another recommendation. Temaki (handroll) and Onigiri are also available.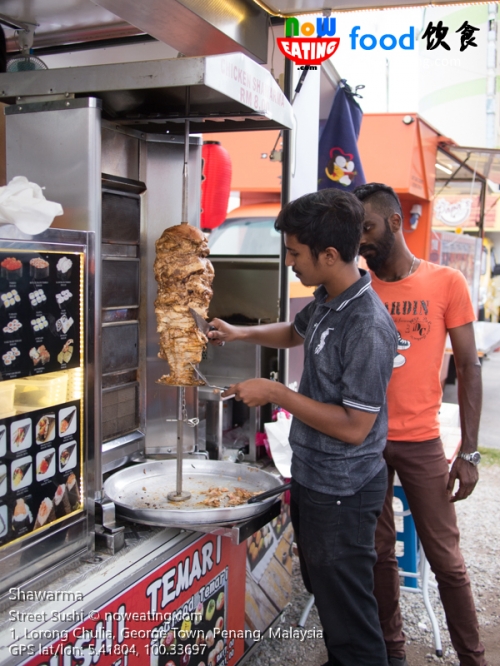 Can't get enough on sushi? Street Sushi is probably the only food truck offering both sushi and Shawarma (chicken/beef) – a Middle Eastern fast food with marinated chicken/beef stacked and slowly grilled for hours. Wrapped in homemade tortilla.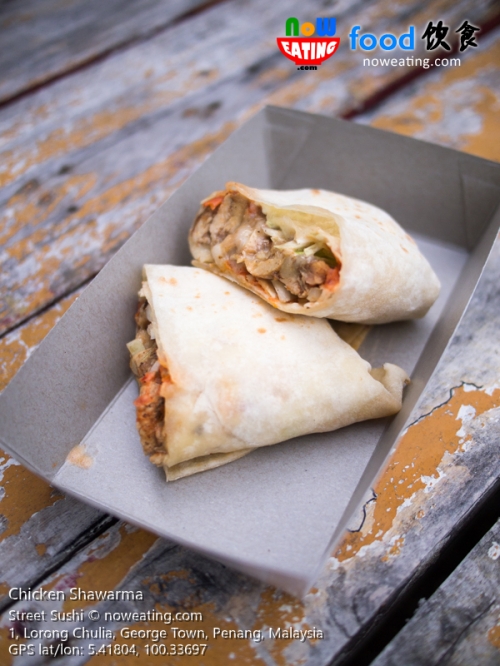 Shawarma used to be our favorite bite until the local market was dominated by Middle Eastern men. There is nothing wrong with Middle Eastern men selling Shawarma but when a muscular and fierce-looking men holding a big knife, we usually opt for other "safer" cuisine. It is indeed gleeful to see locals offering this Levantine delicacy and we strongly suggest readers to opt for the cheesy version.
Chicken Shawarma: RM8. With Cheese: RM11
Beef Shawarma: RM10. With Cheese: RM13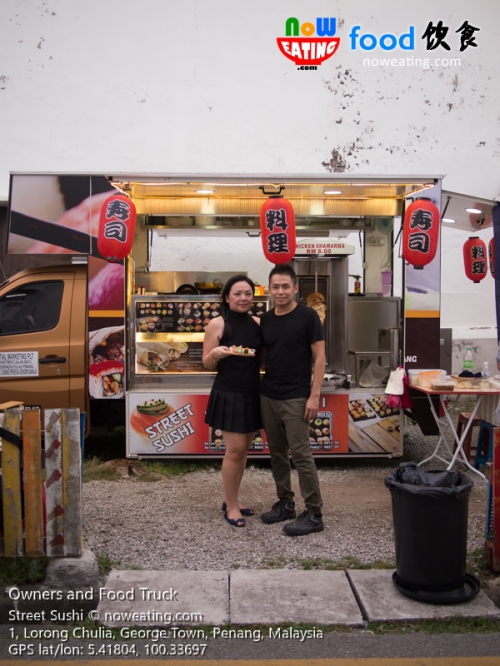 As a whole, a food truck offering restaurant-quality sushi at street price. When in doubt, be sure to ask for recommendation and the former Omakase chef may even give you few surprises. A little wait time is required as all sushi are made-to-order. Street Sushi also offers catering service and for more information, kindly call +6012-4759529 or +6012-9166387 or visit their official Facebook page.
| | |
| --- | --- |
| Place Name: | Street Sushi 道寿司 |
| Cuisine: | Japanese |
| Address: | 1, Lorong Chulia, George Town, 10200, Penang, Malaysia |
| Tel: | 6012-4759529/6012-9166387 |
| Working Hour: | 5pm-11pm (Closed on Tuesday) |
| Tax: | No |
| Last Visit: | 20170804 |