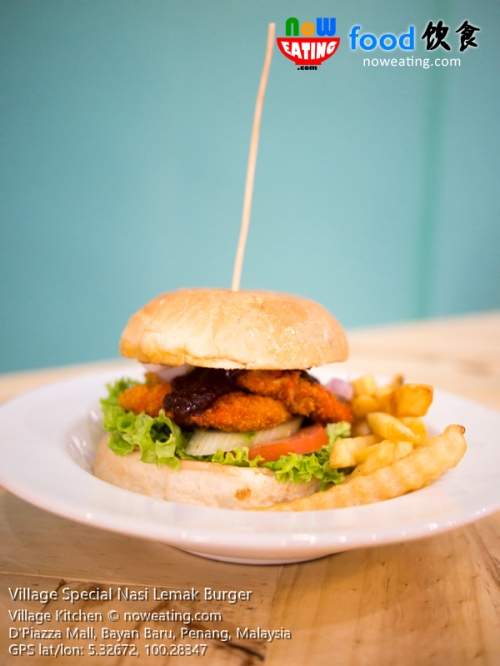 When was our last time visiting a Malay cafe? The new Village Kitchen in D'Piazza Mall (GPS: 5.32672,100.28347) is an eye-opener to us as the modern cafe is a truly Malaysian cafe designed for customers from different races. Burger Nasi Lemak, anyone?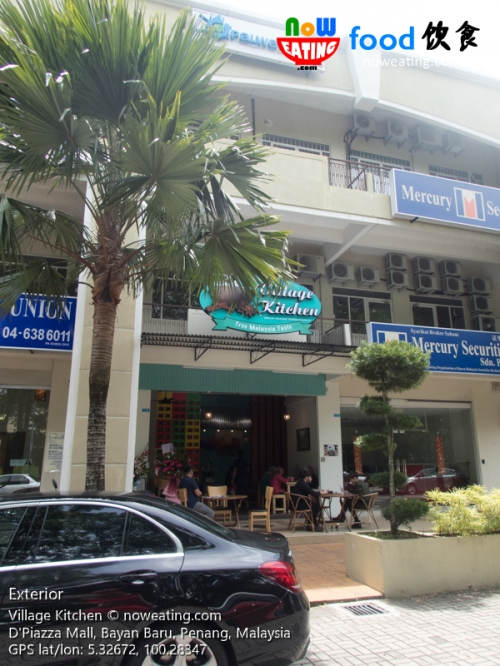 Village Kitchen is located next to Union Dental Clinic in D'Piazza Mall. The mall recently has few new restaurants opened and is worthwhile to visit it. Parking-wise, for convenience sake, we usually park in paid car park in front of the cafe. D'Piazza has one of the most expensive car parks in the region with RM1.00 for first 45 minutes.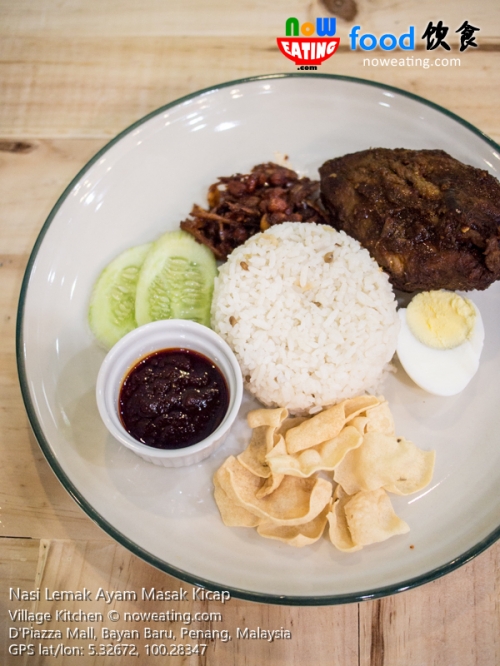 As a newly opened cafe, we were blown away with its menu offering not only Malay cuisine, but also Western, toast, desserts and others. Village Kitchen currently offering 12 types of Nasi Lemak ranging from Ayam Goreng Berempah, to Stomach Rendang (?). Some of recommended dishes include Ayam Goreng Berempah, Ikan Kembung Bersambal and Sotong Sambal. We ordered Nasi Lemak Ayam Masak Kicap (RM8.90). Nasi Lemak set meals are also available at the price of RM10 including drink of your choice (Bandung or Ice Lemon Tea).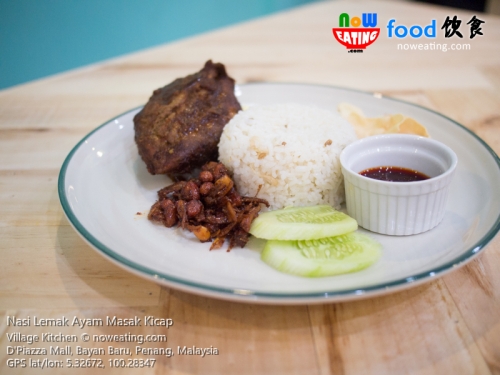 We placed our order at the counter and it took a while for our food to arrive, probably in preparing the bird. Our impression on Malay-style fried chicken was that they were usually fried in bulk to hard texture. It turned out that it was not the case for Village Kitchen as the bird remained tender. By the way, the Sambal is worth dying for.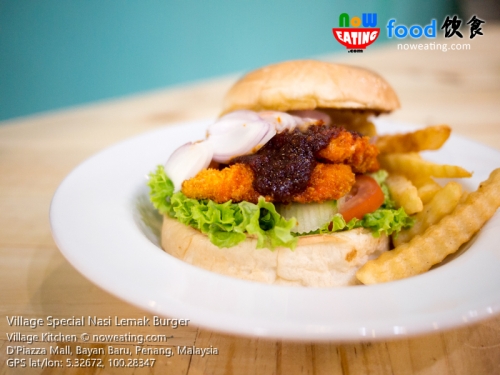 Village Special Nasi Lemak Burger (RM8.90) may give customers misconception that the bun is stuffed with coconut milk rice, anchovy and peanut, just like ordinary Nasi Lemak. To be frank, we were a bit worry as well as not all food lovers were able to adapt to the same texture in different presentation. It turned out that we were wrong. It was bread crumbs chicken fillet deep fried to golden, padded on lettuce, cucumber and tomato slices, dressed with signature Sambal sauce before topping with fresh onion.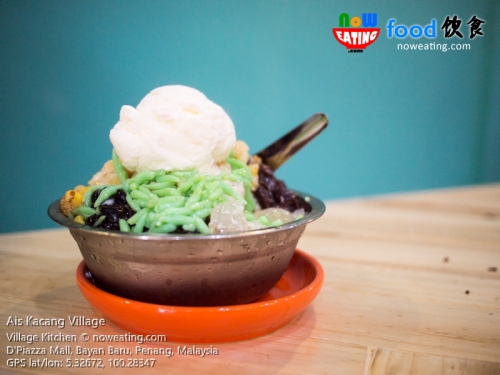 The cafe is also not letting us down on its desserts selection. Ais Kacang, Cendol, Ice Cream, and Floats are just few items in the menu. We had a bowl of mouthwatering Ais Kacang Village (RM5.90) and it was a thumb up as well with well-balanced sweetness and generous amount of ingredients. (We removed red syrup by the way)
That's all for our first visit. We can't wait to return to Village Kitchen again for other dishes including Roti Boom, Chicken Chop, Cendol and Banana Split. Similar to most newly opened cafe, there are few things to iron out including kitchen ventilation and wait time which we believe the management will solve them in no time.  Village Kitchen opens daily from 10am to 11pm.
| | |
| --- | --- |
| Place Name: | Village Kitchen |
| Cuisine: | Malay |
| Address: | 70-1-23, D'Piazza Mall, Jalan Mahsuri, Bayan Lepas, 11900, Penang, Malaysia |
| Tel: | +6017-401 7467 |
| Working Hour: | 10am-11pm daily |
| Tax: | No GST. No Service Tax. |
| Last Visit: | 20171012 |