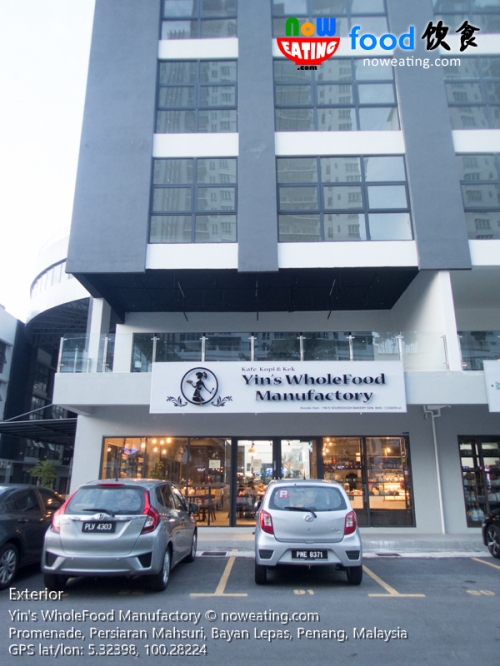 Promenade is a new commercial-residential building located between D'Piazza and Elit Avenue, so new that the parking is still free and only few shops are currently opened, including Yin's WholeFood Manufactory (GPS: 5.32398,100.28224). Yin's latest establishment is a "cafe+organic shop" concept in which other than dining in, you can shop for organic products at Zenxin Organic Food Malaysia next to the cafe.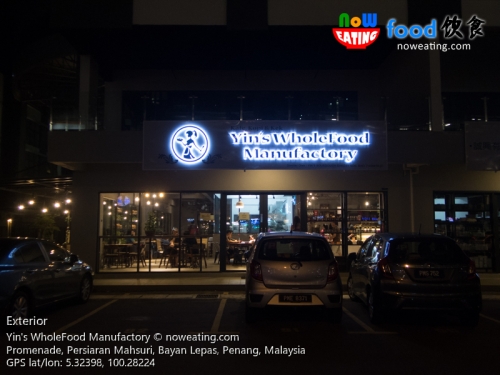 Yin's begun its business as a Sourdough Bakery five years ago, followed by Yin's Sourdough Pizza outlet in Wisma Yeap Chor Ee near Ferry Terminal. We personally been there once and enjoyed their Sourdough Pizza which tasted good on the spot, even better overnight after juicy topping penetrating the dough. Two years later, Yin's WholeFood Manufactory was born.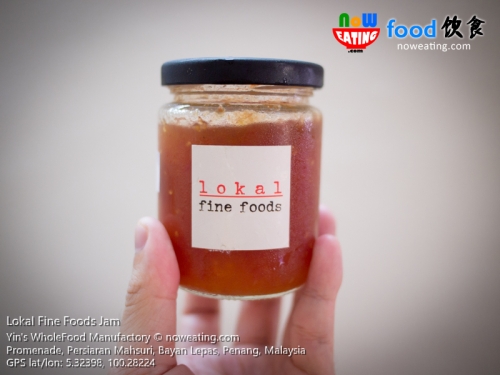 As part of collaborations, Yin's WholeFood Manufactory uses Zenxin's organic products in its food as much as possible. Similar to George Town outlet, a corner offering various homemade jams can be found in the serene dining area. Personally, we bought a bottle of Lokal Fine Foods' "one-of-its-kind" jams made from mango, cherry tomato and lemongrass (RM13.50).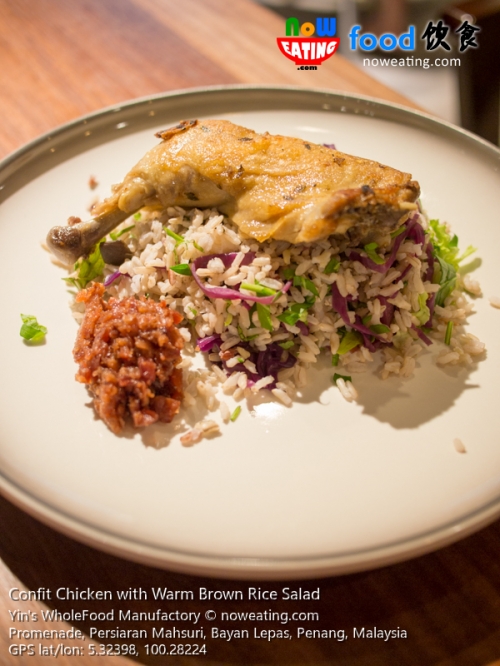 Our verdict about Yin's is that they dare to try something new and may not suitable for "risk-averse" diners. You won't see the ordinary "Chicken Chop" or "Fish n Chips" in their menu. For us, every dish in Yin's is a new experience. Yin's WholeFood Manufactory offers different menu compared to Sourdough Pizza outlet. As a starter, it does not have pizza oven but instead, the new outlet promotes fresh and organic food.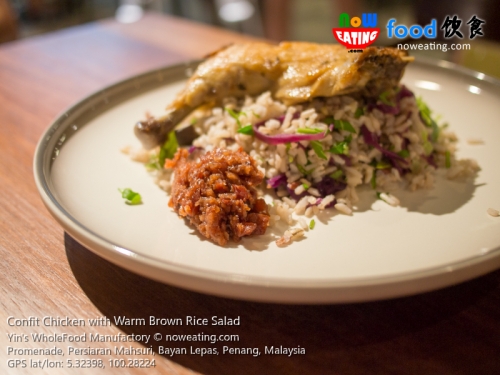 During our first visit, we opted for Confit Chicken and Warm Brown Rice Salad with Nutmeg Fruit and Tomato Relish (RM20). We recommend this dish thanks to its tender slow-cooked whole chicken leg which melt in your mouth effortlessly. The relish? It is Yin's special condiment in which you will find in some other dishes as well.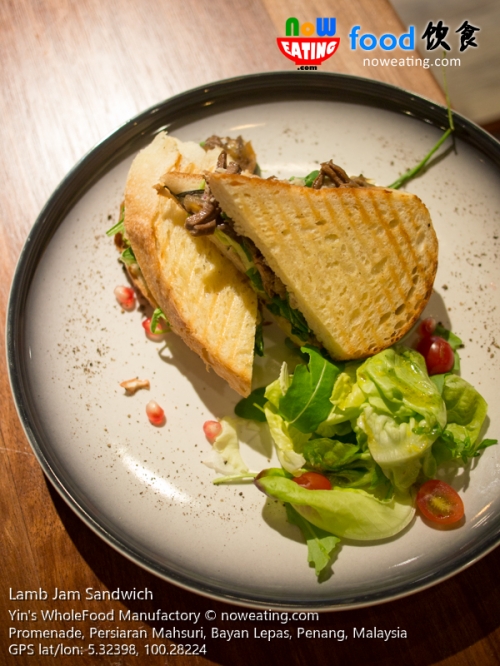 Lamb Jam Sandwich with Brinjal Relish (RM24.00) is another Yin's specialty.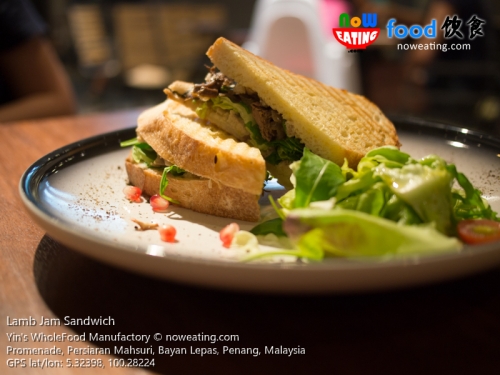 Lamb was usually a hit-or-miss due to its gamy taste but it turned out that the sandwich was quite delightful to enjoy thanks to refreshing Yin's Brinjal Relish.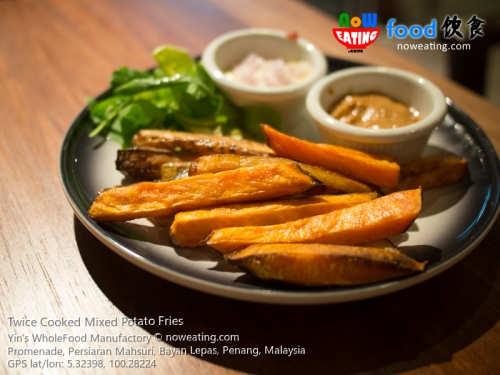 The new Yin's outlet currently offers about 13 dishes for dinner including kids meal and bites. Our first impression about Twice Cooked Mixed Potato Fries (RM10) was that it could be just a normal French fries but turned out that the additional red banknote was totally worth it. The soft inside, crispy outside hand-cut potato fries come with dipping sauce of your choice. Our "Papaya and Green Chili BBQ Sauce" was not available that evening and was replaced with "House made Mayonnaise" and "Dutch Satay Sauce" at no additional charge.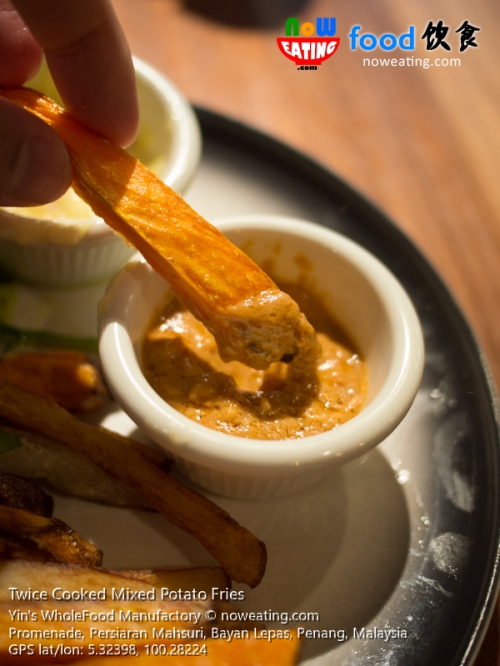 We were a bit skeptic on the House made Mayonnaise. "How special a mayonnaise can be?". Unexpectedly, the sui generis mayonnaise was emptied by us before finishing the potato fries. Same went to the Dutch Satay Sauce.
As a whole, Yin's WholeFood Manufactory is a great addition to Bayan Baru/Bayan Lepas community. MNC employees nearby now have another reason not to dine in their canteen, especially those looking for healthy and organic food. Wait time can be long so please plan your trip ahead. Yin's WholeFood Manufactory is opened daily from 8am to 11:30pm and is closed on Sunday. A cup of coffee before work, anyone?
| | |
| --- | --- |
| Place Name: | Yin's WholeFood Manufactory |
| Cuisine: | Western, Vegetarian |
| Address: | 5-G-16, Promenade, Persiaran Mahsuri, Bayan Baru, Bayan Lepas, 11950, Penang, Malaysia |
| Tel: | +6011-2419 5118 |
| Working Hour: | 8am-11:30pm daily. Close on Sunday. |
| Tax: | No GST. No Service Tax. |
| Last Visit: | 20171016 |