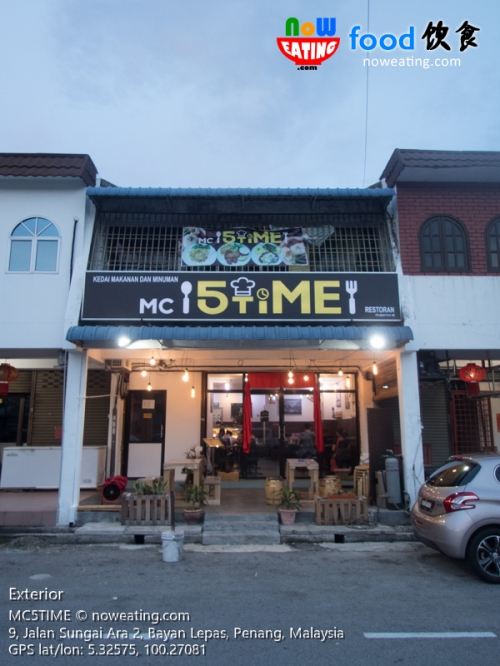 MC5TIME (GPS: 5.32575,100.27081) is operated by a Chinese family previously owning a franchise cafe at Carnarvon Street in George Town. Due to some internal issues, the family decided to move forward by opening their own cafe – MC5TIME. The new cafe is shy away from main road and is located same row with 三國果條湯 (3 Kingdom Koay Teow Th'ng) in Sungai Ara.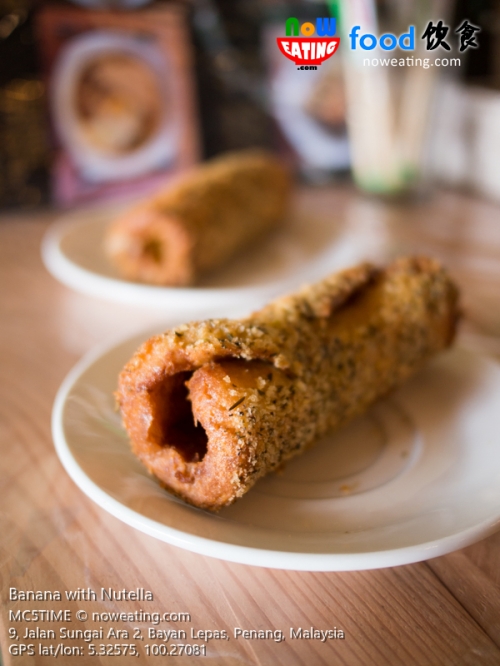 We actually visited the franchise cafe (Le xxxx) at Carnarvon Street once before it officially closed down in September 2017. An item caught our attention was its "banana fritter", in which the banana is wrapped in bread with either Nutella or cheese spread, seasoned and deep fried to golden.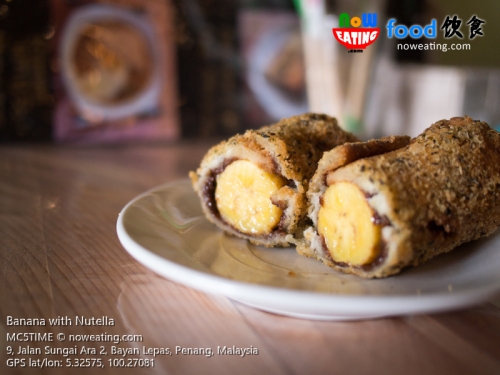 The crispy-outside, soft-inside texture astonished us. Thinking that we might not be able to try it again in future, MC5TIME actually brought back the same item in its new menu (RM2.50 each).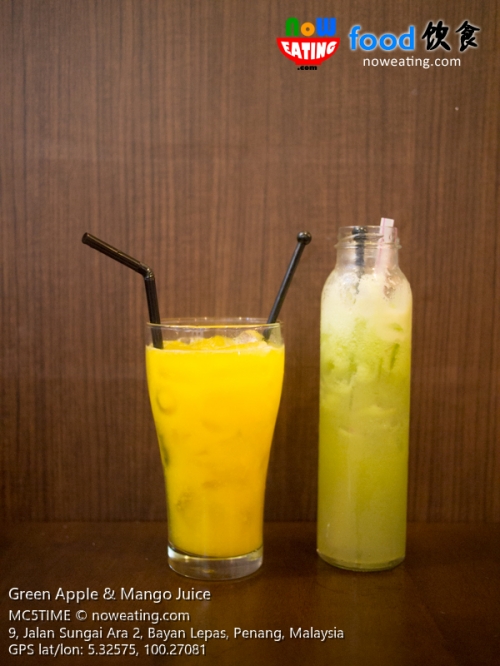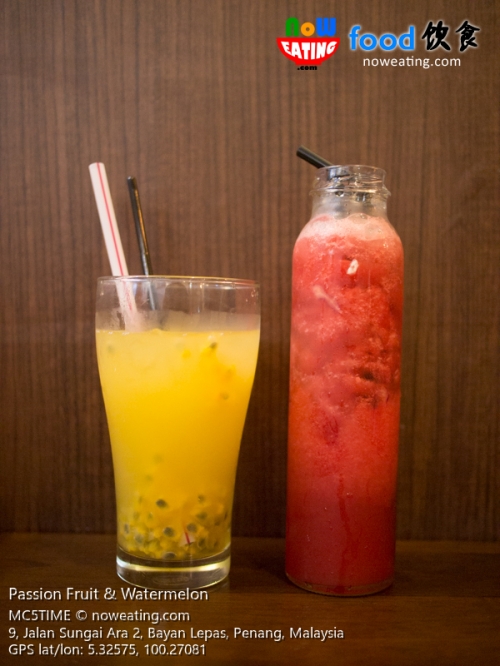 In general, MC5TIME offers affordable Western and Asian cuisine but first, allow us to introduce their fruit juices presented either in a drinking glass or tall bottle with price starting from RM2.50. Thumb up to their fresh mango juice (RM6.00) – an atypical fruit juice in most cafes.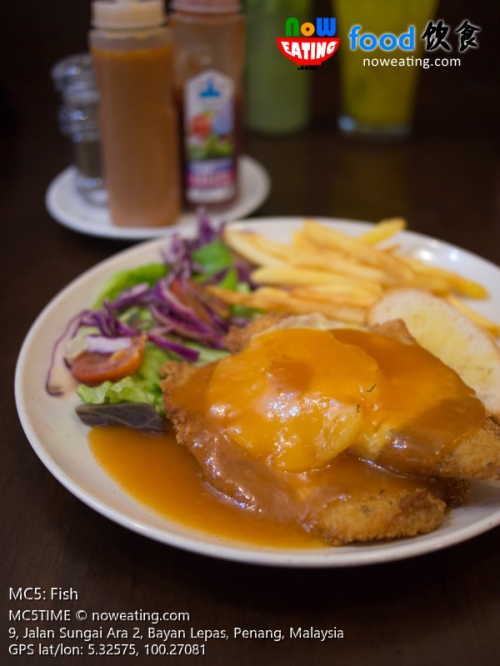 Being a family-owned cafe, expect your food to be served by random staffs including the lady owner and her children. Serving speed is considered satisfactory during our visit. Food-wise, we were glad that they use Tilapia (instead of Dory) for fish dishes  and we opted for their signature dish – MC5: Fish (RM12.90) served with salad, pineapple, cheddar cheese and fries.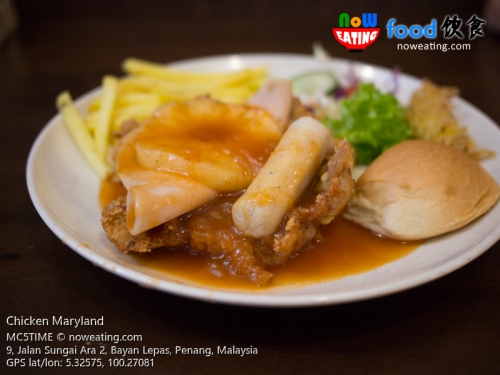 Chicken Maryland (RM14.90) – a Western dish we were craving for quite some time. The only reason we stayed away from it all these while was due to the fact that it is deep fried and comes without any sauce. MC5TIME version, however, is an eye opener for us with gravy, ham, pineapple slice, fries and bun. The only drawback was the banana, which was mingy to an extend that we had to blur it in our photo (upper right).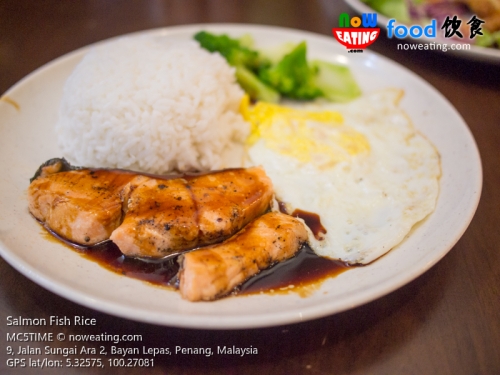 Salmon fillet below RM20? Almost impossible until we tried Salmon Fish Rice (RM13.90) here.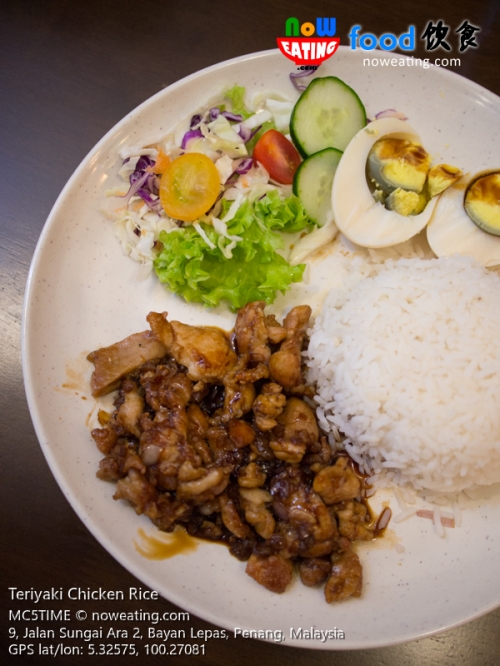 Teriyaki Chicken Rice (RM9.90).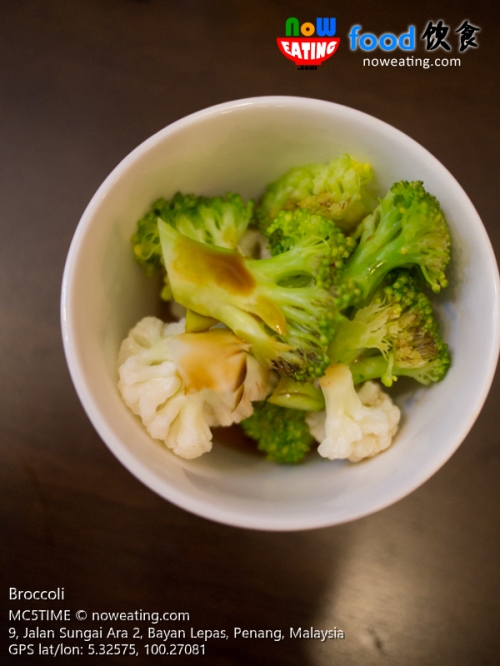 Not sure why, we were given a small bowl of broccoli for our Teriyaki Chicken Rice. Maybe they forgot to put it on the plate before serving?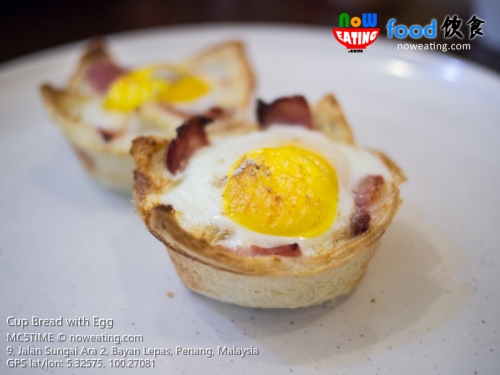 A signature side dish was Cup Bread with Egg (RM3.50). Note that 15 minutes are required to prepare this delicacy. Other dishes offered by the cafe include Jumbo Sausage with Spaghetti, Pasta, Noodles and Lamb dishes.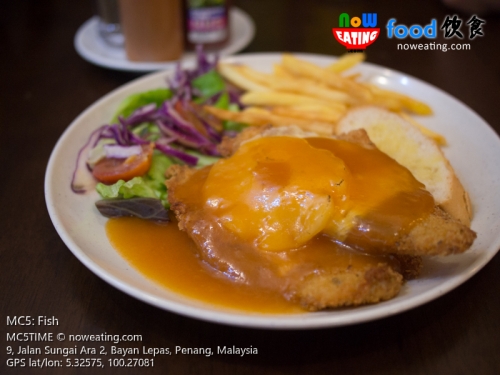 As a whole, a great place for affordable Western cuisine. Be sure to try out their special chili sauce available on each table. However, if you are looking for semi fine dining quality of Western food with modern and elegant interior, then this cafe is not for you. The cafe opens daily from 11am-3pm, 5pm-10pm. Last but not least, we couldn't help but guessing the meaning of MC5TIME. Does it mean that it is fairly OK if you are sick after having your meal here (up to five times)? Readers, if you managed to ask the owner kindly drop a comment below.
| | |
| --- | --- |
| Place Name: | MC5TIME |
| Cuisine: | Western, Chinese |
| Address: | 9, Jalan Sungai Ara 2, Bayan Lepas, 11900, Penang, Malaysia |
| Tel: | +6042630203 |
| Working Hour: | 11am-10pm daily |
| Tax: | No GST. No Service Tax. |
| Last Visit: | 20171023 |