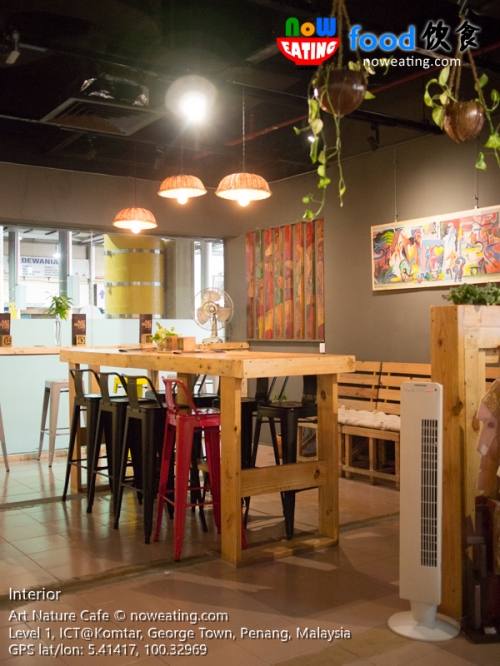 For years, our impression about food in Komtar is that they are just some quick meals served by little shops hidden in corridors. While they are good for workers nearby, others may need a serene and cozy place for meetup or to rest their feet. Introducing Art Nature Cafe (GPS: 5.41417,100.32969) serving healthy food and handcraft coffee. We almost forgot that the busy bus station was just next to it until we walked out of the cafe…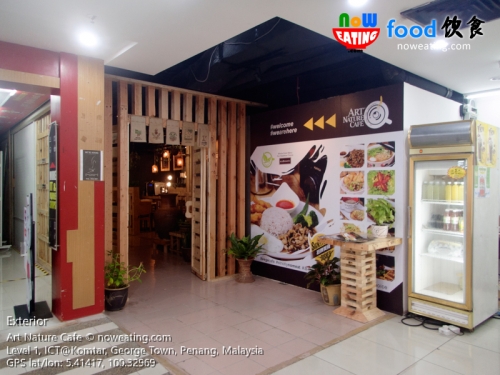 Art Nature Cafe is located at Level 1 of ICT Mall, next to Ah Beng Bak Kwa stall. We usually prefer to park at 1st Avenue multi-storey car park and walk our way there via sky bridge connecting Komtar and 1st Avenue.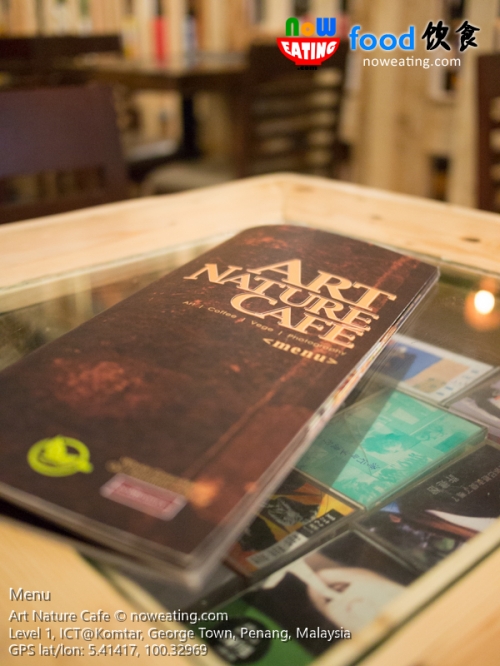 Art Nature Cafe can be considered as a vegetarian cafe at its best (and not vegan) as it is still serving onion, garlic, leek, chive, spring onion (a.k.a 五辛 in Chinese), milk and eggs. Originated from Alor Setar, food taste can also be considered mild to some Penangites with heavy taste buds but if you are used to healthy home-cook cuisine (e.g. non-MSG cooking served with brown rice), the food here is fairly decent.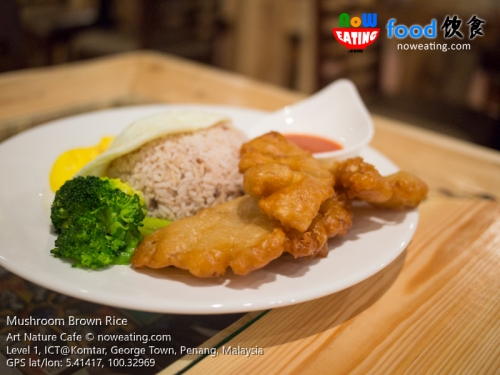 Mushroom Brown Rice (RM11.90) comes with deep fried oyster mushroom, beech mushroom, a sunny side up, and vegetables. Some knowledge sharing about unpolished versus polished rice. Polished rice (a.k.a white rice) is actually a "stupid" invention by human in which outer bran layer is removed, leaving only a core comprises of carbohydrate. When people say, "Eating rice will make me fat.", it is actually referring to white rice. Unpolished rice (brown rice) is more nutritious as it has outer bran layer remains intact.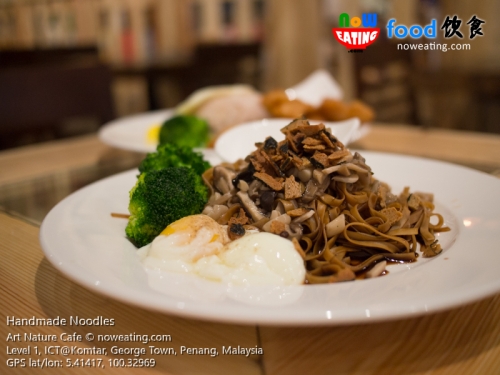 Handmade Noodles (RM10.90) is another signature dish which looks like Pan Mee out there. Served with a poached egg.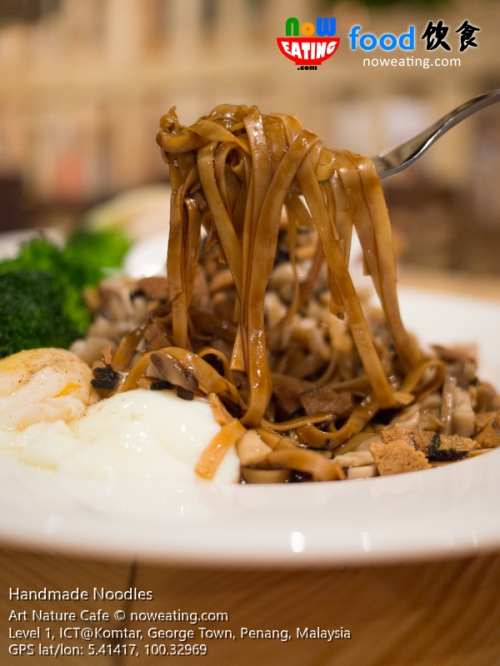 Our recommendation to enjoy this dish is to stir the noodle with poached egg for added sweetness on the noodle itself. If possible, ask for homemade Sambal comes together with Mushroom Brown Rice. They really boost the overall taste.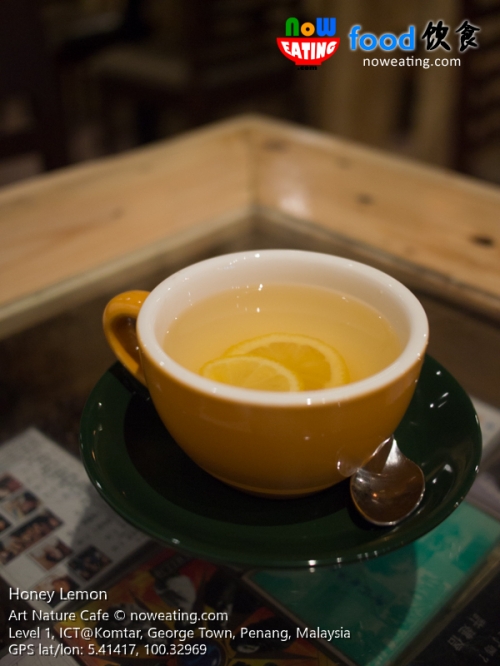 Honey Lemon (RM5.00)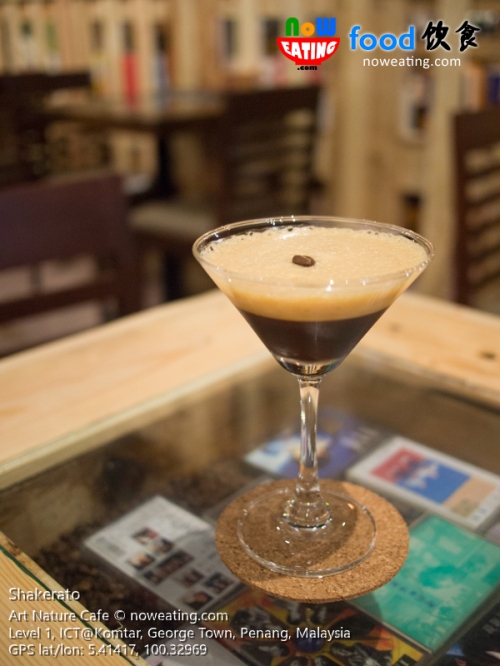 Perhaps the highlight of the afternoon was Shakerato (RM11) – shaken cold coffee with lemon served in a martini glass. Simply refreshing under hot weather.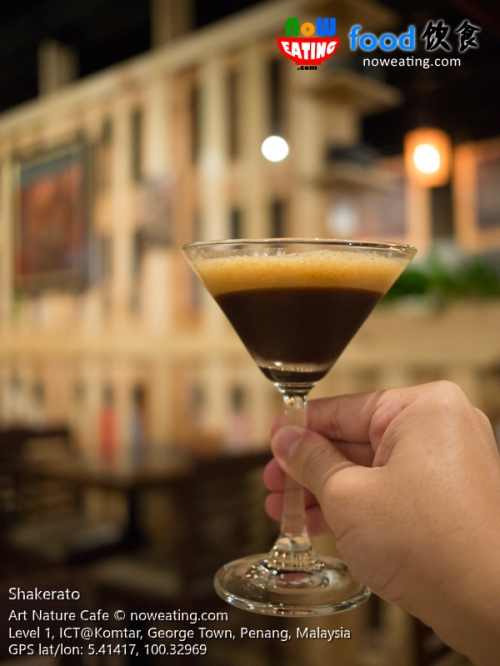 As a whole, a hidden gem in Komtar especially if you are looking for a quiet and cozy place for a cup of handcraft coffee. After all, the owners are coffee lovers as well. Art Nature Cafe is opened daily from 9am to 9pm. For more information, kindly refer to their Facebook page.
| | |
| --- | --- |
| Place Name: | Art Nature Cafe |
| Cuisine: | Vegetarian |
| Address: | Lot L1-11B, Level 1, [email protected], Komtar, George Town, 10000, Penang, Malaysia |
| Tel: | +604-370 8156 |
| Working Hour: | 9am-9pm daily |
| Last Visit: | 20171015 |