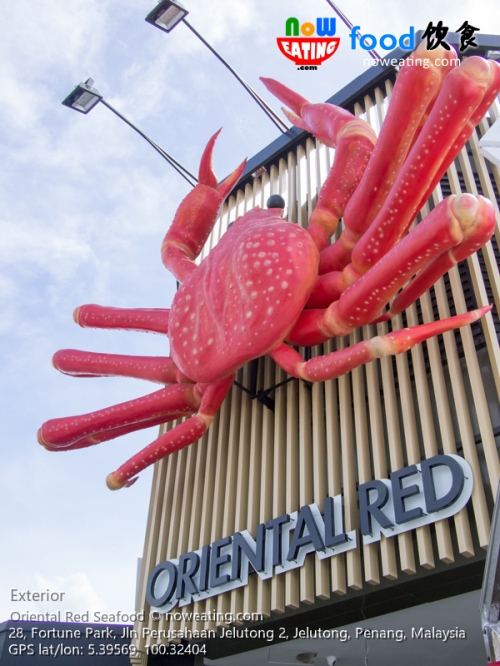 Oriental Red Seafood Market (GPS: 5.39569,100.32404) is not the usual Seafood restaurant in the neighborhood. With no prix fixe menu, diners are given the flexibility to handpick their own desired Seafood from the Seafood counter. The Seafood comes in a wide variety, with some fresh and some frozen. Selected Seafood will then be cooked by the dedicated team and served in way of Nabe (Japanese Hot Pot). It is noteworthy that the special broth for the Nabe is authentically prepared in Japan and air-flown to the restaurant.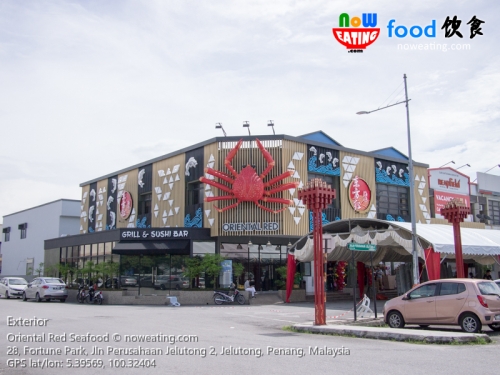 Planned and prepared for almost a year, Oriental Red Seafood Market has finally opened its doors on 25th October 2017, the Seafood-focused restaurant next to Tun Dr Lim Chong Eu Expressway (previously known as Jelutong Expressway) is strategically located and conveniently approachable by all modes of transportation. We recently visited this new restaurant  for its grand opening.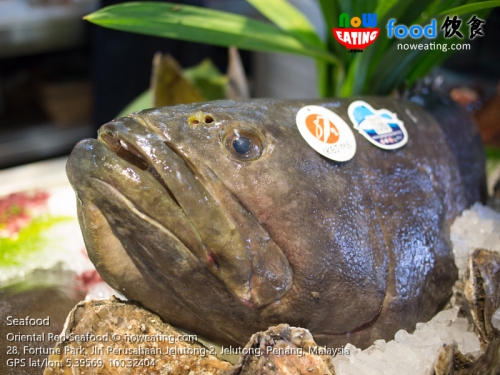 Founded by a well-known fish farming company with more than 30 years experience, you can't go wrong with its seafood choices.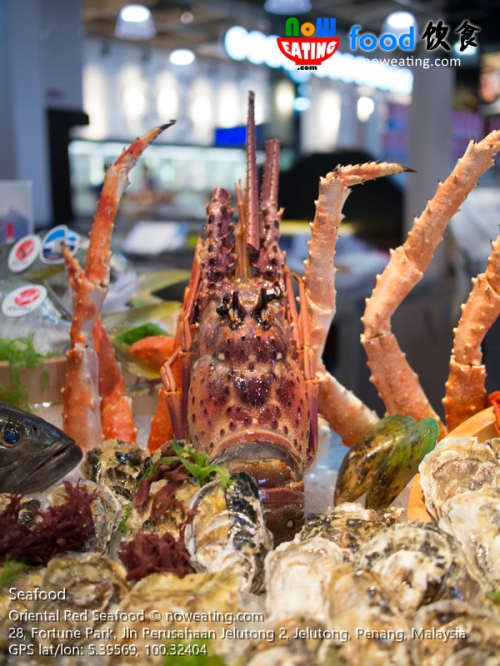 With a total built-up area of 12,000 square feet, Oriental Red Seafood Market has more than 1,000 types of products on offer. From fresh live catch to frozen Seafood to dried goods or even imported alcohols, seasonal offerings and local delicacies from Japan and Korea.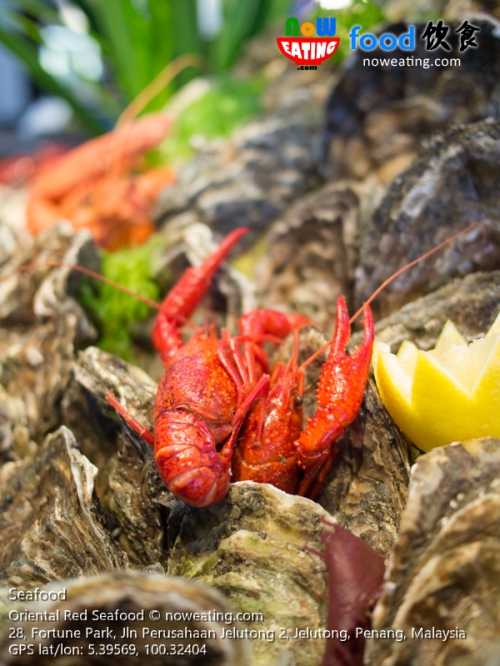 Seafood lovers would be glad to know that a fraction of these Seafood is air-flown directly to Penang so the freshness is guaranteed. The ever-expanding line up of premium imported Seafood includes Alaskan King Crabs, fresh Abalones and Lobsters; the list is extensive but not exhaustive.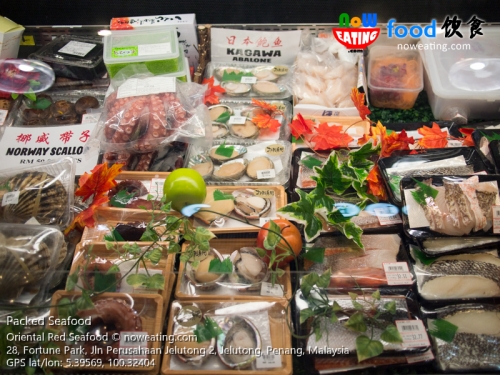 For single or couple customers, having whole fish as meal can be overwhelming. Fortunately, they can opt for fish slices packed nicely in a freezer and the chefs will cook for you as well.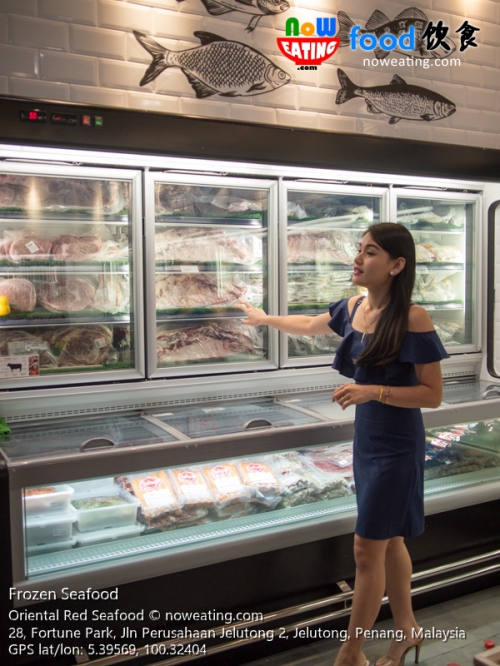 Calling Oriental Red a restaurant is somehow underrated. The building consists of two floors with ground floor being a restaurant with a counter behind the entrance allowing customers to select fresh seafood for cooking. Behind the restaurant is a frozen food corner in which customers can purchase imported premium products such as Wagyu Beef, processed lobsters, scallops and etc. Once again, they can be defrosted on the spot for cooking or takeaway.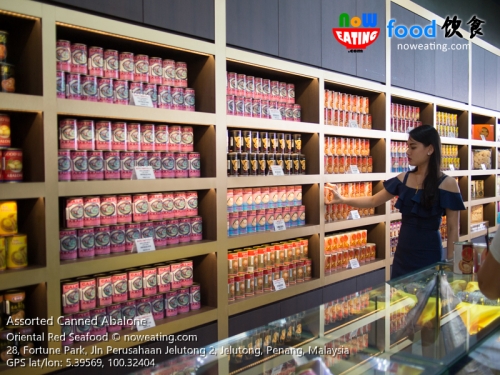 Oriental Red is also a great new place for Chinese New Year grocery shopping, including canned products such the well known Calmex Abalone (車輪牌鮮鮑). The only question is: Which brand to choose?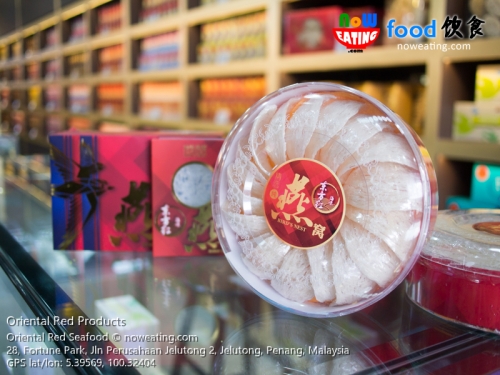 At this point, one may wonder prices in Oriental Red. From our observation, they are surprisingly reasonable despite offering many products not available locally, be it in wet markets or Chinese pharmacies. Alternatively, one may opt for products under Oriental Red brand which having adequate quality compared to well-known brands.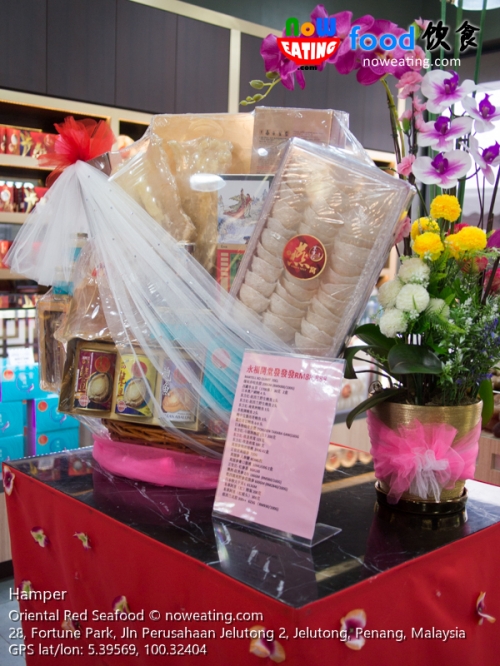 Other than hypermarkets, customers now have another place for Chinese New Year hampers. RM88,888 hamper, anyone?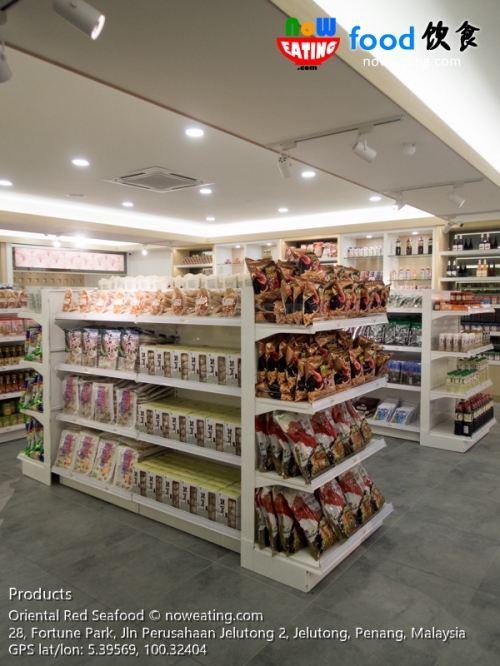 As for the second floor, customers can begin their shopping spree on local and foreign products, including Tongkat Ali, more canned seafood, snacks, chocolate, and local souvenirs.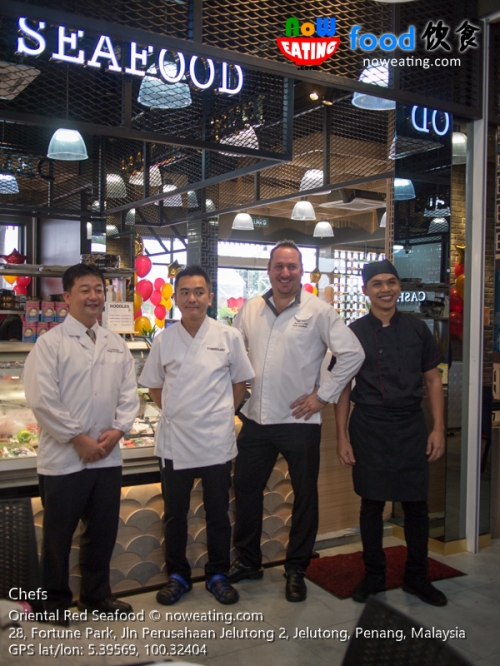 Back to the restaurant, it was our honor to be invited during their grand opening to sample premium seafood prepared by chefs from 5-star hotels.  The kitchen is helmed by a Japanese Chef, who is extremely skilful in 'Ike Jime', a Japanese fish-killing technique that paralyzes the fish to preserve its quality and seafood sweetness. There are however, 4 types of cooking methods to choose from- Grill, Deep Fried, Hot Pot and Sashimi (including Sushi).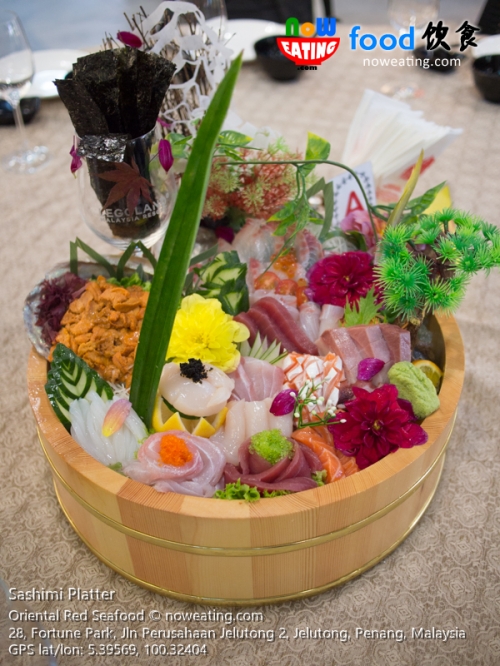 We'd love to share with you their signature Hot Pot but first, a basket of unequivocally fresh and eye-catching Sashimi Platter 刺身拼盤 was waiting for us on our dining table. For us, it was by far the most opulent Sashimi we had in our entire life which came with salmon, tuna, scallop, squid and even sea urchin.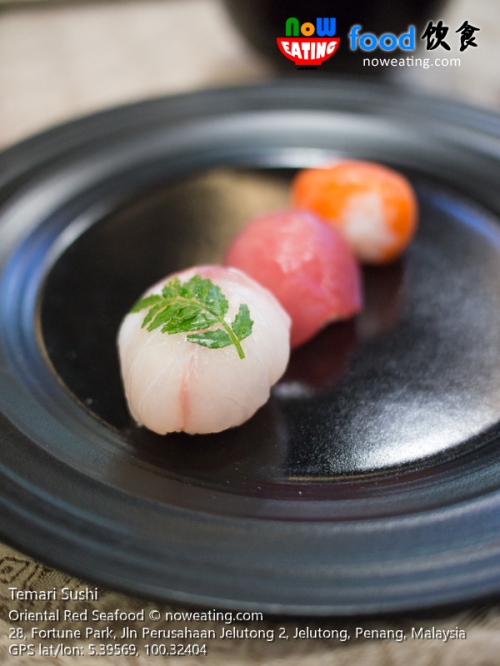 As a reminder, other than fresh seafood, the Japanese-focused restaurant also serves Sashimi and Sushi prepared on the spot by Japanese chefs. (Figure: Temari Sushi 手鞠壽司)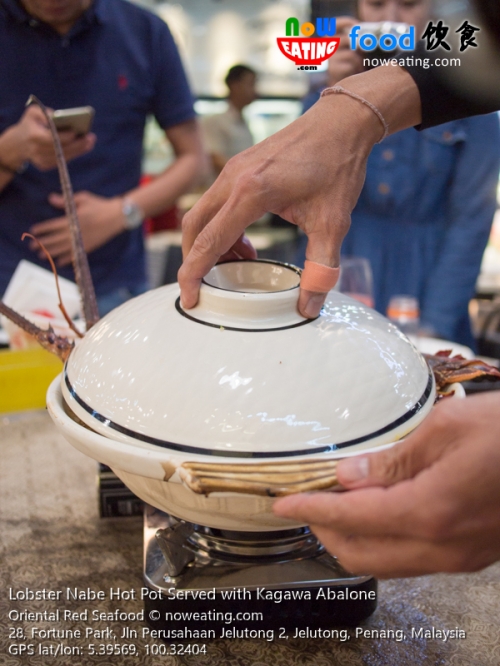 Among four types of cooking method, allow us to introduce their signature Hot Pot.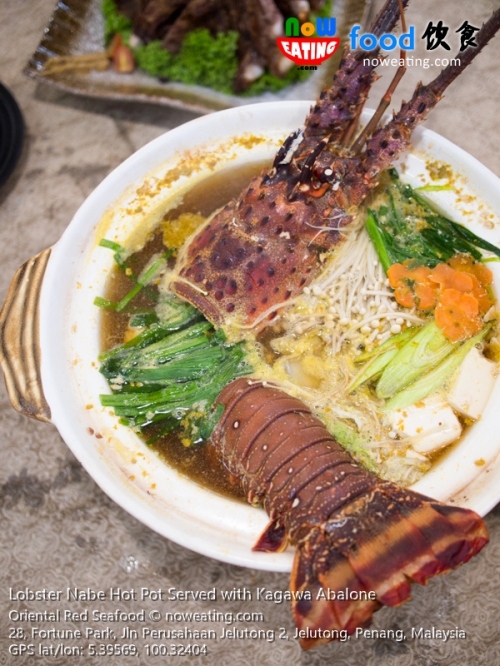 Customers select any seafood from the counter and the cooking is FREE of charge (until further notice). For our case, we picked a lobster and turned the Hot Pot into Lobster Nabe Hot Pot Served with Kagawa Abalone 龍蝦Nabe湯煲 配香川縣鮑魚.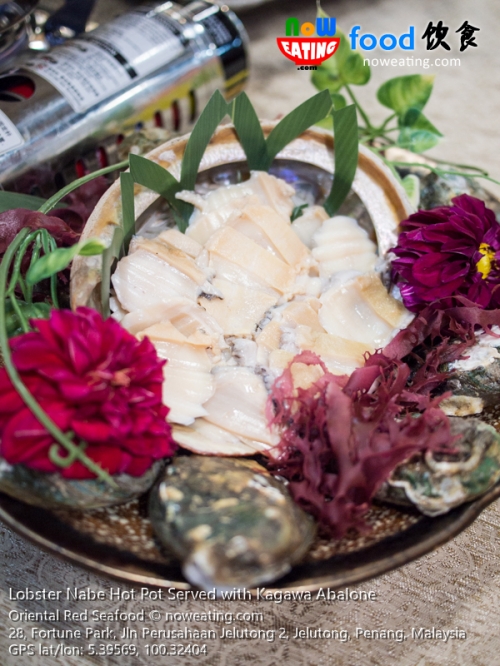 Unlike canned abalone, Kawaga Abalone is fresh (live) abalone and we strongly recommend readers to try it for some luxurious Shabu-Shabu experience.  Just dunk it into the boiling soup using chopstick for 30 to 60 seconds and enjoy one of the most succulent abalones ever.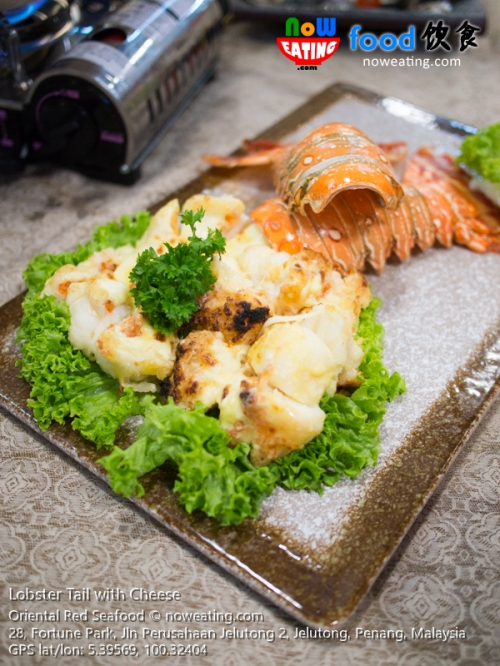 Lobster also can be baked into Lobster Tail with Cheese 焗芝士龍蝦 – a pleasing dish suitable for customers of different ages.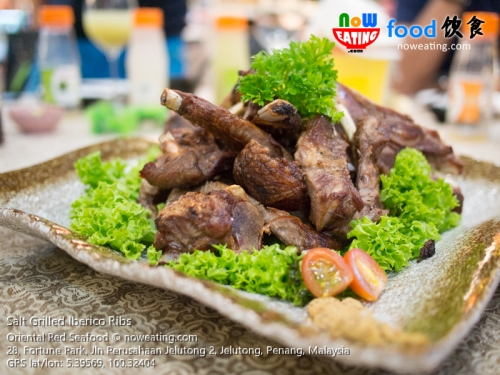 We were touched when we saw a similar item we tried at Jeju Island, South Korea – Salt Grilled Iberico Ribs 海鹽燒西班牙黑毛豬肋肉. The black pig has distinctive taste compared to other breeds of pig yet not heaty. Use your bare hand (disposable hand glove provided) to enjoy it like locals.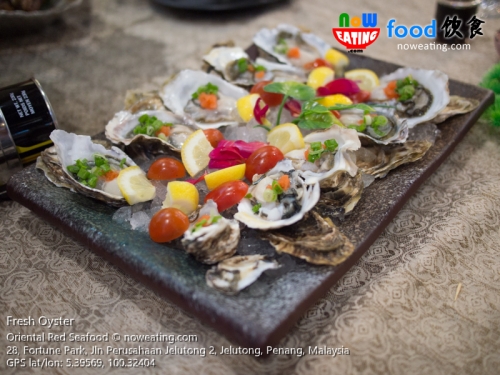 Fresh oysters – a premium seafood we usually found in seafood-themed buffet dinner in hotels. Even so, it is getting more difficult to have this delicacy due to increase in cost. In case you are looking for live oysters cracked open in front of you, come to Oriental Red.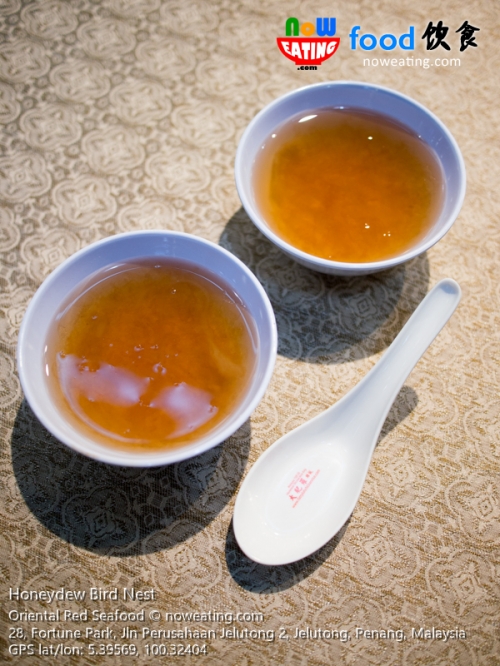 We ended our meal with Honeydew Bird Nest 密瓜燉燕窩 – a lavish dessert our mother cook for us once in a blue moon during childhood day, especially when we were sick. With the busy lifestyle nowadays, it is more difficult to have a bowl of handpicked bird nest like this. Alternatively, customers can purchase ready-to-eat or concentrated bird nest in the same premise.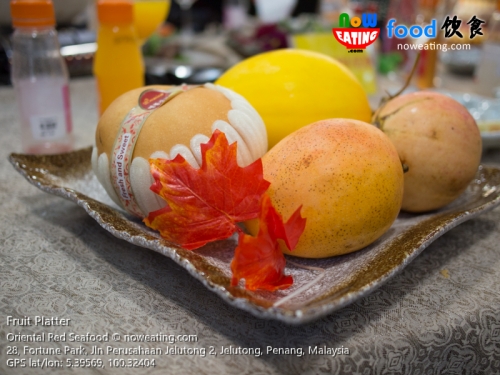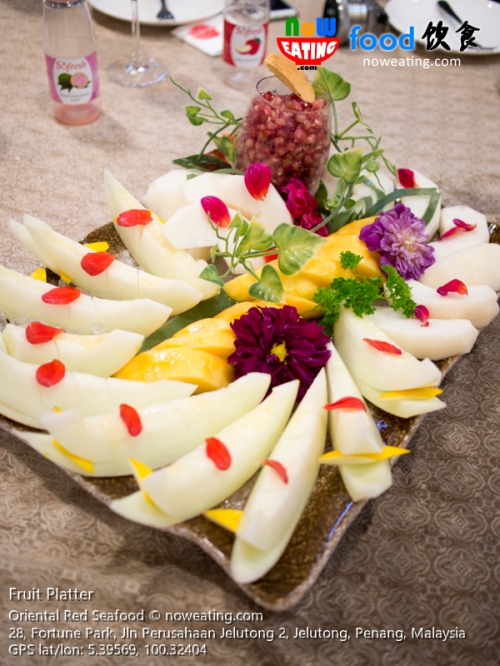 The friendly manager even presented us Fruit Platter (水果盤) including Australia Honeydew Melon, Pomegranate, Mango and Korean Pear  澳洲密瓜、石榴芒果及韓國沙梨. We were at first a bit skeptic about the Australian mango but turned out that it was on par with famous Thai mango, if not exceeding. Same went to Honeydew Melon in which we handed down on its sweetness and silky smooth texture.
As a whole, Oriental Red Seafood changes the game by allowing locals to have a chance to enjoy imported seafood without breaking the bank. It even gives customers whole new "shop and dine" experience under one roof. We strongly believe that Oriental Red will be trending in year 2018.
Oriental Red Seafood Market
Address: No. 28, Fortune Park, Jalan Perusahaan Jelutong 2 ,11600, Jelutong, Penang
Contact: 04-283 3363
Business Hours: 10 am – 12 am (Last order 11 pm)
Website: https://www.facebook.com/orientalredseafoodmarket/
| | |
| --- | --- |
| Place Name: | Oriental Red Seafood Market 東方紅海鮮 |
| Cuisine: | Chinese |
| Address: | No. 28, Fortune Park, Jalan Perusahaan Jelutong 2, Jelutong, 11600, Penang, Malaysia |
| Tel: | 04-283 3363 |
| Working Hour: | 10 am – 12 am daily (Last order 11 pm) |
| Last Visit: | 20171201 |