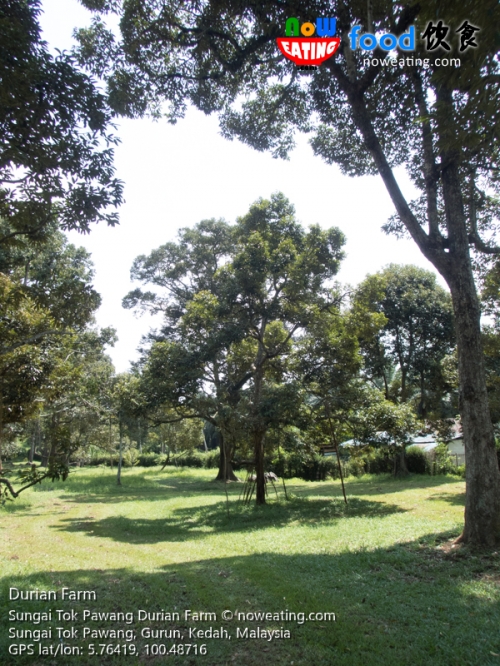 As long as durian is concerned, most fruit king lovers will think of Penang, namely Balik Pulau as the main supplier in northern region of Malaysia. Little do they know that Gurun in Kedah is in fact another durian paradise. The private property – Dusun Durian Sungai Tok Pawang (GPS: 5.76419,100.48716)  has been here for more than 40 years and recently, the young owner decided to open the farm to the public.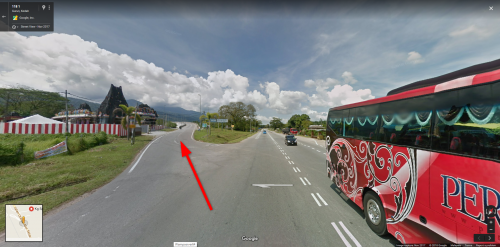 First of all, how to get there? Waze is your best friend. However, there are at least two ways to reach there and the social navigator may show you the least favorite path with dirt road and even crossing a small river (we did that, trust us). The right way is to turn left to a flyover before Gurun town, pass by Lee Latex factory and follow an unpaved (but better) road. It takes 7 minutes from the main road to the farm. Due to security reason, the durian farm's main gate is usually closed and has a "No Entry" red signboard. Move your car close to the gate so that staffs inside may notice you and open the gate for you. If in doubt, call the owner, Eric at +6012-631 8893.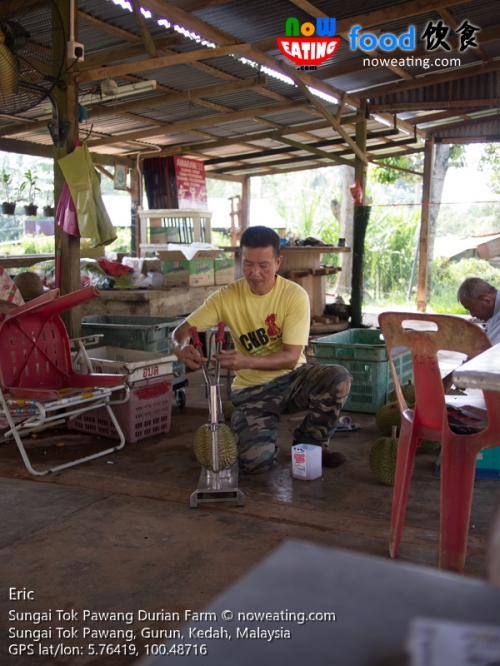 Eric is warm-hearted, friendly and goes well with customers especially if you are a Pakatan supporter. When our relatives returned to Sungai Petani during GE14, the durian meal was on him after finding out that they were Pakatan supporters as well.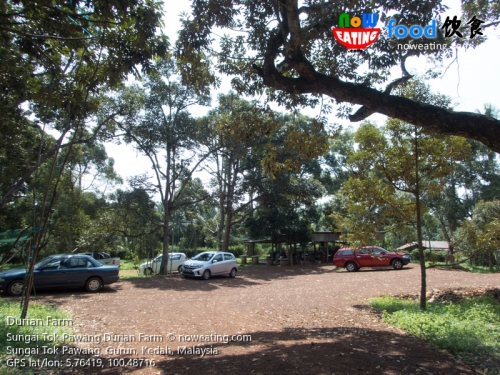 Park your car anywhere as long as it is not under durian trees. The shelter (dining area) with few tables is located right after the main gate.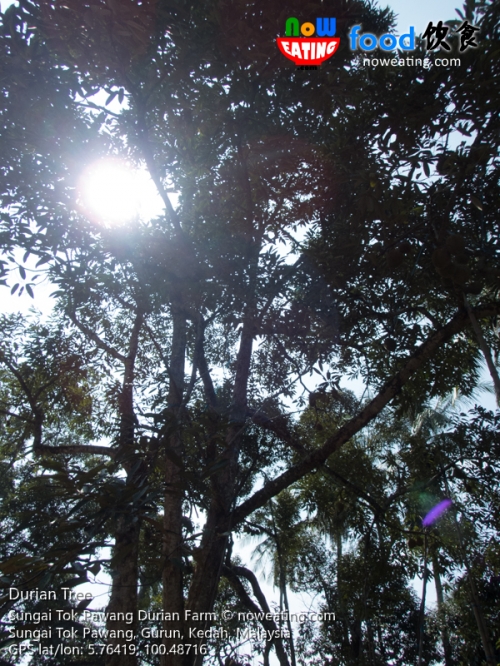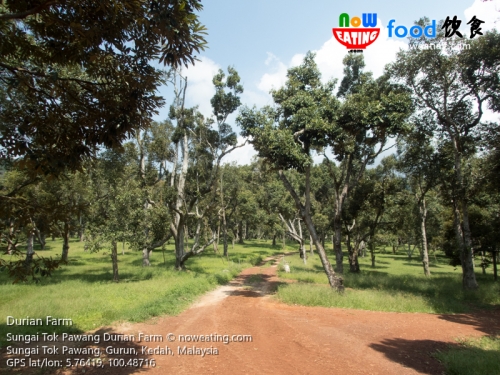 Sungai Tok Pawang durian farm has more than 2000 trees with 60-70 species of durian. We were impressed with the wavy landscape, not to mention the fresh air and the peaceful surrounding.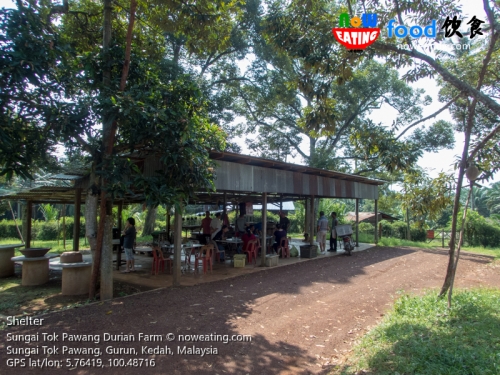 It was our first time entering a durian farm and to be honest, we were a bit anxious. After all, it was a private property. While busy serving customers, Eric asked us to grab a seat and durians were to be served shortly. As all durians are freshly picked from the farm, expect some wait time if you are looking for certain species of durians such as the famous Musang King, as workers are collecting fallen durians from the 60 arces (242,811 square meters) farm over time.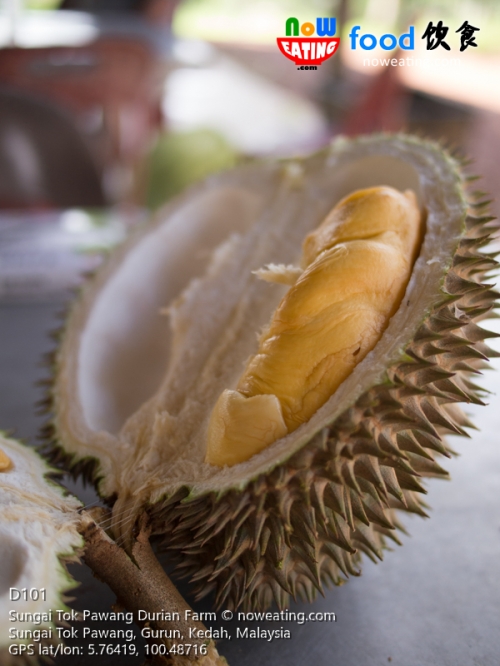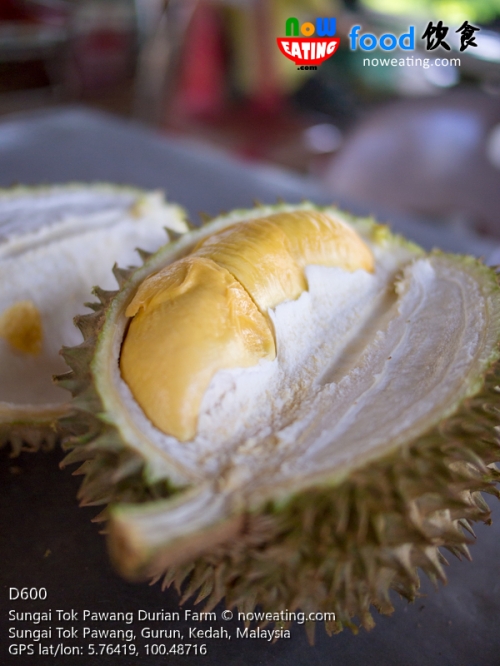 We had two "dine-in" durians selected by Eric during that morning, including D101 and D600. While both were sweet, D101 was slightly rich in flavor whereas D600 was creamier.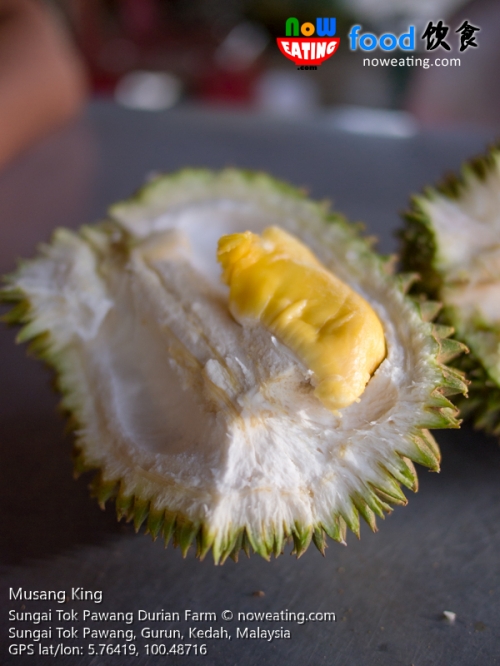 The friendly Eric even treat our mum the well-known Musang King since it was a Mother's Day.  Trust us, once you have the Musang King, you will never go for other durians. We also took away three durians, including Xiao Hong (Little Red), Kampung and an unknown species. Total damage was RM190. Note that you may need to wait for few hours before opening newly-fallen durians.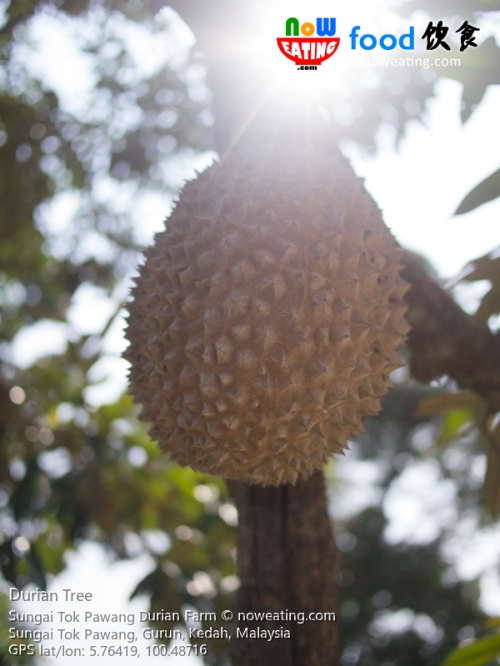 It was an enjoyable moment of having utterly fresh durian right in the farm. No doubt, the farm already went viral recently in neighbor towns including Sungai Petani. The farm usually opens from 8:30am to 5pm during durian season (May-August). Off day unknown. We strongly recommend visitors to make a call to Eric at +6012-631 8893 for durian availability and reservation before departing.
| | |
| --- | --- |
| Place Name: | Dusun Durian Sungai Tok Pawang |
| Cuisine: | Other |
| Address: | Sungai Tok Pawang, Gurun, Kedah, Malaysia |
| Tel: | +6012-631 8893 Eric |
| Working Hour: | 8:30am - 5:00pm |
| Tax: | No GST. No service charge. |
| Last Visit: | 20180513 |