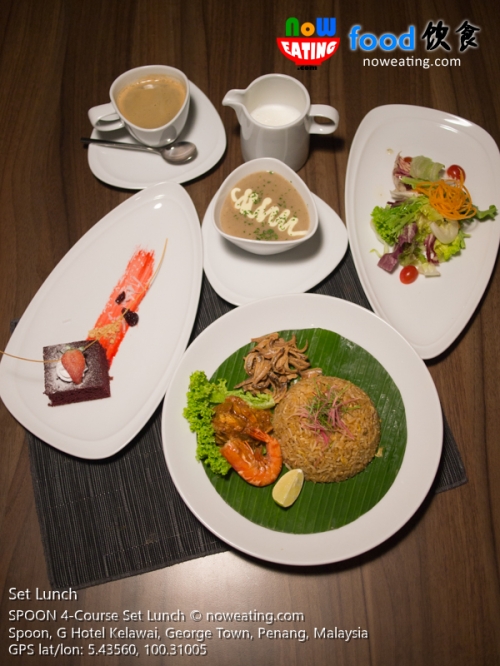 Introducing the 4-Course Set Lunch in Spoon Café, G Hotel Kelawai (GPS: 5.43560,100.31005) for only RM25 which is value of money as you are dining in an iconic, exclusive and stylish venue! The set lunch starts from 12pm – 3pm daily. There are 5 different menus rotating weekly till the end of 2018, bringing you more options for your lunch selections.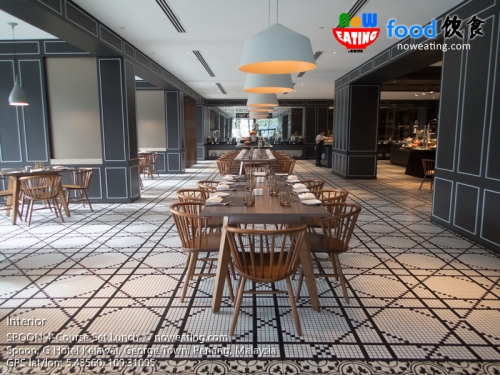 SPOON, reminiscent of a French Bistro comes with 120 seating capacity that plays host to a myriad of cuisines. Located at level 2 in G Hotel Kelawai, it is overlooking the mountain top scenery which gives a relaxing mood that helps to stimulate one's appetite. The design of the cafe features Peranakan motif cement tiles on its flooring, wooden dining tables and chairs and aesthetic circus pendant lights giving a sophistication to the ambiance. With no compromise to quality ingredients, Spoon Cafe is perfect for a casual brunch, quiet dinner for two or a business engagement.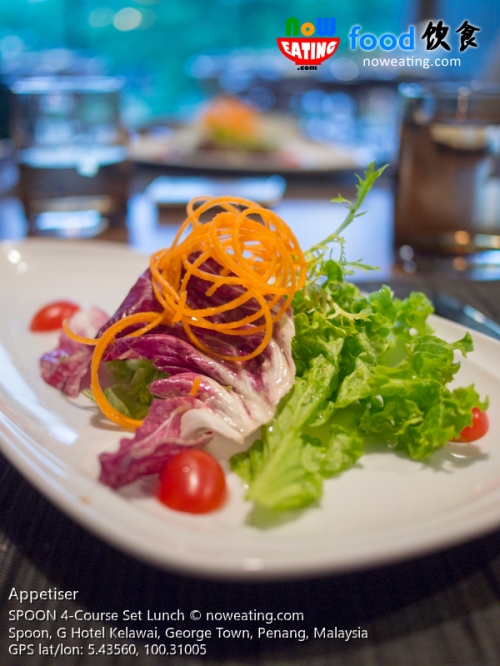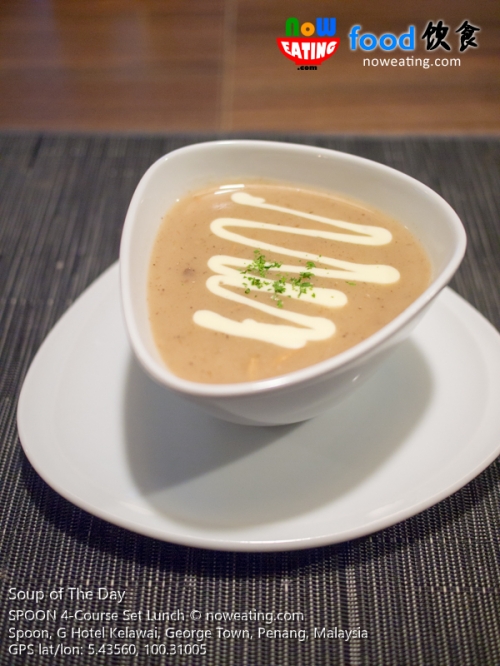 The set lunch starts with the appetizer created by in-house chef – a mesclun salad mix with the house salad dressing followed by the Soup Of The Day, which rotates between mushroom soup, chicken soup and asparagus soup weekly.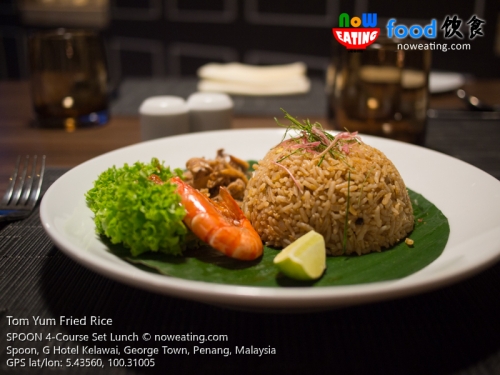 The Mains Selection offer 3 choices from the menu for a scrumptious treat.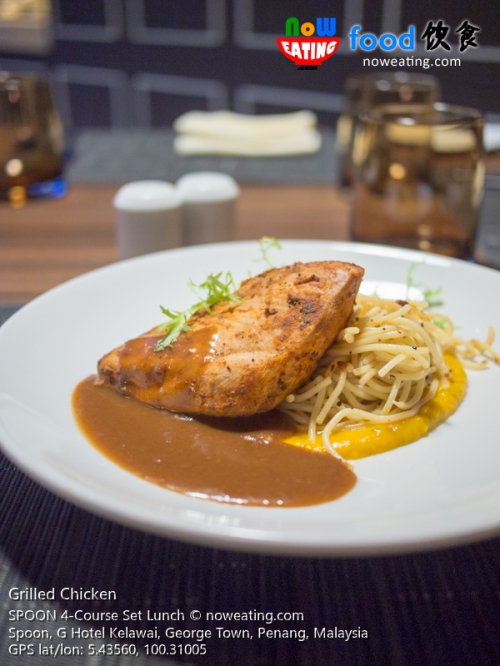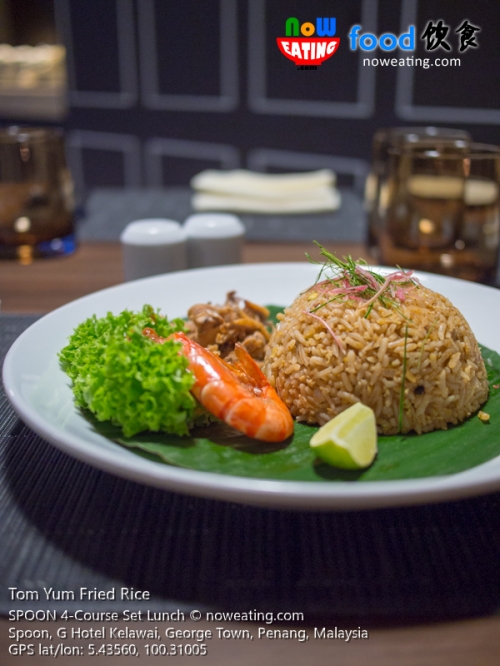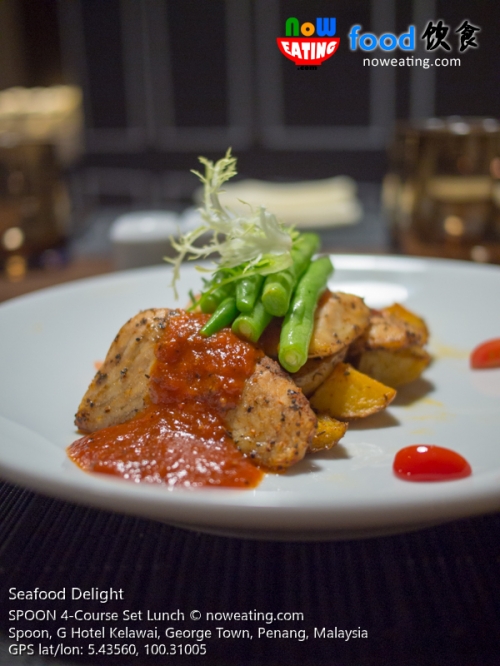 The weekly menus feature only the best from the chef with vast selections and we had a chance to try out their Menu 4. Currently the cafe have 5 menus rotating on weekly basis, including:
Menu 1:
Oriental Chicken Chop – a crispy chicken served with homemade oriental sauce, sweet onion, green peas and potatoes.
From The Ocean – a fish fillet, squid and mussels drowned in curry and served with rice, vegetables and chutney.
Hong Kong Noodles – Served with surf & turf crispy egg noodles with chicken meat, prawns, baby bok choy & egg gravy.
Menu 2:
Grilled Chicken Thigh – marinated with special spices and is then served with homemade percik sauce, chicken rice, papadam and pickles.
Seafood Delight – charred fish fillet cooked with mussels au gratin, steamed clams & cajun pommes, greens and lemon cream.
Pasta of The Day – Tossed Spaghetti in Aglio Olio style, black olives, shrimp, clams, olive oil, chili flakes and sliced garlic.
Menu 3:
Grilled & Fried – crispy onion rings, fish fingers, hot wings, sausages, butter corn kernels with chilli & tartar sauce served in a plate full of goodness.
From The Ocean – Seared fish steak, pasta, market greens and tomato-caper Beurre Blanc.
Kapitan Chicken – well-known Nyonya cuisine in Malaysia. Chicken drumstick served in thick curry with potatoes, rice, papadam & egg.
Menu 4:
Grilled Chicken – Marinated Chicken Breast, Pumpkin Gremolata, Spaghetti and Natural Jus.
Tom Yum Fried Rice – spicy wok fried rice A La Thai served with prawns, anchovies, lime, wedges, egg and mango chutney.
Seafood Morsels –  charred fish fillet served with Pommes De Terre Aux Herbs, greens, pepper coulis & sweet basil.
Menu 5:
Supreme Chicken – seared chicken fillet, mushroom ragout, herbed pommes and market greens.
Mango Fish Fillet – crispy fish fillet cooked with mango sauce and egg and served with fried rice.
Linguine A La Carbonara – pasta tossed with cream sauce, shimeji, chicken meatloaf and egg yolk.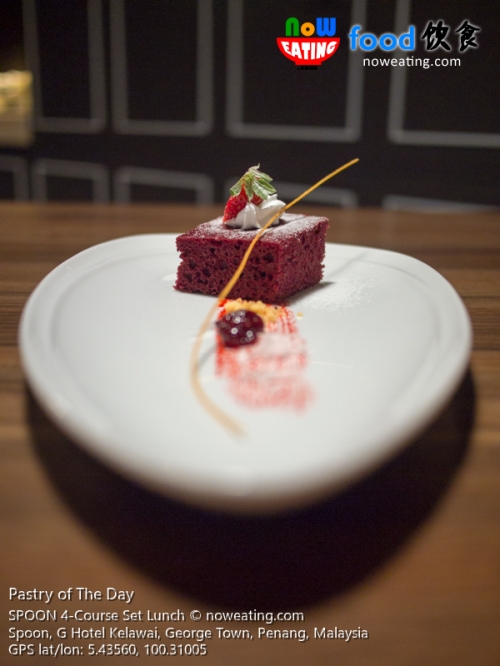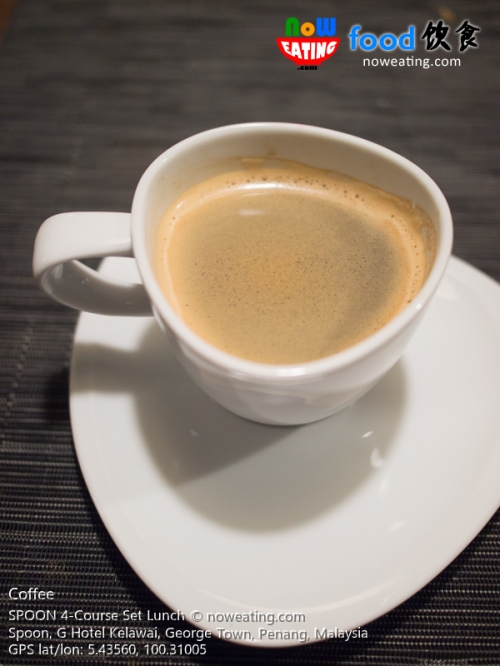 Lastly, the meal will end with a sweet treat, offering Pastry Of The Day. Coffee and tea will also be served.
SPOON is proud to have its Executive Sous Chef, Ong Keng Siew to head the culinary team. Since 1986, Chef Ong specializes in Western cuisine, and traveled to numerous countries to enhance his skills, in Malaysia, Papua New Guinea, New Zealand, Switzerland, Singapore and Philippines. With more than 30 years of experience as a chef, he is now in charged of the menu planning, quality control, food cost and presentation for G Hotel.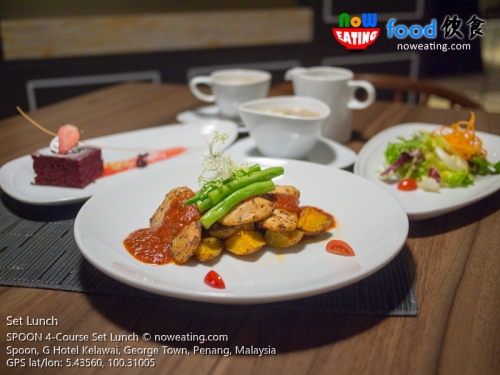 Food has always been the heart of Penang culture. Catch your 4-course midday quick fix at SPOON with French Bistro setting for an upscale dinning experience for just RM25. Please visit www.ghotel.com.my or contact +604 219 0000 for set lunch bookings or further information about SPOON.
| | |
| --- | --- |
| Place Name: | SPOON Cafe @ G Hotel Kelawai |
| Cuisine: | Western, Chinese, Thai |
| Address: | 2, Persiaran Maktab, George Town, 10250, Penang, Malaysia |
| Tel: | +604-219 0000 |
| Email: | [email protected] |
| Last Visit: | 20180808 |