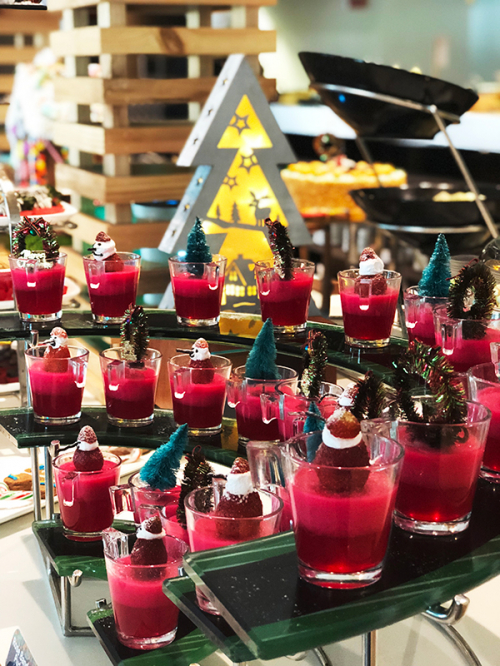 The festivity scene at Olive Tree Hotel (GPS: 5.327201, 100.279068), Penang glows once again from the first week of December 2018 to 7 January 2019. For the third consecutive year, the hotel surroundings will be transformed into Christmas Land with huge, brightly lit Christmas trees, captivating decorations, reindeers and santa's sleigh. Be sure to bring your family and friends, along with your best camera for some insta-worthy photos. We recently visited this popular hotel in Bayan Lepas area for a Christmas buffet preview session. Read more for the verdict and food photos on actual days.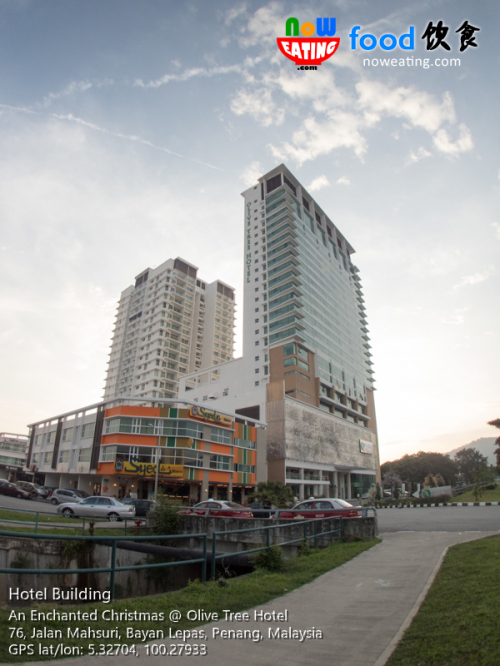 We recently visited the 4-star hotel for their Buffet Luncheon and took this opportunity to try out some upcoming Christmas dishes. Strategically located near to Bayan Lepas industrial zone and just opposite of sPICE arena, Olive Tree Hotel is one of the famous places for company events, lunches and dinners. It can be even fully booked when sPICE is having functions so we recommend our readers to make reservation in advance.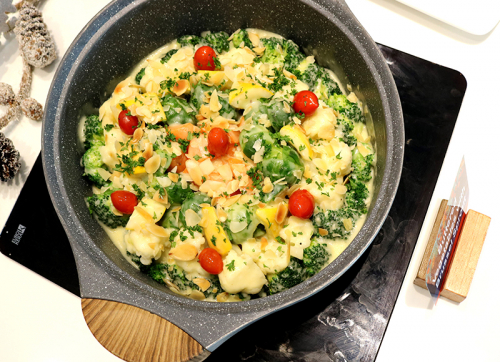 Butter Brussel Sprouts with Mixed Vegetables
To be honest, we were surprised with the crowd during our Sunday's Buffet Luncheon in which tables were almost fully occupied with chefs busy replenishing empty food trays on buffet spread. We believed one of the main reasons being the competitive price. Overall, we were satisfied with the buffet especially on their cold cuts, grilled food and hot tray items. Presentation-wise, it is on par with 5-star hotels. Special thanks to a hotel representative, we obtained some photos (as shown in this blog post) on dishes you would expect during Christmas Eve and Christmas Day itself.

Honey Glazed Turkey Square with Pineapple
Festive Buffet Luncheon
Date : Mon-Fri | Time : 12pm – 3pm
Price : MYR70+ for adult, MYR50+ for senior citizen (60 y/o and above), MYR35+ for child (5-12 y/o)
Location : Sukkah Coffee House, Level 1
Date : Sat-Sun | Time : 12pm – 3pm
Price : MYR75+ for adult, MYR50+ for senior citizen (60 y/o and above), MYR40+ for child (5-12 y/o)
Location : Sukkah Coffee House, Level 1
Christmas Eve Buffet Dinner, 24 December 2018, 7pm – 10pm
Christmas is about spending time with family and friends. For a joyous and memorable occasion, gather everyone for the countdown to Christmas with a sumptuous dinner whilst being entertained by a cheerful clown, live band and Christmas carolling (Penang Chesire Home and Glory Mission Church). For your Christmas eve feast, celebrate the night with a Christmas Eve Buffet Dinner at Sukkah Coffee House. An array of buffet spreads of salad bar, Japanese corner, compound salads, cheese platter, hot dishes, craving station, pasta station, Brazilian grilled and sweet delights will satisfy hearty appetites. The selection of tantalising Christmas dishes are favourites like Roasted Whole Turkey with Raisin & Chestnut Stuffing, Roast Beef Wellington with Rendang Sauce, Seafood on Ice of Scallops, Prawns and Mussels, Panfried Salmon with Dill Sauce and many more. For the finishing experience, indulge in sweet delights like our Christmas Tiramisu Cake, Christmas Pudding with Vanilla Anglaise, Raspberry Crème Brulee, Crepes Suzettee with Condiments and many more.
Date : 24 December 2018 | Time : 7pm – 10pm
Price : MYR138+ for adult | MYR69+ for child (aged 5 – 12 years old)
Location : Sukkah Coffee House, Level 1
Top up MYR30+ for free flow of beer and wine.
Diners enjoy 20% discount on adult pricing for bookings made and paid before 16 December 2018.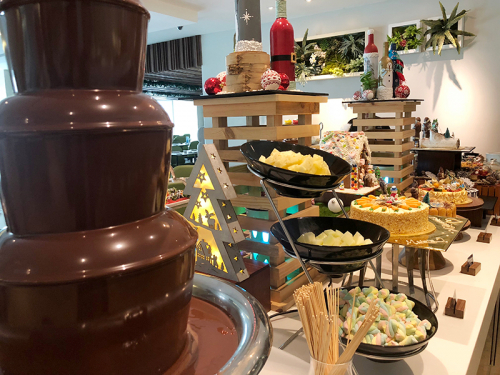 Chocolate Fountain with Condiments
Christmas Day Buffet Brunch, 25 December 2018, 12pm – 3pm
On Christmas Day, continue to share the joy of Christmas at Sukkah Coffee House. Combining the use of fresh ingredients with classic Christmas trimmings, one can expect something to suit every palate from buffet brunch. Choose from an ensemble of appetisers, soup, a selection of cold cuts, or whet your appetite with your favourite cheese to celebrate this special day. Wide varieties of hot dishes includes highlights such as Beef Stroganoffs with Mushroom and Parsley, Roasted Baby Potatoes with Herbs and Seasoning, Sambal Udang Bistari as well as the carving station of Roasted Lamb Leg with Condiments and Sauce. Have a sweet ending with Christmas desserts like Christmas Pudding, Mixed Fruit Cakes Aloaf, Stollen and many more.
Date : 25 December 2018, Time : 12pm – 3pm
Price : MYR95+ (adult) and RM47+ (child, 5-12 years old)
Location : Sukkah Coffee House, Level 1
For more enquiries or bookings, please contact +604-637 7856 or email at [email protected]
| | |
| --- | --- |
| Place Name: | Olive Tree Hotel |
| Cuisine: | Buffet |
| Address: | 76, Jalan Mahsuri, Bayan Lepas, 11900, Penang, Malaysia |
| Tel: | +604-637 7856 |
| Last Visit: | 20181202 |