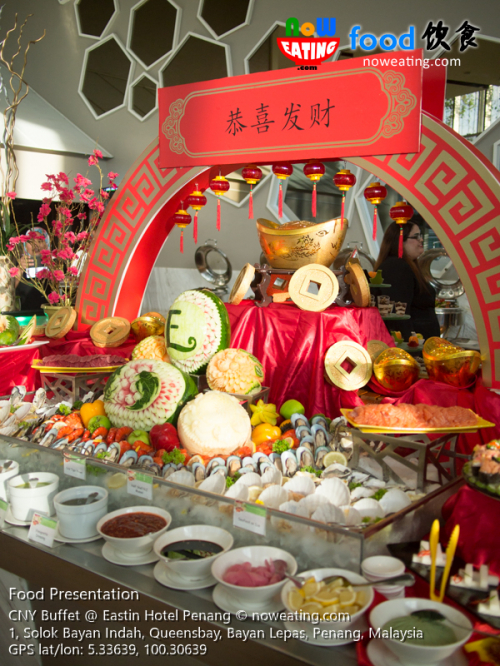 It had been years since we last visited Eastin Hotel Penang (GPS: 5.33639,100.30639). We recently re-visited this business hotel at Bayan Lepas, Penang for a Chinese New Year buffet review session.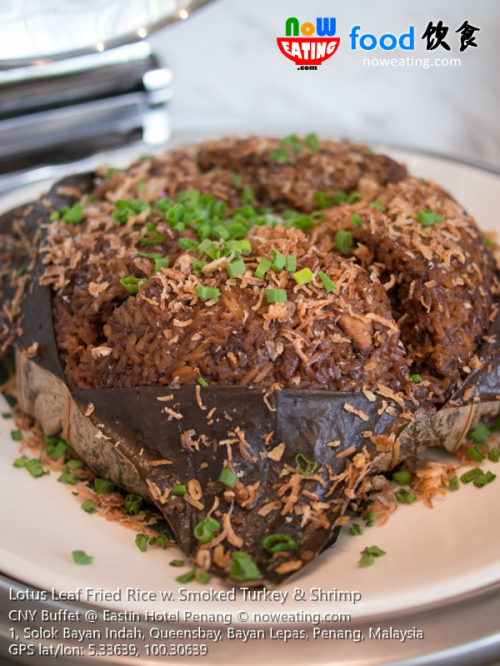 Chinese New Year signifies spring and it is an occasion for reunions with family and friends. This year's Chinese New Year Reunion Buffet Dinner at Eastin Hotel Penang will be an exceptional dining experience for guests. The array of buffet dishes are carefully selected to showcase the best authentic and luxurious Chinese dishes to cater to those celebrating Chinese New Year during this session.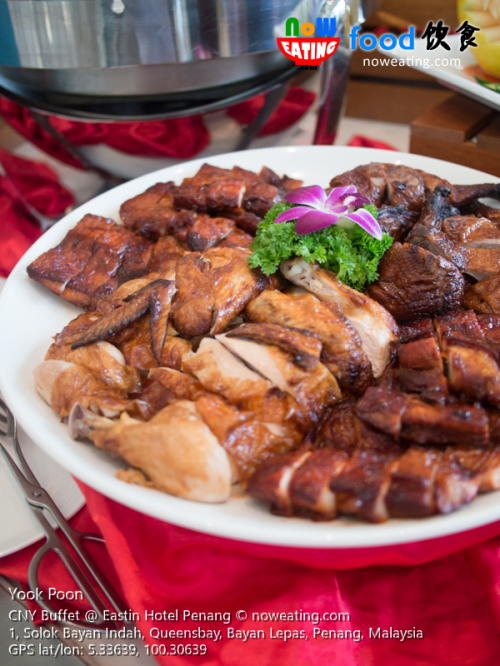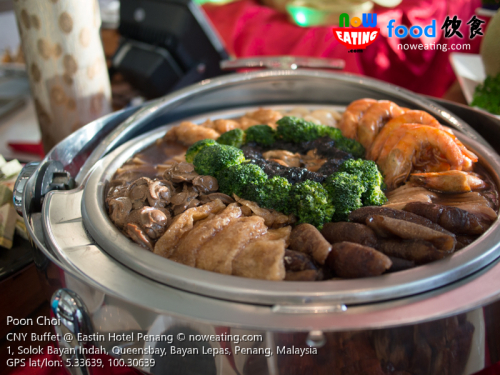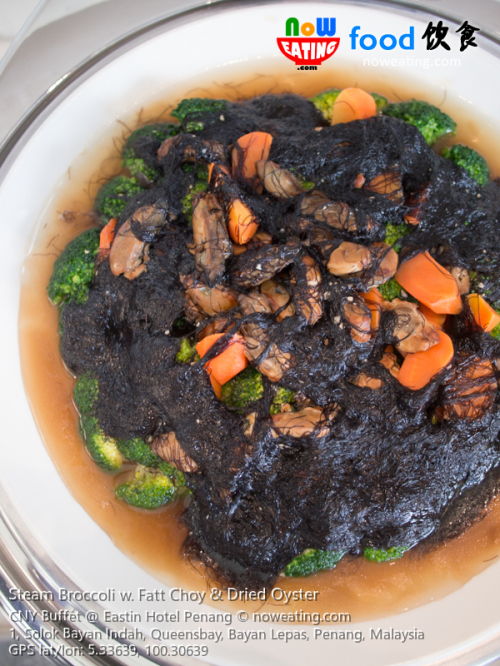 Our recent visit to its CNY buffet dinner preview session was an eye-opener, proven by a prominent blogger who booked his reunion dinner on the spot. From the dishes presented during preview session, there is no surprise that one will make reservation for his/her family. For instance, Poon Choi, Yook Poon, and Steam Broccoli with Fatt Choy and Dried Oyster are already worth the buffet price. Who could expect a Poon Choi to appear in buffet line?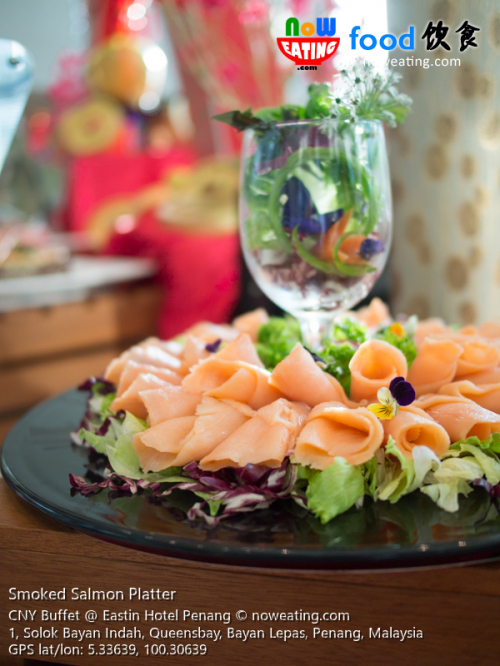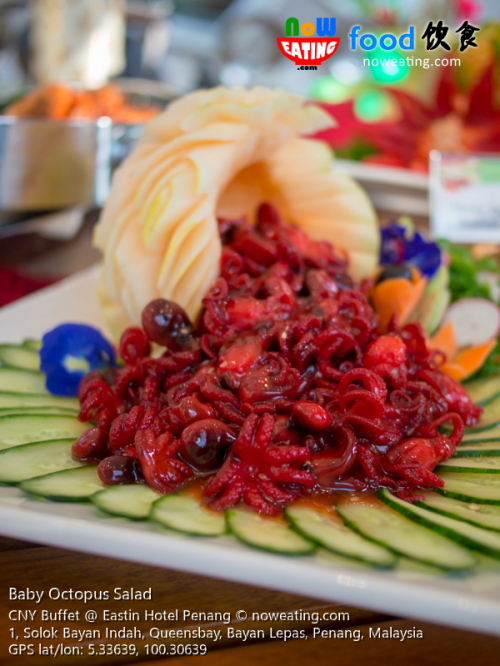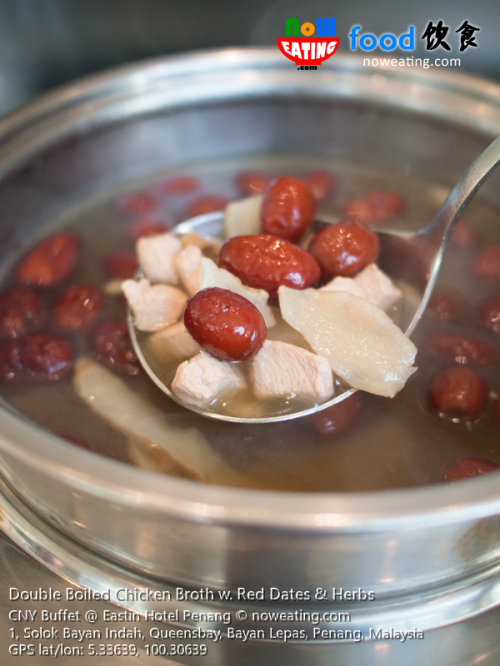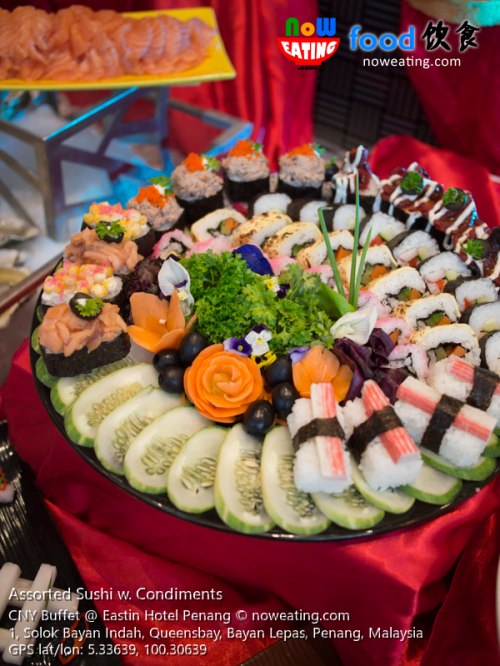 Their appetizers are not letting us down as well with aromatic Double Boiled Chicken Broth with Red Dates and Herbs, Smoked Salmon Platter, Baby Octopus Salad, Assorted Sushi with Condiments to name a few.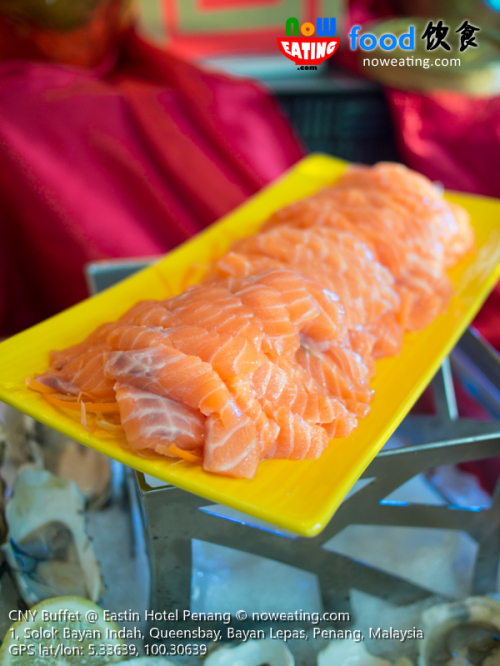 If the Smoked Salmon Platter is not enough for you, go for Sashimi.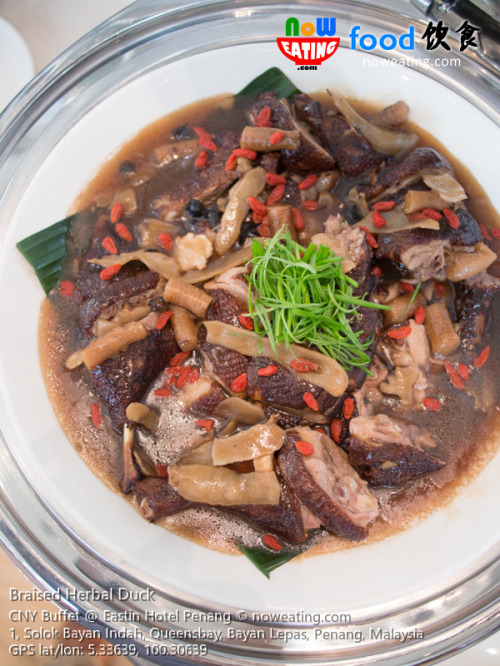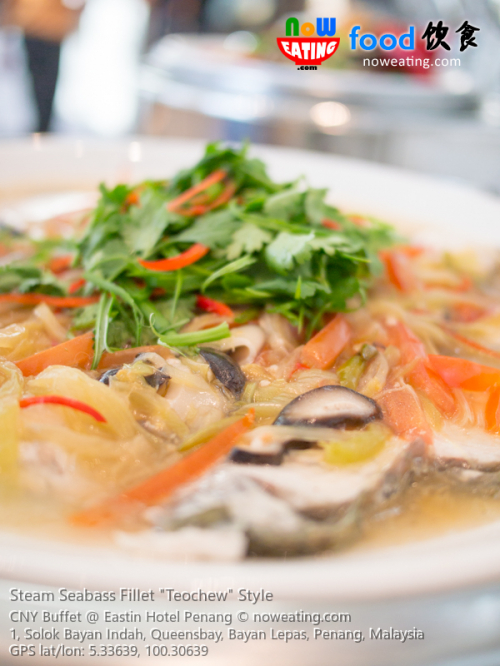 Not to be missed are some authentic Chinese hot tray dishes, including Steam Seabass Fillet "Teochew" Style and Braised Herbal Duck.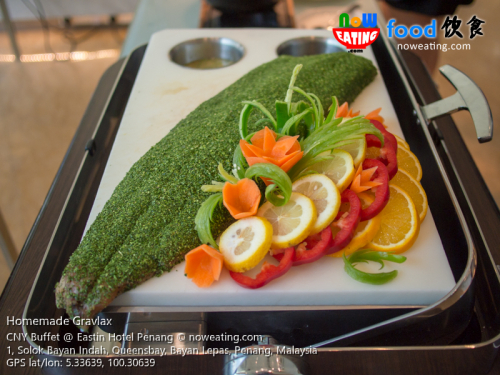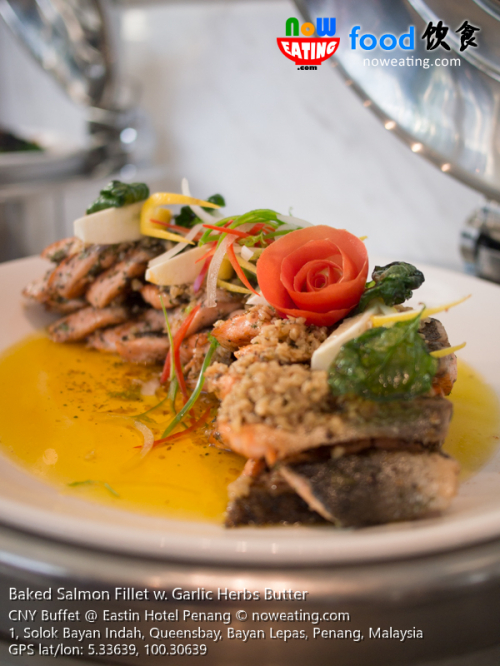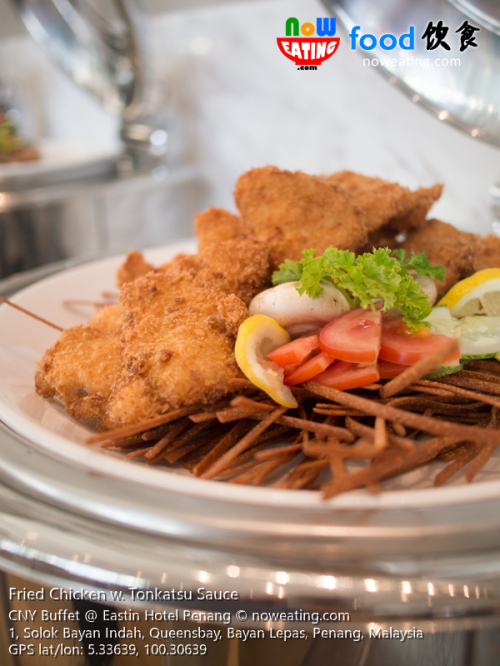 For young generation like us, we prefer something out of ordinary such as Fried Chicken with Tonkatsu Sauce, Baked Salmon Fillet with Garlic Herbs Butter, and Homemade Gravlax. Among them, we strongly recommend Homemade Gravlax.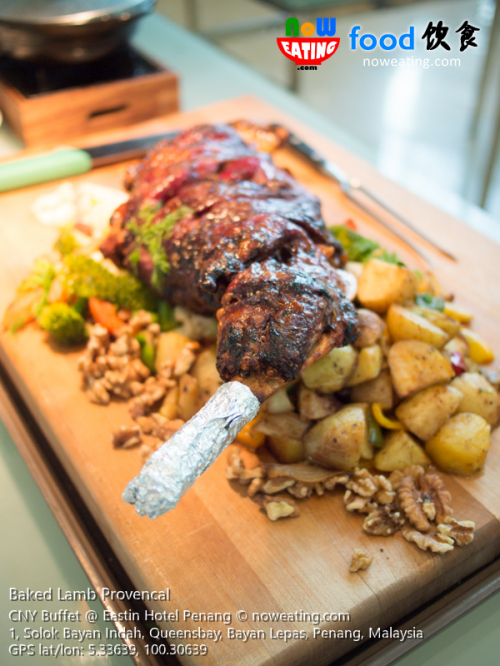 Who could expect the usually-gammy lamb tasted as good as roasted BBQ chicken. Yes, the Baked Lamb Provencal really tasted like chicken.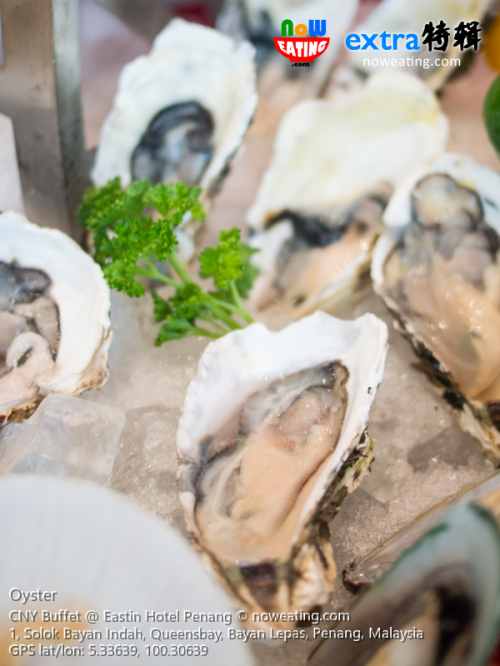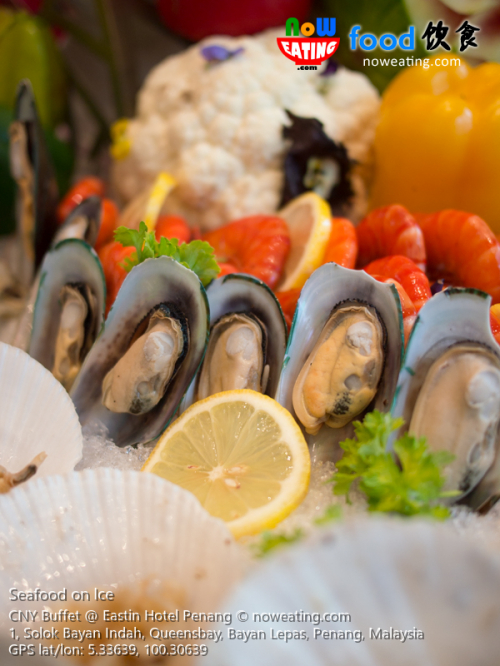 Last but not least (even though we strongly recommend you grab them at the start of the buffet), seafood on ice. As a whole, kudos for chefs from Eastin Hotel Penang with their authentic Chinese cuisine at unbeatable price.
The Chinese New Year promotions are as follows:
Family Reunion Buffet Dinner
Date: 4-Feb-2019 7pm-10pm
Price: RM138 nett for adult
Chinese New Year Buffet Lunch
Date: 5 & 6 Feb 2019 12pm-2:30pm
Price: RM98 nett for adult.
Chinese New Year Buffet Dinner
Date: 5 & 6 Feb 2019 7pm-10pm
Price: RM118 nett for adult
Senior citizens get a 25% discount each and children get a 50% discount per child (6-11 years old). An early bird promotion of dine 6 pay 5 applies for full paying adults only and this offer is valid with full payment before 25-Jan-2019. As an example, if you have two seniors and six adults, the Family Reunion Buffet Dinner just costs you RM897, or RM112 per pax if you reserve early.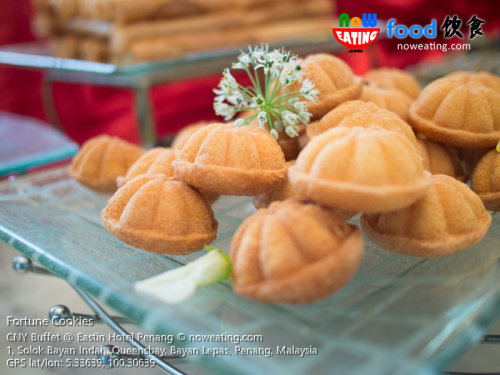 The program for the coming Reunion Dinner includes a mask changing show, warrior drums, and clown appearance for the kids. The hotel's Lion Dance Performance will be held at the lobby area on 11-Feb-2019 (Mon) at 9:30am.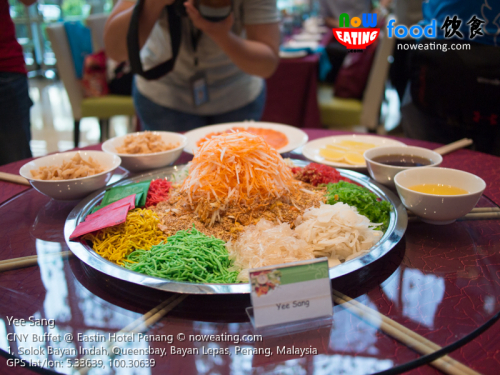 To add on, Yee Sang is also available for take away from 22-Jan to 19-Feb:
Abalone Yee Sang – RM188 nett
Salmon Fillet Yee Sang – RM158 nett
Jellyfish Yee Sang – RM128 nett
For more information and reservation, please contact Eastin Hotel Penang at 04-612 1111 or email [email protected]
| | |
| --- | --- |
| Place Name: | Eastin Hotel Penang |
| Cuisine: | Buffet |
| Address: | 1, Solok Bayan Indah, Queensbay, Bayan Lepas, 11900, Penang, Malaysia |
| Tel: | 04-612 1111 |
| Email: | [email protected] |
| Last Visit: | 20190114 |