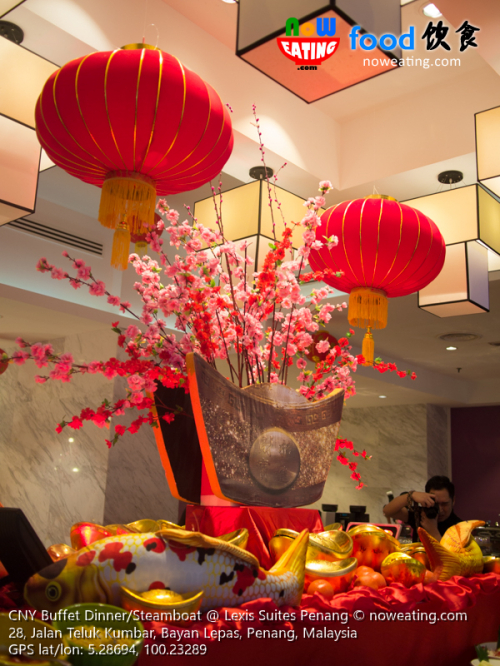 Lexis Suites Penang (GPS: 5.28694,100.23289) – the prominent hotel in Teluk Kumbar, has 222 suites and is perhaps the only 5-star hotel at south part of Penang island. It was our second time visiting the premise, specifically its Roselle Coffe House, after having positive experience on their Christmas buffet last year. This round, we visited it for Chinese New Year buffet and steamboat preview session.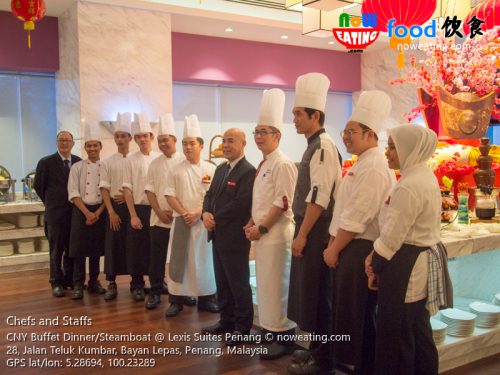 In general, Executive Chef, Johnno Fong and his culinary team have prepared a grand Reunion Buffet Dinner on 4th February 2019(6.30pm – 10.30pm), Steamboat Set & 9-Course Set Meal from 4th – 19th February 2019(6.30pm – 10.30pm). What better reason to skip all the hassle of preparation, cleaning, and dine out instead, thus assuring a delicious and joyous celebration with your loved ones, relatives and friends.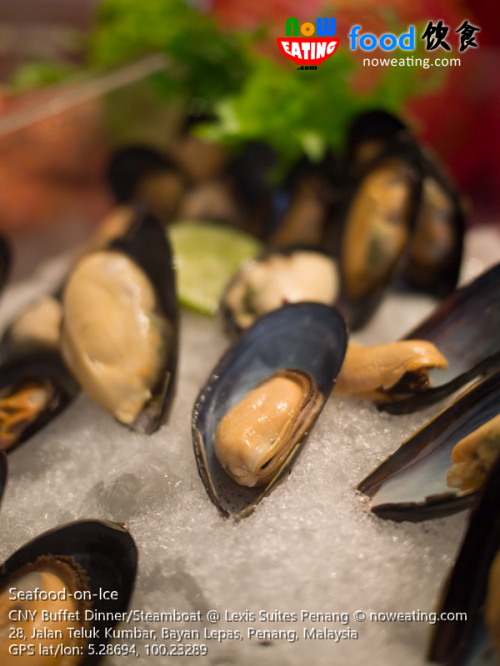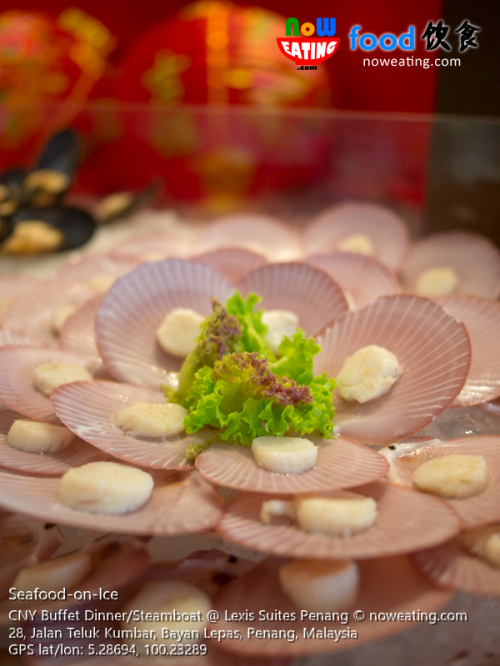 CNY Reunion Buffet Dinner is only available on 4-Feb-2019 from 6:30pm to 10:30pm. RM120 nett per adult, RM90 nett for Senior Citizen, RM70 nett per child.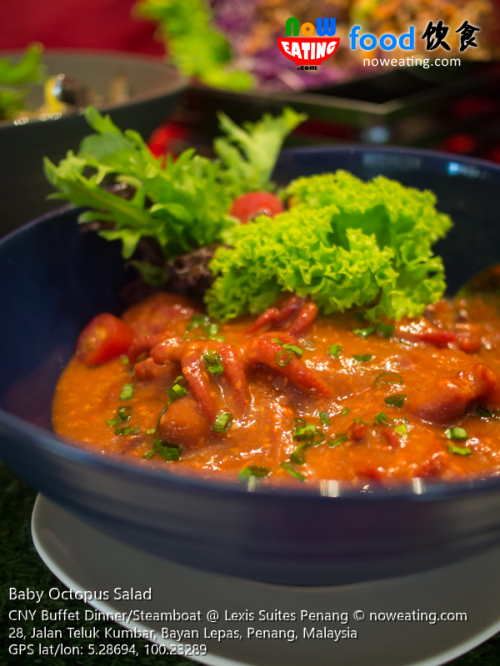 Is it worth the price? In our opinion, yes. Quantity-wise, it may not have the most choices compared to other 5-star hotels. However, one can be easily blown away by its quality.
The buffet spread comprised of many different sections, ranging from salads, cold items, soup, hot dishes, seafood on ice, action counter, fried corner and desserts.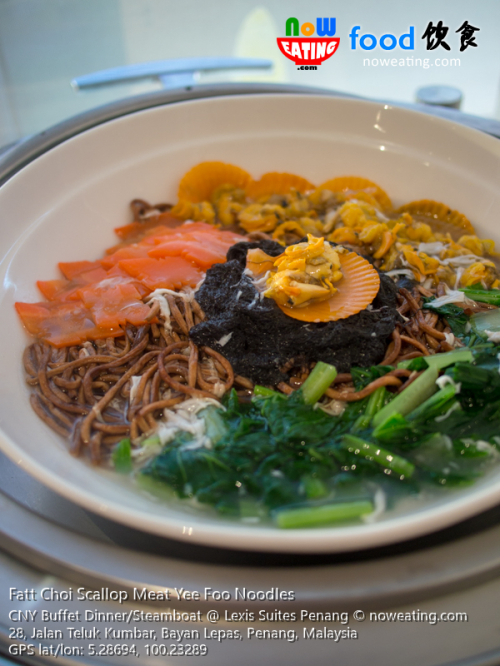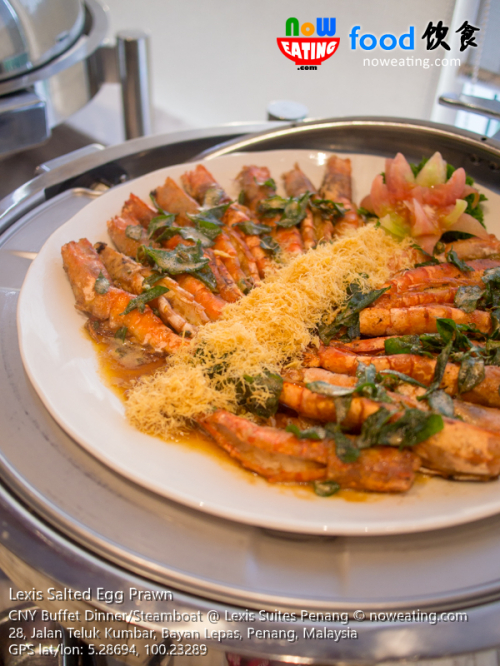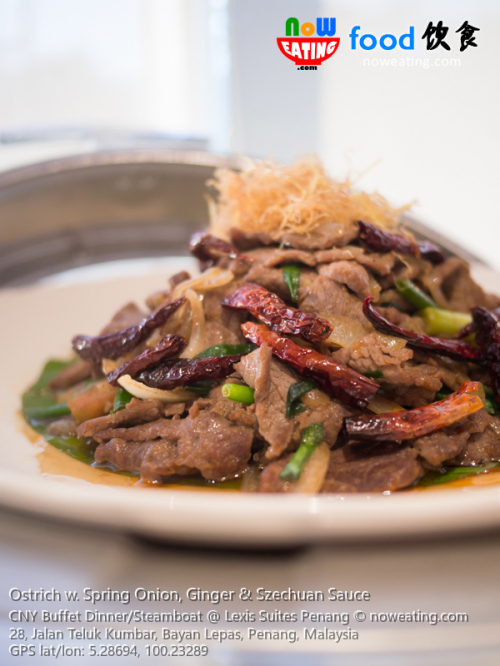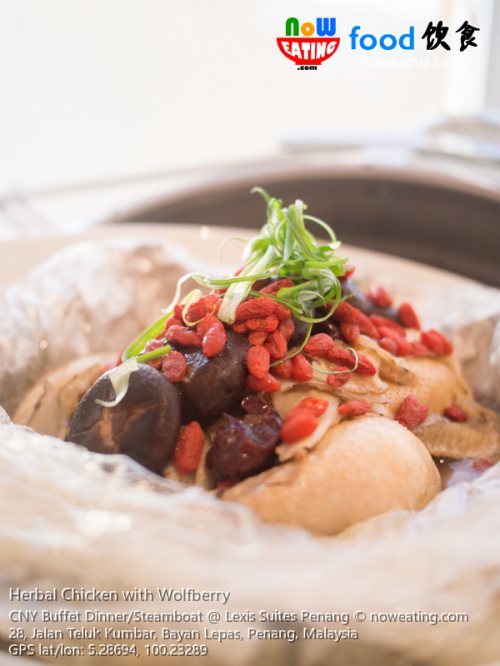 For the mains, diners will find many Oriental style dishes such as Golden Fried Rice, Fatt Choi Scallop Meat Yee Foo Noodles, Lexis Style Salted Egg Prawn, Ostrich with Spring Onion, Ginger and Szechuan Sauce, Herbal Chicken with Wolfberry among others.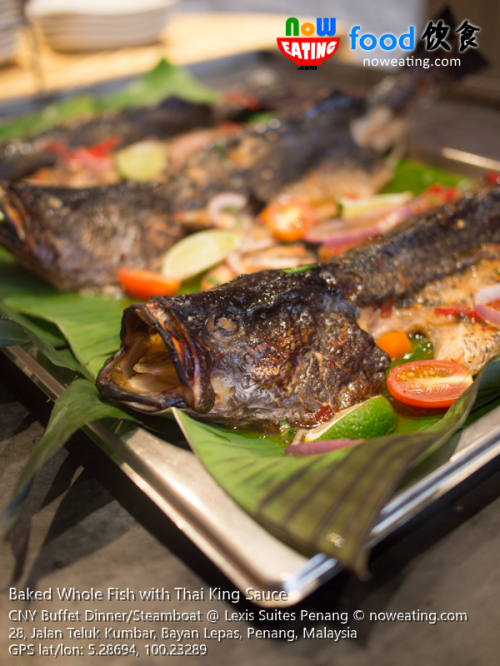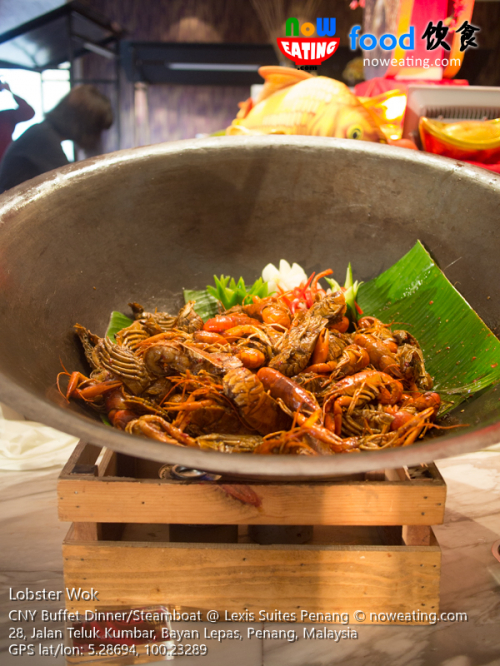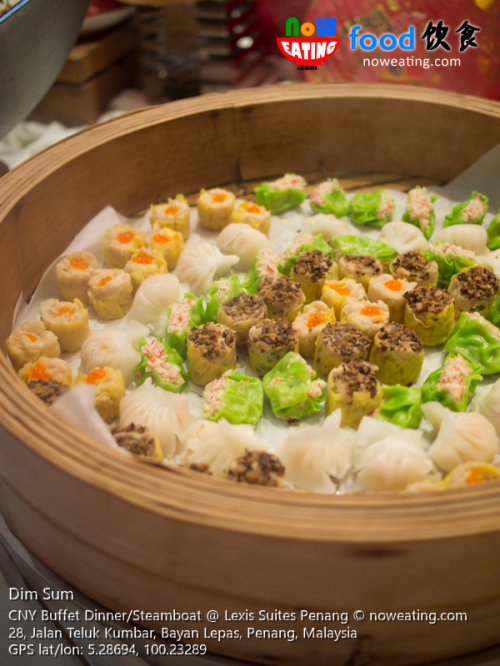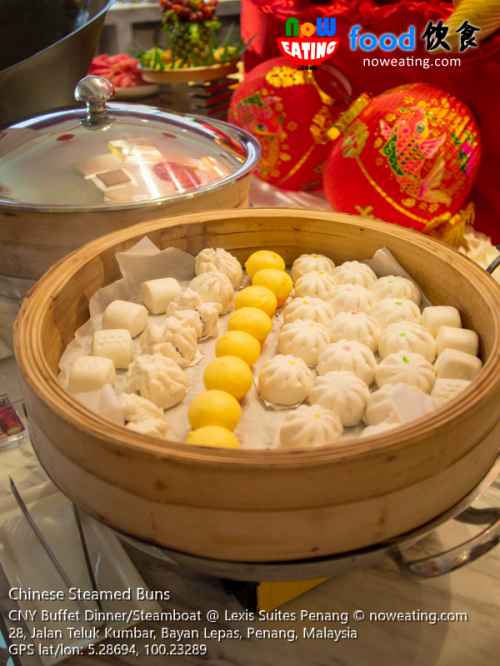 A variety of deep fried items such as Tempura Squid & Pumpkin Fritter spices up the mix, and for a different filing, try out the action counters consist of Baked Whole Fish with Thai King Sauce, Lobster Wok, classic Steamed Dim Sum's and Man Tou.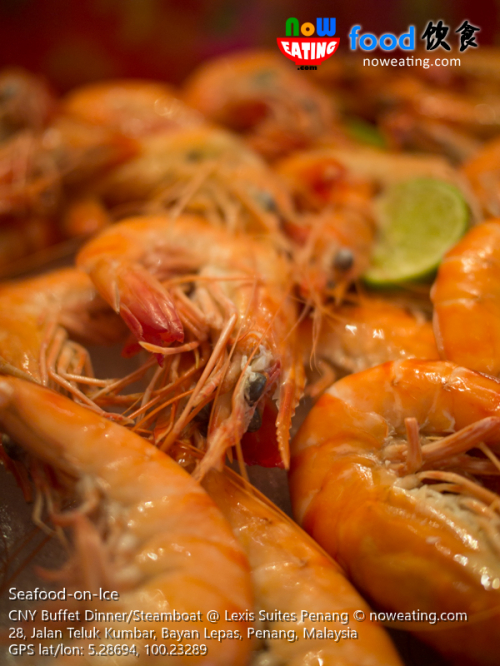 A trump card for Lexis Hotel buffet dinner is that the seafood are utterly fresh and enormous. Shrimps on ice, for example, were as large as our palm – a size hardly seen in any other hotels. After all, the hotel is nested in a once fisherman village.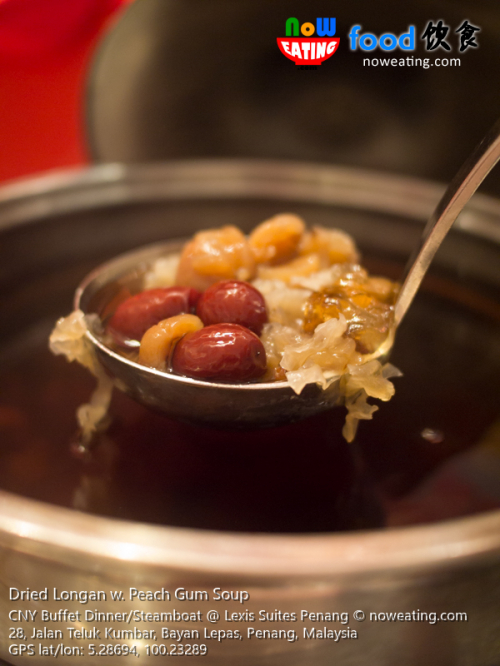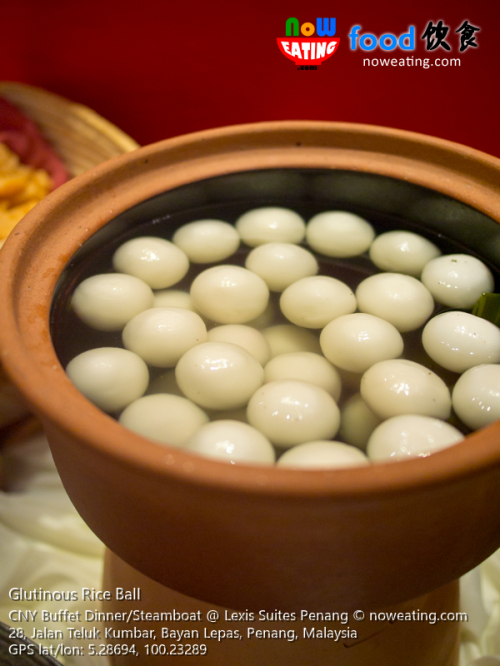 End the buffet on a sweet high with Mini French Pastries, Chocolate Fountain, Ice Kacang, Dried Longan with Peach Gum Soup and others. And with it being Chinese New Year, you cannot go without some succulent Mandarin Oranges, Fortune Cookies, Chinese Cookies and Pandan Tau Fu Fa with Brown Sugar.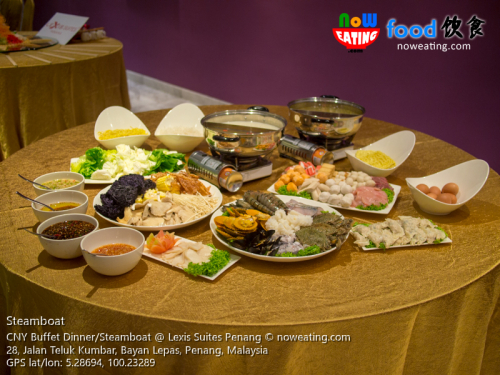 Missed the reunion buffet dinner? Don't worry. Prosperous Steamboat Set Dinner is available form 4-19 February 2019 and is priced at RM360 nett for 4 pax, RM500 nett for 6 pax, and RM988 nett for 10 pax.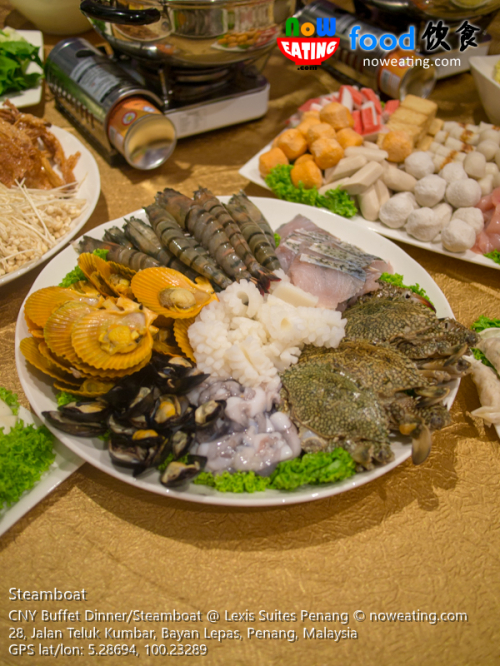 Comes either in tomyam, clear chicken soup, creamy fish soup or herbal soup, they can enjoy the tasty stock with local delicacies such as chicken meat slice, lamb slice, fish fillet, flower crab, baby octopus, prawn, enoki mushroom, scallop and many more.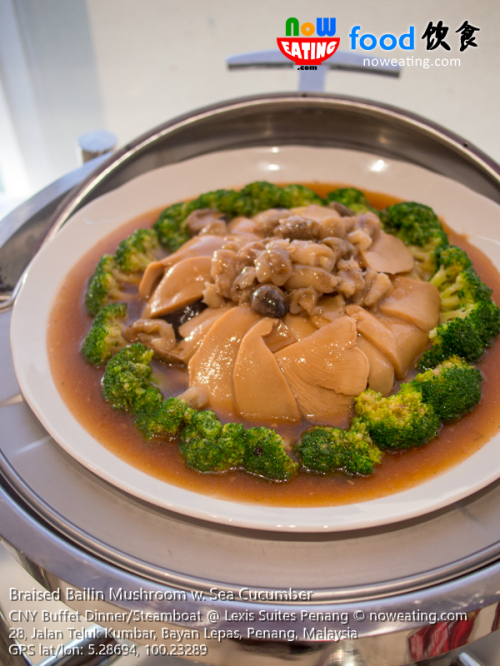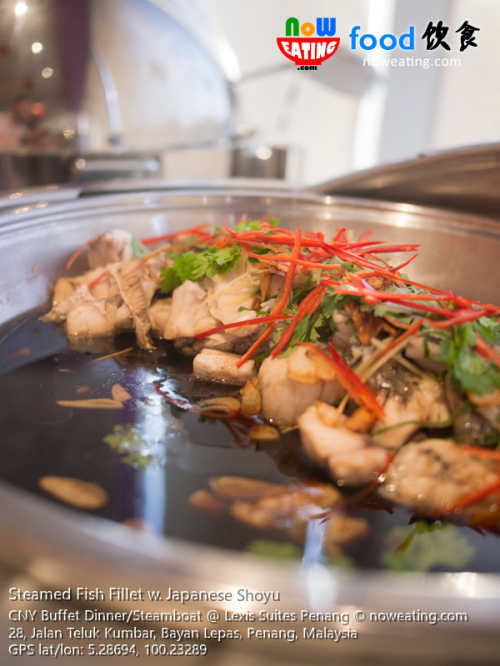 Alternatively, 9 Course Set Menu is available at RM888/RM1088/RM1388 nett per table of 10 pax from 4-19 February 2019 as well (6:30pm-10:30pm).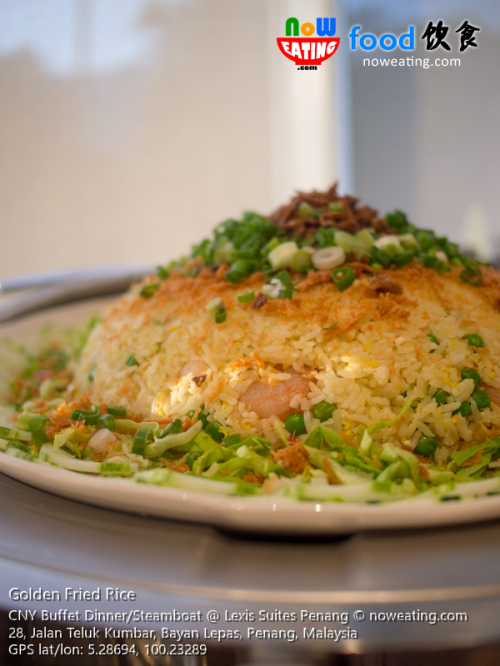 Depending on which you go for, you might get to enjoy signature dishes like Braised Dried Oyster Sea Moss Assorted Mushroom with Broccoli, Steamed Grouper with Thai Fragrant Sauce, Seafood Treasure Fried Rice with Ebiko or Double Boiled Exclusive Sea Coconut with Ginseng Root and Sea Bird Nest.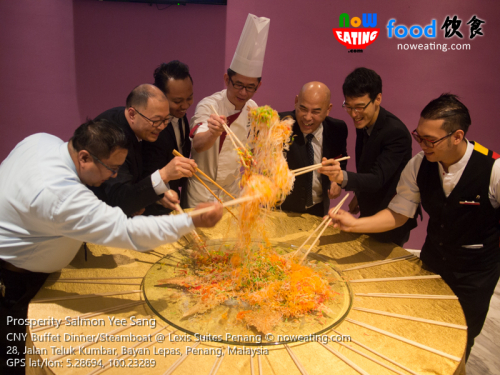 For both steamboat and course meal, Yee Sang will be included. It can be ordered separately from 4-19 February 2019 from 11am to 10pm at RM108 nett per set for 10 pax. Available for dine-in or takeaway.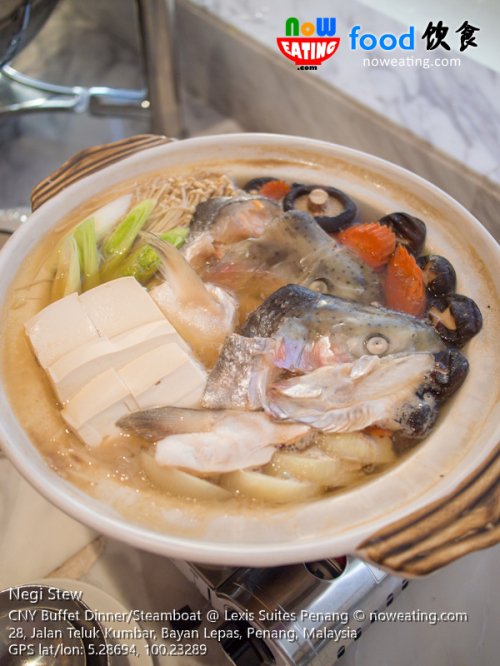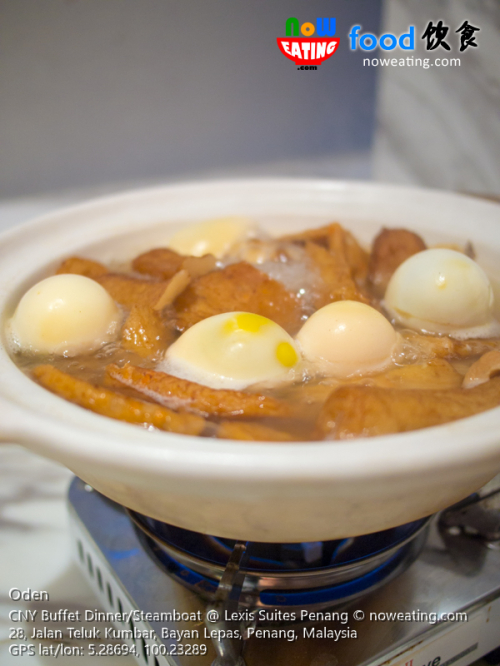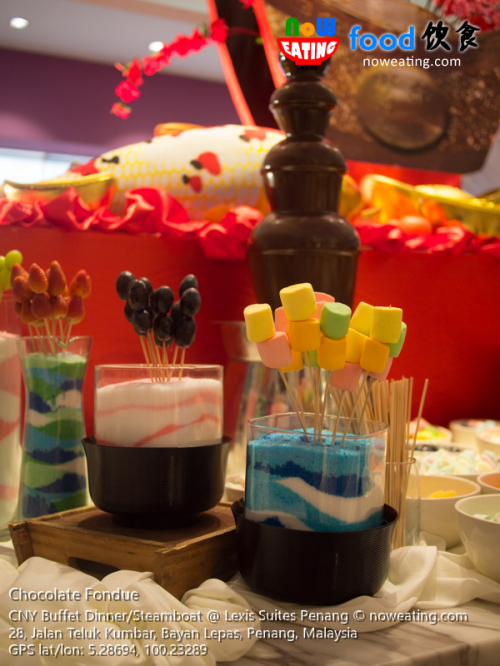 As a whole, we were impressed with Lexis Suites Penang's Chinese New Year buffet dinner thanks to its more authentic Chinese cuisine with seafood that anything fresher you have to catch it yourself. For reservation, kindly call 04-6282888 or email to [email protected]
| | |
| --- | --- |
| Place Name: | Lexis Suites Penang |
| Cuisine: | Chinese |
| Address: | 28, Jalan Teluk Kumbar, Bayan Lepas, 11920, Penang, Malaysia |
| Tel: | 04-6282888 |
| Email: | [email protected] |
| Last Visit: | 20190107 |