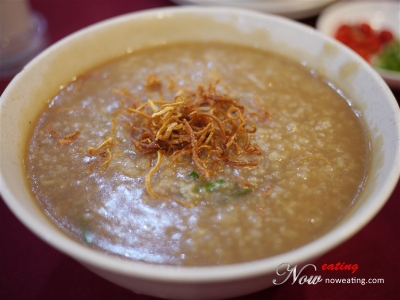 Char Moey (Fried Porridge) – A dish hard to find in some areas, is now available in Tanjung Tokong . Unlike normal porridge, it is mildly fried to brown color with pork and the fragrant from wok. I was introduced by my friend to try it one day.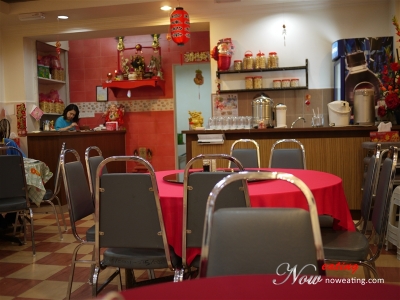 The shop is called 113 Fried Porridge and Catering. Don't ask me why it is called "113" (the house number is not 113… ). Maybe it is their old house number, in which I heard they was operated in different location previously. The dining area is clean and air-conditioned, making it a good place to dine in.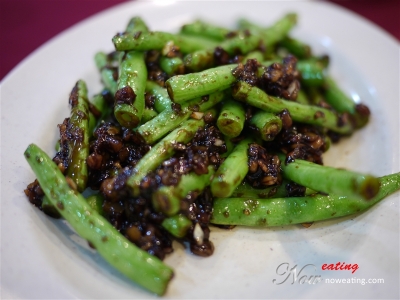 Other than the famous fried porridge, the restaurant also provides other "Choo Char" dishes. Vegetable-wise, it has its famous black four season bean (招牌黑四季豆) (RM8.00 small). The topping is crunchy since it is crunched with "chai por" (dried carrot). Best served with rice.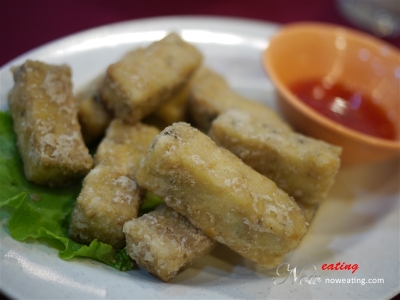 Another specialty is its "Yunnan Bean Curd" (云南豆腐) (RM6.00). From outside, it looks like Hakka seafood bean curd. However, it is normal bean curd with crunchy skin. "Hard outside, soft inside", basically.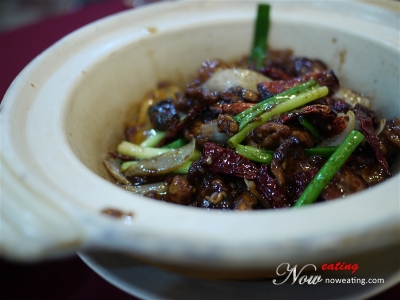 I usually won't repeat the same order for first few visits in order to try as many different dishes as possible. Looks like I suffered from Parkinson's disease. I ordered the same Salty fish with baily pork (咸鱼花腩煲 – 瘦肉) (RM10.00) served in claypot for both first and second visits.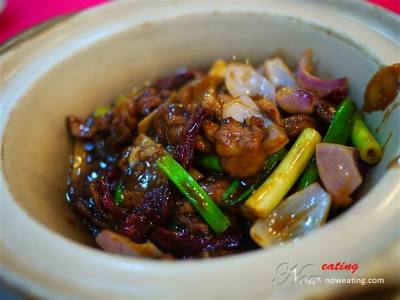 Anyway, you can't blame me because it is delicious. It is also best served with rice since it is kind of salty. This dish is hard to find in some restaurants.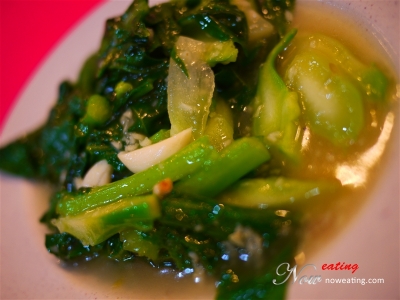 Kailan (芥兰) (RM6.00). Good if what you want is just a plain and healthy dish.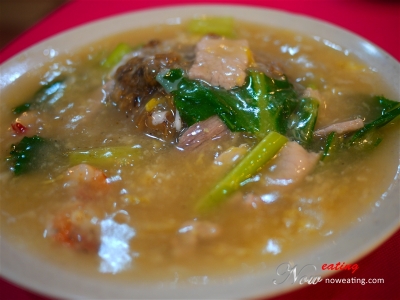 If you don't like to eat rice, you may order the fried Yin Yong (炒鸳鸯) (RM5.50). It was fried in big fire and thus had the fragrant of deep fried… or better known as "wok hei" (锅气).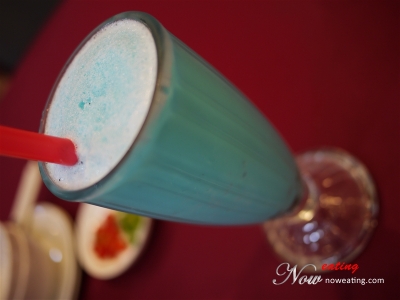 The restaurant also offers Taiwan's famous pearl milk shakes, such as this "Champagne Milk Shake" (香槟奶茶) (RM4.90). Is Champagne originally in blue color? I wonder.
The restaurant is also offering many look yummy dishes such as Oyster Noodle, Claypot Noodle, steamed fishes, and etc. At first glance, the price is fairly reasonable and the food tastes good. My friend got a 10% discount card some more. Definitely will visit again.
Place Name:
113 Fried Porridge and Catering 炒粥
Cuisine:
Chinese
Address:
37, Jalan Fettes, Fettes Park, Tanjung Bungah, 10470, Penang, Malaysia
Tel:
04-8901831. H/P: 016-4289113
Working Hour:
Morning 11am - 3pm
Evening 6pm - 11pm
Tax:
No
Last Visit:
20100208