When I told my friend that I am going to Young Heart, their first impression was Young Hearts bras :facewall:  . From Penang foodies' POV, it was a restaurant in Pulau Tikus, Penang. I heart of Young Heart before but never had a chance to visit it. Some bloggers had blogged about it and feedback were generally not bad. Fortunately I was invited for new menu items review last Saturday.
The moment I walked into this restaurant, I feel comfortable as the dining area was nicely decorated. There was an area with tatami as well.
The owner must be a plant lover. There are numerous plants around house's compound. There are many aloe vera plants as well and they are used to prepare drinks. A true home-grow and home-made recipe.
This is the owner's cutie lion… uh… dog. So cute until I wanna cubit (pinch) it. It was kind of drowsy as we accidentally woke it up.
If my blogging tool has rating system, I would give 5 stars for the cleanliness.
Now, let's go to the food. The first new item was the new "All Day Long Super Value Package" (全天候超值优惠套餐). There are two packages – 2 persons and 4 persons. For the 2 persons, you are entitled to order 2 main courses of your choice + 1 vegetable of the day + 1 soup of the day + rices/noodles at only RM39.80. You may sound "Wah! One person around RM20… worth or not?". Let's see what we can order from the menu…
For the two main courses, you can pick from 15 items in the menu. I would go for prawns or chicken since there will be a vegetable dish provided. Also, I would go for the noodle since the portion was bigger. The two main courses we ordered on that day was Chinese Teriyaki Prawn 酱烧明虾 and Orange Pork Chop 橙花猪扒.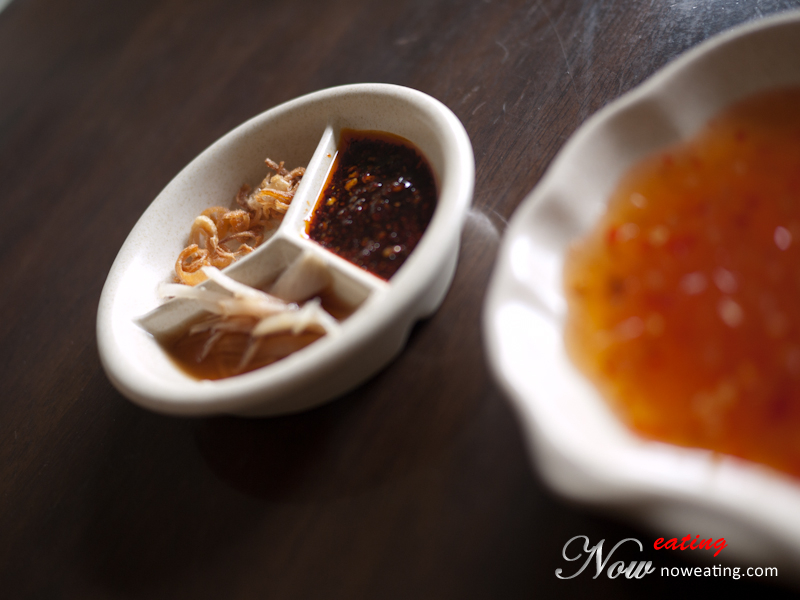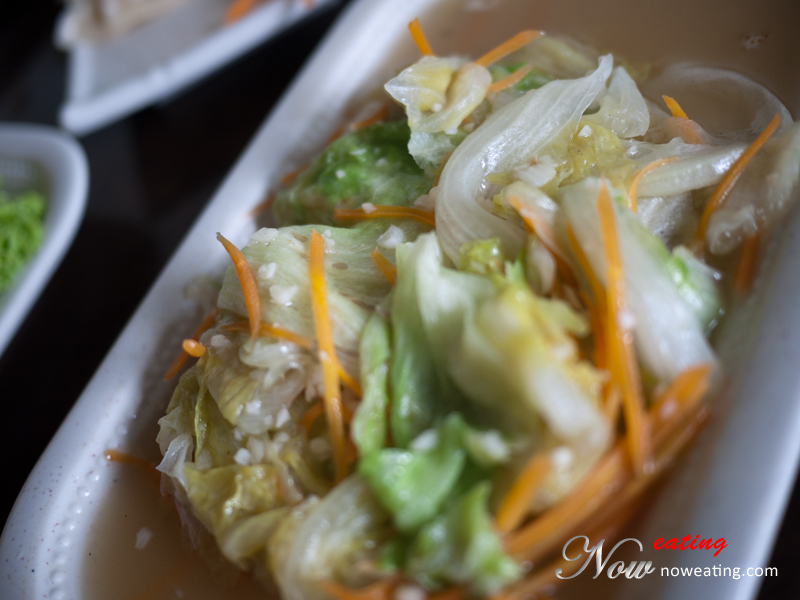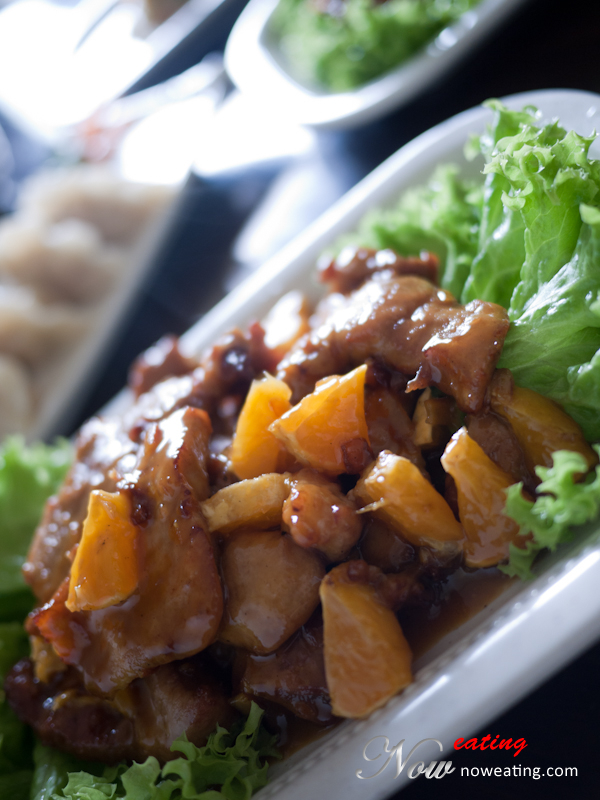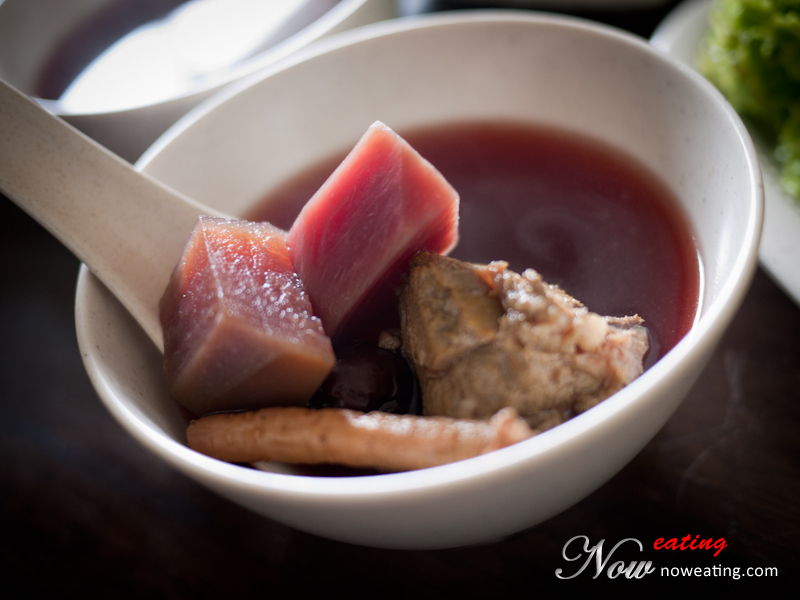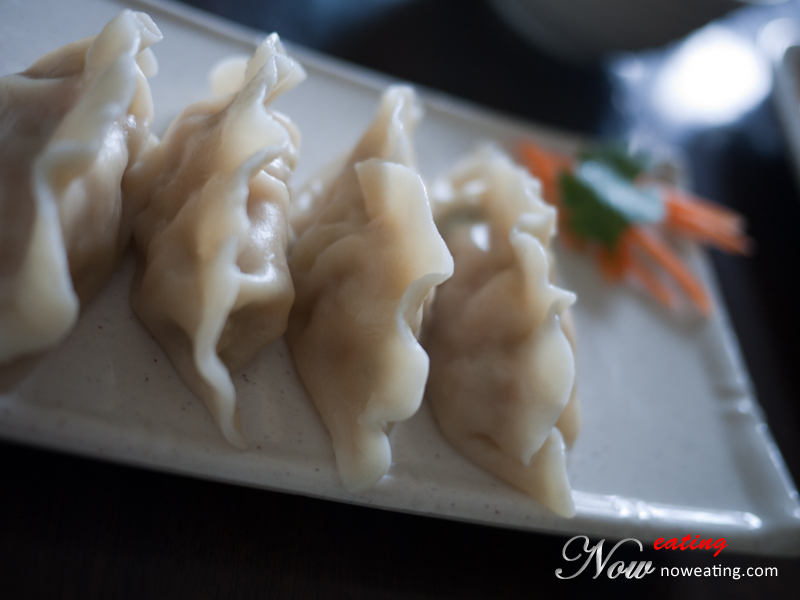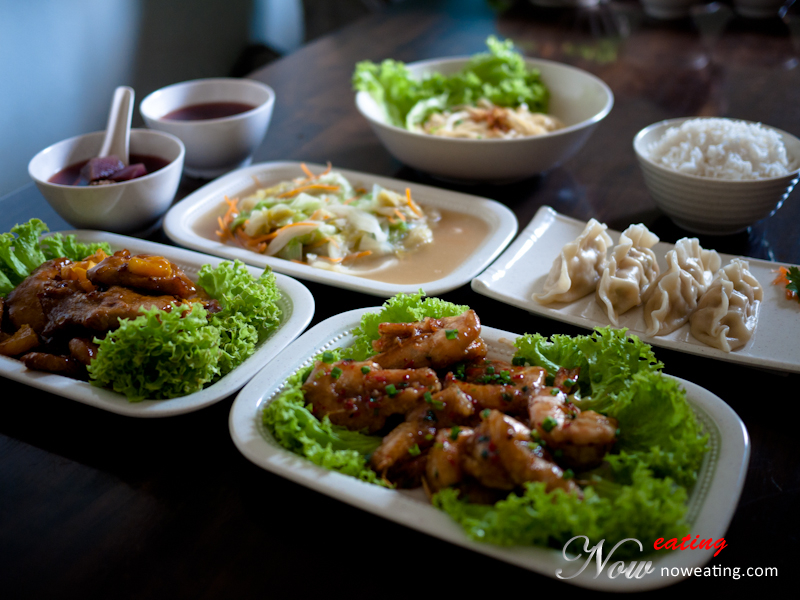 There is no restriction on which package you can order. If 3 of you went there and you would like to order this 2 person package, you are allowed to do so. Of course, for hungry ghost like me, I could swallow this 2 person package alone.
From the figure above, you may noticed a plate of  dumpling, a.k.a. Jiaozi 饺子. It comes together with both packages only during dinner time (from 6pm – 8pm) (Don't ask me why). So, the package more worth it if you went there in the evening .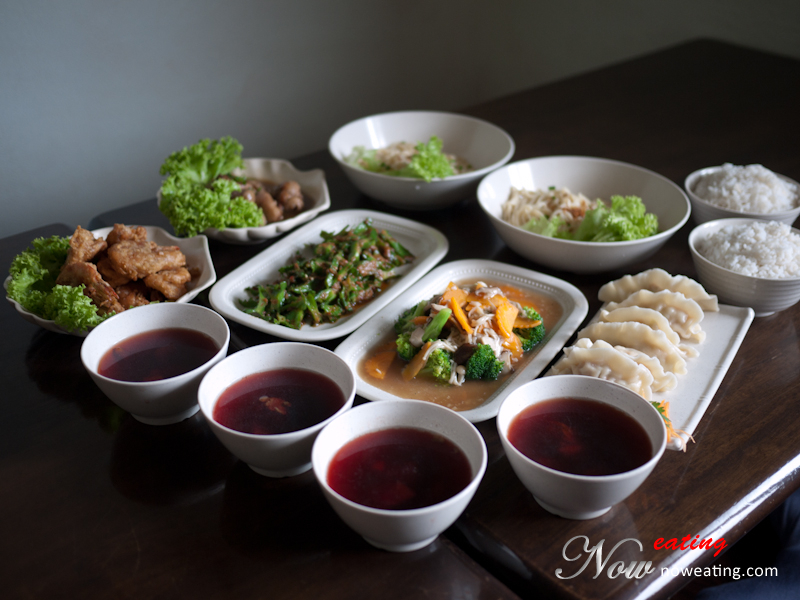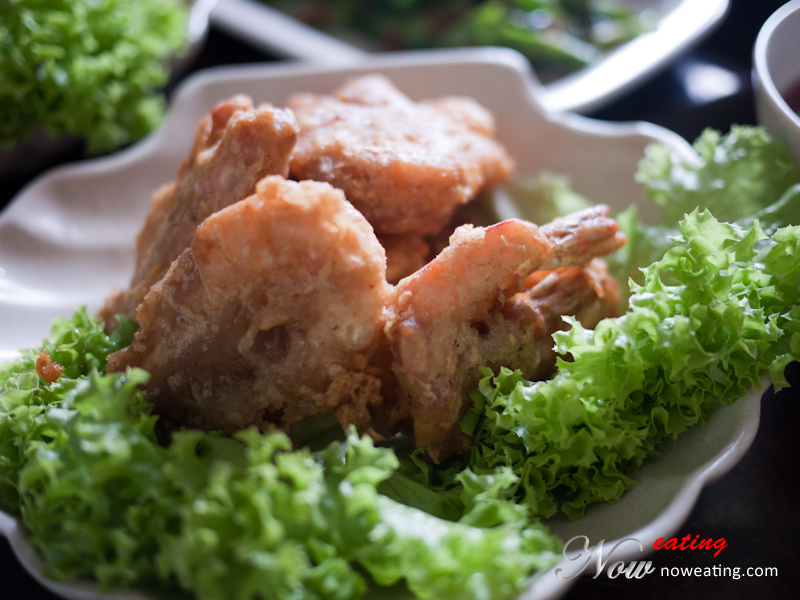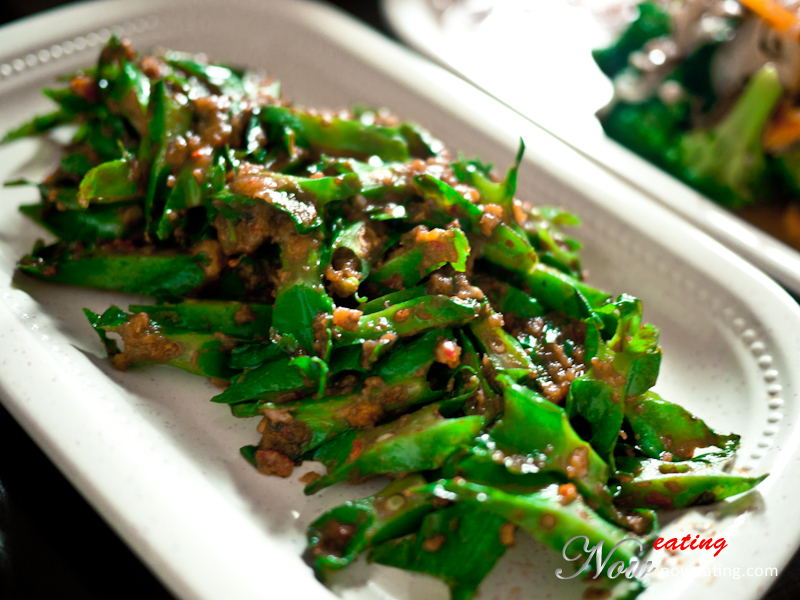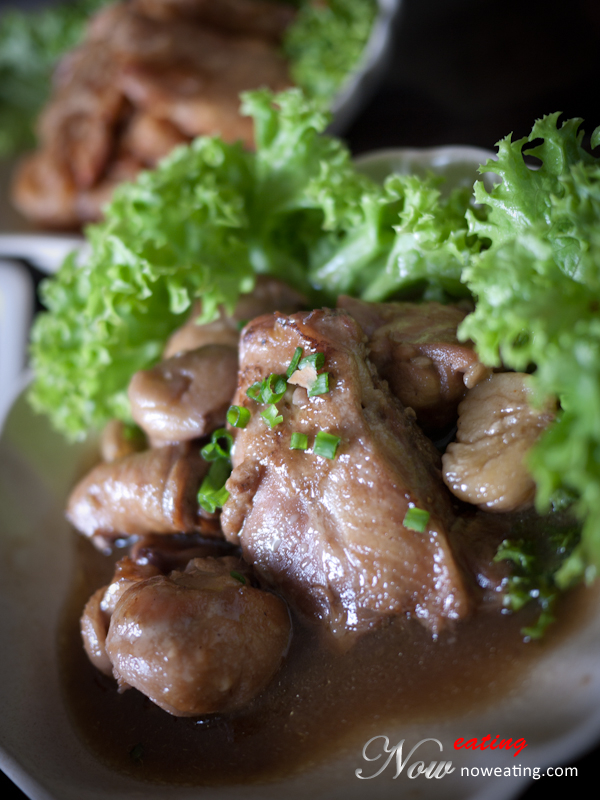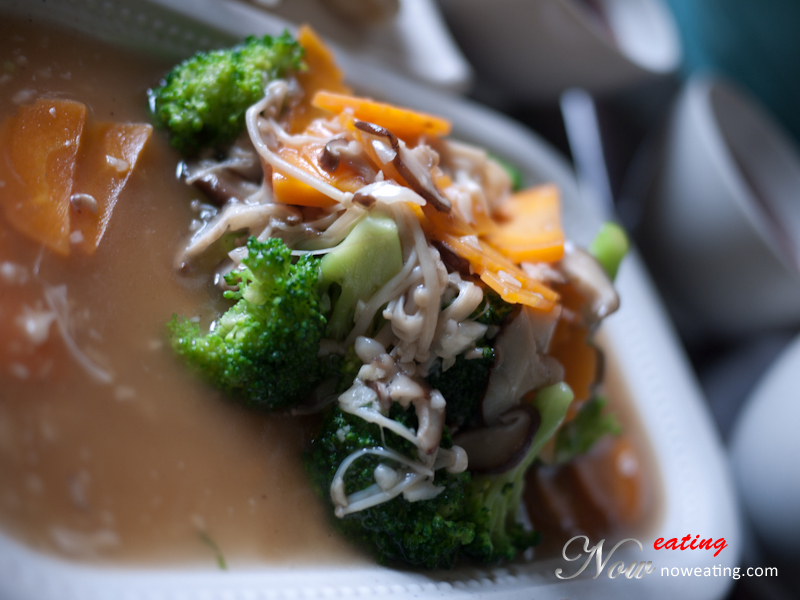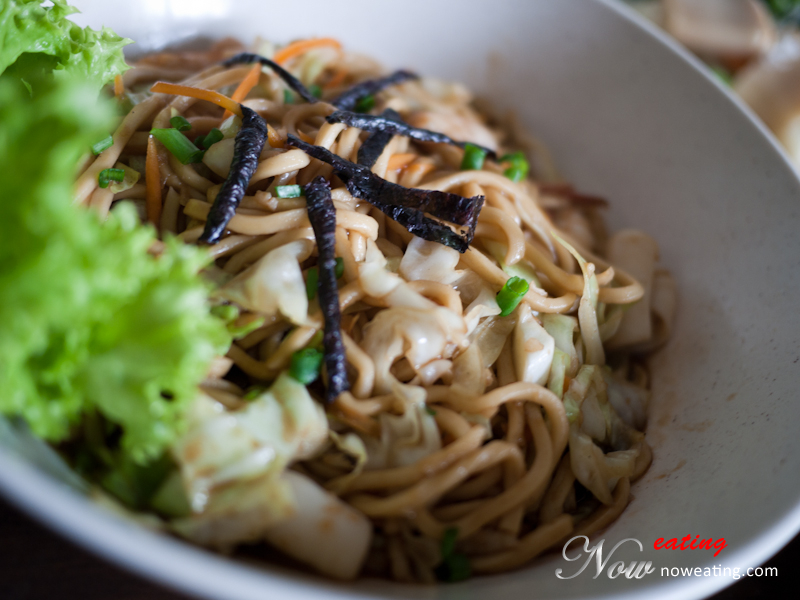 For 4 persons package, you are welcomed to choose 3 main courses (instead of 2), and the price is RM59.80. We had Stir Fried Broccoli with Mix Mushroom 鲜菇拌炒西兰花, Stewed Chestnut Chicken 栗子焖鸡, and Deep Fried Garlic Prawns 香蒜炸明虾.
Other than Super Valued Package, there are 50% discount during happy hour (3pm – 6pm) daily. The discount, however, applied on certain items only, and they change from time to time @-) . There will be a "Secret Receipe" flipping card on table for you to refer. The following were 50% items we enjoyed that day (Price shown is before discount):
Stuffed Chicken with Dried Oyster 发财好市焖鸡 (RM7.00). I like this one. Huat Chai + Dried Oyster usually gave an impression of "salty". This one, however, just well done and best consumed with rice.
Deep Fried Balacan Pork Belly (Balacan 香酥肉) (RM10.00). Beware of this dish. Once consumed, it is hard to stop.
I don't have a chance to try this Home-Made Young Heart Steam Tofu 葱油豆腐 🙁
Twin's Coli with Bailing Mushroom in Special Sauce 灵菇扒双花 (RM18.00). This is something special. It looks like Hor Fun, but it was actually cauliflower fried with "fake abalone" and topped with dried scallops. Cauliflower lover should try this.
There are also some home-made drinks in which you can add additional aloe vera flesh into it. I am lazy to go through on all the orders except the one I ordered…
.. which was Honey Lemon with Sea Coconut (with aloe vera) 蜂蜜柠檬海椰 (RM6.00). Tasted great. You probably spent most of your time "sucking" those sea cocounut and aloe vera.
The table was full of food.
As a whole, a relaxing green lung in the stressful city. This is a restaurant definitely worth the visit. The restaurant makes you feel at home as it is so comfy that you will lay on floor and :sweetdream: . The home-grown aloe vera as an ingredient is a competitive advantage. Food quality vs price is excellent as well. Of course, if you want to eat Char Koey Teow or BBQ crabs, this is probably not the place. The food here is more health-concerned. With so many items choose from the menu, perhaps the only item in my wish list is – free-flow rice. For more information you should visit their official website.
After the review, we chit chat for a while. There is a board on the wall which inspired me – 只要有心改变,一切焕然不同。Yes, if you are willing to change, things will be different. When will our "wise" government will see through this?
Lastly, let me cubit the "lion" again…
Participating bloggers:
Gourmet Garden
Steven Goh
Food Promotions
Cariso
Criz Lai
and me.
| | |
| --- | --- |
| Place Name: | Young Heart Restaurant |
| Cuisine: | Chinese |
| Address: | No. 44A, Jalan Cantonment, Georgetown, 10250, Penang, Malaysia |
| Tel: | 04-2288084 |
| Email: | [email protected] |
| Website: | http://youngheart.com.my |
| Working Hour: | 12pm-10pm daily Closed on Wednesday |
| Last Visit: | 07-August-2010 |