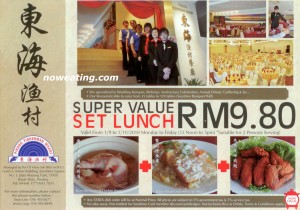 I know it is almost end of September… but cheap slave like me only had a chance to enjoy this Super Value Set Lunch for 2 persons at RM9.80 (excluding rice and drink). Quickly visit it on or before 1/10.
The first dish was Braised Bean Curd with Crab Meat 蟹肉烩豆腐. It came with 3 pieces of bean curds.
The next one is Balacan Fried Chicken 马来栈炸鸡翅. It consists of 3 chicken wings and 2 drumlets.
The last dish is Bean Skin Ginseng Chicken Soup 腐竹洋参须炖鸡汤. Hey, where is my chicken drumstick as shown in your brochure?
I order this Carrot + Orange Juice (RM4.50++).
For set lunch, the serving speed was extremely fast probably they prepared upfront upon customer arrival. Soup could be a bit cold and I am expecting more crab meat on bean curds. However, with only RM9.80++ price tag in this fine dining restaurant, what are you expecting more? Plus, the rice is per head count (RM1.20 each). I finished 3 bowls today. Visit it on or before 1/10 (Mon – Fri) (12 Noon to 3pm).
| | |
| --- | --- |
| Place Name: | Fisherman Wharf 东海渔村 @ Sunshine Square |
| Cuisine: | Chinese |
| Address: | Level 2, Annex Building, Sunshine Square, No.1, Jalan Mayang Pasir, Bayan Baru, 11950, Penang, Malaysia |
| Tel: | 04-6411777/6437075 |
| Working Hour: | 11:30am-3pm, 5:30pm-10pm |
| Tax: | 5% Service, 5% Government |
| Last Visit: | 23-Sep-2010 |