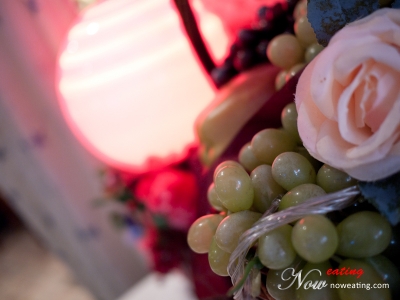 Little Cottage is not new in town. In fact I had visited it few times, mostly with female colleagues due to romantic setup (just normal lunch, no extra "co-curriculum"). There are two outlets in Penang island – Little Cottage 1 at Burmah Road (nearby CTY Aquarium) and Little Cottage 2 at Waterfall Hotel. A group of food bloggers were being invited to LC2 for a food review.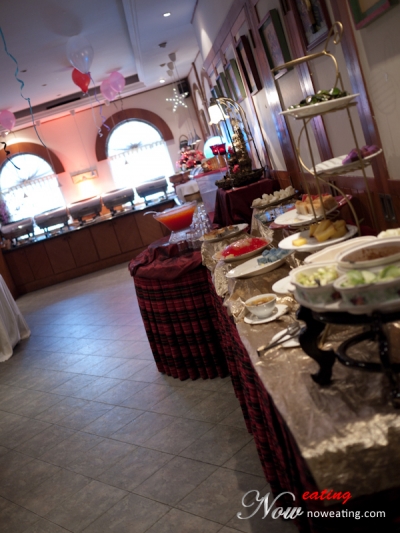 We went there in one of the Sundays and noticed that there was Sunday Buffet Lunch. However, we were reviewing ala-carte items that day.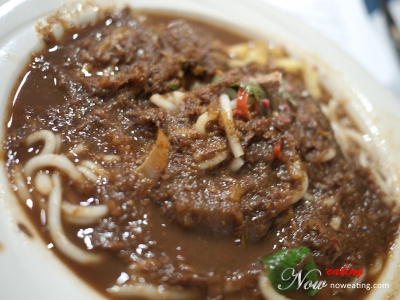 The laksa was one of the buffet item. The laksa smell filled whole dining area that afternoon… making my saliva dropping.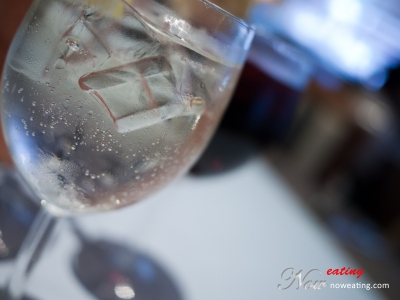 We were first served with signature drinks, including white and red wine cooler (RM9.90 per glass) – a refreshing bubbly wine drink to open taste buds before meal (as quoted). Note that they are alcohol drink but still okay for my liking… at least I am still conscious and my body remained intact after dinner.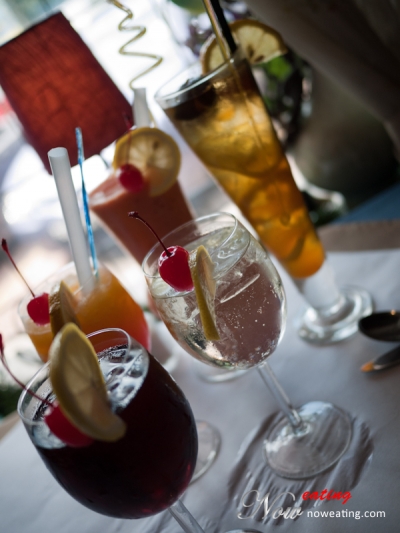 Other specialty drinks included (from behind, left to right): Little Cottage Mocktail (RM7.90), Little Cottage Fruit Shake (RM12.90) and Homemade Sparking Golden Lime Juice (RM6.90). Personally I prefer the Fruit Shake as the blended ice was smooth, rich with fruit juice and sweet enough.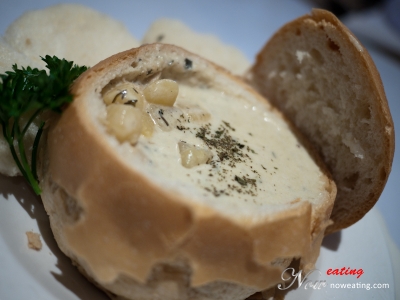 The first item arrived on our table was Clam Chowder Bread Bowl (RM13.90). It was creamy but somehow potato chunks could be too much. The bread was best served hot or it will be too hard once cold. I noticed from the menu that it was only available on Fri, Sat, and Sun evenings.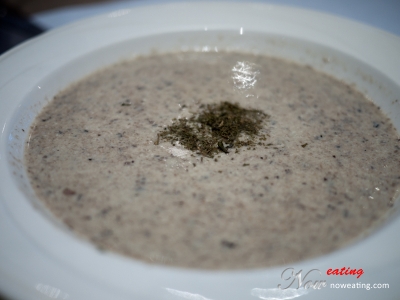 The second soup dish was Cream of Mushroom (RM6.90). I noticed that it was different from mushroom soup from set lunch, in which the ala-carte had mushroom minced in it.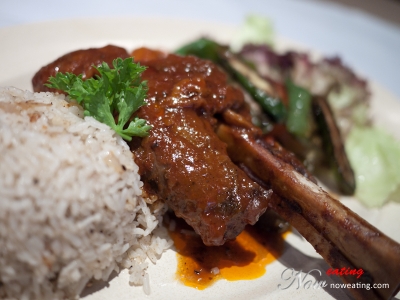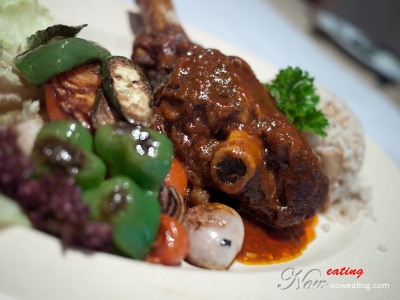 Perhaps the best dish of the day was "Ossu Buccu de Angelo" or a.k.a Lamb Shank (RM29.90). Directly quoted from the menu – stewed lamb shank served with fragrant Italian mushroom rice and grilled veggie. On top of that, I must add that the meat was very tender and the "milky" taste was not as strong as others, making it a good choice even for first timers. If you don't like rice, you can replace it with mashed potato.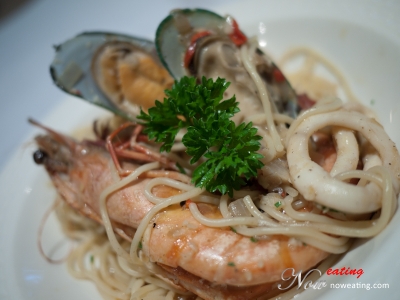 Next one is Seafood Olio (Spaghetti) (RM28.90) – A seafood spaghetti combination of prawns, half-shelled mussels
and squids in special white sauce with a slightly spicy taste or non-spicy for children. The shrimp, squid rings, and mussels were fresh.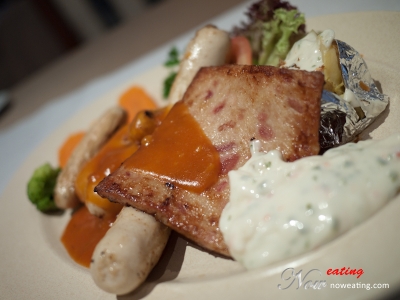 This one more suitable for kids – Chicken Sausages and Turkey Ham Combo (RM36.90). It came with chicken sausages of various size. The price somehow….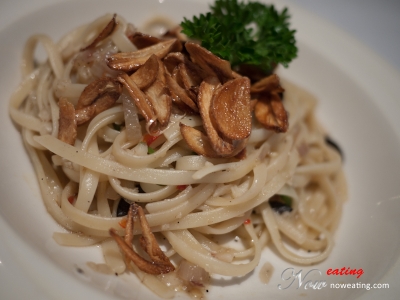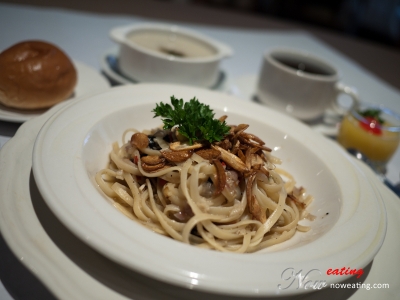 They do have a variety of set lunches as well. Each come with coffee/tea, soup of the day, butter roll, and a dessert. One of the two set lunches we tried that day was Garlic Lingguine (RM9.90) – flat pasta cooked with black olives, fried garlic in extra virgin olive oil. It looks healthy but could be plain for some.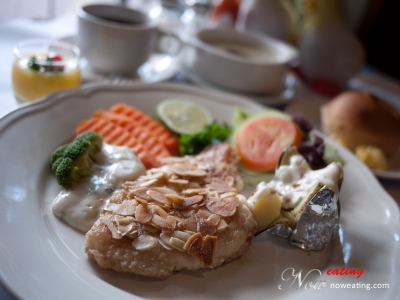 Next one is Grilled Almond Fish (RM15.90). The almond flakes were generous. I like this one as well.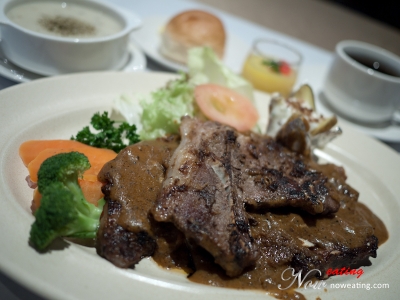 If Lamb Shank is too big for you, you may try Lamb Shoulder in black pepper sauce (RM26.90). It could be chewy sometimes so make sure you bring a saw there.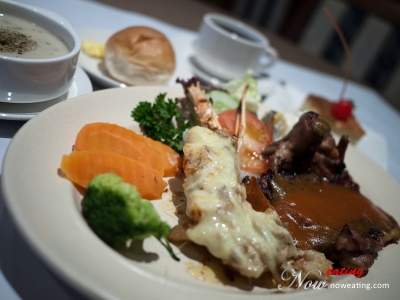 They also did have set dinner. However, they were slightly pricey. The set we tried were Lobster Combo (RM49.90), which is baked lobster-thermidor with choice of fish/chicken/lamb/steak or mussels. Of course it was not giant lobster as seen in some seafood restaurants. The baked cheese tasted good anyway.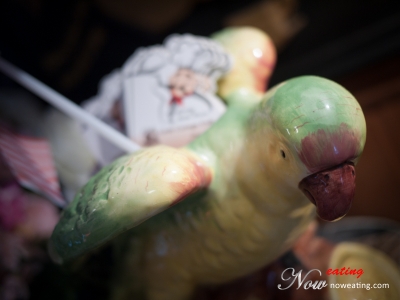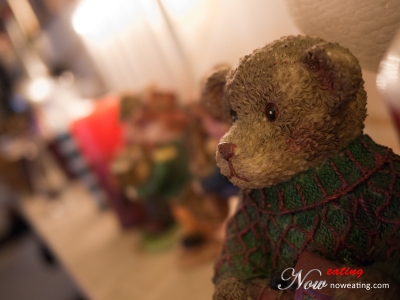 As a whole, the food presentation was good… or should I say, still as usual since I was one of their frequent customers at LC1 since few years back. The ambient is good and the food was healthier (e.g. less oily) compared to other western restaurants. You should try their lamb shank. Some items could be pricey, especially at night or during certain occasion (e.g. Valentine Day). I usually went for their set lunches which were more affordable. I recommend this place for lovely couples or those want to have a relaxing meal in busy town. Special thank to Elaine – the owner, for her hospitality and kindness.
| | |
| --- | --- |
| Place Name: | Little Cottage Cafe 2 |
| Cuisine: | Western |
| Address: | 31, Gottlieb Road, George Town, 10450, Penang, Malaysia |
| Tel: | 604-2281128, Fax: 604-2274452 |
| Email: | [email protected] |
| Website: | www.littlecottagecafe.com |
| Working Hour: | 11am - 3pm, 6pm - 10:30pm |
| Tax: | Nett on menu items, Tax on buffet |
| Last Visit: | 20100919 |