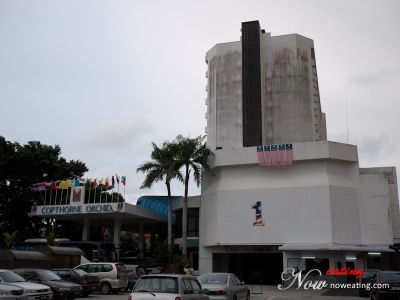 Today I bring you a long review on Thai Buffet in Terrace Bay Restaurant at Copthorne Orchid Hotel in Tanjung Bungah, Penang which is located next to Toy Museum with ample parking space.  Don't be fooled by limited car park along the slope. Turn right and you will find more free car park there. There is basement car park as well.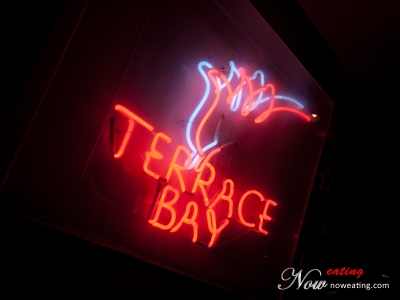 Walk pass the reception counter and you will reach another restaurant. There is a staircase to your left. Go down and you will reach Terrace Bay Restaurant.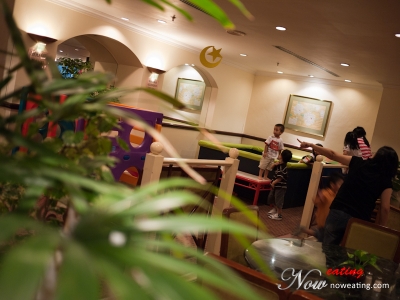 There is a kid's indoor playground right after the entrance so you can "dump" your kids (if any) there while enjoying buffet. The restaurant has good ambient, with a swimming pool just behind it. There are two areas – air-conditioned and smoking areas. In smoking area, there is a big TV screen on wall. Next to it is swimming pool… allowing you to "wash your eye" while eating ice cream.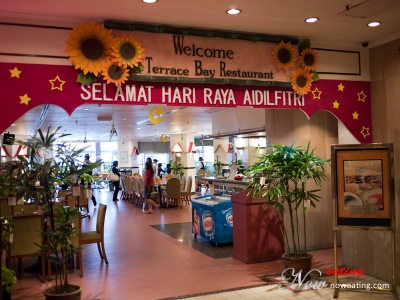 Speaking of ice cream…. there is no ice-cream provided in this restaurant as part of the buffet. However, I saw an ice-cream container next to entrance. Wonder what is inside? Hmmm….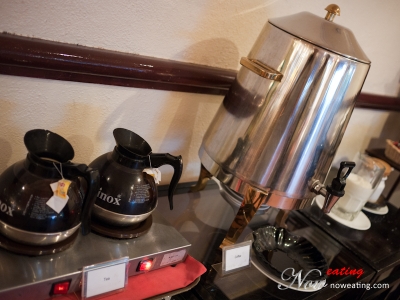 The buffet is divided into 5 sections – appetizer, main course, egg station, dessert, and drink. Egg station does not mean it only serves eggs, but more toward frying stalls. For the drinks, they provide typical coffee and tea.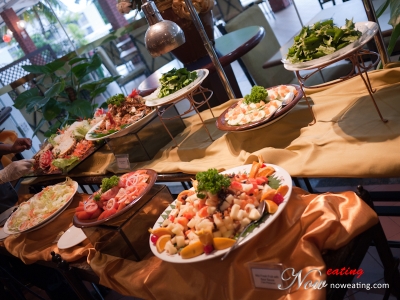 Let's start with appetizers: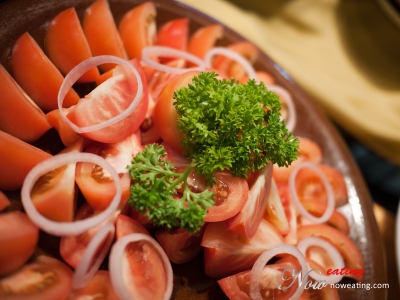 Tomato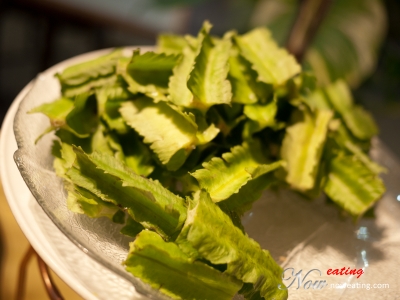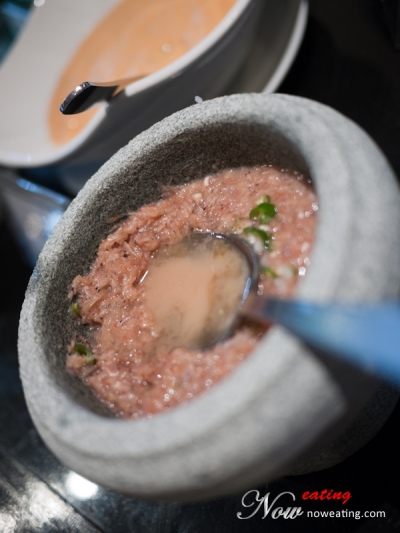 Winged Bean 四角豆. I like this one.  My grandma-in-law favorite as well. Best dipped with cincalok (second figure).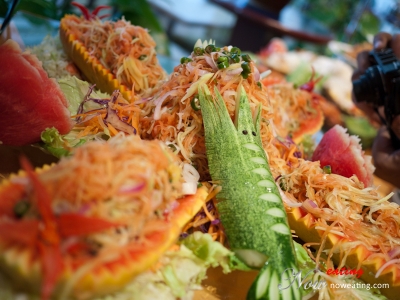 Papaya Mango Salad (Som Tam)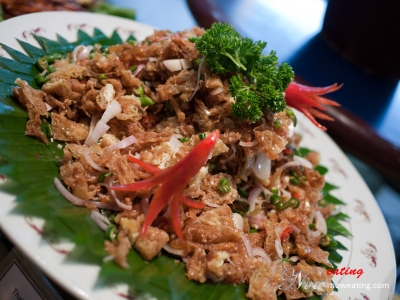 Thai Egg Salad (Yam Khai)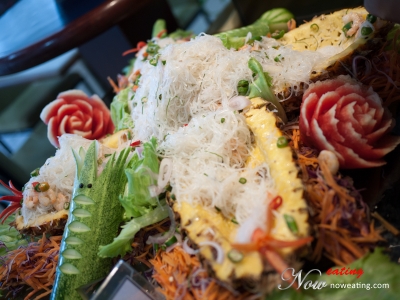 Yam Woon Sees (Thai Glass Noodle Salad)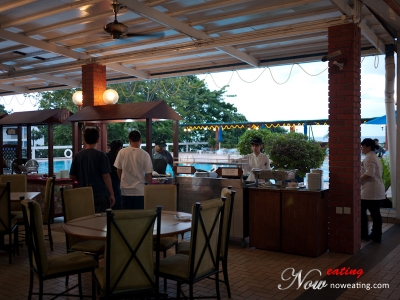 The restaurant has the following stalls: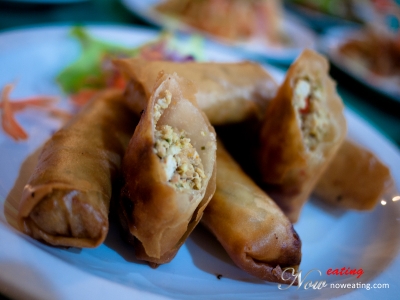 Thai Spring Roll (Pai Pai)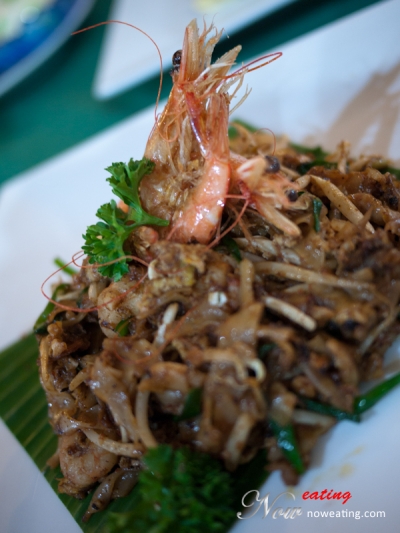 Thai Noodle – Koew Teow (Phad Thai) – a.k.a Char Koew Teow.  Tasted not bad actually.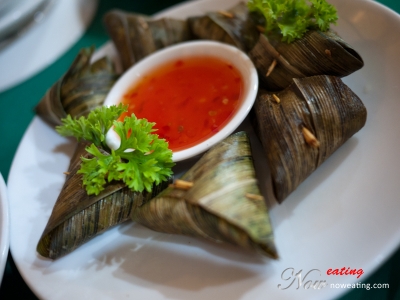 Pandan Wrapped Fried Chicken (Khor Hor Bai Toey)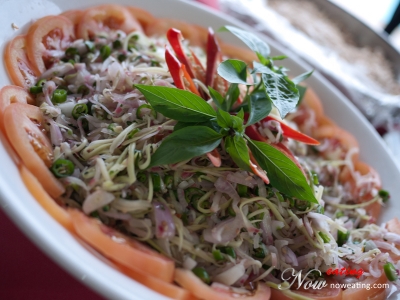 Shredded Chicken with Mango Salad (Yam Pla)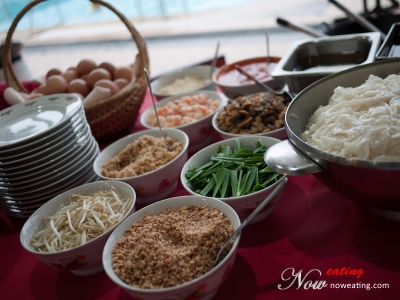 Mi Krop (Crispy Rice Noodle Topped with Sweet, Sour Sauce and Condiments)
For the main course, below are some highlights of that day: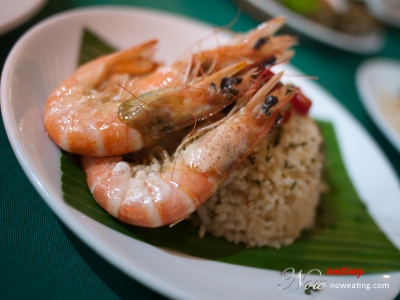 Thai Fried Rice (Phad Thad)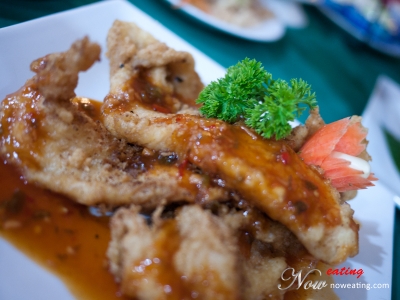 Sweet Sour and Spicy Fried Fish (Pla Sam Ross)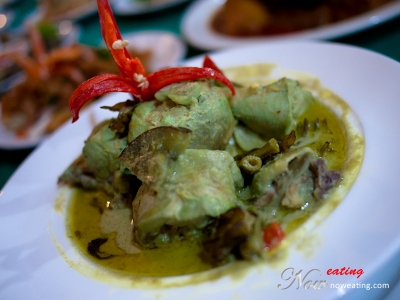 Chicken Green Curry (Kaeng Khiew Waan Kai) – Whoa, it looked green but tasted good. Just close your eye and you will feel that you are eating normal curry.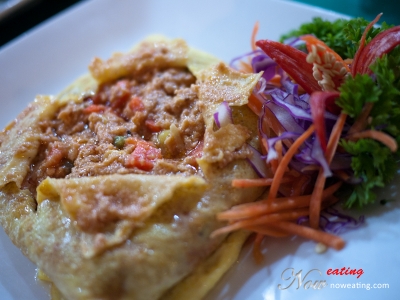 Spicy Thai Omelets (Khai Yat Sai)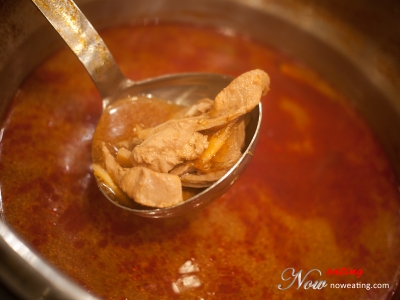 Tom Yam – It tasted good. Not too spicy.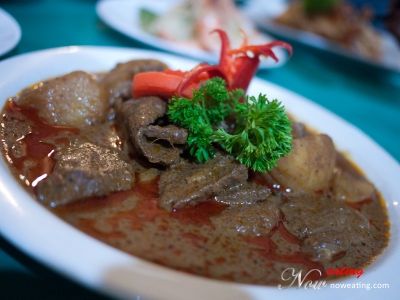 Beef Masamman Curry (Masamman Nua)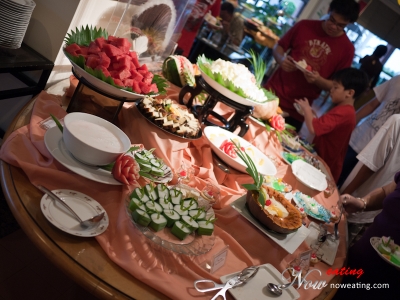 Their dessert's presentation is great. Even a simple pudding also was nicely decorated with craved watermelon/pumpkin. Some special desserts included: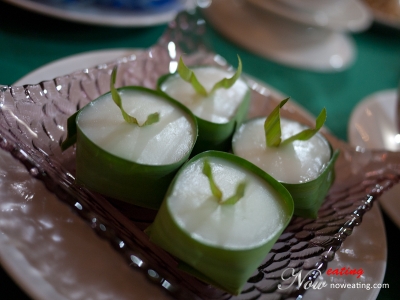 Thai Tako (Thai Coconut Pudding)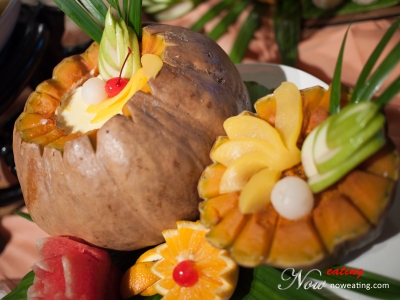 Fak Thong Sang Khaya (Pumpkin Custard)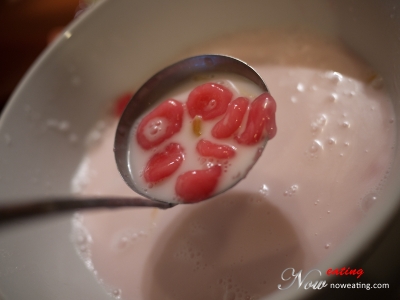 Tab Tim Grob (Red Rubies)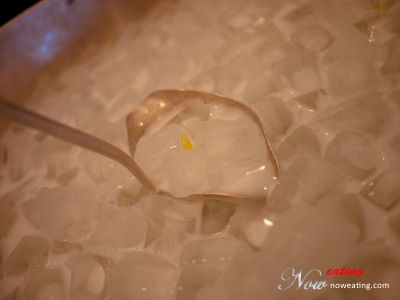 Lod Chong Nam Ka Ti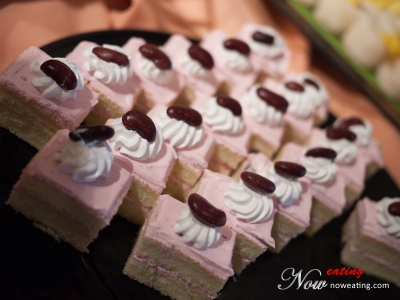 Cakes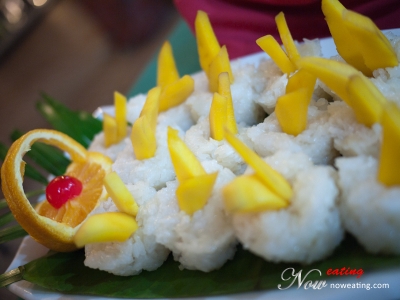 Khao Neuw Ma Muang (Rice Mango with Glutinous Rice)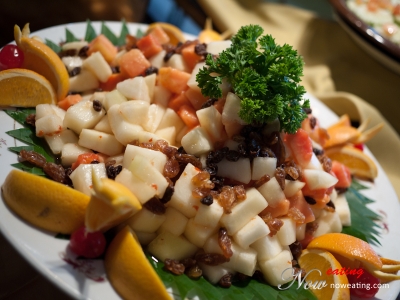 Fresh Fruits Platter
:relief: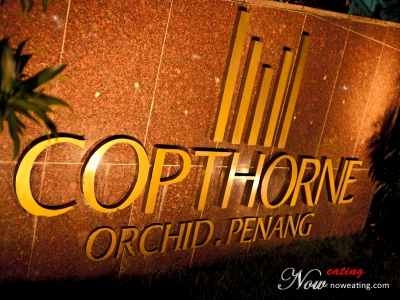 As a whole, food is satisfactory. There are some dishes which look "not-so-authentic" Thai, but you can't complain much with RM30 (adult) price tag (don't forget it is a dinner). Promotion valid for Saturday Dinner and Sunday Lunch until further notice. The restaurant has nice ambient and the desserts looks tempting. Appetizer/Main course could be a bit mild compared to normal Thai cuisine but I believe the Thai chefs are trying to cater for customers of different age groups. Do visit it ASAP before this RM30 promotion ends.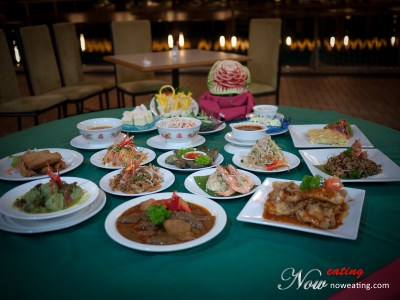 Click here to download the menu.
Below is the brochure: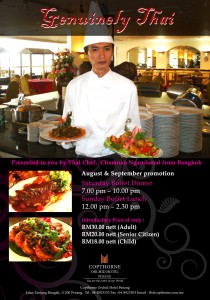 Participating bloggers:
Food Promotions
Steven Goh
All About Penang Food
Cariso
Gourmet Garden
Criz Food
Special thank to Ms. Sally Lai (PR Manager)  and Mr. Sivalingam (F&B Manager) of Copthorne Orchid Hotel Penang for their great hospitality.
Place Name:
Terrace Bay Restaurant @ Copthorne Orchid Hotel
Cuisine:
Thai
Address:
Jalan Tanjung Bungah, Tanjung Bungah, 11200, Penang, Malaysia
Tel:
604-8923333 Fax: 604-8923303
Email:
[email protected]
Website:
www.millenniumhotels.com/my/copthornepenang/index.html
Working Hour:
Saturday Buffet Dinner: 7.00pm – 10.00pm
Sunday Buffet Lunch: 12.00 noon – 2.30pm
Tax:
No
Last Visit:
20100904