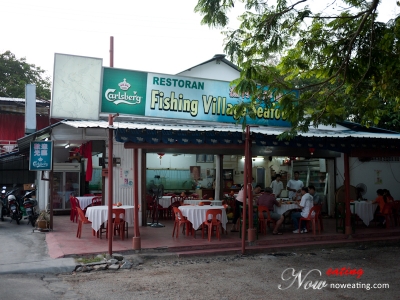 It was one evening in which a good samaritan fetched his colleagues living in Batu Ferringgi back from Bayan Lepas to their home. Deciding where to eat, we eventually went to Teluk Bahang for seafood. There were few seafood restaurants there but the one we went was Fishing Village 渔村海鲜. It had been years since I had my dinner there.
The restaurant served live lobsters at reasonable price. Too bad we were poor and just ordered some ordinary seafood.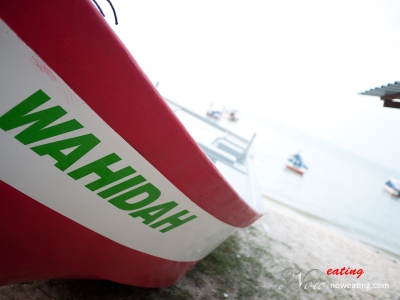 After ordering food, I took opportunity to snap some photos around fisherman village.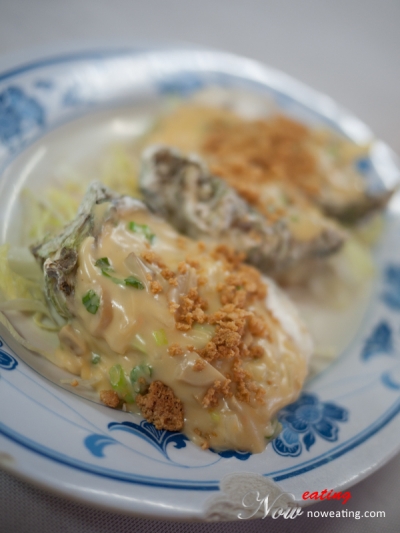 I felt like want to try some oysters and the host recommended Cheese Baked Oyster芝士生蚝 (Small: RM3.50 x 3).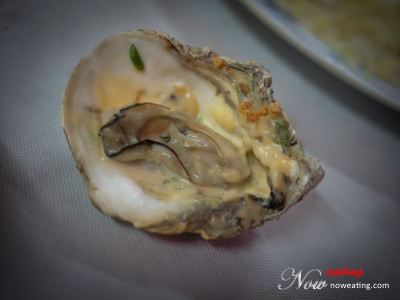 They only had small oysters that night but seriously the cheese was delicious and its aroma quickly filled out table once it arrived. The cheese tasted like Cheezels and was mixed with onion and mushroom chunks.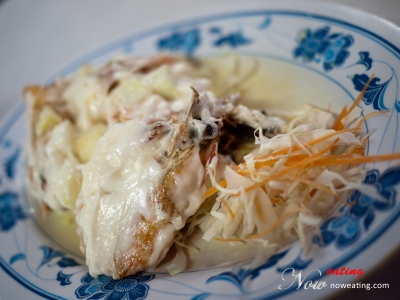 My colleagues felt lazy and wanna order peeled prawns. We ordered Salad Prawns 沙律炒明虾 (RM20.00). The salad was generous but sadly the shell was still there and it actually spoiled the mood of enjoying both prawns and salad.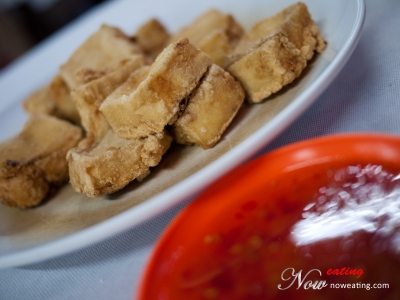 The Fried Bean Curd 炸豆腐 (RM8.00) was just average. It was crispy but I hope it came with homemade sauce instead of commercial  chili sauce.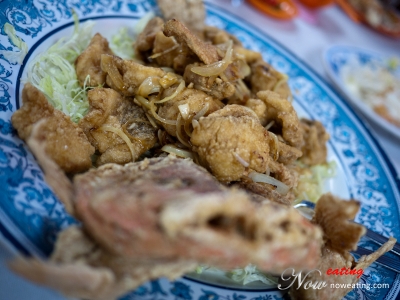 Another dish of the night was Garlic Butter Fried Red Snapper 葱炮红皂 (RM36.00). My colleagues were afraid of fish bone (sigh~) but luckily this snapper was "de-boned". The body was sliced into pieces and brushed with garlic butter before put into deep fry pan. It looks plain and tasteless but trust me, you will like it once you put it into your mouth. It had the fragrant of butter and tasted a bit salty. It was good to taste it on its own or served with rice.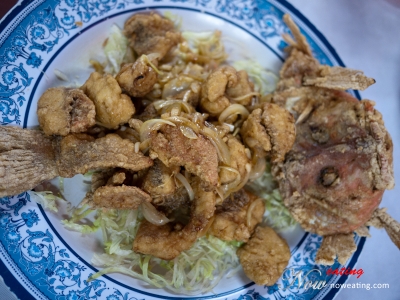 Its tail was fried to crispy and you could actually consume part of it.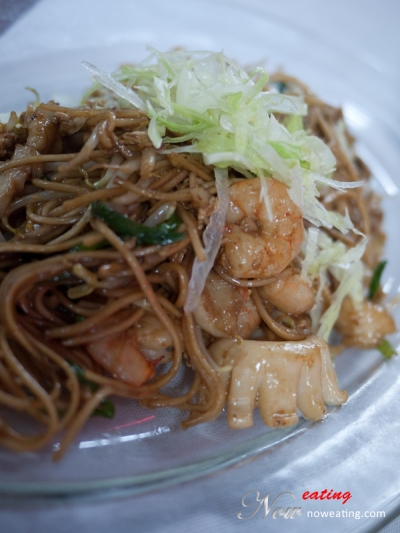 Not to forget the Teo Chew Fried Noodle 干炒面条 (RM8.00). In normal restaurant, the noodle was kind of dry after frying but this one was opposite. It was oily and topped with seafood. Tasted good.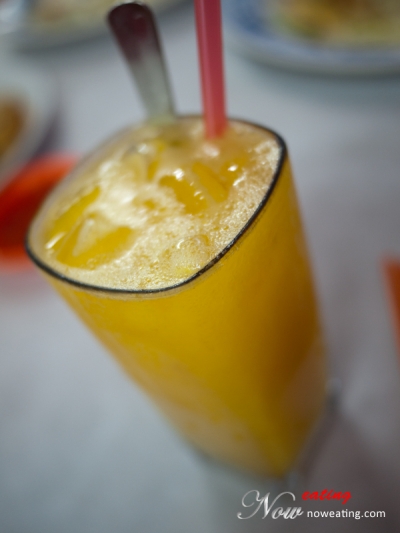 Lastly, it had something special on its drink menu. There was a fruit juice called Mango Juice. Hardly I saw mango juice being offered in a menu but surprisingly the host told me that it was freshly made. So I ordered one and it really was freshly squeezed (as it tasted more natural).
At first glance, this is a place in which you can enjoy seafood at reasonable price near to tourist area. The Cheese Bake Oyster and Garlic Butter Fish were a plus. Perhaps the only drawback was the fishermen there who worked as "parking boys" at night and collect bloodsucking RM2 per car. Then, mosquitoes there will suck your remaining blood.
| | |
| --- | --- |
| Place Name: | Fishing Village Restaurant |
| Cuisine: | Chinese |
| Address: | 765, MK 2, Teluk Bahang, 11050, Penang, Malaysia |
| Tel: | +6048852084 |
| Working Hour: | 5pm - 11pm (Daily) |
| Tax: | No |
| Last Visit: | 20110114 |