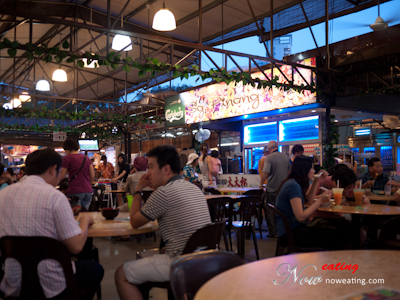 It was another hiking evening in which I had difficulty in finding a place to dine in. Thinking of saving some $$, I eventually landed on Sg. Pinang Food Court, which appeared to be not a very good choice.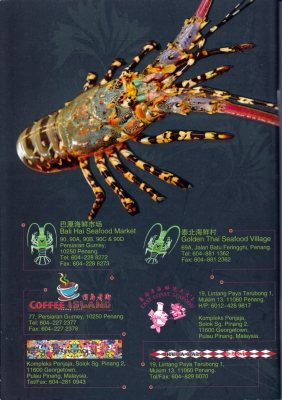 In case you are wondering, you should notice a few food courts in Penang island with thatch made of napa palm (atap) leaves. They are actually fall under the same management (at least during initial stage). Rumor saying that the director is from Air Itam and he likes to sell off his food court once break-even. A quick glance at the backcover of "Food Directory 2" shows that there are five food court/restaurants under the same management. (I wonder where is Bali-Bali near USM? Different management now perhaps?)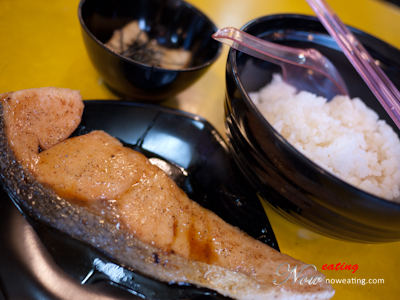 As a thirst quencher, I ordered Amla Sour Plum drink (RM2.90). Sadly it was not nicely blended and not worth photographing. There are many stalls inside in which again I had difficulty in selecting them. I ended up ordered one Salmon Teriyaki Set (RM9.80) from a Japanese stall. I can finish the rice in two scopes and the salmon slice was so thin even though it tasted good. The side dish in the bowl? It was bean curd topped with garlic of some sort.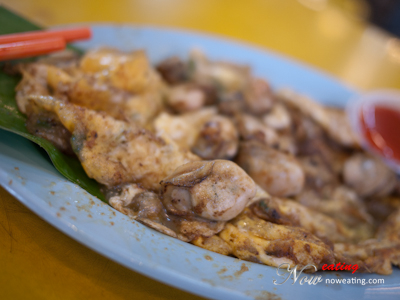 Luckily I did order another dish from another stall – Fried Oyster (RM6.00). The stall was operated by family and oyster was fresh. Instead of cutting into egg chunks, the fried oyster was wrapped with eggs. A new experience. Compared to stalls out there, however, the portion was still a bit small.
So here it is, RM2.90 + RM9.80 + RM6.00 = RM18.70 for a dinner. Still, I am not full. Definitely there are many stalls in Sg. Penang Food Court for you to choose for, but I guess I will be broke before I tried them all :poor: Parking wise would be a bit difficult as well during peak hour.
| | |
| --- | --- |
| Place Name: | Sg. Pinang Food Court 槟榔河 |
| Cuisine: | |
| Address: | Kompleks Penjaja, Solok Sg. Pinang 2, George Town, 11600, Penang, Malaysia |
| Tel: | +6042810943 |
| Tax: | No |
| Last Visit: | 20110801 |