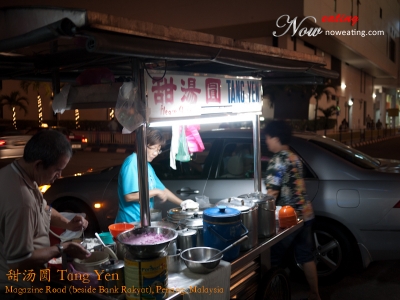 It was raining session recently and it would be nice if I could enjoy a hot bowl of soup in cold evening. Yes, you can do so by visiting this Tang Yen (Glutinous Rice Ball) stall at Magazine Road (more known as "First Road" (头条路) by local Chinese), opposite of Traders Hotel.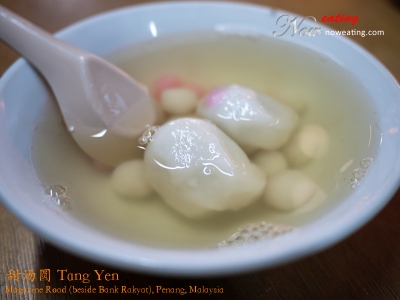 The stall provides two types of base soup – clear and brown sugar. The soup has ginger syrup added by default. If you don't like the strong taste of ginger, you can always ask them not to add it.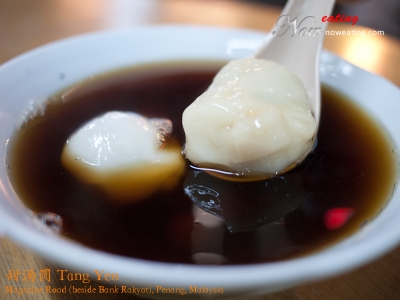 Brown sugar version is tastier compared to clear soup version due to the brown sugar. Price starts at RM2.20/RM3.30/RM4.40/RM5.50 for both types.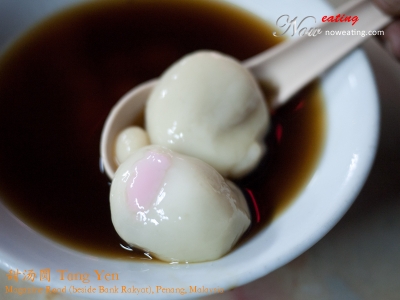 By default, each bowl of Tang Yen came with two big glutinous rice balls with filling (and few plain small glutinous rice balls). For big ones, one contains peanut paste while another one contains sesame seed paste. How to tell which one is which? See the small pink skin on one of the balls? That's the different.
The one WITHOUT pink segment is peanut paste.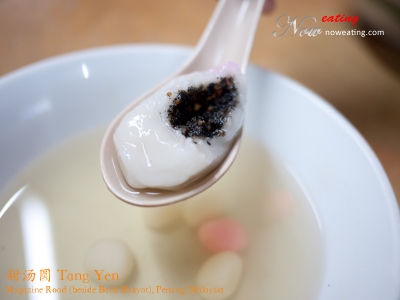 The one WITH pink segment is black sesame paste. Be careful not to chew too hard as the paste is mixed with fine sugar.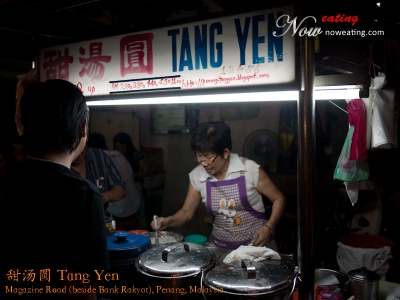 I like this Tang Yen because it is simply classic and affordable. Operated for more than 60 years, the dessert is still being hand-prepared on the spot using original recipe.  Operation starts from 7pm – 11pm and close on Wed and Sun. Parking could be a bit difficult (usually I just did some illegal parking or you can come after 10:30pm). The stall is extremely busy during Winter Solstice Festival (冬至).
| | |
| --- | --- |
| Place Name: | 甜汤圆 Tang Yen |
| Cuisine: | Chinese |
| Address: | Jalan Magazine (beside Bank Rakyat, opposite Traders Hotel), Penang, Malaysia |
| Tel: | Michael 许和福 +6016 4777764, Anna +6016 4544031 |
| Email: | [email protected] |
| Website: | http://penang-tangyen.blogspot.com/ |
| Working Hour: | 7pm - 11pm. Close on Wednesday and Sunday. |
| Tax: | No |
| Last Visit: | 23-February-2012 |