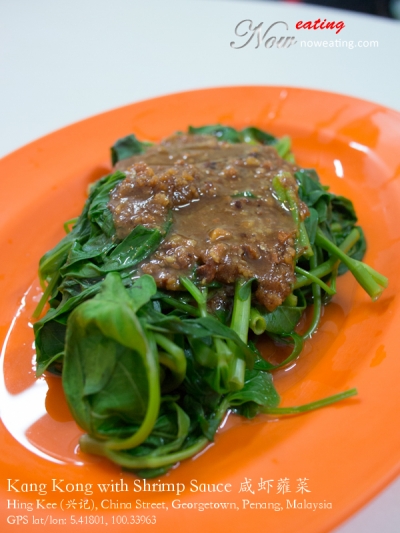 Kang Kong with Shrimp Sauce 咸虾蕹菜 (RM6.00), a specialty you hardly found in any restaurant. Kang Kong was blanched and topped with unique salty dried shrimp paste… my first encounter at Heng Kee/Hing Kee 兴记 restaurant at China Street, Georgetown, Penang.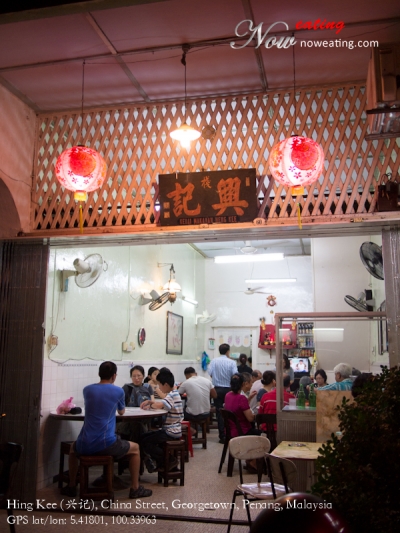 The old but renovated restaurant was located opposite of God of Mercy temple (观音亭) at Georgetown, along China Street. The street is quite happening during day time but is quiet at night. Hing Kee is one of the "brightest" shops there at night (I like bright dining place, good for eyes, good for photos). The small restaurant only has about 9 tables for customers.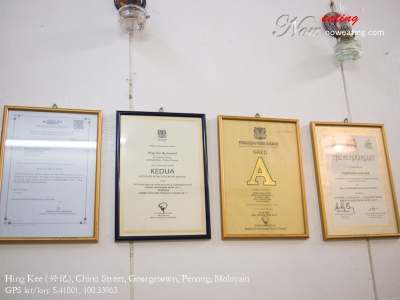 Don't look down on its size. In fact, Hing Kee received many cleanliness awards.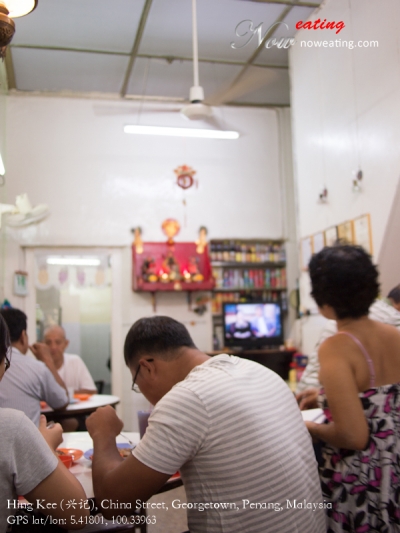 It even has a LCD playing Hua Hee Tai show. The sexy mama on the right? She is the host taking orders. Most of the time she will show you a black face but once you know her well, she can be friendly… I hope.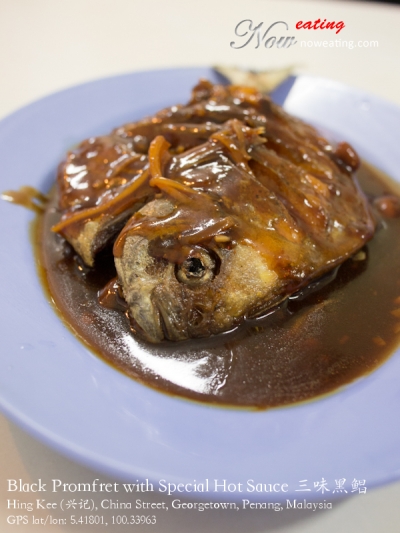 Other than Kang Kong, we ordered Black Promfret with Special Hot Sauce 三味黑鲳 (RM12.00). Unlike other restaurants, the dark sauce was lack of spiciness even though chilies was added. It was more like sweet and sour fish with additional of salted soy beans.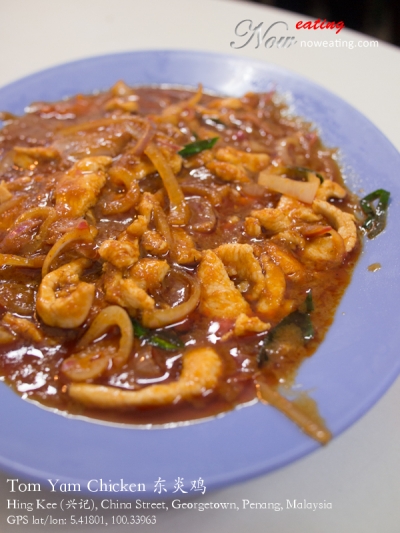 We found this Tom Yam Chicken 东炎鸡 (RM10) was rather unique. The tom yam paste came with kaffir leaves, ginger flower, and onions. Quite aromatic. However, it could be salty if taken on its own. Best consumed with rice.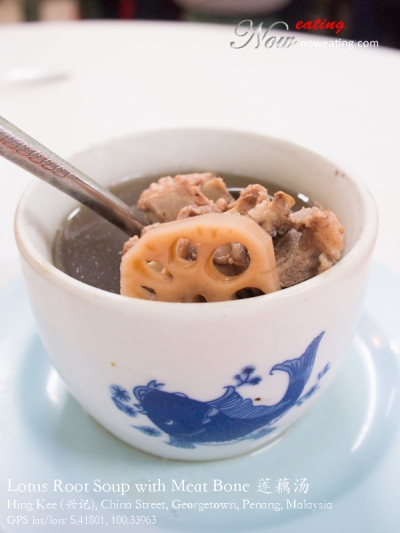 Two of us ordered four items, all in smallest size. Last item was Lotus Root Soup with Meat Bone 莲藕汤 (RM4.00). You hardly get a bowl of slow-cooked soup at this price nowadays. The pork rib was cooked to tender.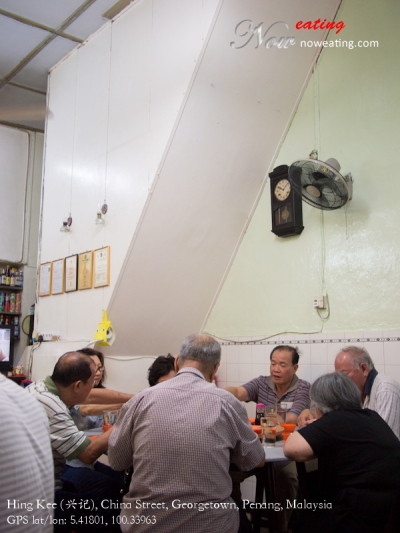 If you are looking for a clean yet affordable Chinese restaurant in Georgetown, do pay Hing Kee/Heng Kee a visit. The food is more toward home-cook style and presentation can be average. We are surprised with their cleanliness considering it is an old shop. Seats can be limited. Remember to try their Kang Kong with Shrimp Sauce.
| | |
| --- | --- |
| Place Name: | Hing Kee/Heng Kee 兴记 |
| Cuisine: | Chinese |
| Address: | 60, Lebuh China, Georgetown, 10200, Penang, Malaysia |
| Tel: | +604 261 0010 |
| Working Hour: | 12pm - 3pm, 6pm - 9pm. Close on Monday night. |
| Tax: | No |
| Last Visit: | 20120719 |