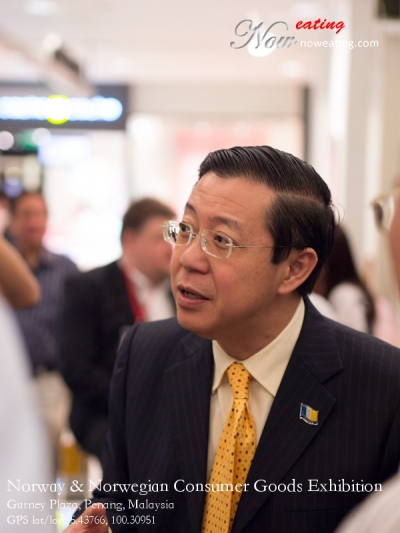 Whoa… close shoot of Penang's Chief Minister Lim Guan Eng at the Norway and Norwegian Consumer Goods Exhibition at the Gurney Plaza in Penang, which will be conducted from Nov 1 to 4, 2012.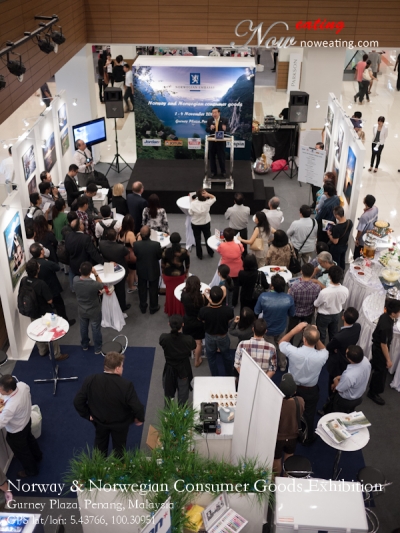 Organised by the Royal Norwegian Embassy in Kuala Lumpur, there will be exhibitors like Tine Norway, Trapia Sdn Bhd, Jordan and Jotun showing a range of products that originate from Norway, or from Norwegian expertise.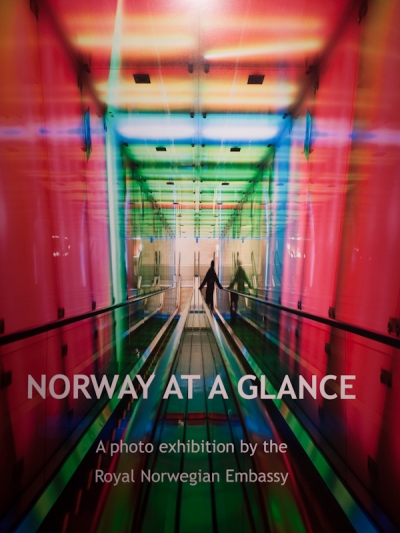 There will also be a photo exhibition on Norway, featuring Norwegians and life in Norway, seen through the lens of various Norwegian photographers. Amazing fjords and mountains, modern architecture and design of Norway, cities and industries are just a few of the themes this exciting exhibition will feature.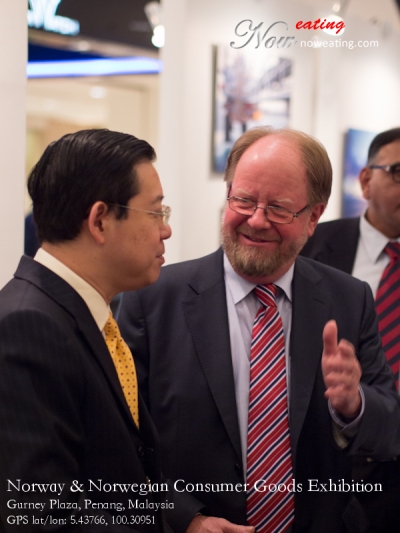 The Royal Norwegian Embassy will also be inviting groups of children, one for Thursday 1 November 10.30-12.00 am, and another on Friday 2 November 10.30-12.00 am to attend a short movie screening about Norway, a lecture on childhood in Norway, ending with a tour of the Norway photo exhibition.
Tine Norway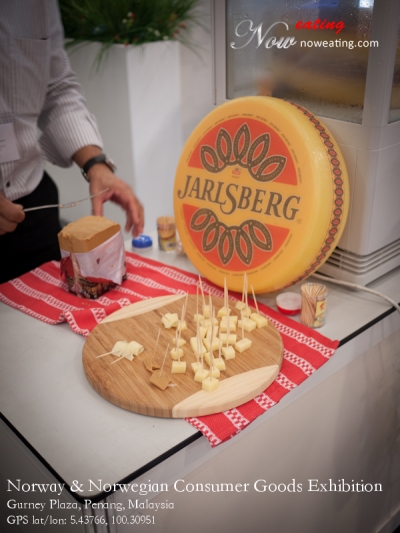 Since 1961 Tine Norway has been exporting the famed Jarlsberg cheeses all over the world. Jarlsberg® is today one of the bestselling brands in US, Europe and Australia.
The original Jarlsberg® is based on a secret Norwegian recipe from 1956. The combination of traditional cheese making and modern technology gives the cheese its thrilling taste and mysterious holes.
There will be a tasting of these cheeses throughout the exhibition. Its products include:
Gudbrandsdalen, which has a taste of caramel together with a clean, slightly sour taste of goat's milk. It is today considered Norway's national cheese. Another Norwegian invention the osteh0vel (cheese slicer) is used to create thin slices which are used on bread, crisp bread and waffles.
The Jarlsberg® Original Wheel is a medium fat semi-firm ripened cheese. It has a mild nutty flavor and the cheese has naturally formed holes.
The Jarlsberg® Special Reserve Wheel is matured for a minimum 12 months.
The Jarlsberg® Lite Loaf contains 40% less fat than the original Jarlsberg.
The Jarlsberg® Smoked Loaf has a delicious hickory smoked taste.
Ridder® is a Norwegian cheese closely related to Port Salut. It has a characteristic, distinctive taste and aroma.
Trapia Malaysia Sdn Bhd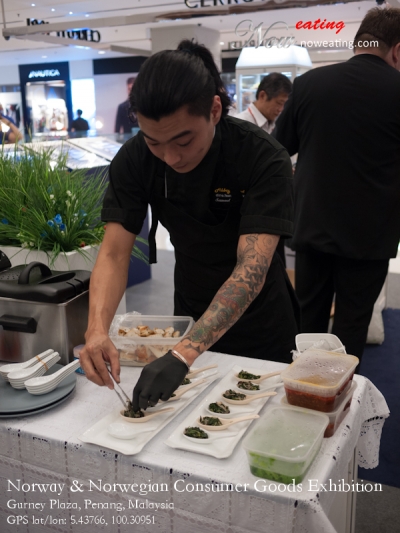 Trapia Malaysia Sdn Bhd is in Perak, where its eco-friendly fish farming operations are located in the pristine rainforest-fed freshwater of Lake Temenggor.
Trapia produces a unique strain of GenoMar Supreme Tilapia, likely the best quality Tilapia broodstock in aquaculture.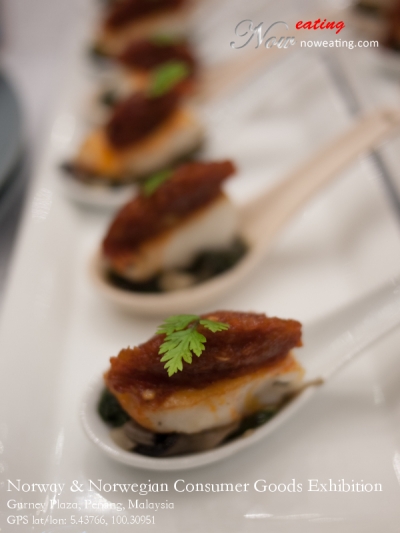 The Trapia team is international and fuses technology and expertise from the whole world. Each individual in the team is dedicated to creating value in the chain, with a superior product at the end of it.
The entire egg-to-plate production process is done with total verifiable traceability throughout the value chain. Trapia produces a safe, sustainable, high quality and healthy product that exceeds global aquaculture standards.
Jordan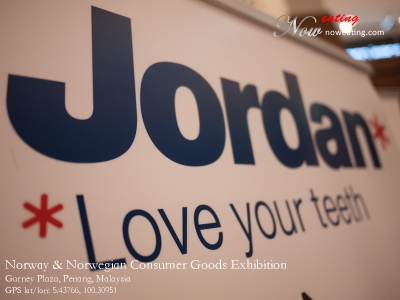 Jordan is one of the world's leading companies in preventive oral care, producing quality toothbrushes, dental floss and dental sticks. It has also developed a range of products in user-friendly designs for several oral hygiene problems.
Established since 1837 in Norway, Jordan has its headquarters in Oslo and began by supplying toothbrushes to the UK, Denmark, Sweden and Finland. Their products are now known all over the world, including the Middle East and Asia. It has won several awards for product excellence.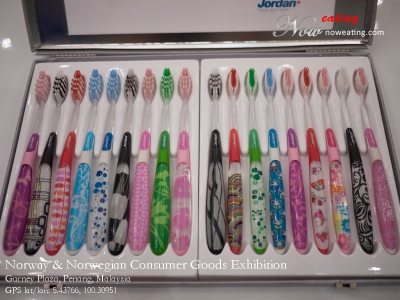 Besides oral hygiene products, Jordan is also known for painting tools and household cleaning products. Having been in the market for 175 years now, Jordan has also branched into the virtual world, producing videos about oral care. You can get free tips and advice on oral hygiene on Jordan Asia Pacific's Facebook page.
Jotun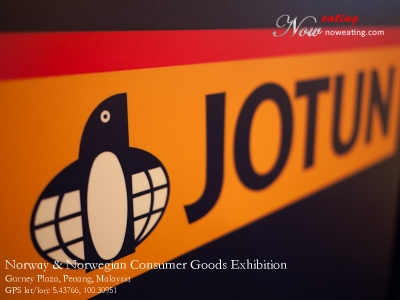 Jotun is one of the world's leading manufacturers of paints, coating and powder coatings. It began in 1926 as a local paint factory in Sandefjord, Norway. Jotun paints can be seen on the exclusive Burj Khalifa and the Burj AI-Arab Hotel in Dubai, the Eiffel Tower and the Queen Mary 2, the largest luxury liner in the world.
It pioneered the Multicolor Tinting System in 1976, putting more than 10,000 colour creations of almost any hue at your fingertips, and dispenses the chosen paint colour in less than three minutes.
Jotun Malaysia Sdn Bhd was established in 1983, and is Jotun's regional hub for South East Asia R&D centre for the development of new products for Asia, IT, marketing and other management functions.
Jotun's Majestic Ecohealth range of interior premium paints that is free from toxic chemicals, the New Strax Easy Clean, the New Woodshield, a wood stain and varnish with the widest range of tintable colours in the market, and the New Jotashield with Anti Fade Colours are among the paints that will be on display at the exhibition.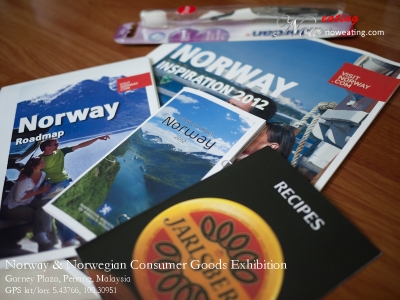 If you happened to shop at Gurney Plaza this weekend, make sure you visit Norway and Norwegian Consumer Goods Exhibition at G-Floor new wing. Some goodies, such as Norway map, handbooks, cheese recipes, and even toothbrush are there for you to grab.