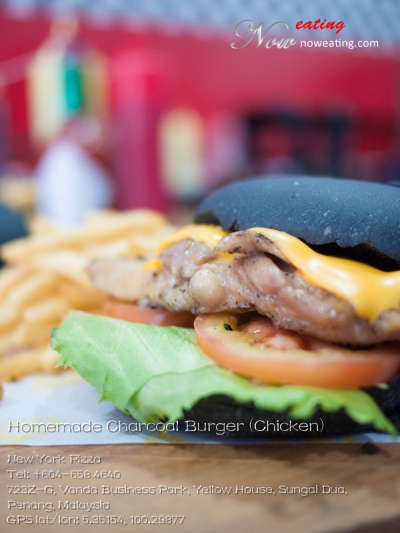 Hmm… charcoal burger at promotional price of RM10 (valid until 31-Mar-13), a new additional in a local pizza shop – New York Pizza at Sungai Dua, Penang. No, it won't dirty your hand and it tastes just like normal bun, but tastier and crispier. Let's see how it tasted like.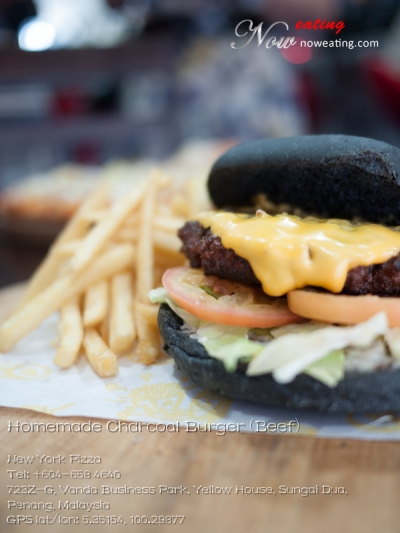 Charcoal Burger is available in two flavors – Chicken or Beef, each at promotional price of RM10. For chicken burger, the patty is made of grilled boneless thigh. As for the beef, the mixture of herbs into patty makes it a better choice if you prefer beef.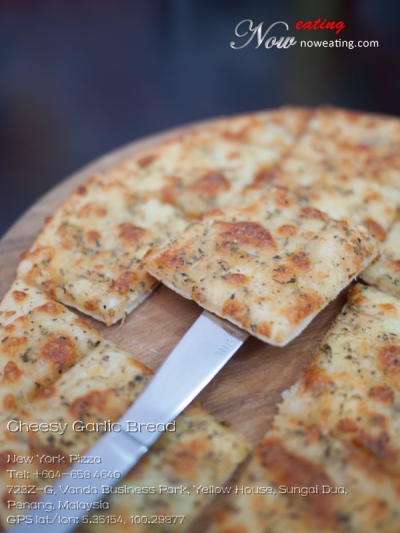 I had covered some items in my first post. During this second visit, I had an opportunity to try other items, including this Cheesy Garlic Bread (RM8.00) which is made of pizza dough. Best dip with mushroom soup.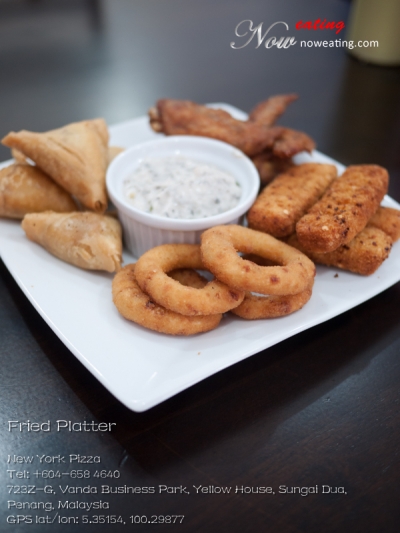 Another appetiser we tried was Fried Platter (RM19.60) which consists of Fried Samosa, Chicken Wing, Chicken Fingers, and Onion Rings.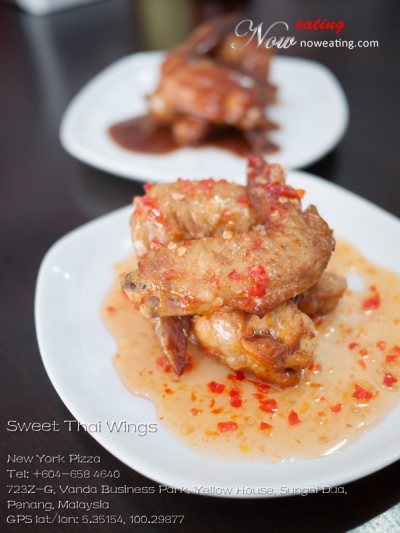 You can also order individual chicken wings (RM5.60 Small, RM10.50 Large), which comes in 3 types of sauces – chili, BBQ, and Thai. The BBQ sauce is home-made while the Thai sauce is from outside according to the owner.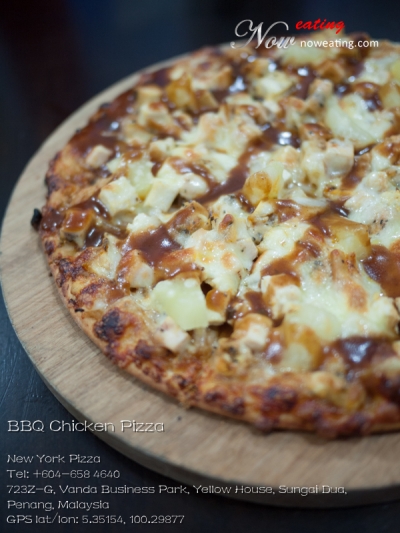 As for the main course, we tried four pizzas – BBQ Chicken Pizza, Pepperoni Pizza, Tuna Delight, and Marina Island. All in regular size. BBQ Chicken Pizza is topped with chicken chunks, onion, pineapple, Mozarella cheese, and BBQ sauce.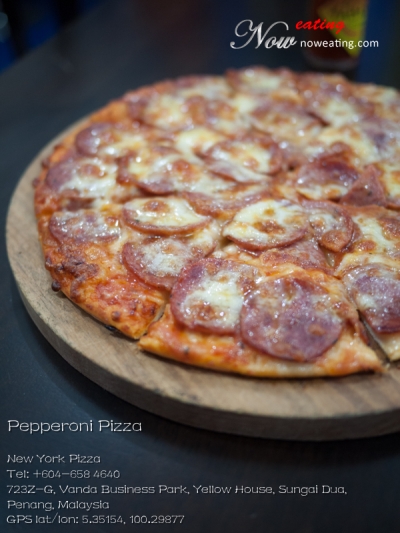 A regular pizza is priced at RM25.90 and comes with 2 drinks and garlic breads. Suitable for 2 persons. For Pepperoni Pizza, it is topped with chicken/beef pepperoni, Mozzarella cheese, and tomato sauce.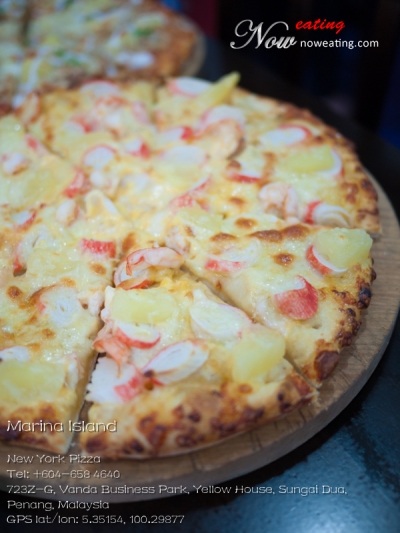 As a whole, their pizzas are definitely much better than Pizza Nut. Among these four pizzas, I prefer Marina Island as it comes with fresh shrimp, crabmeat, Mozzarella cheese, pineapple, and Thousand Island sauce.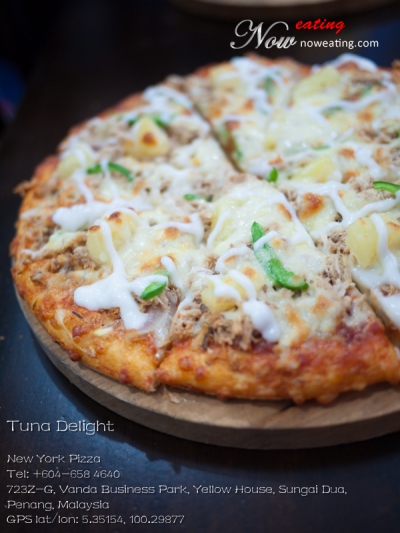 You can opt for thick-and-chewy or thin-and-crispy pizza crust. Tuna Delight comes with tuna, green pepper, onion, Mayonnaise, pineapple, tomato sauce, and Mozzarella Cheese.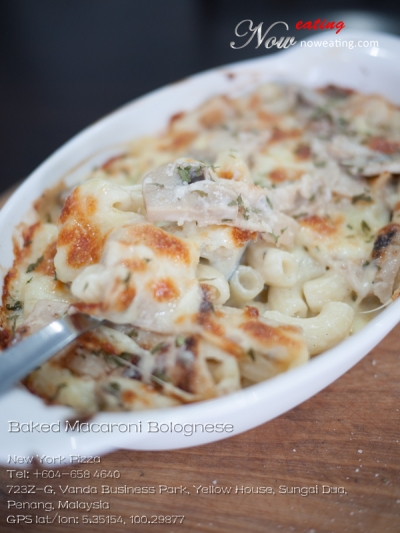 Last but not least, we also tried their Baked Macaroni Bolognese (RM12.80). For me, it was just average. Better stick with their pizzas and charcoal burger.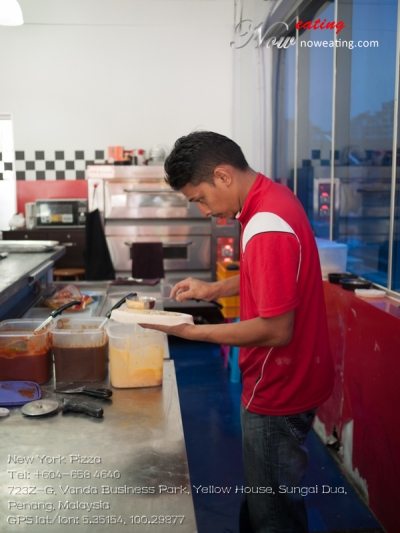 Unlike other pizza chain restaurants, New York Pizza is a local restaurant specialized not only on pizzas, but now burger as well. From now until 31-Mar-2013, try their tasty charcoal burger at promotional price of RM10 including drink and french fries. Did I mention that the bun is homemade?
Place Name:
New York Pizza
Cuisine:
Western
Address:
723Z-G, Vanda Business Park, Yellow House, Jalan Sungai Dua, Sungai Dua, 11700, Penang, Malaysia
Tel:
+604-658 4640
+6010-387 3737
+6010-398 3737
Email:
[email protected]
Website:
www.newyorkpizza.my
Working Hour:
11am to 10pm, Tuesday to Sunday (Close on MONDAY)
Last Visit:
20130302