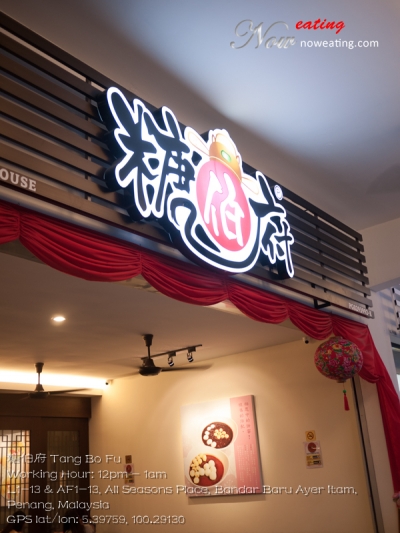 Previously, we introduced some mango desserts in Tang Bo Fu 糖伯府. Today, we continue introducing some Chinese traditional healthy desserts from this famous dessert shop in Penang.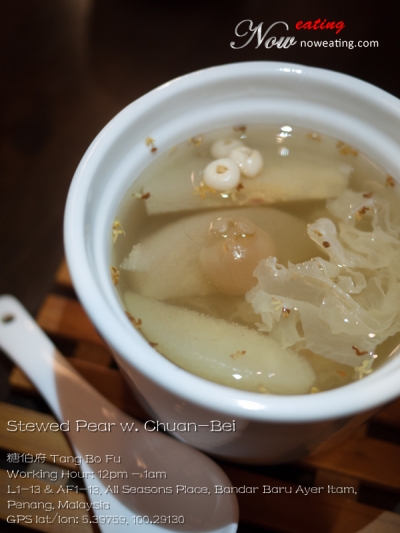 Stewed Pear with Chuan-Bei 川贝炖雪梨 (RM7.80) contains white fungus, longan, and aroma of flowers. The sweetness is just perfect.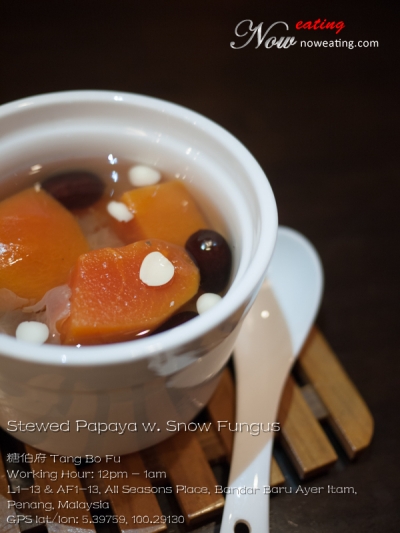 Even though the sweetness for Stewed Papaya with Snow Fungus 南北杏雪耳炖木瓜(RM7.80) is also perfect, the papaya was overcooked and thus tasted a bit dull.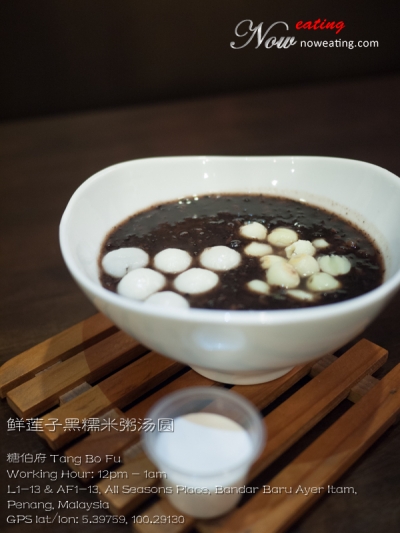 Black Rice Soup Lotus Seed and Glutinous Balls 鲜莲子黑糯米粥汤圆 (RM7.80) is an "enhanced" version of traditional Chinese dessert – Beh Koh Mui with additional of lotus seed and glutinous  balls stuffed with black sesame.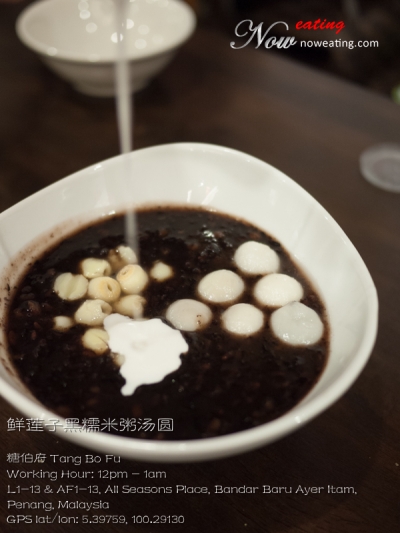 A cup of fresh coconut milk is provided so you can pour and mix it with the dessert.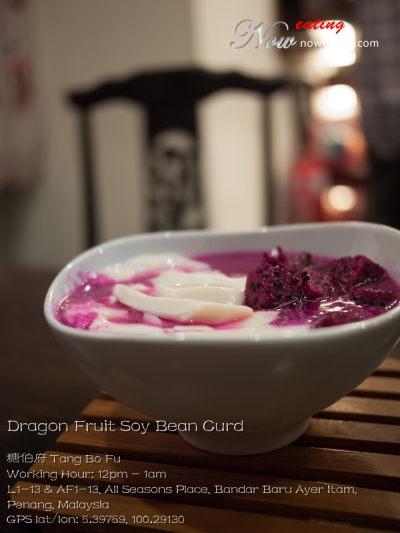 Soy Bean Curd 豆腐花 a.k.a Tao Fu Hua is pretty common as a roadside dessert in Malaysia. It usually topped with black or clear sugar syrup. Tang Bo Fu makes it a bit "luxury" by adding fresh dragon fruit juice on it. As a result, the sweetness is actually coming from the dragon fruit instead of sugar. Dragon Fruit Soy Bean Curd 火龙果豆腐花 is selling at RM7.80.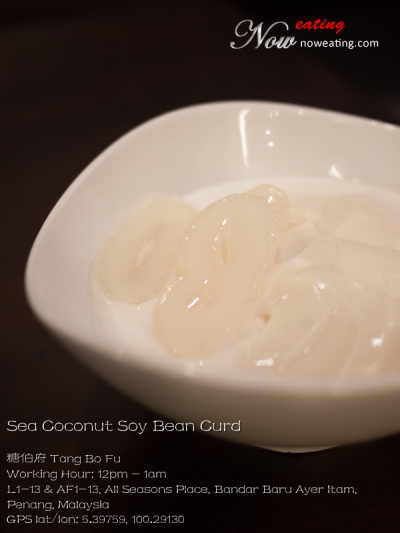 Even though the Soy Bean Curd is not the softest we ever tried, the mixture of real fruit can be a new experience for some customers. Sea Coconut Soy Bean Curd 海底椰豆腐花 (RM7.80) is another variant of Soy Bean Curd. It is added with fresh coconut milk.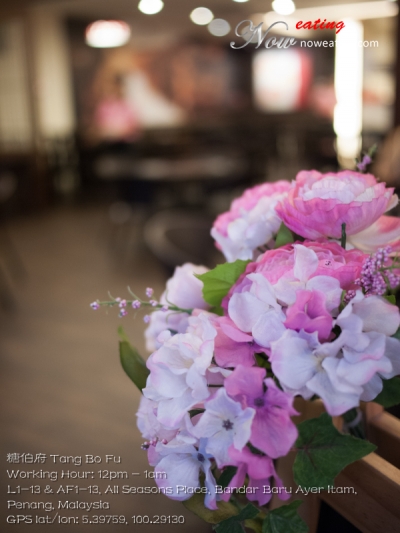 Tang Bo Fu not only provides new Hong Kong desserts, but also some traditional desserts suitable for different age groups. After introducing so many desserts, hopefully I will cover some "main course" of Tang Bo Fu for those looking for proper meal.
Other Tang Bo Fu posts:
Mango Maniac
| | |
| --- | --- |
| Place Name: | 糖伯府 Tang Bo Fu |
| Cuisine: | Chinese |
| Address: | L1-13 and AF1-13, Level 1, All Seasons Place, Lebuhraya Thean Teik, Bandar Baru Ayer Itam, 11500, Penang, Malaysia |
| Tel: | +604-826 9961 |
| Website: | www.tongparkfu.com |
| Working Hour: | 12pm-1am |
| Last Visit: | 20130611 |