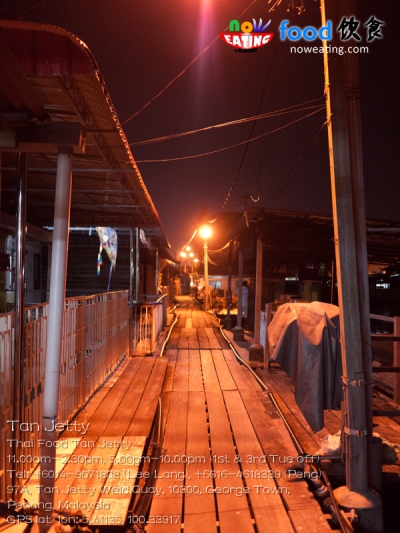 It is Thai food time again! This time, it is Thai Food @ Tan Jetty 姓陈桥 – one of the six clan jetties and tourist spots at Weld Quay, George Town, Penang.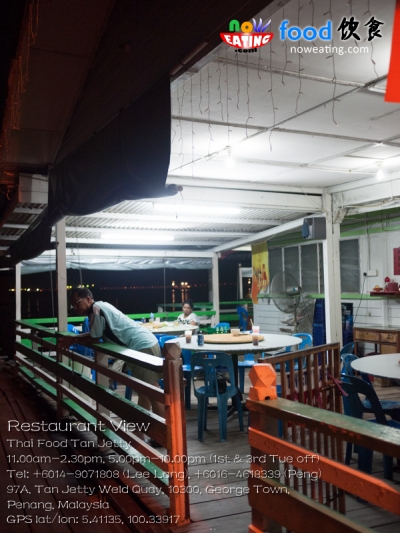 We stumbled upon this restaurant during our visit to Tan Jetty few weeks ago and we promised to visit the restaurant one day. It was a Saturday evening in which we revisited this place and gave this restaurant a try. Our first impression was that it is similar to Khun Thai at Teluk Kumbar in which both of them have beautiful scenery next to the sea. On top of that, Thai Food Tan Jetty is located in a tourist spot.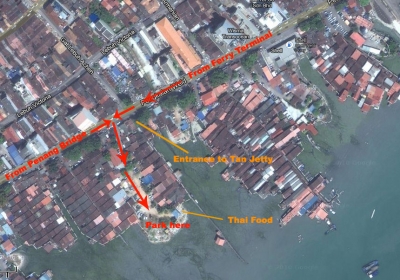 Parking can be both good and bad. Good is that an ample parking lot is provided next to the restaurant. If you coming from ferry terminal side, after seeing "Tan Jetty" signboard, you need to turn left into an alley which a (not-so-obvious) Chinese temple next to it. Usually you will see some firefighter trucks parking at the roadside before the alley. Bad thing is that, no one is guiding the traffic at the parking lot so some a**holes may simply park his/her car and block your exit.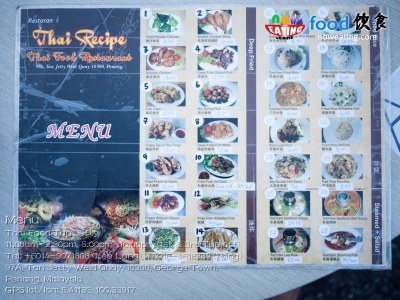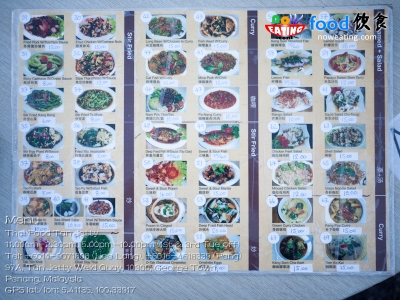 The menu was very simple – a laminated A3 menu printed on both side consisting of 71 items. Each item is labeled with number, making you easier to place order with waiter/waitress who are usually Siamese. We noticed that the crews were limited (only four serving customers) and the service could be deteriorated during peak hour.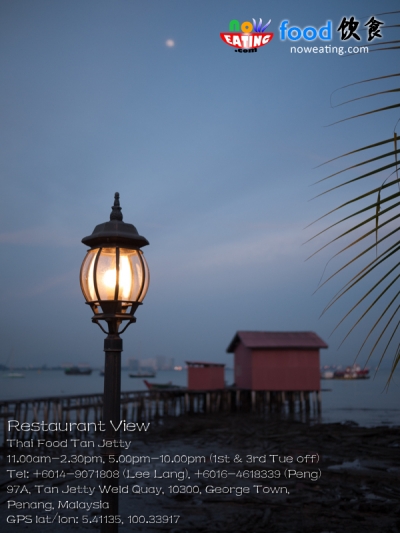 No doubt, the scenery is beautiful. It can be a bit dark for dining in the evening. There were a lot of mosquitoes as well. In Khun Thai, they used mosquito coils as repellent whereas in Tan Jetty, joss sticks were used instead 0_O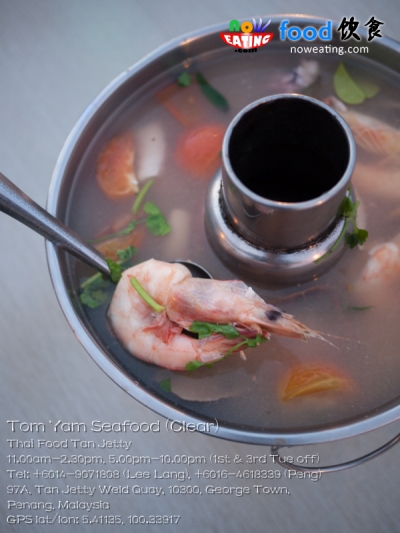 The food here was more towards home cook style. Drink-wise there were nothing much to brag about as the selection was limited. The first item to arrive is Tom Yam (Clear) (RM20). Unlike the one in Khun De Thai which was too spicy for my liking, white Tom Yam here had mild spiciness and sourness. It consists of three big prawns, squids, and fish fillets. We noticed some wax beneath the mini steamboat but it was not lid up to keep the soup hot, probably forgotten by the waiter.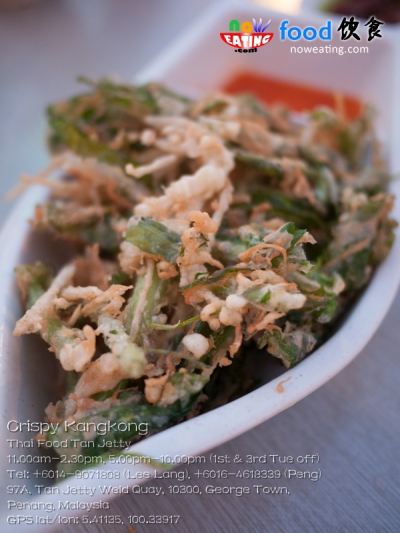 Crispy Kangkong (Water Spinach) (RM6) is my favourite and it is available in this restaurant. From the menu, it has another variant called Crispy Mushroom (Enoki). To our surprise, the waitress asked us whether or not to have both Kangkong and Enoki mixed. Our answer was "Hell Yeah!". As you can see from the figure above, this is Crispy Kangkong with Enoki.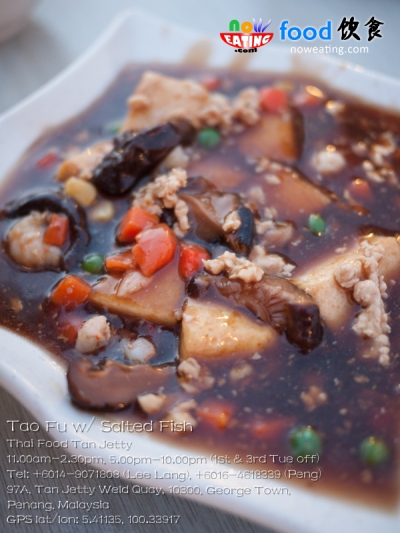 Tao Fu with Salted Fish (RM8.00) used to be my friend's favourite. Tan Jetty's version was a bit different compared to Chinese restaurant such that the gravy was a bit dark and generous. However, both salted fish and gravy were not mixed and blended well, causing part of the gravy salty and part of them just plain.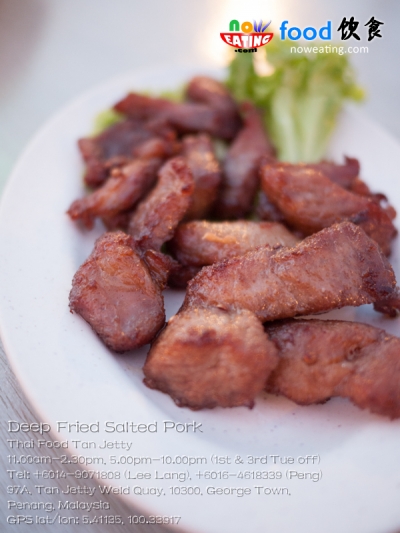 Deep Fried Salted Pork (RM12) was basically some de-boned pork marinated with salt and spices and deep fried to golden.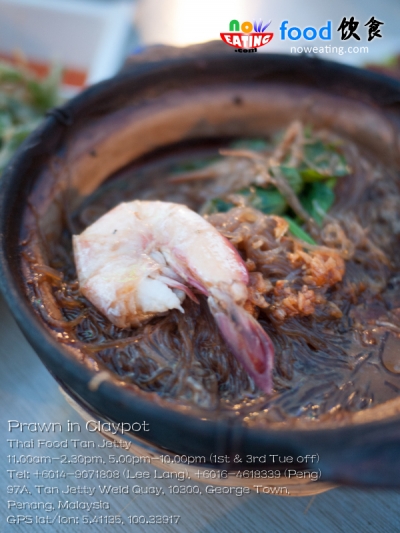 In most cases, we found out that the portion was too small for four of us. It was more suitable for one or two persons. Prawn in Claypot (沙锅冬粉大虾) (RM15) was another example in which they used single person's Bak Kut Teh claypot to serve. The glass noodle was generous but this also meant that you couldn't put too much gravy on it, causing all gravy to be soaked up by the glass noodle. To make it tastes even better, a suggestion is to crack a chicken egg on top of it and mix it.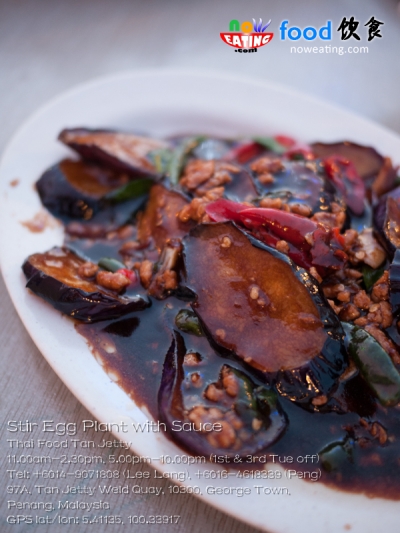 Perhaps the best item of the evening was this Stir Egg Plant with Sauce (RM8). Both dark sweet sauce and egg plant blended in well. With added bird's egg chillies and minced pork, this is one of the best egg plant dishes I ever tried.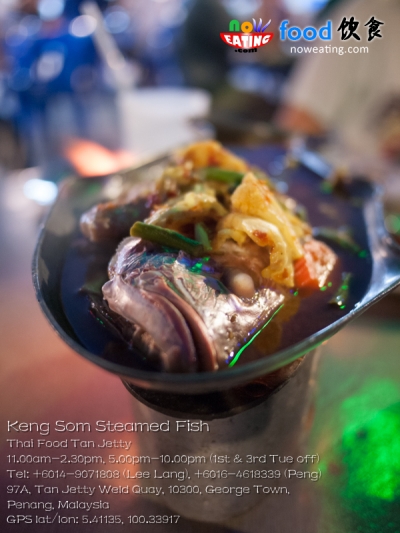 Four of us ordered 6 items but still not full enough. My friend went to the counter and ordered Keng Som Steamed Fish (RM40). It was the spiciest dish that evening. Compared to other Thai restaurants, however, it was still considered mild. This southern-style steamed fish ingredients included cabbage, long bean, tomato, garlic, turmeric, and bird eye's chillies.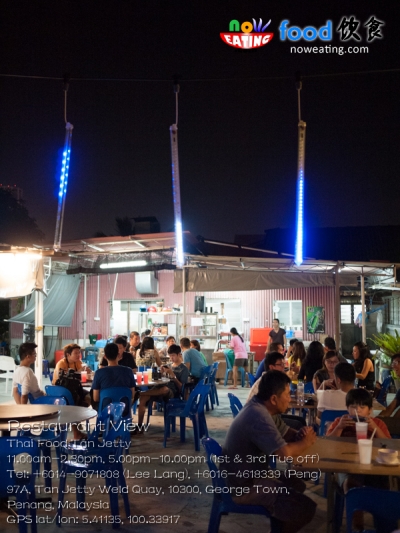 Located in one of the six clan jetties in Weld Quay, George Town, Thai Food Tan Jetty can be difficult to spot at first. The scenery is breathtaking and pricing-wise is acceptable considering its tourist spot location. Food quality-wise it is more towards home cook style so expect average food presentation but at the same time, less MSG as well.
| | |
| --- | --- |
| Place Name: | Thai Food Tan Jetty |
| Cuisine: | Thai |
| Address: | 97A, Tan Jetty Weld Quay, George Town, 10200, Penang, Malaysia |
| Tel: | +6014-9071808 (Lee Lang), +6016-4618339 (Peng) |
| Working Hour: | 11.00am-2.30pm, 5.00pm-10.00pm (Every month first and third Tuesday off) |
| Tax: | No |
| Last Visit: | 20130720 |