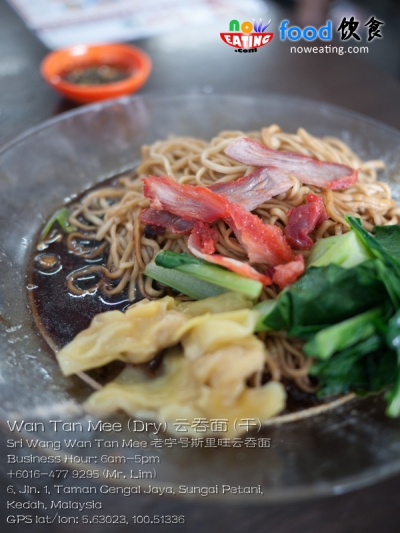 Wan Tan Mee is a strange food. In Sungai Petani, there are many Wan Tan Mee stalls which usually full of customers even though some of them just tasted average based on my personal taste bud. One of them is slightly low profile's Sri Wang Wan Tan Mee 老字号斯里旺云吞面 which recently opened its own noodle house at Taman Cengal Jaya.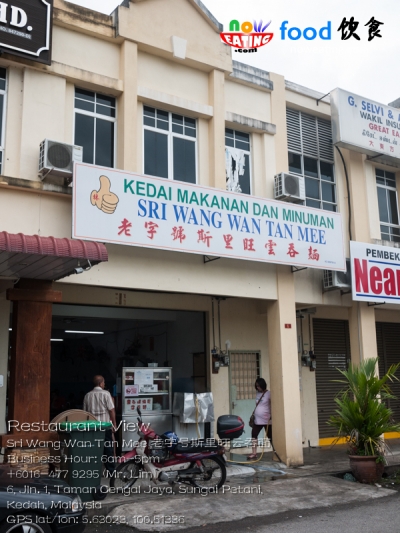 Previously, the stall was operated inside a coffee shop near Petronas Station Taman Sri Wang. The old place was quite abandoned now and personally I only patronised it two or three times almost a decade ago. The new shop is located along the way to Metro Hospital. If you are coming from Jalan Kuala Ketil, the shop is in a shop row on left hand side before Metro Hospital.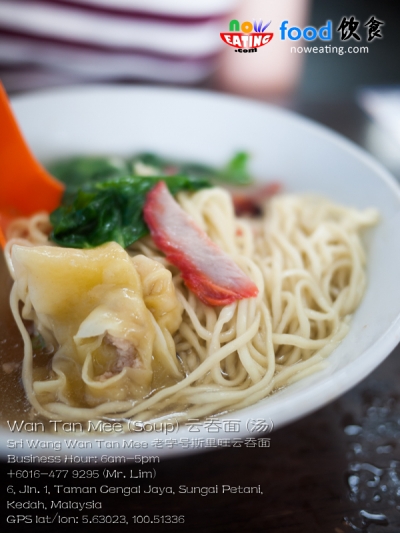 We visited this noodle house during Hari Raya holiday and it was almost full house. Fortunately the wait time was not that bad. We ordered one dry version and another is soup version. While the base soup tasted average,  we found out  that the Wan Tan noodle was thicker compared to other stalls. The noodle was sprinkled with generous amount of white pepper powder. A small bowl is priced at RM2.80. In Sungai Petani, you still can have a bowl of noodle below RM3.00.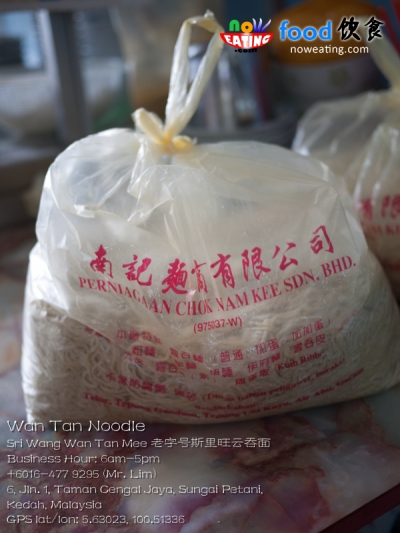 This is their secret weapon – Chok Nam Kee 南记 Wan Tan noodle. I accidentally saw it on top of a table. It was not the springiest Wan Tan noodle I ever tried but still considered slightly above-average compared to those used by most stalls thanks to its thicker texture.
Overall, the food quality can be considered slightly above-average compared to others in the same town.
| | |
| --- | --- |
| Place Name: | Sri Wang Wan Tan Mee 老字号斯里旺云吞面 |
| Cuisine: | Chinese |
| Address: | 6, Jalan 1, Taman Cengal Jaya, Sungai Petani, 08000, Penang, Malaysia |
| Tel: | +6016-477 9295 (Mr. Lim) |
| Working Hour: | 6am-5pm |
| Tax: | No |
| Last Visit: | 20130809 |