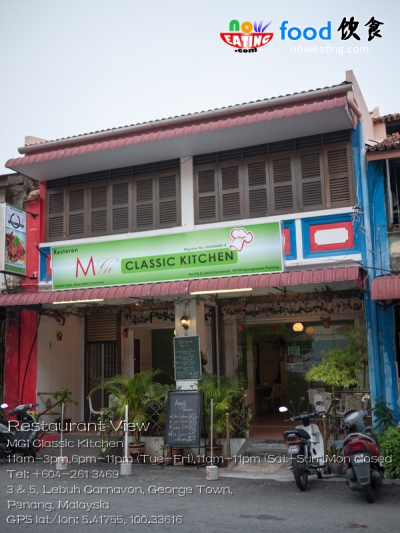 After Micke's Place, it is time for another western food restaurant review near that area – MGI (Malaysia Global International) Classic Kitchen located at Lebuh Carnavon, the same street with Aik Hoe Dim Sum 益和茶楼 restaurant.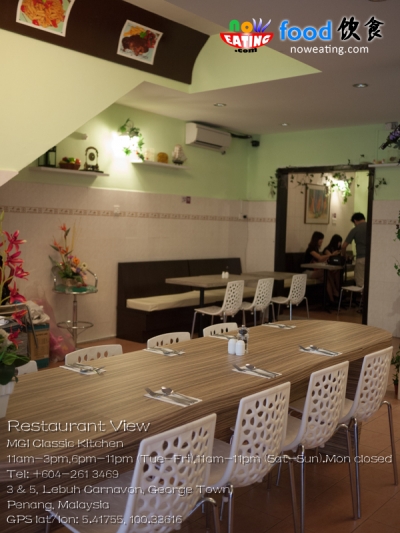 The shop used to be Post Cafe but was changed to this restaurant since 3-Apr-2013. Parking is quite difficult in that area and some illegal parking boys may collect parking fee from you. I ended up parking at bookstore street towards Komtar. The restaurant occupies two shops with spacious dining area and simple decoration. The same company also has beauty care centres opened in Penang (If you eat too much western food and grow pimples, go to their beauty centre). Speaking of the reason to open this western restaurant, the owner said that it was due to their interest in eating western food.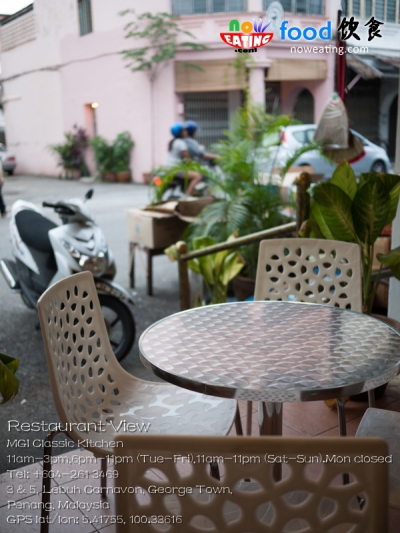 As long as western cuisine is concerned, first impression is that western food = unhealthy. As a western food lover, the owner used better ingredients for food preparation, including:
Use of olive oil
Unsalted butter
Less MSG
No chicken stock powder
All soups are homemade
All sauces are homemade (except chilli and tomato sauces)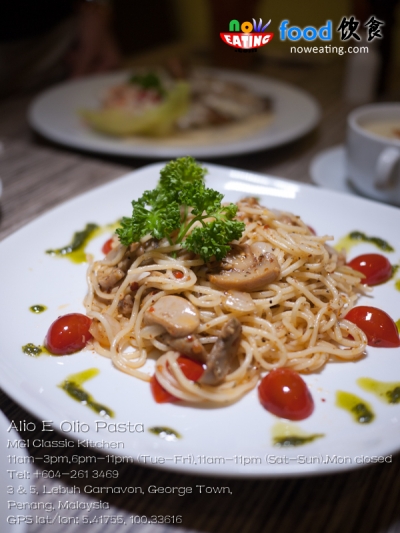 Alio E Olio Pasta (RM13.50) is a very good example in showing that they really use olive oil for cooking. You will know it the moment you put the olive oil-coated Angel Hair Pasta into your mouth. The pasta tasted good with medium spiciness.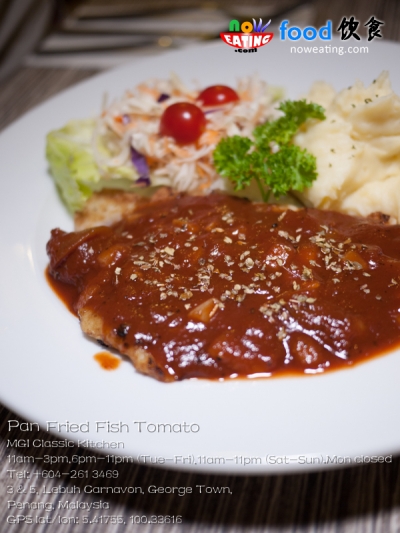 Pan Fried Fish Tomato (RM16.50) is another example of better ingredients. The fish used was dolly fish and most dolly fish fillet outside had earthy taste (土味). MGI, however, is not the case. Better quality of dolly fish is used and there is no earthy taste at all.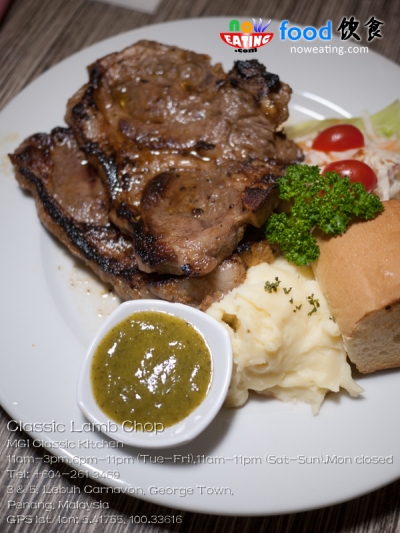 Classic Lamb Chop (RM28.50) comes with homemade mint sauce. The lamb was imported from Australia and was less gamy (羊骚味) compared to normal lamb chop. The sweet mint sauce tasted good and best dip with almost anything.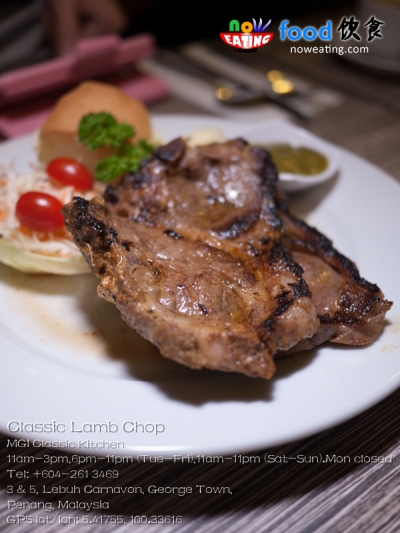 Priced at RM28.50, it came with two pieces of lamb chop. Note that most dishes came with mashed potato and salad. We found out that they were a bit dry.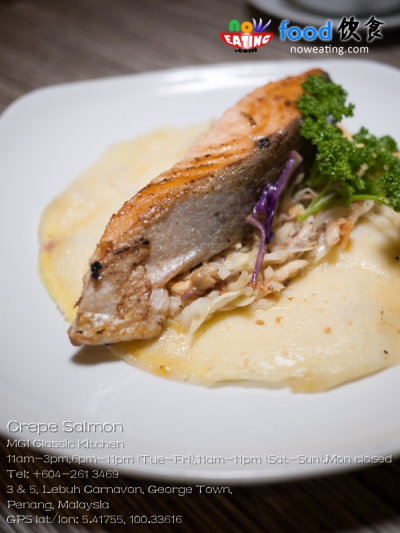 Crepe Salmon (RM21.80) is a special item in August. The grilled salmon together with Shimeji mushroom are wrapped with pancake. The salmon is fresh. It has homemade sweet and creamy yellow sauce at the bottom. Personally I prefer to have some lemon juice added into its sauce to make it into a sweet and sour creamy sauce.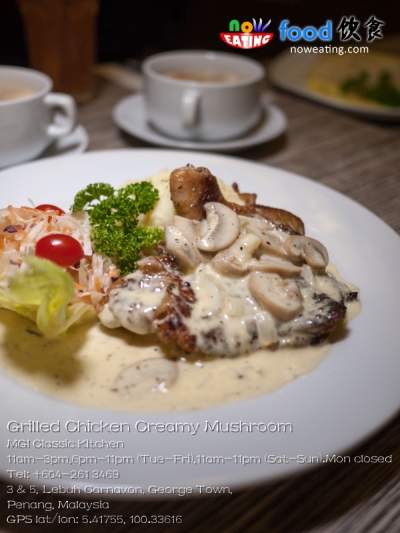 Perhaps the food of the day is this Grilled Chicken Creamy Mushroom (RM15.50). I like their thick cream sauce, like the one in carbonara. The more I tried their western food, the more I felt that they look like hotel food. In fact, they hired a hotel chef as their cook.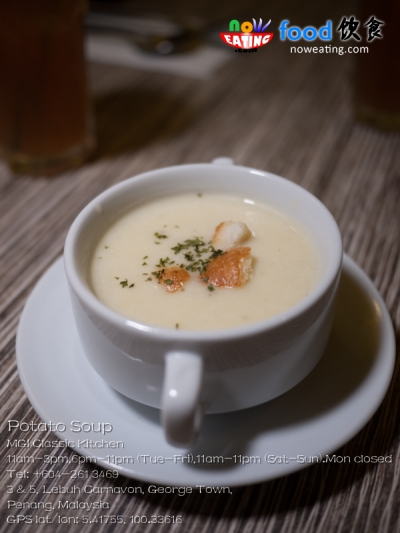 As for the soup, potato soup was creamy and tasted good. It comes with set meal.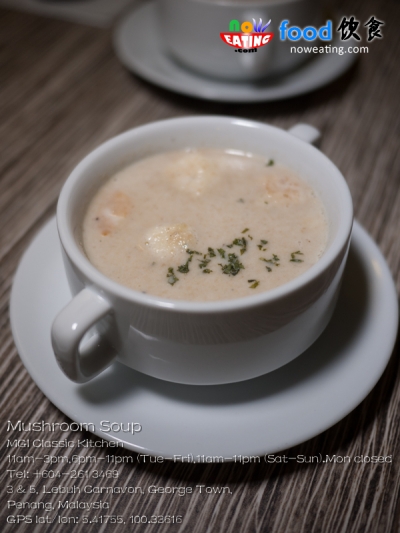 Mushroom soup is another choice of set meal's soup selection and is homemade as well with generous amount of ground cap mushroom. Personally I prefer potato soup as mushroom soup was a bit diluted.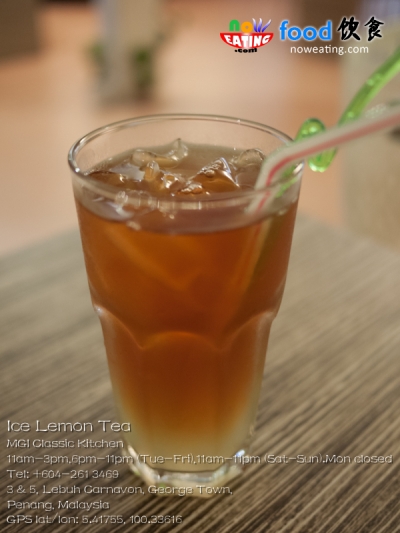 Even this ice lemon tea which comes with set meal is homemade. It tastes more natural than those concentrated product.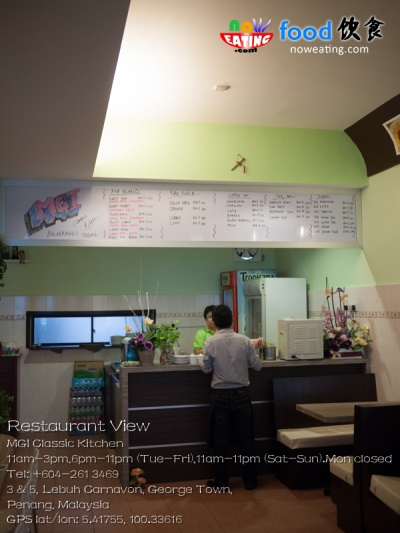 In my personal opinion, MGI Classic Kitchen has the potential to become a popular western food restaurant in the heart of George Town thanks to its strategic location in tourist area and the use of better ingredients. An area of improvement is perhaps the ambient to attract foreigners and to make them feel at home.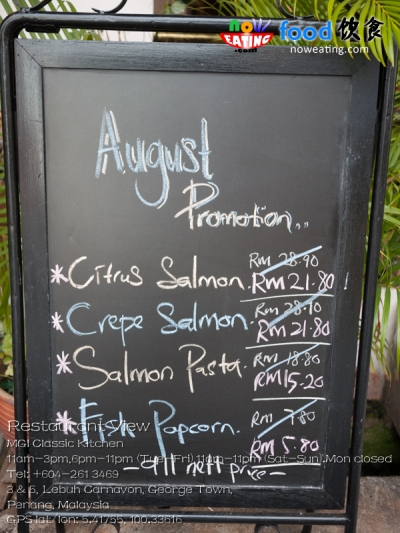 Other than those items in the menu, they have August specialties as well (refer to picture above). I had included a copy of their menu below for your reference. For latest pricing and availability, always refer to the actual menu in restaurant:
| | |
| --- | --- |
| Place Name: | MGI Classic Kitchen |
| Cuisine: | Western |
| Address: | 3 & 5, Lebuh Carnavon, George Town, 10100, Penang, Malaysia |
| Tel: | +604-261 3469 |
| Email: | [email protected] |
| Working Hour: | 11am-3pm, 6pm-11pm (Tue-Fri), 11am-11pm (Sat-Sun). Close on Monday. |
| Tax: | No |
| Last Visit: | 20130813 |