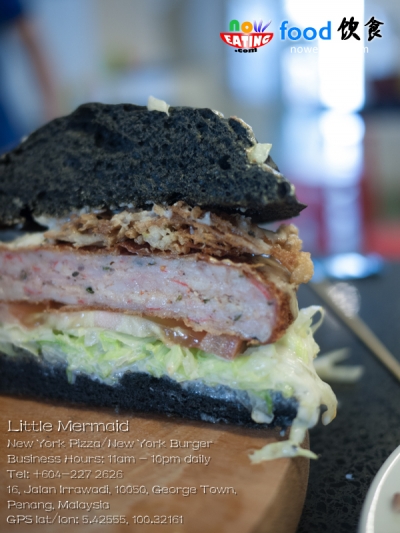 Back in March, I introduced New York Pizza's charcoal burger. It was just released that time and there was only one New York Pizza outlet at Sungai Dua, Penang. In the blink of eye, New York Pizza has three outlets in Penang now. Since its burger business is getting popular, the owner even registered another company under the name of "New York Burger".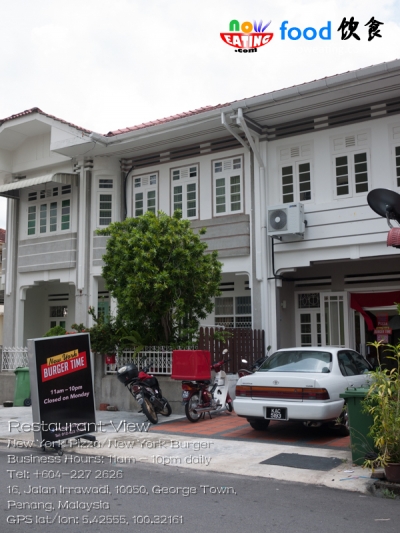 Anyway, you still can enjoy their pizzas and burgers under one roof. The one I am going to introduce today is the second New York Pizza/Burger outlet at Irrawadi Road which is already operating for 4 months. It is just two houses away from the famous Harvest In cafe. Third outlet is recently opened at Union Street – an one-way alley where Maybank is located at financial district of Penang island.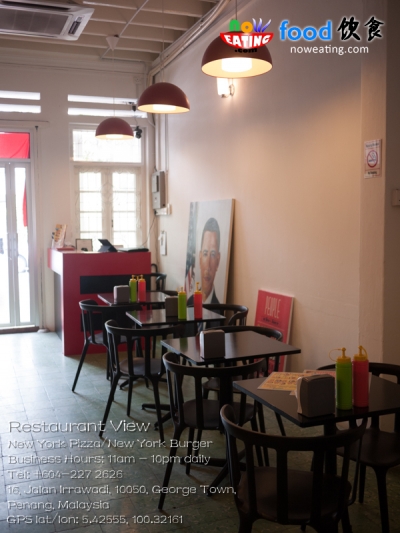 As of early September 2013, second floor is still under renovation.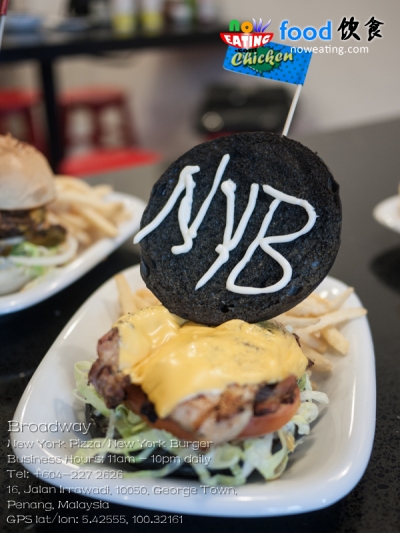 Compared to only two burgers back in March, NYB now has 11 types of burgers. Let's start with the chicken. The entry level Broadway (RM9.90) is a recommended item with grilled chicken patty, cheese, lettuce+tomato, home-made tartar sauce.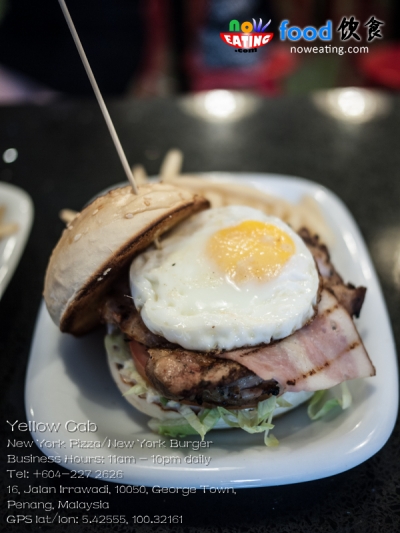 Yellow Cab is deluxe version in which chicken bacon and sunny side-up are added. It priced at RM12.90. If you noticed, they now have normal bun due to demands from customers. Each burger also comes with french fries.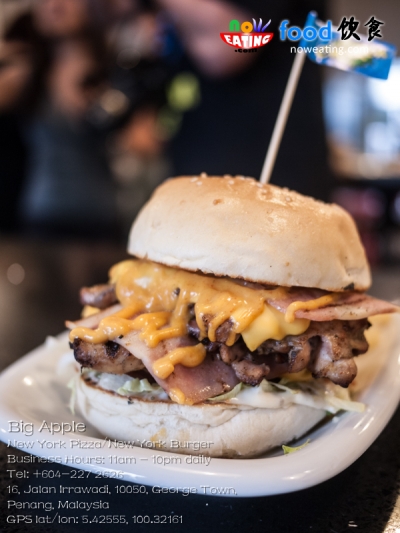 Big Apple (RM14.90) is the ultimate chicken burger with 2 x grilled chicken patty, 2 x cheese, chicken bacon, lettuce + tomato, and cheesy sauce. Overall, the chicken patties tasted juicy but mild compared to Street Grill Burger I previously introduced.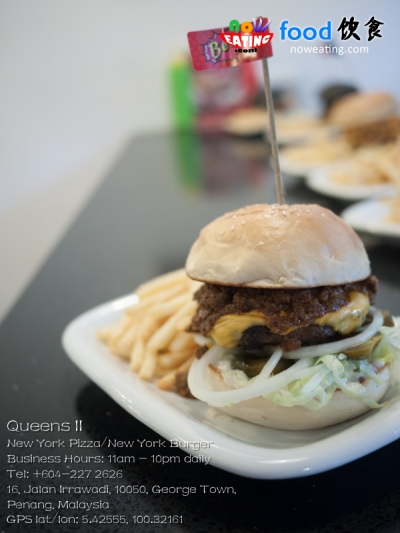 Next is the beef burgers. Queens II (RM12.90) grilled beef patty, minced chilli beef, Jalapeño, cheese, lettuce and tomato.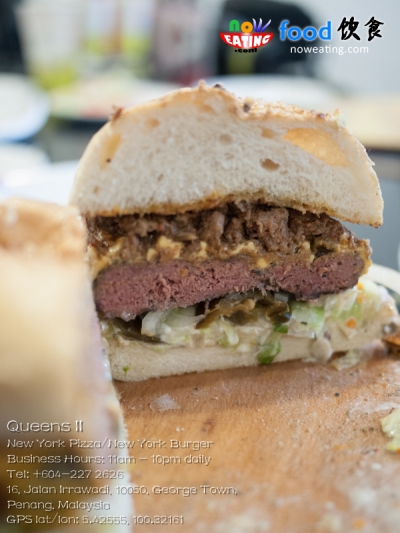 It is a spicy burger thanks to the added Jalapeño.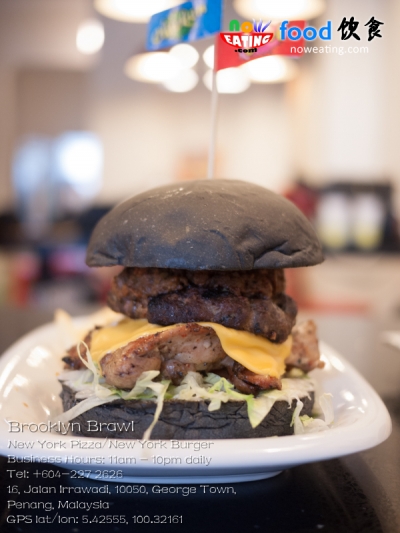 Like to have both beef and chicken in one burger? Try Brooklyn Brawl (RM15.90) consisting grilled beef+chicken patties, cheese, minced chilli beef, lettuce and tomato. Compared to chicken patty, beef patty was a bit dry.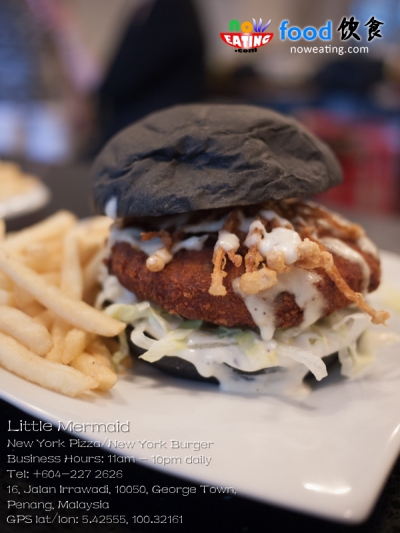 Perhaps the best burger is not the chicken nor beef, but the new Little Mermaid seafood burger. This burger is so new that it is currently not in the menu yet so feel free to ask the waiters on the availability. It consists of seafood patty, enoki mushroom, lettuce and tomato.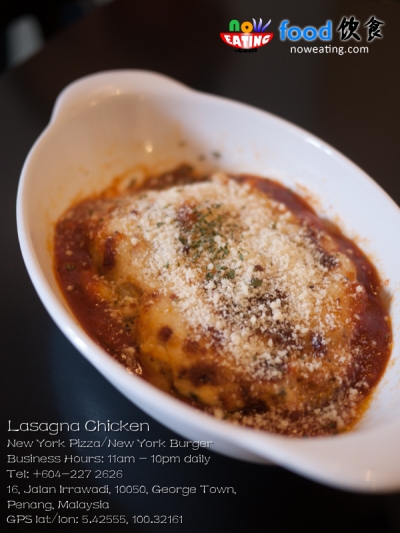 Other than burgers, they have few new additions, including Lasagna Chicken (RM12.90)…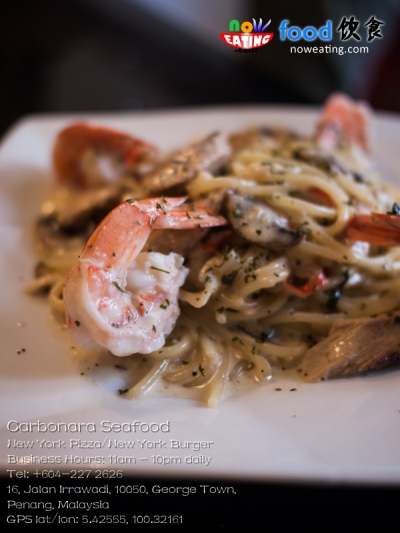 … Carbonara Seafood (RM12.90)…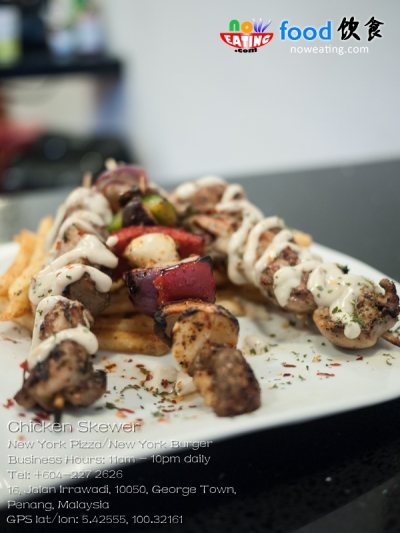 … and Chicken Stewer (RM13.90). Personally, I didn't have a chance to try Chicken Skewer but for Lasagna Chicken, Secret Recipe one was better. Carbonara Seafood was creamy but the use of tuna was a bit disappointing.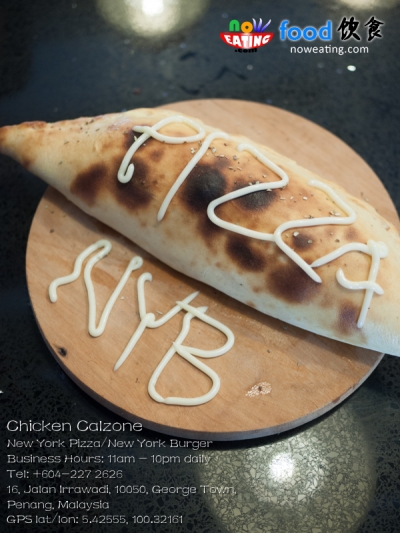 Another new product is Chicken Calzone (RM20.90). Calzone is a type of pizza that is folded in half before cooking to contain a filling. Again, it is not in the menu yet.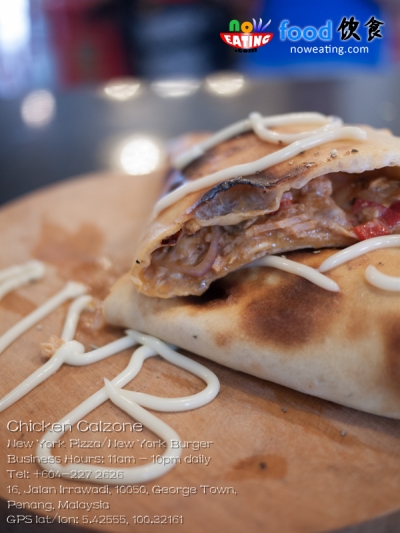 Taste-wise, it tasted like pizza but juicer.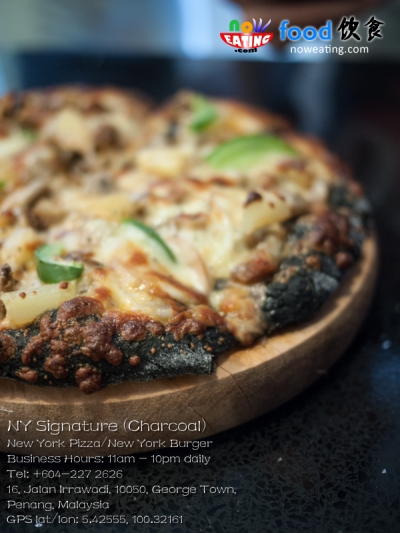 As for the pizza, they now have charcoal pizza. By adding RM2.00, you can convert your normal pizza to charcoal pizza. For more information on pizzas, kindly visit my previous post.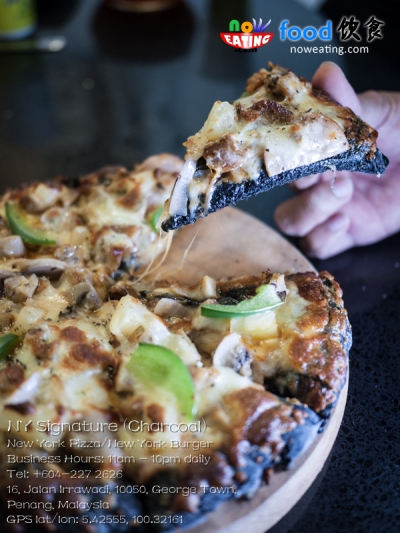 The pork-free New York Pizza/Burger did some improvements on their burger menu and now they have 12 burgers including the new Little Mermaid burger. It is also quite aggressive in business expansion in which they now have 3 outlets within 2 years of operation. If you are looking for a clean environment for burgers, this can be the place.
Click the link below for New York Pizza/Burger menu:
| | |
| --- | --- |
| Place Name: | New York Pizza/New York Burger |
| Cuisine: | Western |
| Address: | 16, Jalan Irrawadi, George Town, 10050, Penang, Malaysia |
| Tel: | +604-655 2626 (Jln. Sg. Dua), +604-227 2626 (Jln. Irrawadi), +604-264 2626 (Lebuh Union) |
| Email: | [email protected] |
| Working Hour: | 11am - 10pm daily |
| Last Visit: | 20130907 |