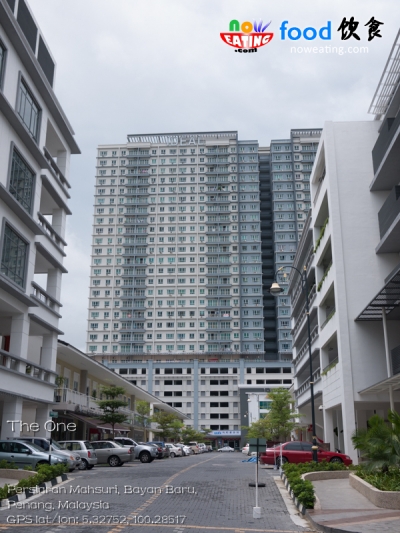 The One is a new township project in Bayan Baru opposite of Mayang Mall/D'Piazza. At first, I was quite excited as there were many restaurants opened at that area. After few visits, it quickly became one of the area I tried to avoid due to one major issue – parking problem.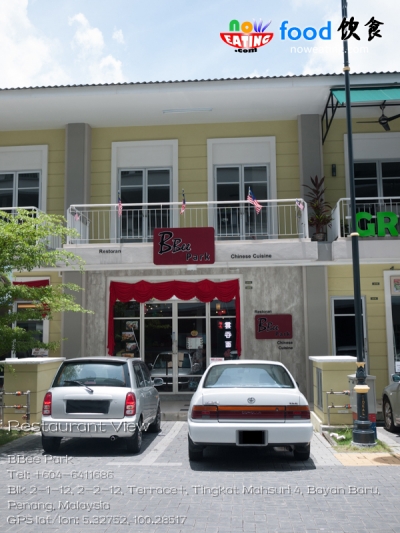 Here's the story: Once upon a time, Bayan Baru was a peaceful resident area. In recent years, many housing projects were launched. First, there are two high-rise apartments – D'Piazza and 1-Sky opposite to each other (not to mention another two or three currently under construction). Then, there are office building – Mayang Mall, Suntec, One Precinct, D'Piazza and those at The One area. All located at walking distance.
Employees there tend to find free parking whenever possible (both legally and illegally). At first, D'Piazza provides free parking for visitors. Its neighbour's employees then took opportunity to park there whole day, causing D'Piazza management has no choice but to charge ridiculous parking fee. Very soon, first phase of The One's commercial and residence project completed and those employees (and new residents) quickly parked their cars there. Knowing this, almost all shop owners put a signboard on parking space in front of their shop to allow only their customers to park there.
In short, the place is overcrowded with residents and employees and the "where for meal" answer is much depended on which cafe got parking space. Most of the time you will end up having meals at cafe you never expected.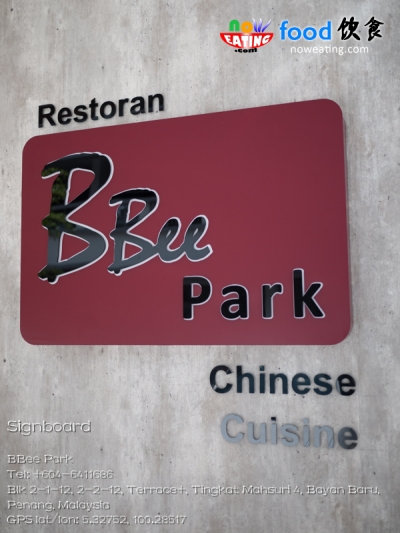 Even with many cafes opened at The One, many owners started their F&B business just for the sake of earning money. Some even did not do their homework and simply provide substandard food and service. BBee Park, however, was an exception thanks to its special Wonton noodle. Surprisingly, BBee Park was also one of the cafes I stepped in not because I planned to, but because of limited parking space and ended up parking in front of their shop.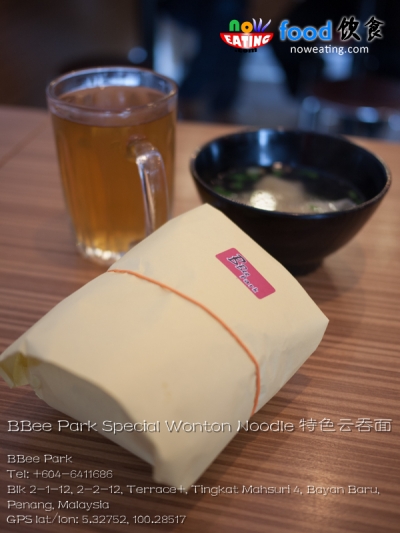 The first time I dined in and ordered their BBee Park Special Wonton Noodle 特色云吞面 (RM3.90), I was surprised when they threw me a pack of wrapped food. I asked myself, "WTF?".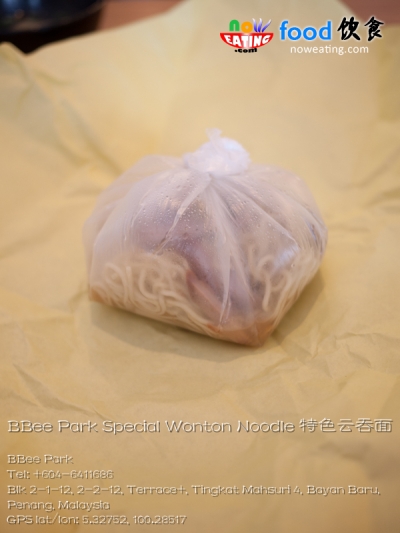 The friendly waitress told me that it was the right item so I unwrapped the paper, only to find that there is another layer of air-tight plastic bag.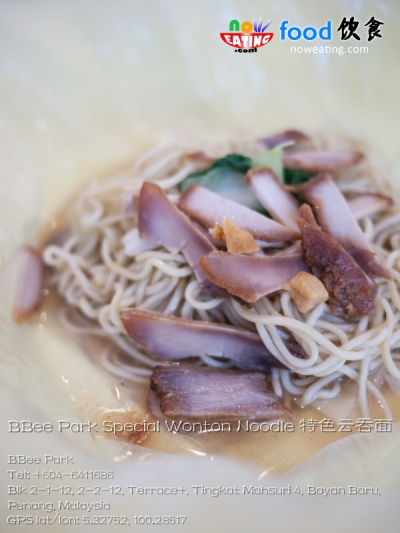 I then quickly unwrapped the inner plastic bag and started eating. To my surprise, it was one of the best Wonton Noodle at Penang island I ever tried since the one at Lorong Selamat. It was like Hong Kong style Wonton Noodle.  It did not use dark soy sauce. The portion was small and for me, it was like Thai appetiser – Miang Kham 一口一包/一包一口/一口包/一包口/whatever.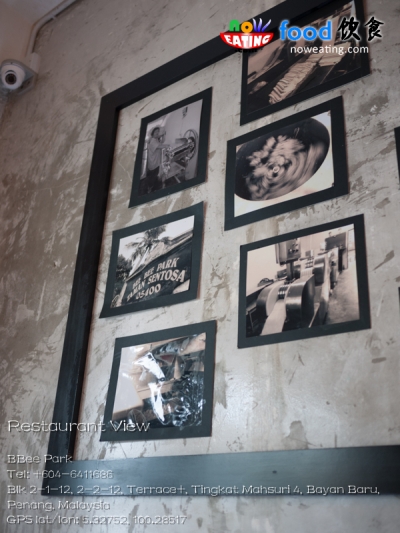 After a while, the owner – Mr. Kang, approached and explained to us. They are already in business since 20 years ago at Alor Setar's Bee Bee Park. Each day, they sold more than 2,000 packs of Wonton noodle. They have their own noodle factory as well. To our surprise, the noodle is best kept for at least 24 hours before consuming.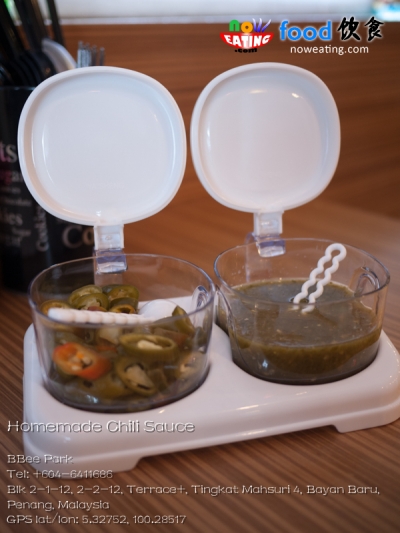 By the way, if the special Wonton noodle tastes a bit plain, try to mix the noodle with some home made chilli provided on each table.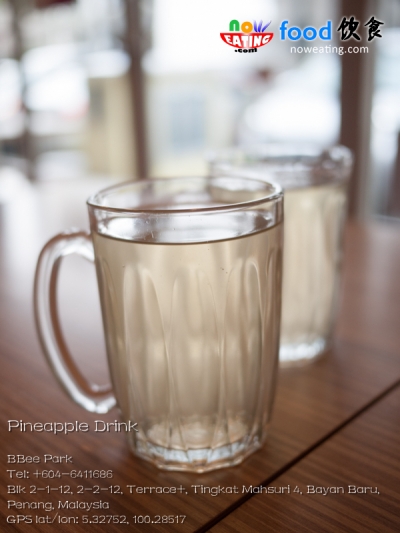 By adding RM1 – RM2, you are entitled for a side dish and a drink. The drink is rather special – cooked pineapple drink. According to the owner, it has oil cleansing power after a hearty meal.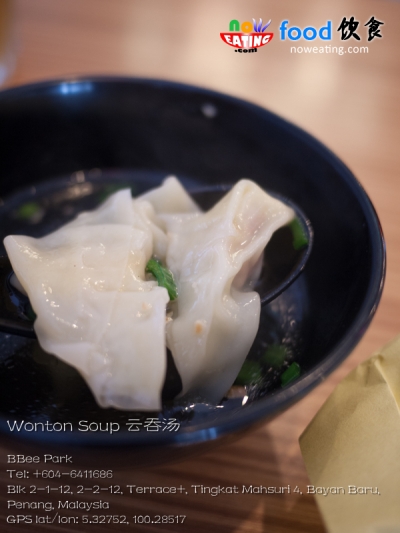 As for the side dishes, you can choose among three items: 1) Wonton Soup 云吞汤. Their Wonton tasted a bit sweet.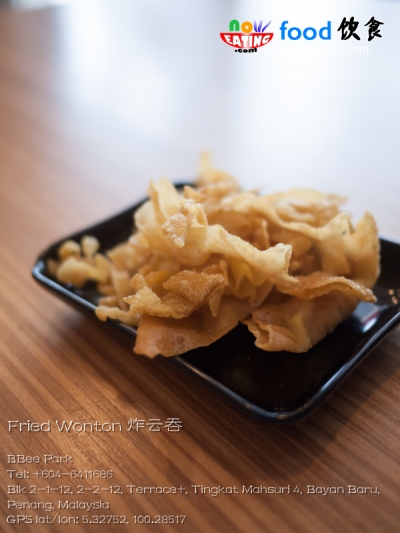 2) Fried Wonton 炸云吞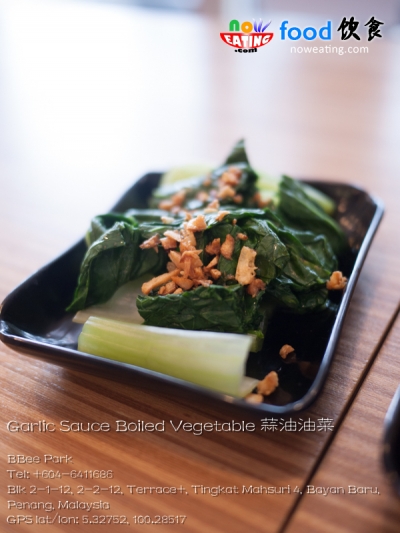 3) Garlic Sauce Boiled Vegetables 蒜油油菜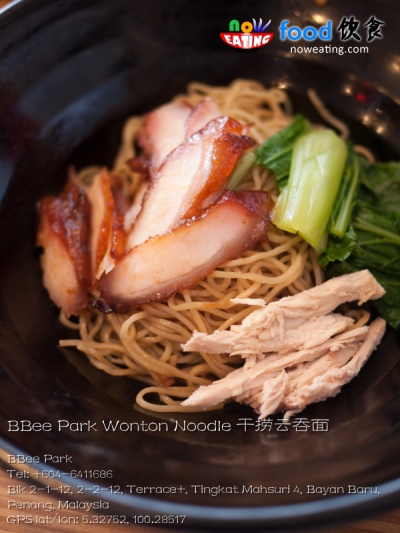 Not fancy about special Wonton Noodle? Try the common Wonton noodle 干捞云吞面 (RM6.90) in a bowl. Taste-wise, it was almost similar to special version except with added dark soy sauce and chicken slices. Noodle-wise, it was dry and hard compared to special version. Again, the portion was small and pricing-wise was RM3 more expensive than special Wonton noodle, which was kind of weird.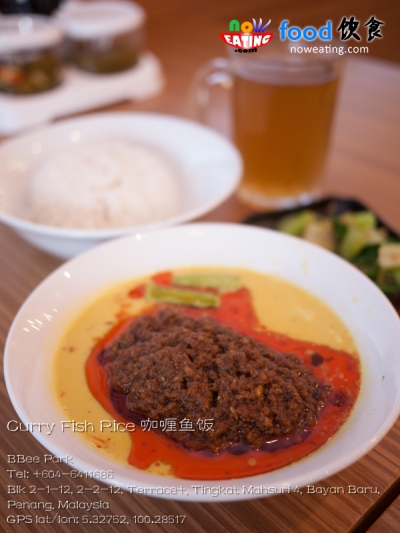 BBee Park also serves rice item, such as curry fish and curry chicken. The curry is made of milk instead of coconut milk so it is more delighted and gentle to stomach.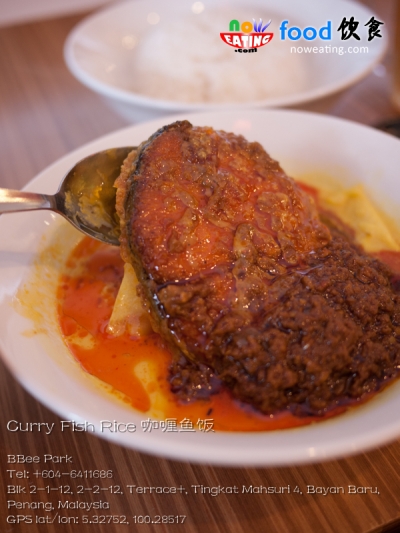 The fish steak was pre-fried before cooking with the curry. The curry was thick and tasted good, just like those home-cook curry.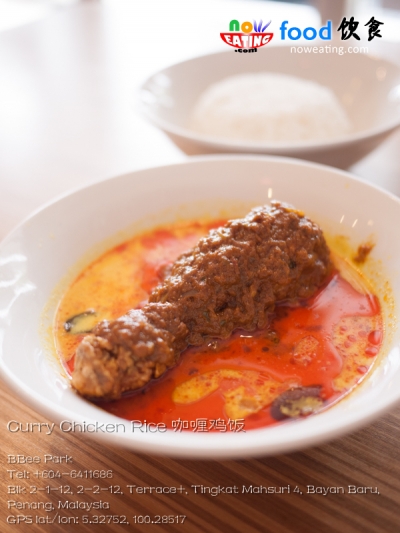 As for the chicken version, the chicken drumstick was also pre-fried to an extend that it tasted like KFC with crispy skin. Each curry comes with a bowl of rice and priced at RM9.90. You can opt for set meal as well which comes with the pineapple drink and side dish of your choice.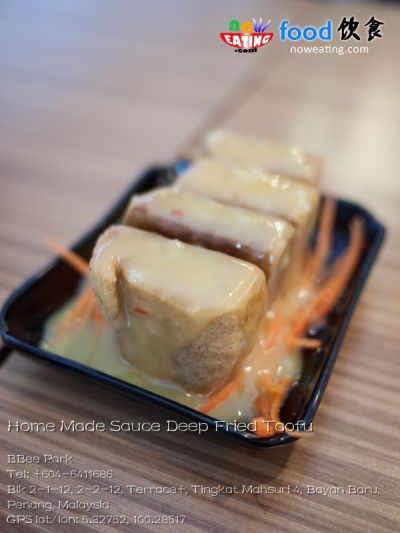 As for the snack, Home Made Sauce Deep Fried Taofu "自制酱"黄金豆腐 (RM5.90 small, RM8.90 large) tasted good with sweet and sour sauce.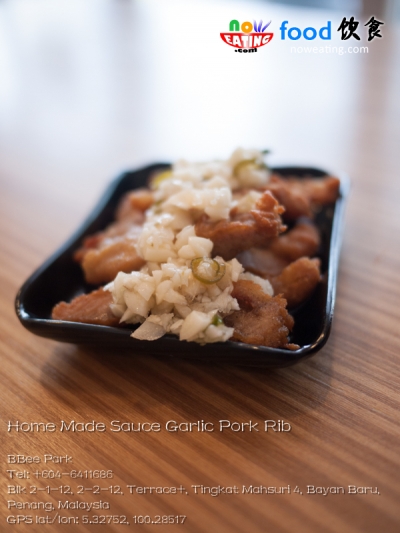 If you are garlic lover, you should try their Home Made Sauce Garlic Pork Rib 自制酱蒜头排骨王 (RM5.90 small, RM8.90 large). The deboned fried pork rib was soaked with lemon/lime and sugar, making it juicy and appetising.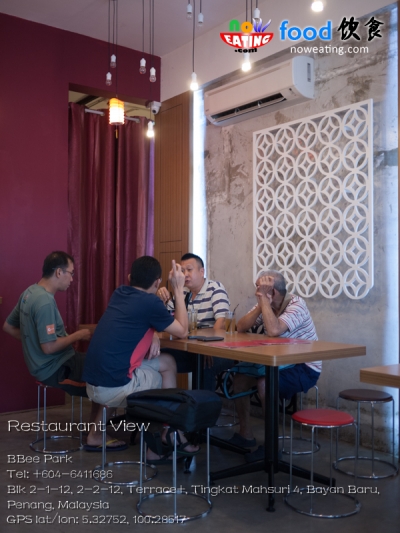 Putting parking issue at The One aside, BBee Park at Bayan Baru, Penang does his homework and is one of the more successful new cafes there. Originated from Alor Setar selling 2,000 packs per day, the special Wonton noodle wrapped in plastic bag is definitely worth a try.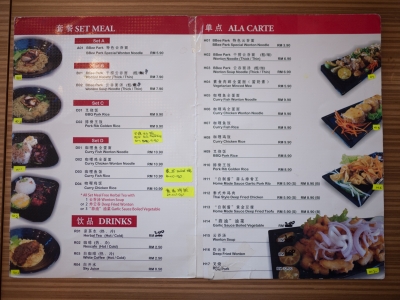 Refer figure above for menu. For latest pricing, always refer to the actual menu in the cafe. Thank you for reading 🙂
| | |
| --- | --- |
| Place Name: | BBee Park |
| Cuisine: | Chinese |
| Address: | Block 2-1-12, 2-2-12, Terrace Plus, Tingkat Mahsuri 4, Bayan Baru, 11950, Penang, Malaysia |
| Tel: | +604-6411686 |
| Email: | [email protected] |
| Tax: | No |
| Last Visit: | 20130914 |