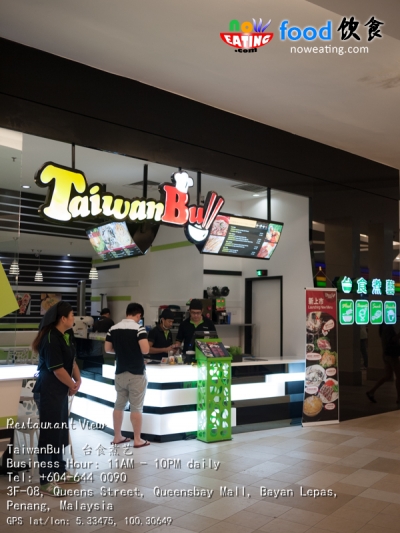 TaiwanBull should not be a stranger for Queensbay old timer. Previously, it is located at lower ground floor. Now, it is relocated to Queens Street (third floor, north zone) of the mall. At the same time, the Chinese name is changed from 台湾公牛 to 台食煮艺 to better reflect the owner's passion to serve various kind of  Taiwanese food to customers and not only on beef products.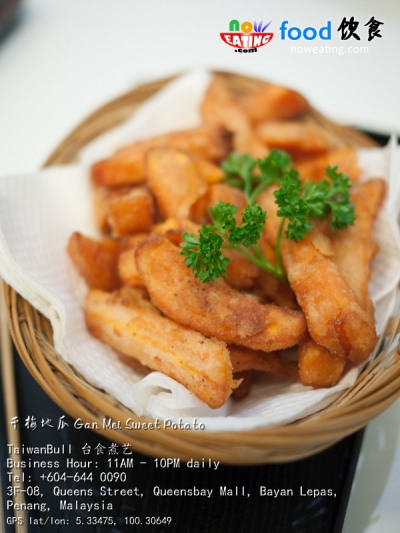 Starting from 17-Nov-2013, TaiwanBull has improved recipe on previous menu items as well as introduction of some new items. Let's start with some classic snacks from Taiwan. First is the  Gan Mei Sweet Potato with Plum powder 干梅地瓜 – 梅子粉 (RM5.90). This is my favourite other than potato wedges.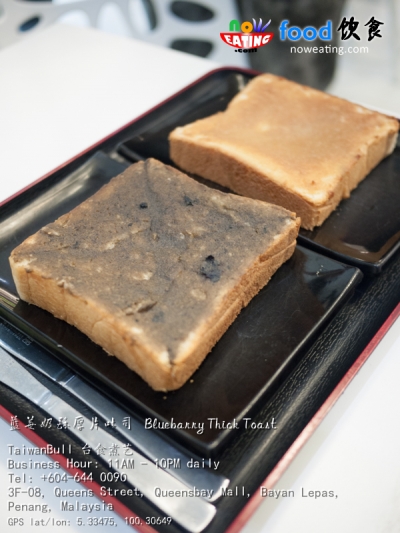 The new Blueberry Thick Toast 蓝莓奶酥厚片吐司 (RM4.90) may look plain for some but once it arrives on your table, the aroma of blueberry quickly covered the whole table.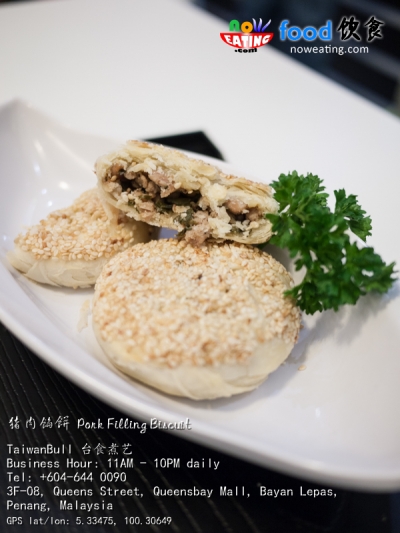 Pork Filling Biscuit  猪肉馅饼  (RM3.50) is another new product. Best consumed when hot.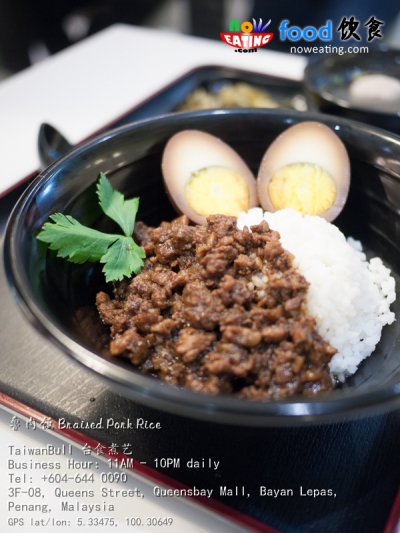 Braised Pork Rice 鲁肉饭 (RM12.90) is another common food in Taiwan. I like the braised egg as it is tasty and salty enough to be consumed with rice.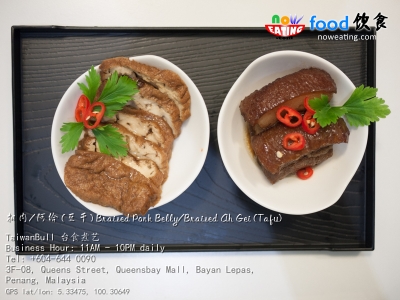 Speaking of braised food, Taiwan is famous with braised snack and some of them are really delicious and hardly found in Malaysia. TaiwanBull introduced braised platter in which you can select one or more braised snack as your side dishes. We have  Braised Ah Gei (Tafu) 阿给 (豆干) (RM2.00 per piece) and  Braised Pork Belly 焢肉 (RM3.50 per piece). Both were braised for extended hours and easily "melt" in your mouth.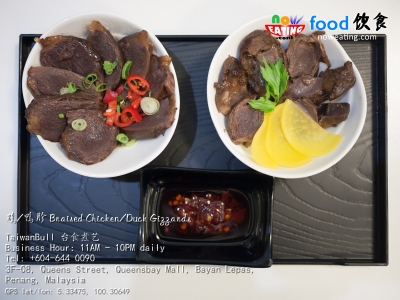 Also new are Braised Chicken Gizzards 鸡胗 (RM5.00) (right) and Braised Duck Gizzards 鸭胗 (RM6.00) (left).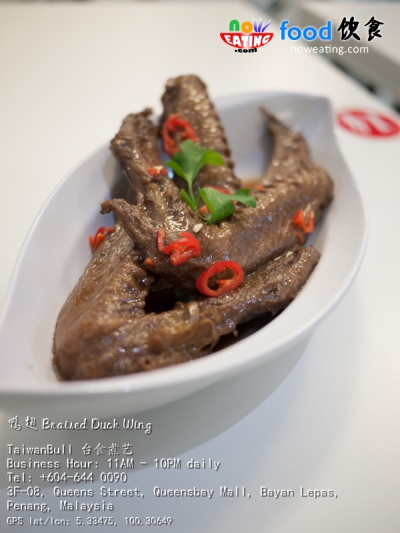 Also something special in Malaysia here is Braised Duck Wing 鸭翅 (RM10.50 for 2 pieces).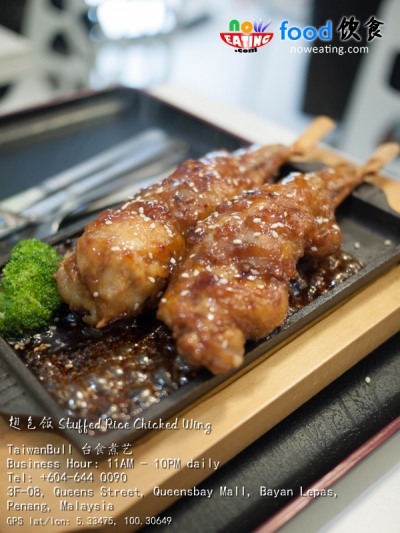 Perhaps the best item of the day is this Stuffed Rice Chicked Wing 翅包饭 (RM11.90 for 2 pieces), a famous snack from Kaohsiung 高雄 night market.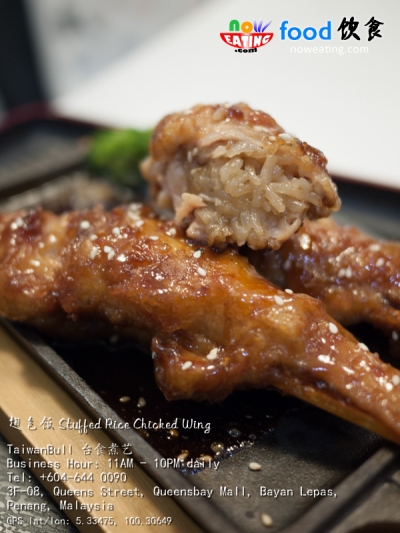 The chicken wing is stuffed with glutinous rice, coated with sweet and sour sauce and served on sizzling plate.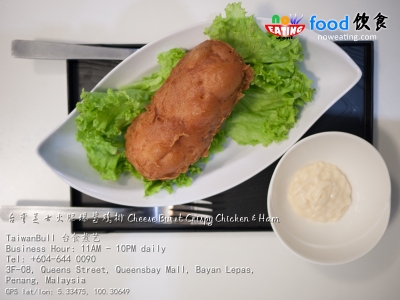 The second best is this Cheese Burst Crispy Chicken & Ham 台弯芝士火腿爆酱鸡排 (RM9.90). It looks plain from outside.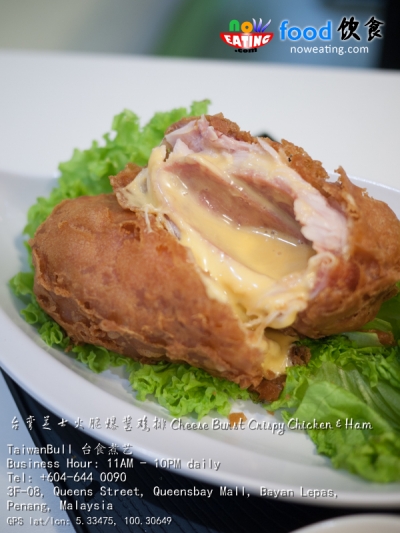 Once you sliced it, the melted cheese inside will flow out like lava, like a Chinese version of Chicken Cordon Bleu.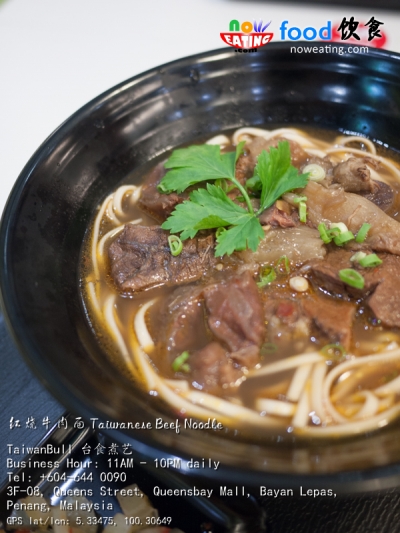 As for the noodle series, the couple further enhanced their Taiwanese Beef Noodle 红烧牛肉面 (RM16.90)  by using imported ingredient from Taiwan.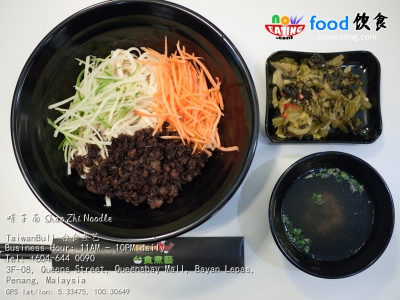 Shao Zhi Noodle 哨子面 (RM13.90) is similar to the famous Taiwan's Minced Chicken Noodle 炸酱面 except it uses pork and imported Taiwan sauce.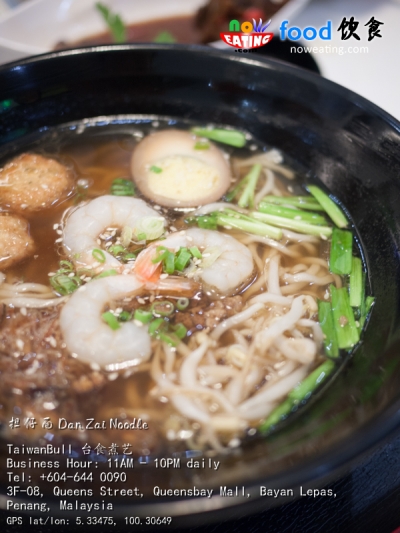 Dan Zai Noodle 担仔面 (RM12.90) is like a Taiwan version of Lam Mee.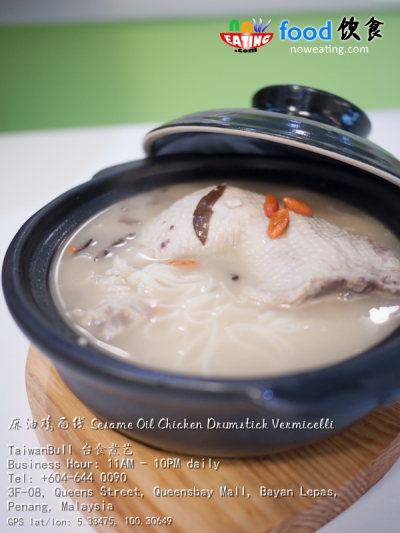 Sesame Oil Chicken Drumstick Vermicelli 麻油鸡面线  (RM15.90) at first glance looks like Korean Herbal Chicken Soup. The chicken drumstick was broiled to soft.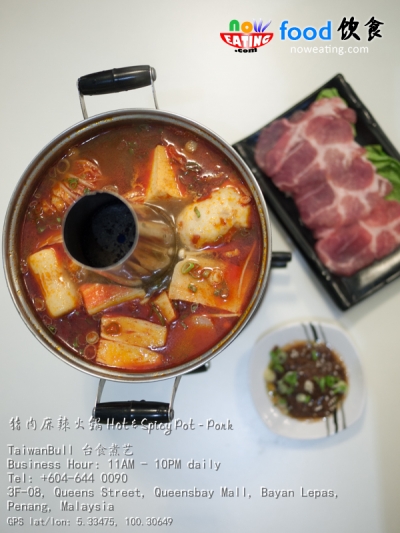 I was surprised on the number of items a couple can serve in a restaurant, including this Hot & Spicy Pot – Pork 猪肉麻辣火锅  (RM17.90). The spicy soup was actually not too spicy and should be suitable for most adults.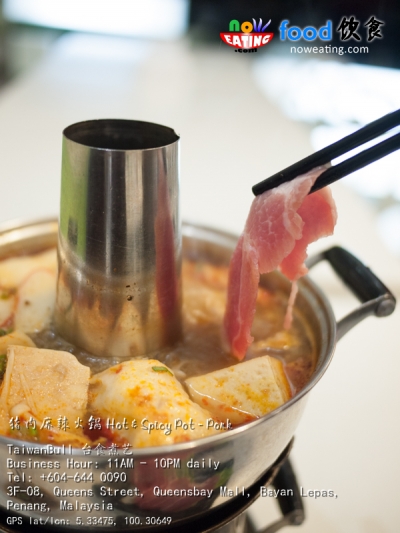 The steamboat comes with a plate of pork slices. The best way to enjoy it is to eat like Shabu-Shabu – hold and dunk it into the boiling soup, wait for 10 seconds and eat it.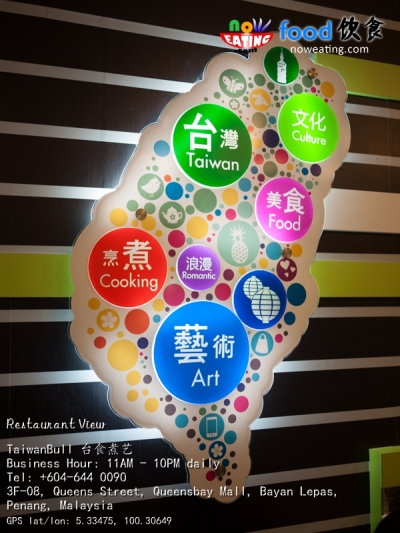 TaiwanBull at Queensbay Mall is operated by a lovely couple who are passionate on Taiwan cuisine and travels to Taiwan few times per year to learn on new recipes. With the recent new menu launch and with more  ingredients imported from Taiwan, the food is just getting better. Pricing-wise it is reasonable as well.
| | |
| --- | --- |
| Place Name: | TaiwanBull 台食煮艺 |
| Cuisine: | Chinese |
| Address: | 3F-08, Queens Street, North Zone, Queensbay Mall, Bayan Lepas, 14000, Penang, Malaysia |
| Tel: | +604-6440090 |
| Email: | [email protected] |
| Website: | www.taiwanbull.com |
| Working Hour: | 11.00am - 10.00pm daily |
| Last Visit: | 20131109 |