Alaska Bomb is a somehow rare traditional dessert found in cafe of Yeng Keng Hotel, Penang. I was fortunate enough to try this dessert which was made of ice cream, slices of sponge cake, fruits and topped with meringue.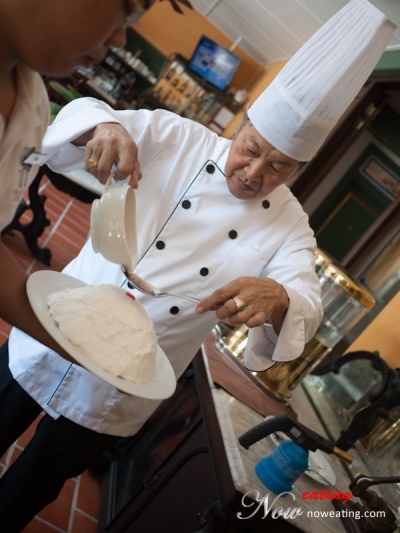 This dessert is actually available only during dinner but we went there  for lunch one afternoon and the chef was kind enough to serve us this dessert during daytime.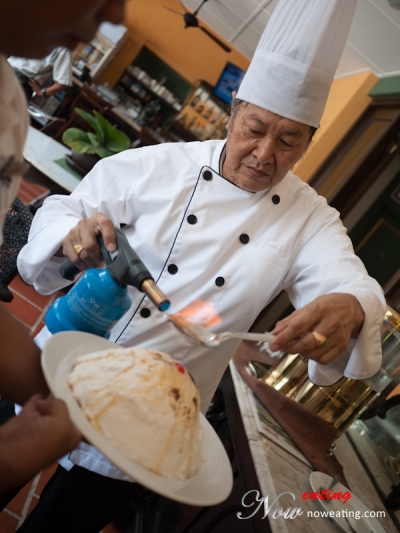 Yes, the chef will serve with when the dessert arrived. Alaska Bomb is actually a variant of Baked Alaska with the different that the dessert will be flambeed by the chef using dark rum.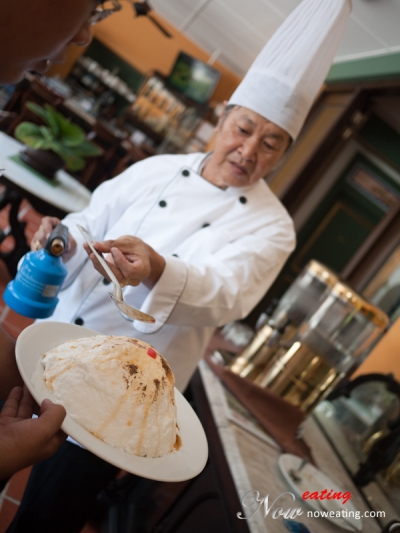 The chef slowly pour the rum on meringue while flaming the rum with gas torch. The flaming rum will create trails on top of the dessert, making it looks like the aurora on Alaska night sky.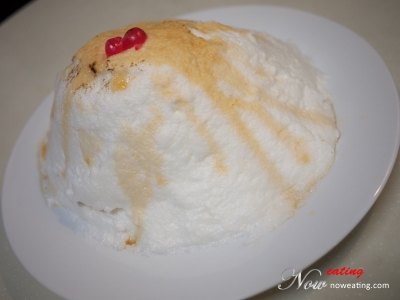 Having said that, this dessert is best served at night as the "aurora" is very difficult to see during the day (that why it only been served during dinner).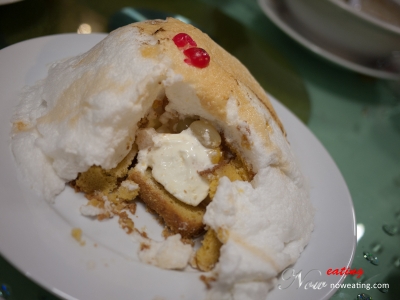 This dessert is best served for 4 persons. Any number less than that you will find yourself having problem in finishing it, especially on meringue which is made of whipped egg whites with sugar. It is quite filling. Inside you will find yummy vanilla ice cream, fruits, and sponge cake slices.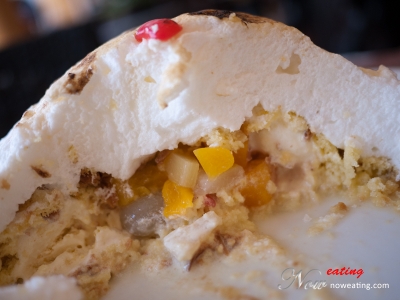 As the rum penetrating meringue, you may find the rum actually resting at the bottom of the dessert so it could be a bit bitter. Best way to consume this dessert is to mix everything together. Other than this dessert, Yeng Keng Cafe also serves some authentic hainamese as well as local cuisines. Priced at a reasonable of RM20 for 4 pax, you should try this rare dessert when at Penang.
| | |
| --- | --- |
| Place Name: | Yeng Keng Hotel 燕京旅社 |
| Cuisine: | Western, Chinese |
| Address: | 362, Chulia Street, George Town, 10200, Penang, Malaysia |
| Tel: | +604 262 2177 Fax : +604 262 3177 |
| Email: | [email protected] |
| Website: | www.yengkenghotel.com |
| Tax: | 10% service tax |
| Last Visit: | 20110413 |