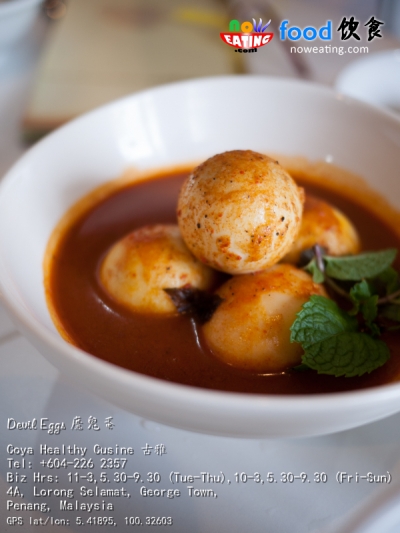 Devil Egg 魔鬼蛋 (Rm 4.90 for 3; Rm 7.90 for 6) – extremely spicy. Available in Coya 古雅料理 – a healthy cuisine restaurant at Lorong Selamat. How can a devil food appears in holy healthy cuisine restaurant is still a question.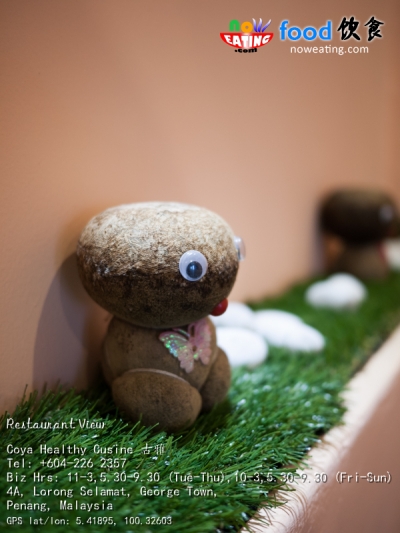 When talking about healthy food, Penangites should be familiar with Idealite – a chain restaurant well-known of its expensive healthy food. With the recent expansion into shopping malls and the use of foreign chefs, the food quality is no longer worth the price. In my opinion, if you want to be healthy, just go to wet market, buy some veggie and cook yourself. Having a bowl of organic noodle at RM20 is simply too expensive. You will die of poorness before illness starts to find you.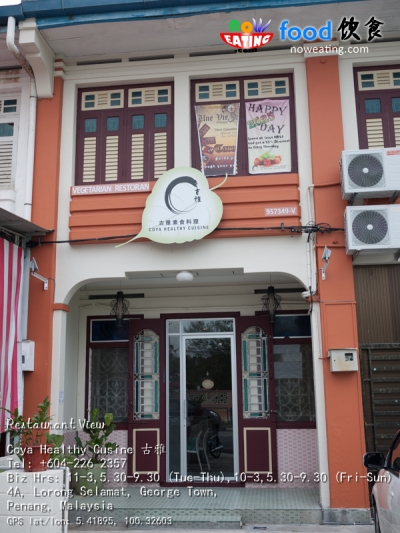 Fortunately, Coya's price is still reasonable. Note that it is not pure vegetarian as it uses milk and egg as their ingredients even though no garlic nor onion is used. The cafe is located toward the end of Lorong Selamat where the famous red hat Char Koay Teow is located.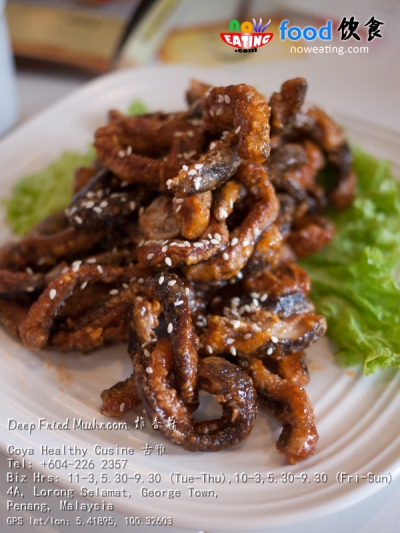 We were introduced with few of their signature dishes, with the first one being Deep Fried Mushroom 炸香菇 (RM9.90) which tasted exceptionally good and perhaps the best dish in that afternoon. The mushrooms were depleting faster than other dishes.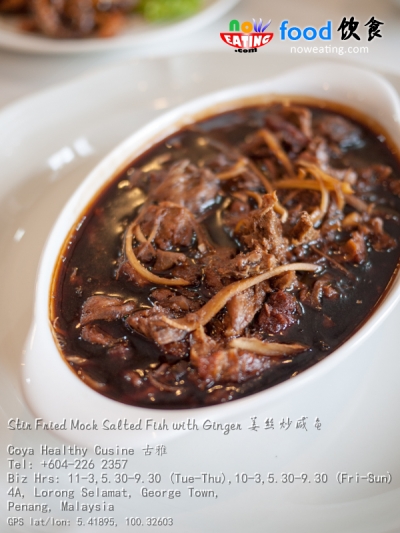 Stir Fried Mock Salted Fish with Ginger 姜丝炒咸鱼 (RM9.90 ala-carte, RM15.90 for set) – As the name applies, it is really salty (even though no salted fish is used) and best consumed with a bowl of rice. Note that some items are available in set by adding some cha-ching. For set, you will get:
A choice of rice/noodle
Two side dishes
One dessert
One traditional drink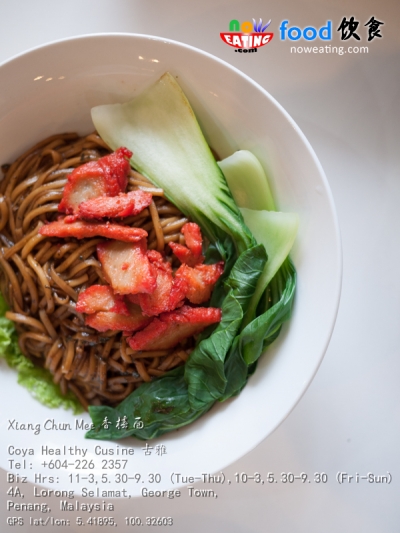 Xiang Chun Mee 香椿面 (RM7.90 ala-carte, RM12.90 for set) – Unfortunately, we busy taking photo and the moment we tried out the noodle, it was cold and lack of QQ texture. The veggie Char Siew reminded me of a vegetarian Wonton noodle I enjoyed when I was studying in university in Malacca, in which I liked to ask the chef to put more Char Siew on it.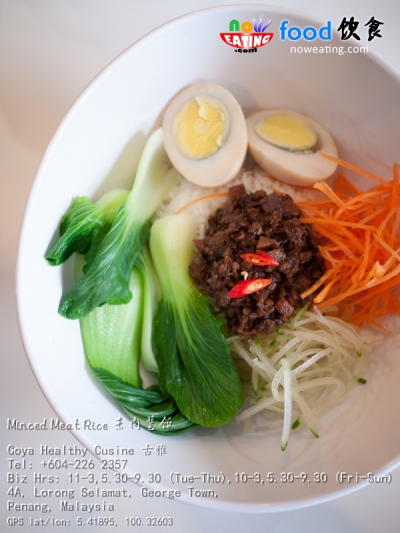 Minced Meat Rice 素肉酱饭 (RM7.90 ala-carte, RM12.90 for set) – It resembled the famous Taiwanese Mince Meat Rice but due to the lack of the real meat, it was not as tasty as the original version.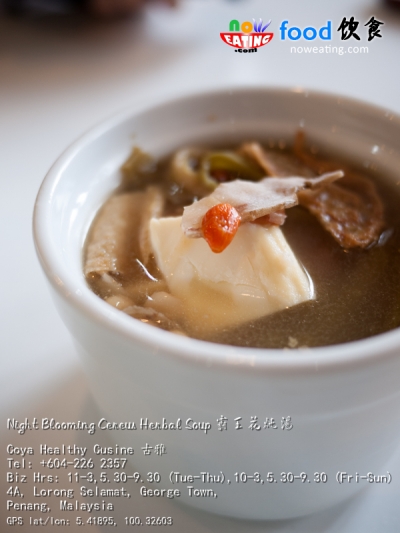 As for their soup, we tried Night Blooming Cereus Herbal Soup 霸王花炖汤 (RM12.90 ala-carte, RM18.90 for set) and Mints Egg Soup 薄荷蛋花汤(RM9.90 for ala-carte, RM15.90 for set). I like their Herbal Soup which is rich in taste and consists of various herbs such as red date, longan, almond, tofu, bean curd stick 腐竹, and Yu Zhu 玉竹.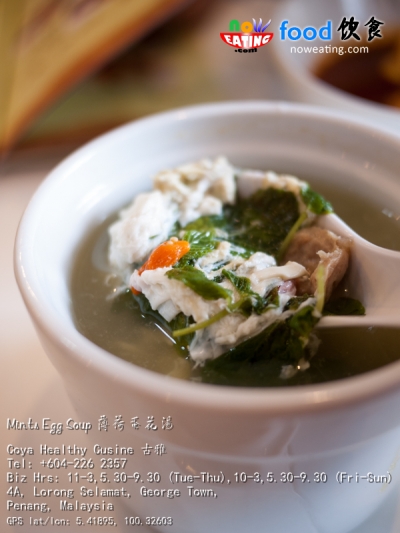 Egg Soup tasted not bad as well as it was boiled for extended hours before serving.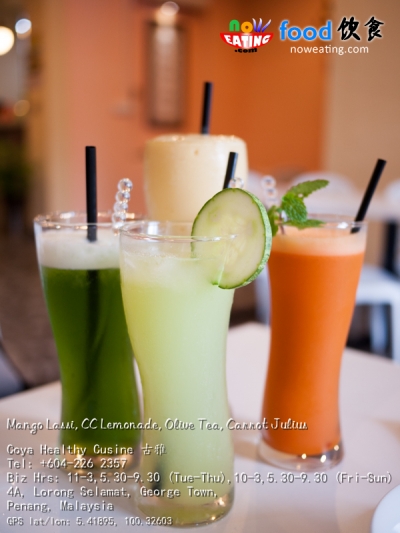 We were served with four types of drinks that afternoon, including carrot, olive, cucumber, and mango lassi. Olive Tea is rather special in which it has strong taste of olive. I myself ordered the CC Lemonade – the cucumber and lemonade drink. A very refreshing drink indeed. Mango Lassi is thick and uses two mango. As a whole, their drinks are very rich in flavour. Each priced at RM9.90.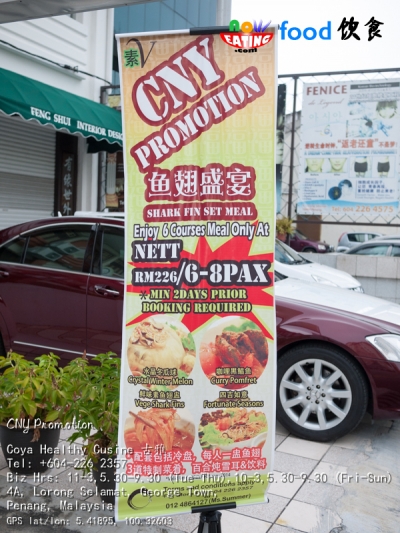 In this coming CNY, Coya also provides 6 course meal at RM226 for 6 – 8 pax. Some dishes included Crystal Winter Melon, Curry Pomfret, Vege Shark Fins, and Fortunate Seasons. Note that all these are vegetarian substitution of meat products so do not worry as no shark is harmed in the making of the course meal.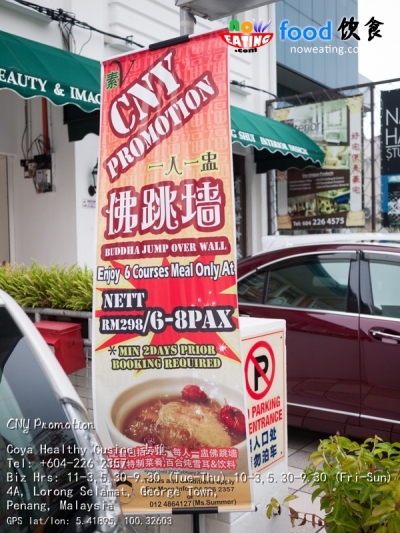 Alternatively, you may try their "premium" 6 course meal with Buddha Jump Over Wall 佛跳墙 for each person at RM298 for 6 to 8 pax. Personally I had never tried the "vegetarian" version of Buddha Jump Over Wall. For both course meal, 2 days prior booking is required.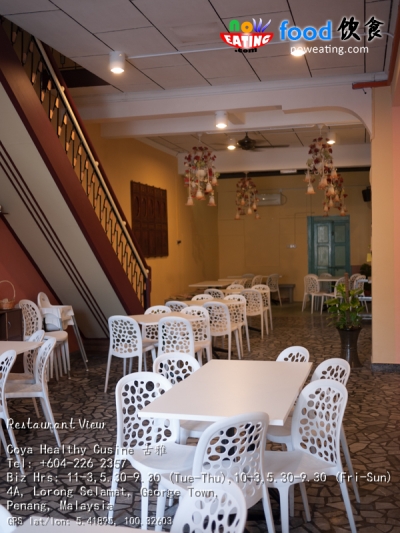 Overall, Coya Healthy Cuisine is a healthy restaurant worth trying thanks to its affordable price, comfy environment, and delicious food compared to some vegetarian franchises. One of the owners even provides Tarot 塔罗牌 reading service so it is a one stop centre for detox and decode yourself.
You may also download a copy of Coya menu I captured here. For latest version, always refer to the actual copy. Thanks.
| | |
| --- | --- |
| Place Name: | Coya Healthy Cuisine 古雅料理 |
| Cuisine: | Vegetarian |
| Address: | 4A, Lorong Selamat, George Town, 10400, Penang, Malaysia |
| Tel: | +604-226 2357 |
| Email: | [email protected] |
| Website: | https://www.facebook.com/Coya99 |
| Working Hour: | 11am-3pm,5.30pm-9.30pm (Tue-Fri) |
| Tax: | No |