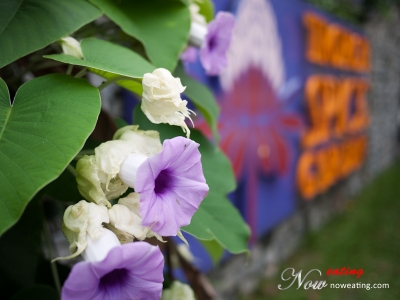 Sawadeeka~ Today I bring you all far far… far far at Teluk Bahang, which is after Batu Ferringgi if you coming from town. We were invited for a food review at Tree Monkey inside Tropical Spice Garden, a tourist spot in Penang with a lot of herbs and plants for viewing pleasure. I had been there once but didn't notice that there was a restaurant inside.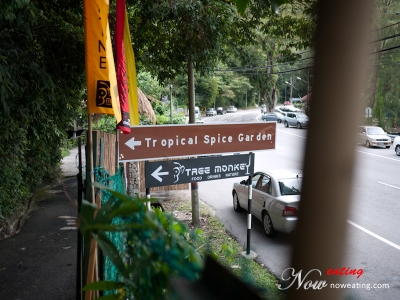 Don't worry if you don't have GPS as there is a signboard at the roadside.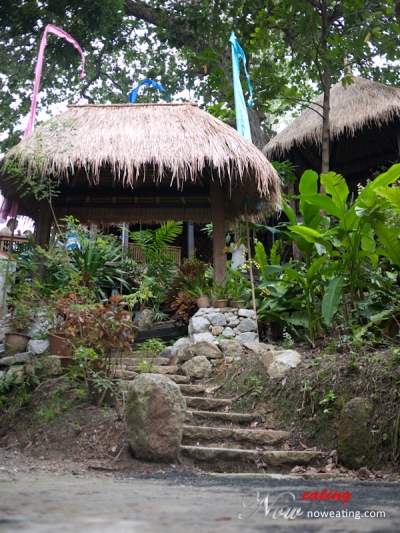 Remember to take the left path and you need to walk up a bit and reach a staircase. The restaurant is on top.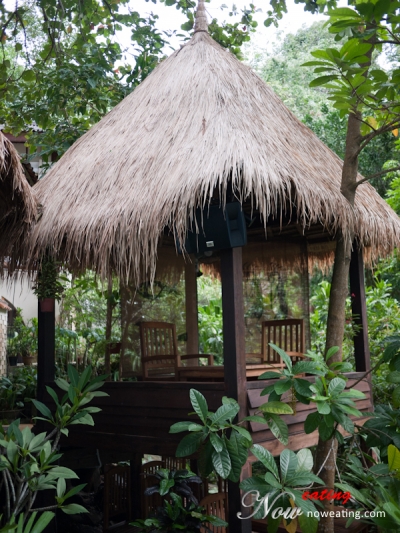 The dining area is partitioned into different styles – hut, tatami, and "not-so-standard" table.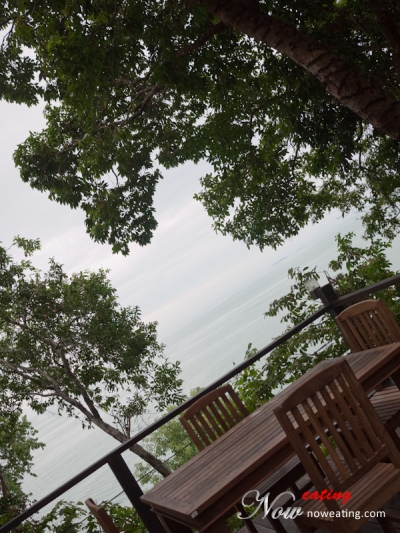 What I meant on "not-so-standard" table is because the tables and chairs are imported from Chiangmai and they are assembled without a single nail!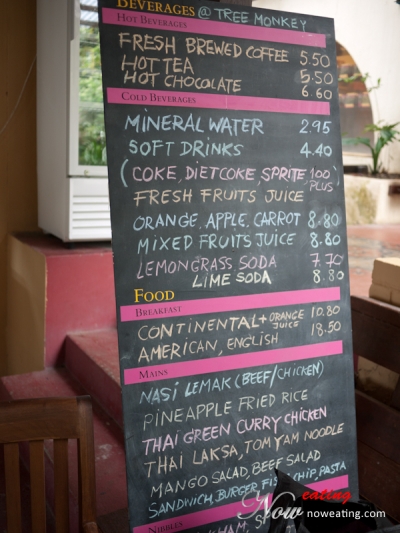 From the menu board, you roughly know what kind of restaurant it is. Hehe~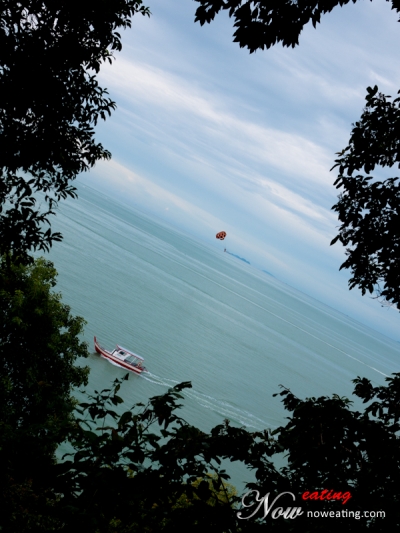 We even saw people having parasailing on the ocean.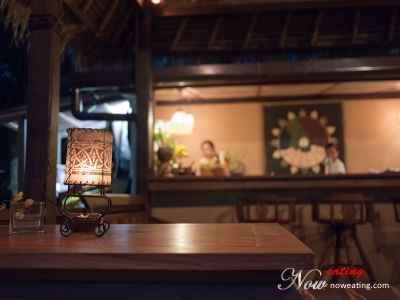 The environment is really super nice. There's sea view, soft music, and dim ambient at night. A very good place for couples. Note that some fellow insects may say "hi" to you when dining, including mosquitoes. The restaurant actually did prepare some mosquito coils.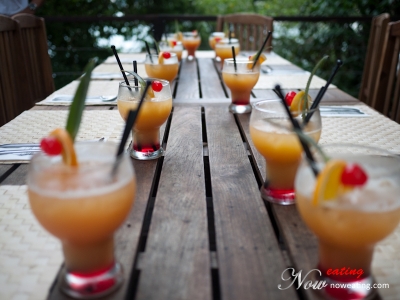 This was our welcoming drink – Sunset Paradise (RM10.00) and is only available between 6pm – 7pm :wtf: It was a new drink and tasted good. The presentation was quite nice, which had pineapple leave and cherry on top.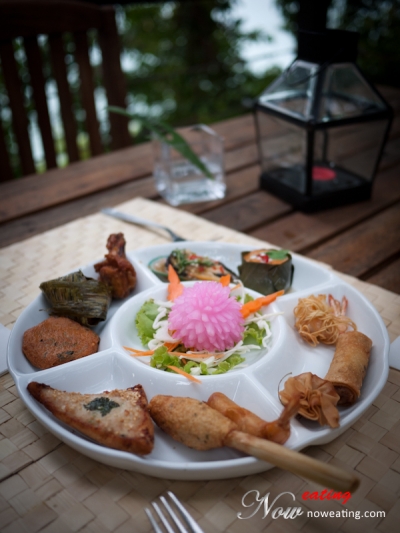 We were served with two signature dishes. The first one was Thai Tapas. Here's the deal, you can choose among 8 pieces (RM30)/ 12 pieces (RM45) / 16 pieces (RM60) from the following menu:
| | |
| --- | --- |
| THAI TOAST | Crispy toast with minced chicken & sesame |
| MONEY BAG | Golden fried bag of minced chicken & vegetables |
| HERBS CHICKEN | Deep Fried chicken drumette with lemongrass |
| SPRINGS ROLL | Thai crispy vegetables spring roll |
| PANDAN CHICKEN | Marinated chicken wrapped in pine screw leaves |
| OTAK – OTAK | Steamed curried seafood paste in banana leaves |
| MUSSEL SALSA | Half shelled mussel steamed with chili lime salsa |
| LEMONGRASS STICK | Crumbed minced seafood with lemongrass skewer |
| PRAWN SARONG | Deep fried prawn wrapped with crispy rice noodle |
| PRAWN SABAI | Deep fried prawn  wrapped with spring roll skin |
| THAI FISH CAKE | Deep fried curried fish paste with kaffir lime leaves |
| DARLING CRAB | Half shelled crab stuffed with mixed seafood |
If I am going to pick 16 pieces, definitely I will pick 16 x Mussel Salsa :evilsmile:  but there is a catch. You can only select max 4 pieces per item.
The second was Asian Tapas. The selection is different compared to the first one. You can select 8 dishes (RM60) or 12 dishes (RM90). Repetition allowed:
| | |
| --- | --- |
| MANGO SALAD | Green mango salad with shallot & chili lime sauce |
| SATAY | Grilled marinated chicken skewer |
| NAM TOK | Beef salad with shallot, chili powder & lime juice |
| CRISPY HERBS FISH | Deep fried seabass fillet topped with crispy herbs |
| PRAWN SAMBAL | Stir-fried prawn with roasted chili & shrimp paste |
| SON IN LAW EGG | Deep fried boiled egg topped with tamarind sauce |
| SWEET BEAN CURD | Deep fried bean curd with sweet chili sauce |
| KANG KUNG BELECAN | Stir-fried morning glory with spicy shrimp paste |
| MASAMAN CURRY | Red curry chicken with potato, onion & peanut |
| BEEF RENDANG | Red curry beef with kaffir lime & basil leaves |
| TOMKHA SOUP | Creamy chicken soup with galangal & mushroom |
| TOMYUM SOUP | Spicy & sour seafood soup with lemongrass & lime juice |
Again, if I were you, I will select 6 x Nam Tok and 6 x Beef Rendang as according to other food bloggers (I cannot take beef), they were the best among others. However, the catch is that you can only select maximum 2 of the same dish.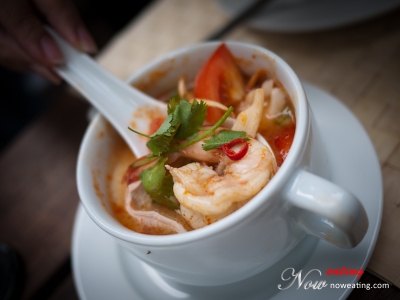 The Tomyum soup is one of the selections, and it was one of the best you can find in Penang island. It was a bit spicy and if you don't like spicy soup, you may try the white soup which is also known as Tomkha. It tasted sweet with mild-to-none spiciness.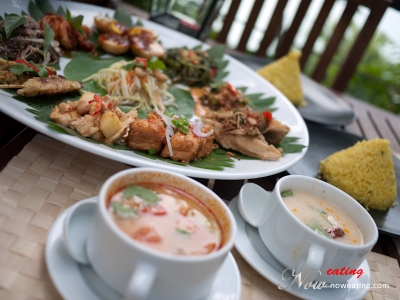 The family photo. The meal comes with 2 x tumeric rice, which tasted good even eat at its own. Having said that, this meal could be designed for two persons.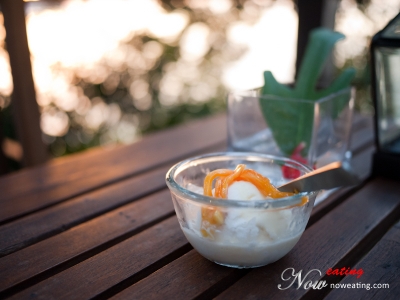 After the meal, here came the dessert – Coconut ice cream (Thai coconut ice cream topped with jackfruit and sea coconut seed) (RM8.80).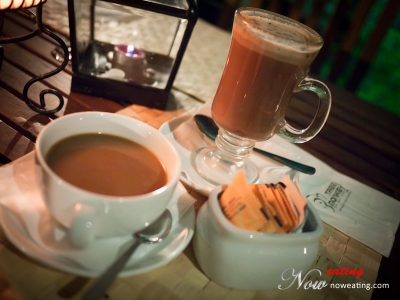 Also, we had special tea and coffee – Spice Tea/Coffee with Condensed Milk (Hot or Cold) – RM8.00. Yeww~ maybe I was not used to it. I ordered tea and it had strong spice taste… like Chinese Five Spices 五香粉. My tongue paralyzed after finishing it.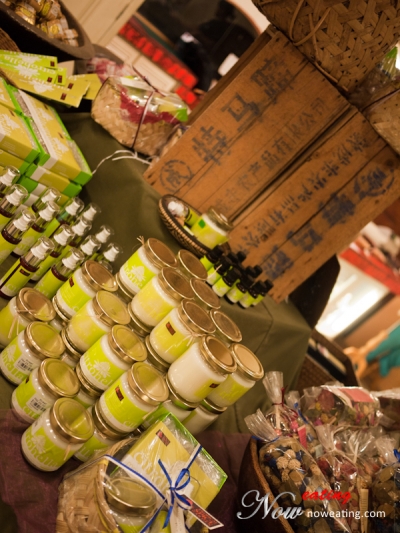 There is a shop selling various kind of spices, herbs, lotions, soaps, and etc. I took this opportunity to snap some photos.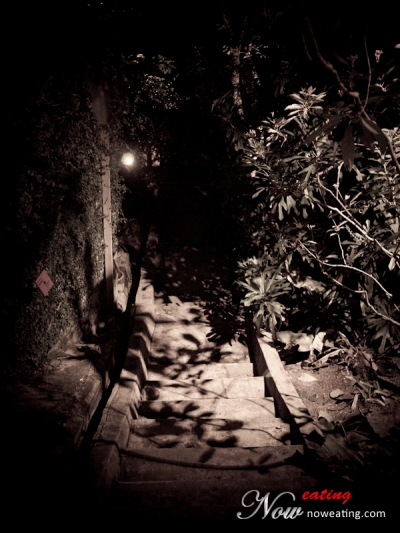 After the unique tea/coffee session, we called it a day. The staircase is a bit dark at night. Luckily I have my pocket LED light with me.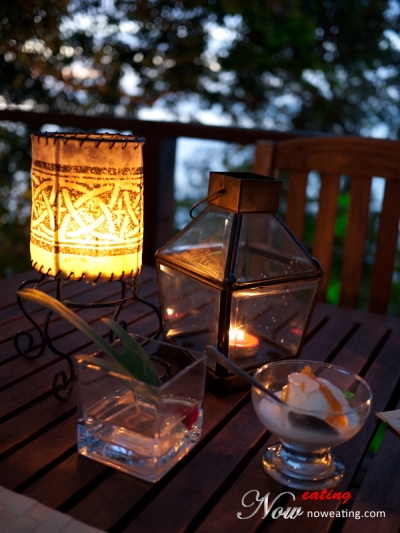 As a whole, a classy, romantic, and relaxing dining place. Having meal here is more like paying for ambient than the food. The food itself actually not bad as well as they are prepared by authentic Thais. It should be a popular dining area for tourists since it is located inside a tourist attraction.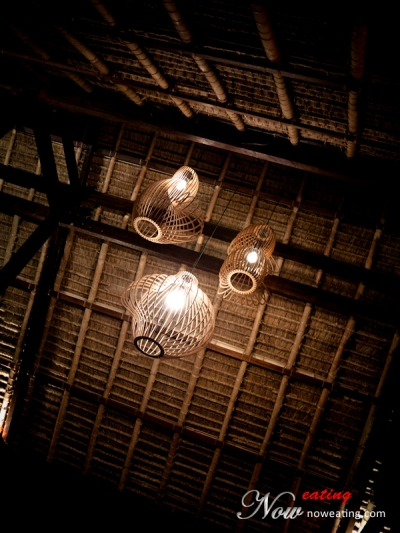 You may download the menu from here. Note that it may change from time to time.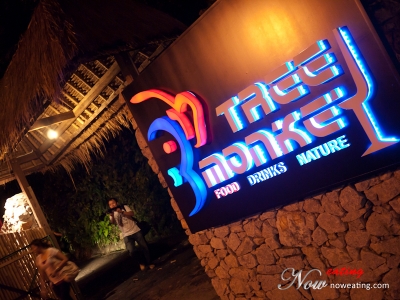 Fast Facts:
80 pax capacity
WiFi available
Pork Free
Vegetarian available
Family Dining
Alcoholic beverages available (RM30 per bottle corkage charges)
Boss: Mr. PattKhor, Person-in-charge: Ms Wisakha
Business establishment: 30 July 2010
Furniture from Chiangmai. No nails used in building set up.
Chefs from North East Thailand.
Herbs to use in kitchen taken from the spice garden.
Participating bloggers:
1. William Tan – http://www.genesissix.com/
2. Warren Tan – http://www.genesissix.com/
3. CK Lam – http://www.what2seeonline.com/
4. Criz Lai – http://crizfood.com/
5. Carrie Soon – http://www.cariso.net/
6. Lingzie – http://www.lingzie.com/
7. Alan Choong – http://allaboutpenangfood.blogspot.com/
8. Amanda Teoh – http://allaboutpenangfood.blogspot.com/
9. Steven Goh – http://www.stevengoh.com/
10. Mary Teo  – http://reginatravel-foodparadise.blogspot.com/
11. Cheah BH (Bee) – http://buzzingbee.blogsome.com/
12. Patrick Soon – http://studiomoonspell.blogspot.com/
13. Tiffany Thor – http://sexydracula.blogspot.com/
14. Yeap Jian Ming – http://cokeworldcitizen.blogspot.com/
15. Chan Chee Wah (Waco) – //www.noweating.com/
16. Nel Ng – http://bearyinformative.blogspot.com/
17. Emily Chong – http://www.millymin.com/
18. Xherlyn Chong – http://hysteric-elegance.blogspot.com
19. Calvyn Lee – http://www.icalvyn.com/
20. Sherming Chua – http://www.sherming.com/
21. David Lee – http://www.limpek.com/
22. Joanne Chong – http://www.joannechong.com/
23. Danny Ooi – http://www.joannechong.com/
| | |
| --- | --- |
| Place Name: | Tree Monkey |
| Cuisine: | Thai |
| Address: | Lone Crag Villa, Lot 595 Mkm 2, Teluk Bahang, Teluk Bahang, 11100, Penang, Malaysia |
| Tel: | 04-8813494 |
| Email: | [email protected] |
| Website: | www.treemonkey.com.my |
| Working Hour: | 9.00am - 12.00 midnight daily |
| Tax: | 10% service tax |
| Last Visit: | 20100822 |