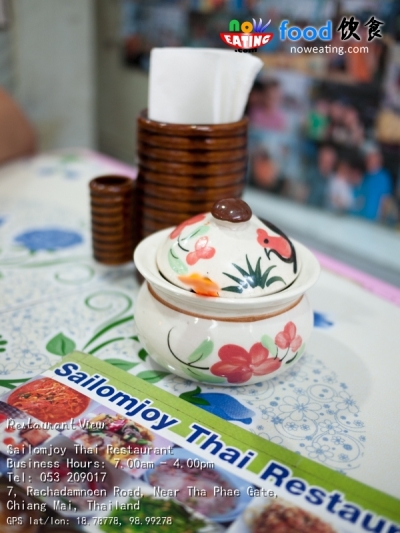 Landing on an unfamiliar territory of Chiang Mai, our first task after putting luggage in hotel is to cure our tummy. Before the trip, my friend did some homework using Internet and Sailomjoy appeared to be our first Thai restaurant to visit.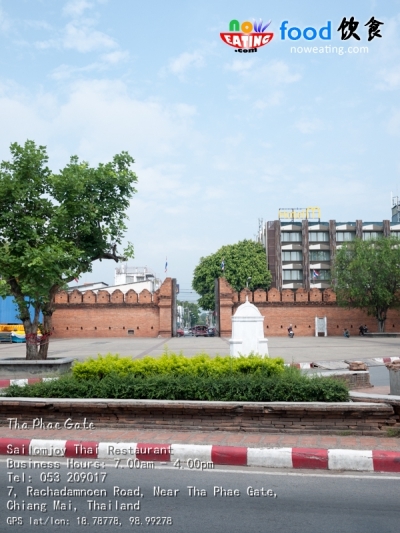 Sailomjoy is located very near to Tha Phae Gate of Chiang Mai old town. At first, we had difficulty in finding it. According to the Internet, it is just opposite of Hotel M/Burger King (the tall building on the right from figure above) but we simply couldn't find it.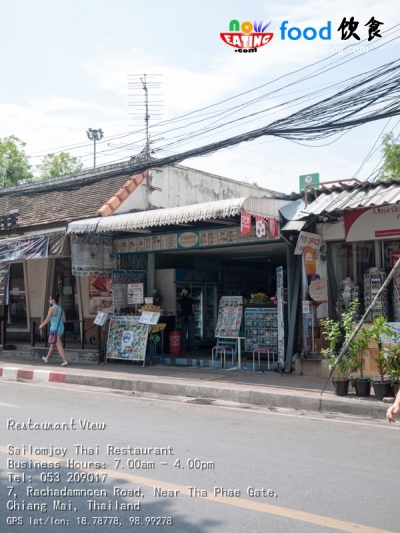 When we almost giving up, a beam of light fell from the sky, lid up a small shop opposite of Hotel M. We took a closer look and it was the Sailomjoy!!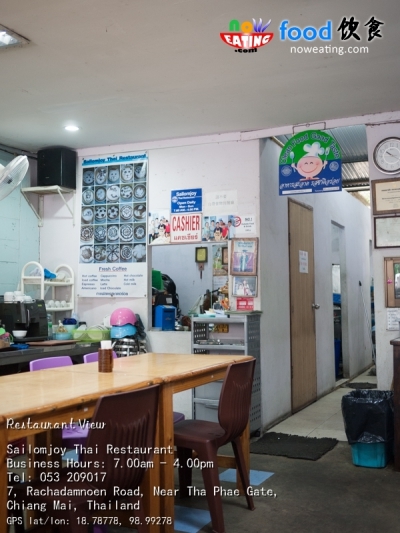 Sailomjoy opens daily from 7am to 4pm so it is a very good place for breakfast and lunch. Menu is available with images and text in Thai and English languages so that you can easily point on items you want if you can't speak Thai.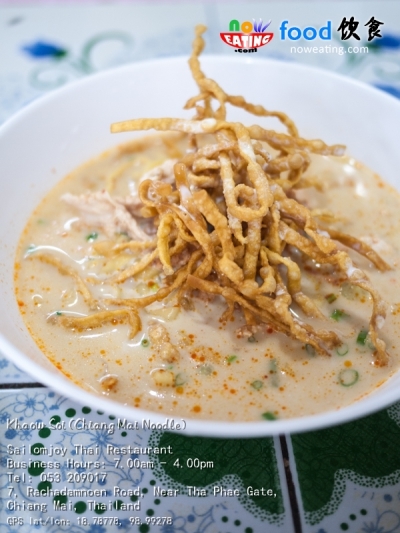 Sailomjoy is a small Thai restaurants serving both Thai and western cuisine such as pizza and fries. Travelling thousand miles from home, we definitely would like to try some local cuisines. One of the local cuisines you should try is Khaow Soi (50 THB) – a north Thailand version of curry mee. In Chiang Mai, Khaow Soi is also known as Chiang Mai Noodle. It is made with deep fried crispy egg noodle and boiled egg noodle hidden beneath the sweet and creamy coconut milk curry sauce. It comes with three variants – chicken, pork, or vegetarian.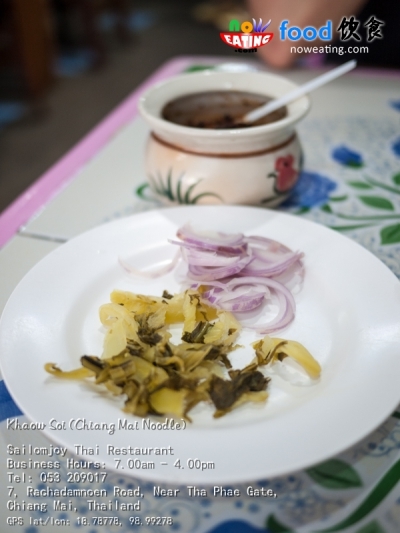 You will be given a plate of fresh shallots, pickled mustard, a bottle of squeeze lime juice, and a small jar of fried chilli flakes.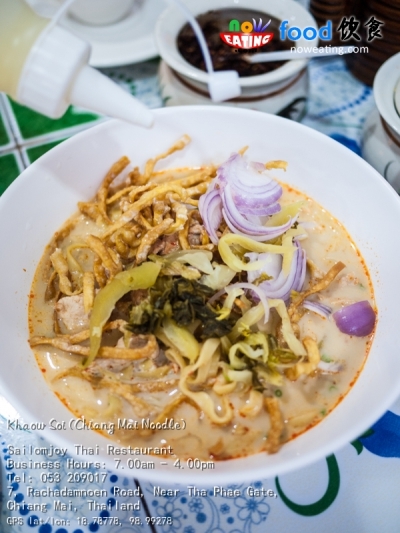 A way to enjoy Khaow Soi is to put everything in and stir well to make it into a tasteful (sweet+salty+sour+spicy) bowl of noodle. Beware that the chilli flake is quite spicy so add it according to your liking.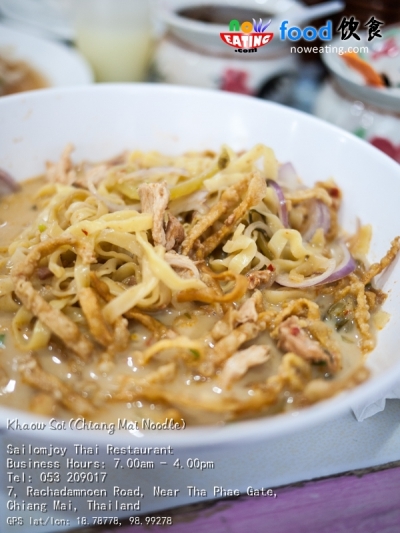 We actually tried the same item in another restaurant and it appeared that Sailomjoy version is still the best. Also, I prefer Khaow Soi than Penang's curry mee as it is healthier without the use of sinful pig blood cake and fresh clams. The only drawback is that the portion is kind of small. Maybe Thais really eat lesser compared to Malaysian. Khaow Soi is only available in north Thailand so if you happened to be there, make sure you at least try once.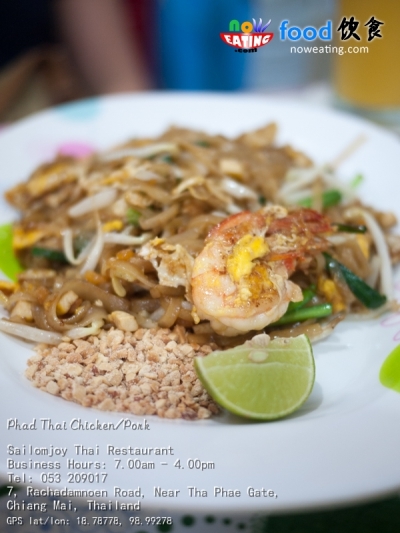 We also ordered Thai version of Char Koay Teow – Phad Thai (60 THB). Again, it comes in three variants – chicken, pork or vegetarian. Phad Thai used thinner flat rice noodle, had less "wok hey" than Penang Char Koay Teow but in return, provided you a slice of lime and ground peanut to mix with the noodle. Another noodle item to recommend.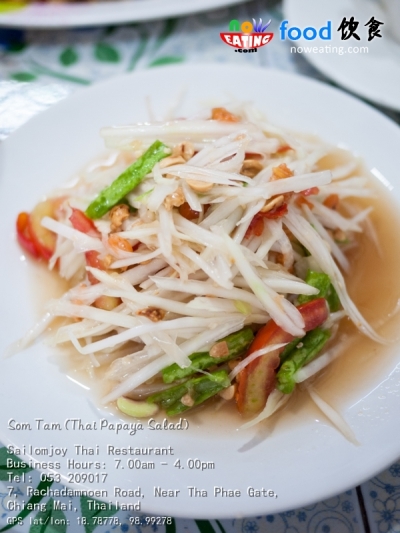 We also ordered Som Tam (Thai Papaya Salad) (60 THB) as our appetiser. The sourness and sweetness were just perfect to our liking. Plus, it was not too spicy compared to some Malaysia version which paralysed your tongue before starting your main course.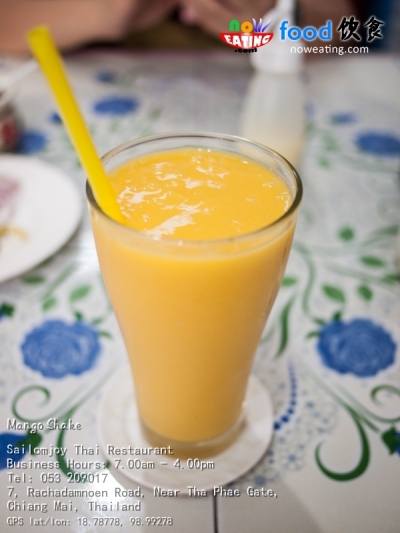 Sailomjoy serves the best mango shake (50 THB) during our Chiang Mai trip. We did try the same item in other restaurans/stalls but Sailomjoy still remain number one. It is simply thick, sweet and smooth, just like you are eating the real mango fruit.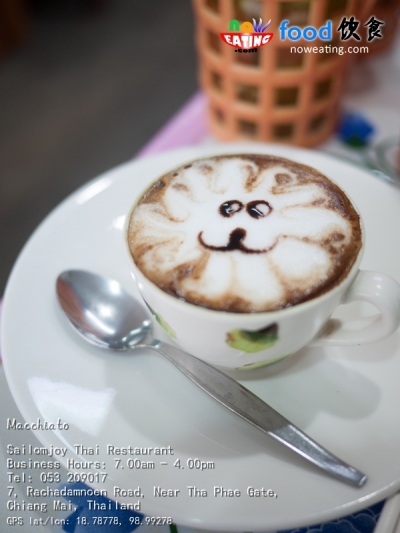 Wondering how's Thai's latte art looked like, I myself ordered a cup of Macchiato (50 THB). Taste-wise, it is like normal Starbuck coffee. Art-wise, it is like primary school art but seriously I did not expect much for this foreign beverage.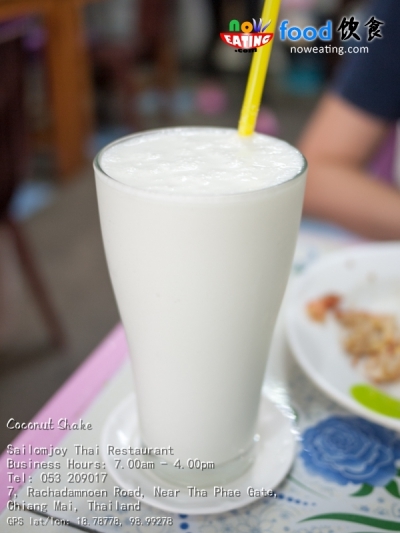 We were quite thirsty under hot weather and we ended up ordering a glass of coconut milk shake (50 THB). Again, you hardly beat Thailand as long as fruit juice is concerned. They are pretty generous when serving fruit juice so that every sip is real fruit juice, not something diluted in water.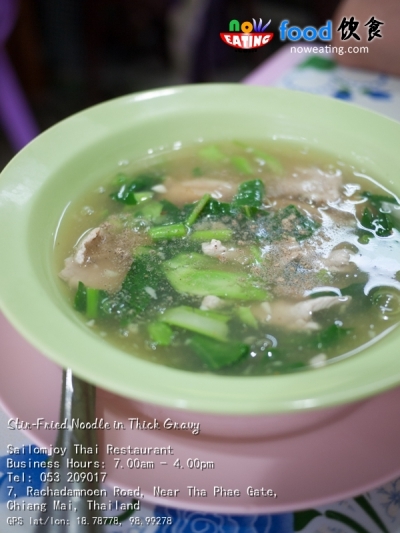 Addicted to their milk shake, we actually visited Sailomjoy two times. During our second visit, we ordered another Thai cuisine – Stir-Fried Noodle in Thick Gravy (50 THB).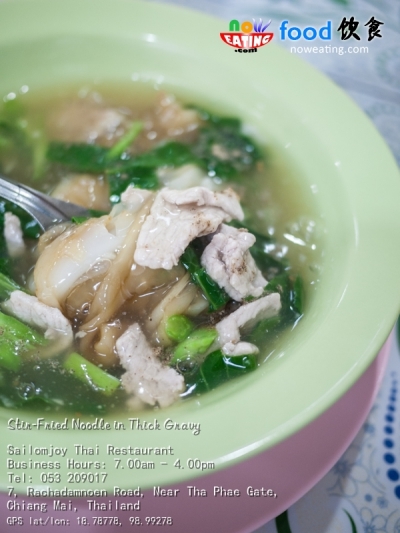 It is basically our "Tua Pan". Not bad but I still prefer Malaysia version, at least it has more "wok hey" (the effect of very high heat used properly).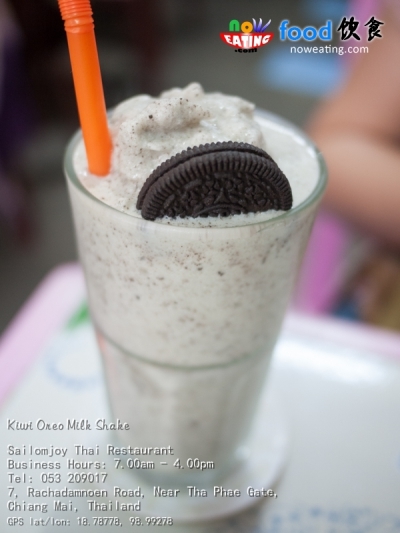 We ordered Kiwi Oreo Milk Shake (50 THB). So far I had best Oreo milk shake in Penang but this one was a new experience. The addition of Kiwi made the drink not only creamy, but refreshing as well.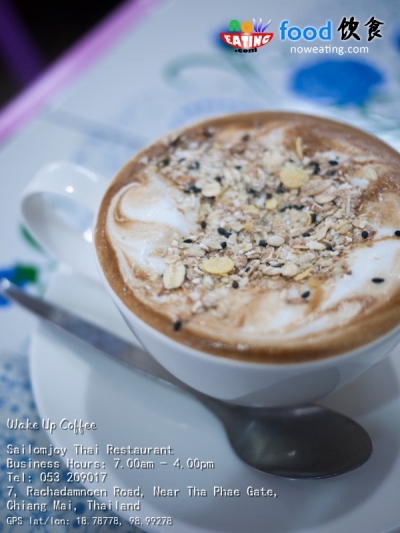 Thinking of trying something new, I myself had a cup of so called "Wake Up Coffee" (50 THB).  It is basically a coffee topped with cereals, just like a breakfast to begin your day.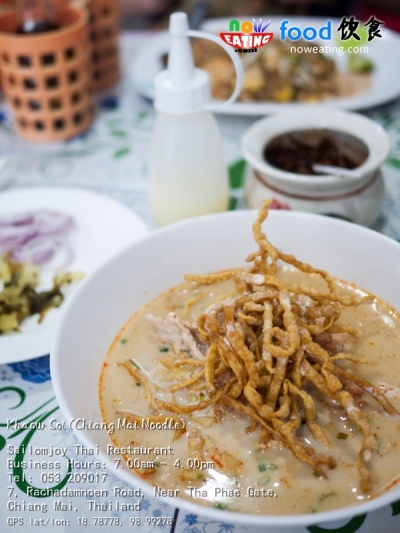 No doubt, Sailomjoy is located at a very strategic location and is a very good place to try some authentic Chiang Mai cuisine even though the price is beyond locals reach (which explain that most customers are tourists from e.g. China and western countries). Remember to try their mango shake and Khaow Soi.
| | |
| --- | --- |
| Place Name: | Sailomjoy Thai Restaurant |
| Cuisine: | Thai |
| Address: | 7, Rachadamnoen Road, Near Tha Phae Gate, Chiang Mai, Chiang Mai, Thailand |
| Tel: | 053-209017 |
| Working Hour: | 7am - 4pm daily |
| Tax: | No |
| Last Visit: | 20140508 |