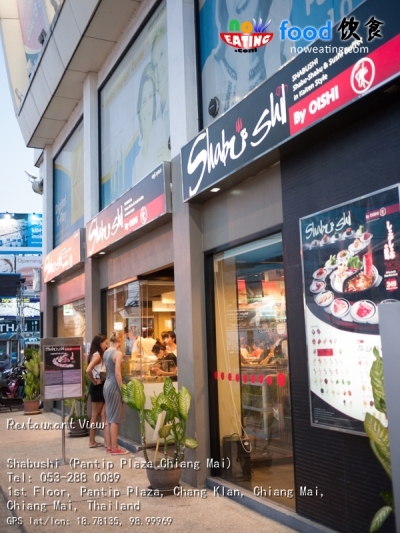 Welcome to Thailand! Those travelling to Hatyai/Bangkok/Chiang Mai frequently should be familiar with a Japanese buffet restaurant called Shabushi. We had an opportunity to visit the Pantip Plaza, Chiang Mai branch recently.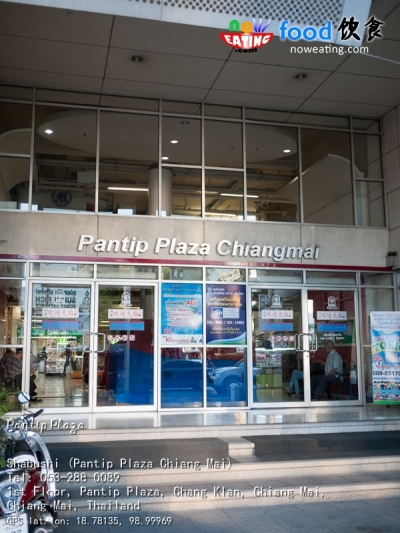 Shabushi is a retail chain restaurant similar to Sushi King in Malaysia with more than 90 outlets in Thailand. The outlet we visited is the one in Pantip Plaza, Chiang Mai. Pantip Plaza is an IT mall similar to Penang ICT Mall… few shops, half open, half close. It is not far from the famous Chiang Mai Tha Phae Gate and taking red cab costs 20 THB.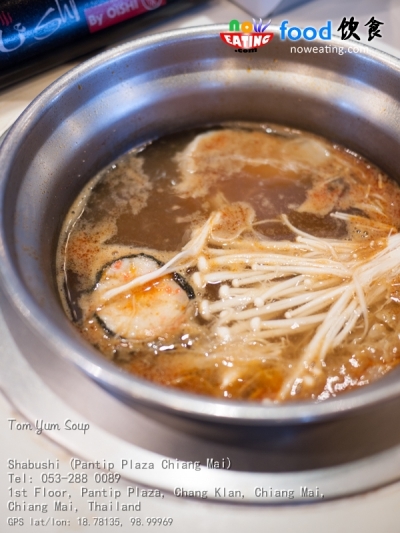 Shabushi combined few concepts into one restaurant. First of all, it is a Shabu-Shabu with each customer being provided with an individual hot pot (except for separated tables in which only one big pot is provided for all customers of the same table) . Three types of soup available: clear, milky, and Tom Yam.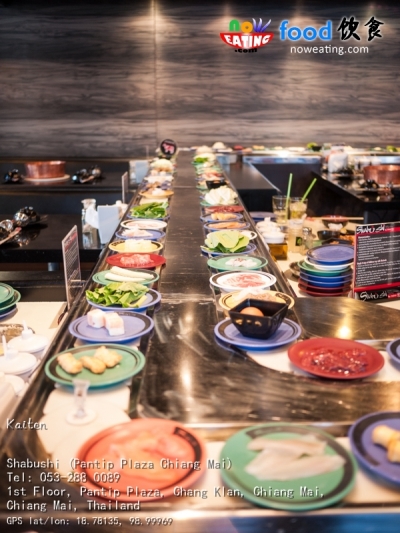 Secondly, it is also a Japanese buffet and all food are unlimited, including sliced pork for shabu-shabu which is available on kaiten. In many Malaysian restaurants of similar kind, those are premium items in which you need to place orders and sometimes staffs just intentionally delay your orders (so that you can eat less).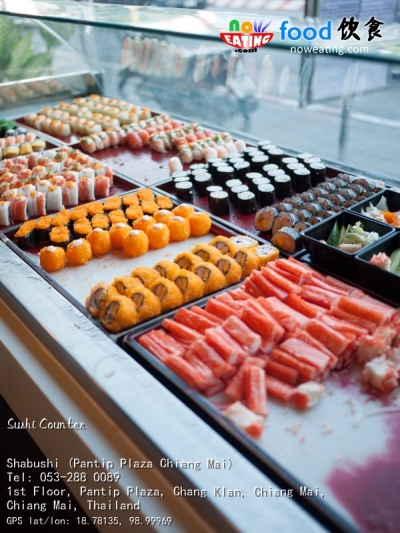 On top of that, a sushi bar with assorted sushi is available. It will be replenished from time to time. Sushi + Shabu-Shabu is one of the reasons we visited this restaurant.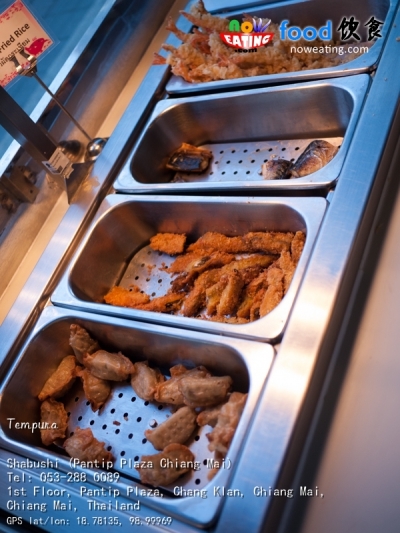 Also available are tempura and "Lok Lok" (dumpling bar) corner.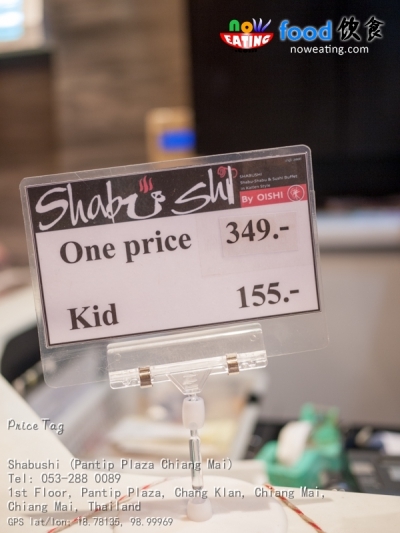 Tempting? Before you renew your passport, there are two things to remember:
Price is 349 THB (RM35) per adult.
Time limit of 1 hour 15 minutes imposed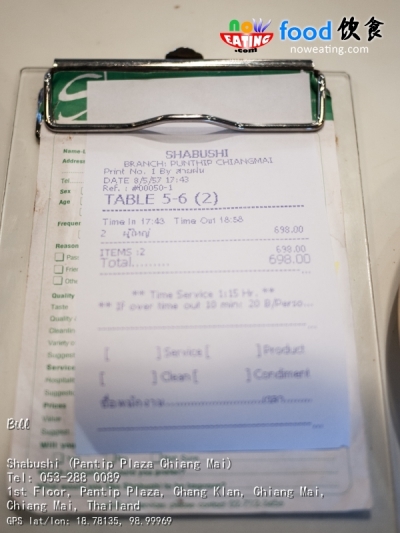 Yes! This is our first time having a buffet with such a short time limit. Once you entered the restaurant, the waitress will pass you a bill with printed "check-in" and "check-out" time. A digital clock is also available on the wall as a reference. Having said that, this is not a place for you to hangup with friends. You barely have time for chit-chat or taking nice food photos.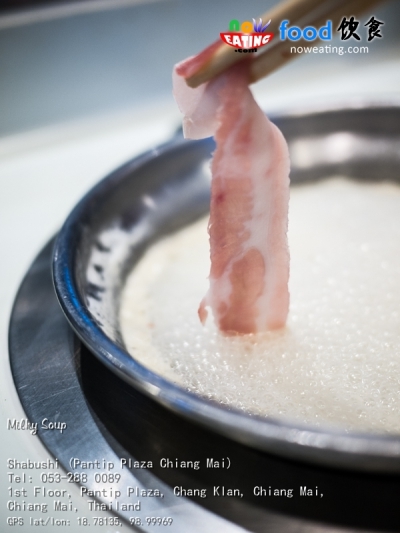 We sat next to kaiten for easier access to items on kaiten. Both of us ordered Milky and Tom Yam soup. Unfortunately, they were too plain and tasteless as like drinking water and Tom Yam soup of instant noodle. They only became tastier towards the end of permitted time after we threw in many ingredients. The soup is only good for Shabu-Shabu purpose.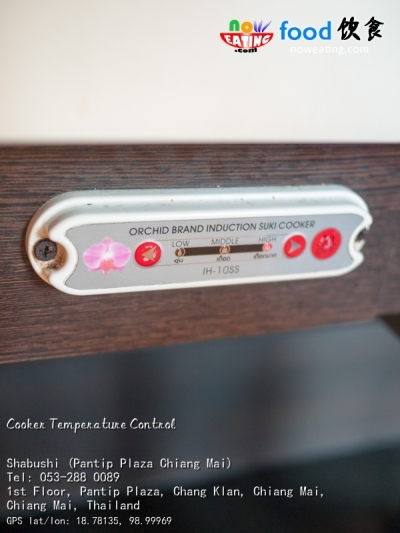 Below table is a control panel for cooker and it is advised to use them to control the temperature so that your soup will not over-boil and spill on your table. Three levels of temperature available – low, medium, high. When it is time for Shabu-Shabu, set temperature to high and set it back to medium once done. For normal cooking, just use medium temperature.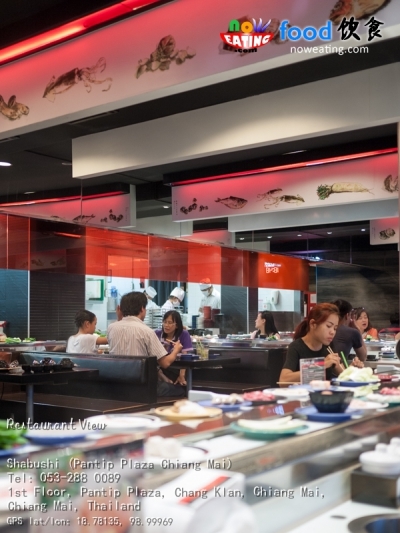 One thing I like about Shabushi is that they have various sauces for you to dip with. I believe this is Thai culture in which they usually provide sauce of various spiciness on each dining table for customers of different taste buds. Shabushi staffs are also quite attentive such that they will help you remove used plates from time to time.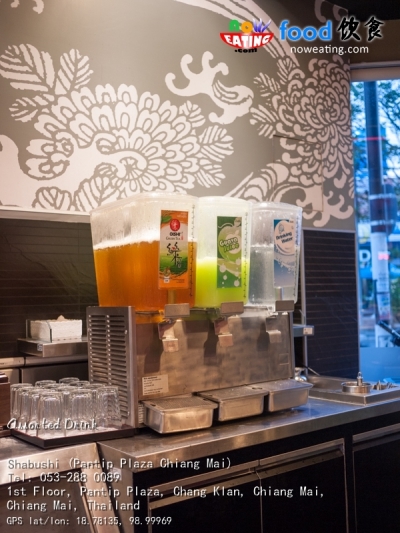 Shabushi is perhaps the buffet restaurant having the most drinks to choose from. Sadly, they were too sweet to our liking.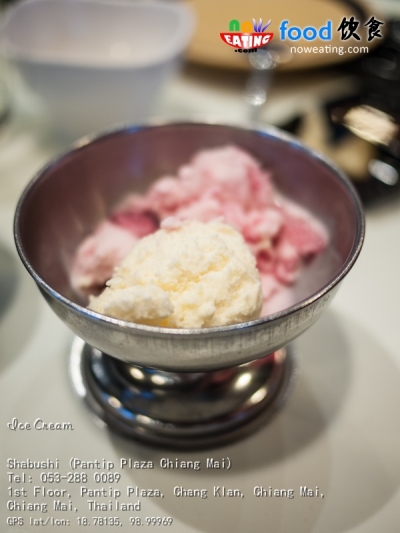 Also, they do have self-service free flow ice cream. Sadly (again), digging them is like digging tar road and I had difficulty in getting a nice scope of ice cream for photo shooting . Not sure if they intentionally setting lower temperature so that customers can eat less.
After our first visit, here are few tips for you to fully utilize your $$ within the 75 minutes: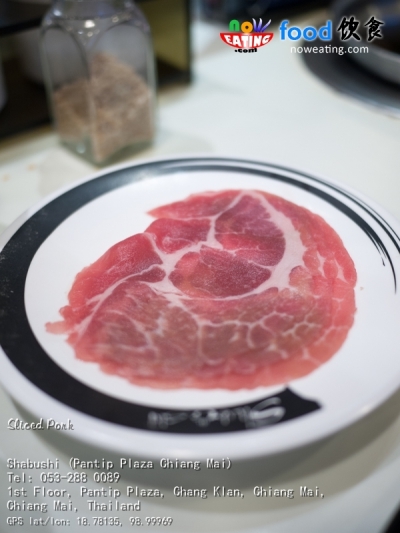 1) Go for sliced pork.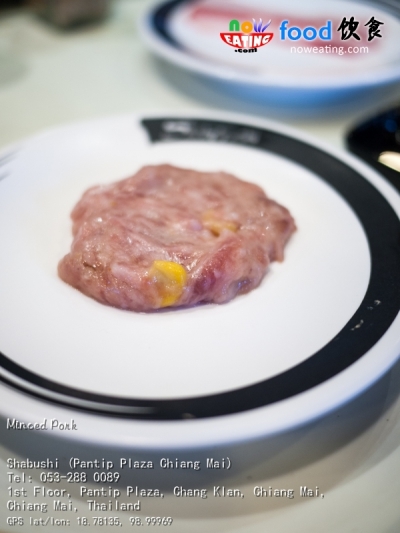 2) Go for minced pork.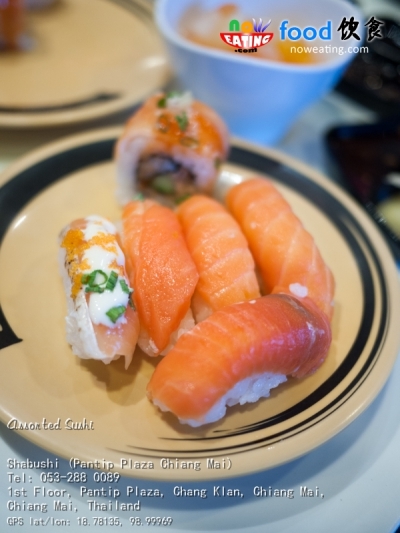 3) Go for salmon sushi.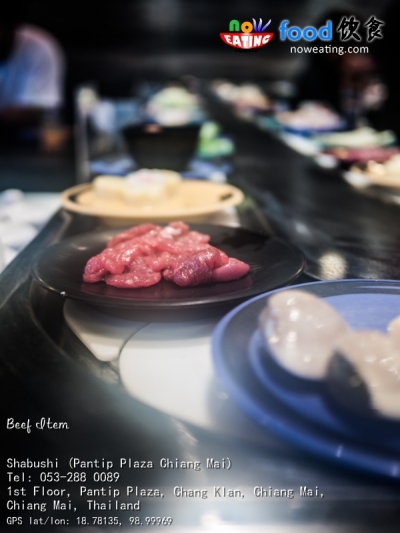 4)  Black plate is beef item.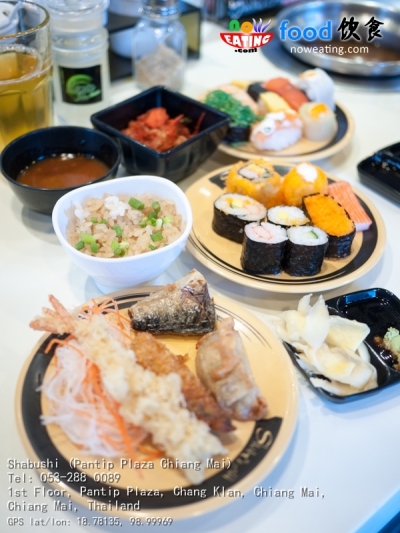 If you are fast eater, Shabushi is definitely worth a visit despite of its 75 minutes limitation. You hardly get similar buffet at RM35 in Malaysia (the nearest match is Lolipot near Queensbay Mall which priced at RM30 when it first opened but it is now a history). If you happened in Hatyai, Bangkok or Chiang Mai, do pay this restaurant a visit.
| | |
| --- | --- |
| Place Name: | Shabushi |
| Cuisine: | Buffet |
| Address: | 1st Floor, Pantip Plaza, Chang Klan, Chiang Mai, Chiang Mai, Thailand |
| Tel: | 053-288-008-9 |
| Email: | [email protected] |
| Website: | http://www.shabushibuffet.com/ |
| Tax: | No |
| Last Visit: | 20140508 |