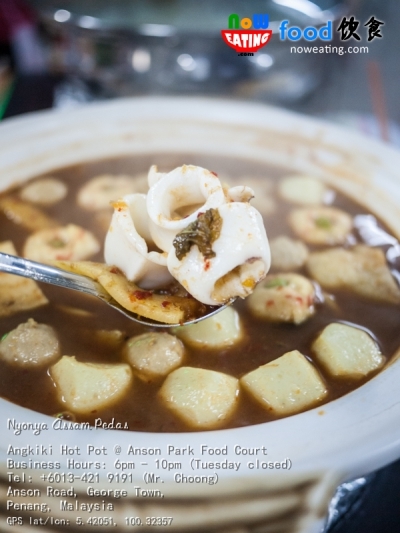 As long as hot pot is concerned, two common soup bases found in most restaurants are clear soup and Tom Yam. It comes as a surprise that Nyonya Assam Pedas works well and tastes even better as a soup base.  This unique soup base can be found at the new Angkiki Hot Pot at Anson Park Food Court.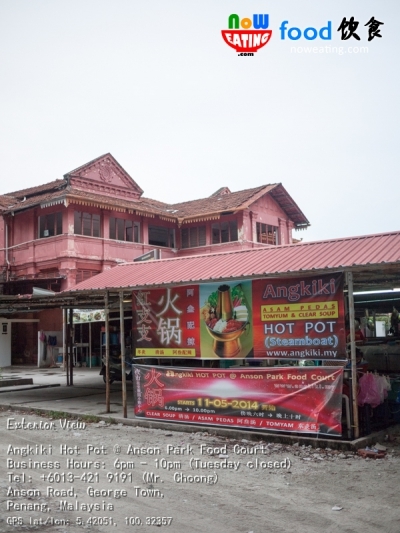 Anson Park Food Court is located at… uh… Anson Road, George Town, Penang. It is just next to KDU. Ample parking space is available. Remember to tell the parking attendant that you are dining in at Anson Park Food Court so that you only need to pay RM1 instead of the default RM4 parking fee (My guess is that too many students park their car there).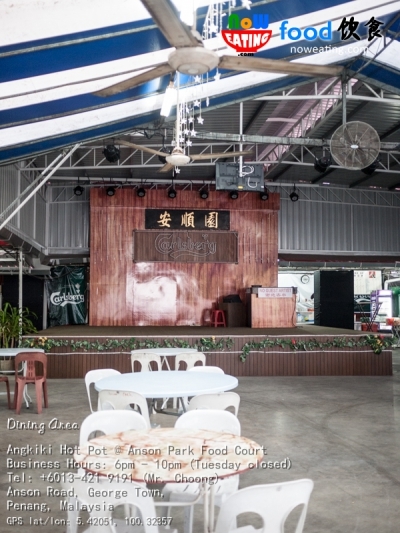 Currently, Angkiki Hot Pot is only food stall in this food court and is operating from 6pm – 10pm (Close on Tuesday). After 10pm, Anson Park Food Court becomes a place for beer lover with stage performance.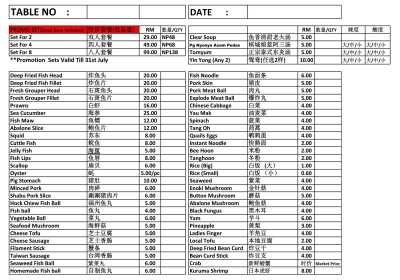 Instead of buffet style, Angkiki serves hot pot set. One good thing about set meal is that the quality is always controlled. For Angkiki, you can even adjust the spiciness and sourness of the soup base. An ordering chit will be provided and you are free to order any individual ingredient on top of those provided in set meal.
There are three soup bases to choose from and you can select up to two flavors per pot :
Clear soup
Tom Yam soup
Nyonya Assam Pedas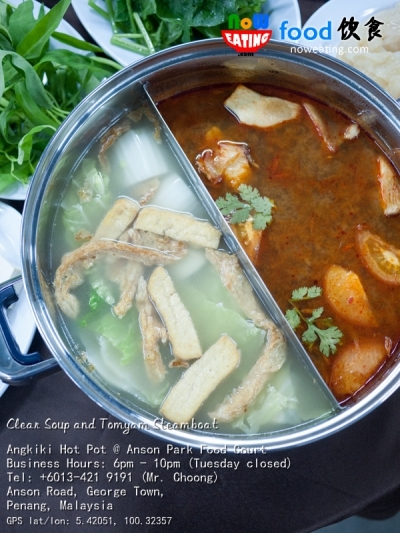 I was pretty impressed with their soup base as all of them are pretty rich in flavors even before we start throwing ingredients in it. So good that you can just drink it on its own. The couple chefs are previously from a Thai restaurant so you can't go wrong with their Tom Yam soup.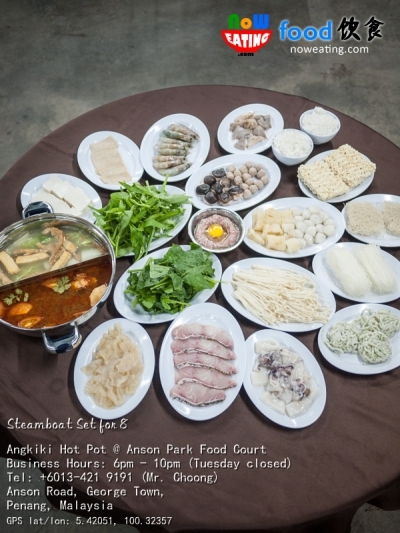 We were being introduced with hot pot set for 2 and 8 persons. For 8-person set, you will be given:
Soup of your choice (up to 2 flavors)
Fresh Grouper Fish Fillet
Jelly Fish
Squid
Abalone Slice
Prawn
Tofu
Minced Meat
Pork Stomach
Pork Meat Ball
Seafood Mushroom
Fish Maw
Fish Ball
Enoki Mushroom
Spinach
Morning Glory (Kangkung)
Instant Noodle
Glass Noodle (Tanghoon)
Rice Noodle (Beehoon)
Fish Noodle
Rice x 2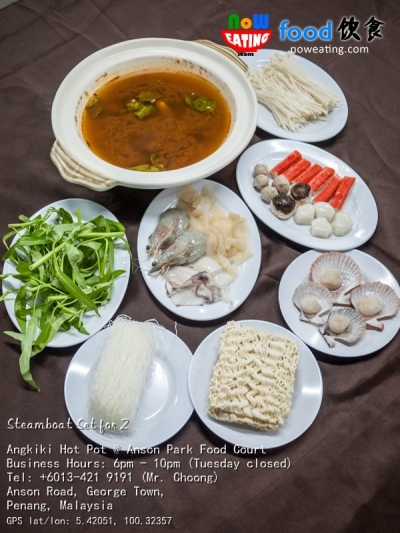 As for the set of 2:
Soup of your choice (Up to two flavors)
Prawn
Jelly Fish
Squid
Scallop
Crab Stick
Pork Meat Ball
Seafood Mushroom
Fish Ball
Enoki Mushroom
Morning Glory (Kangkung)
Instant Noodle
Glass Noodle (Tanghoon)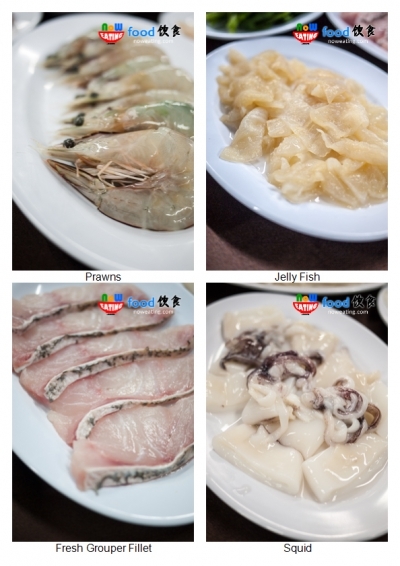 The seafood are fresh in general and you will be given large prawns instead of small one usually found in hot pot buffet.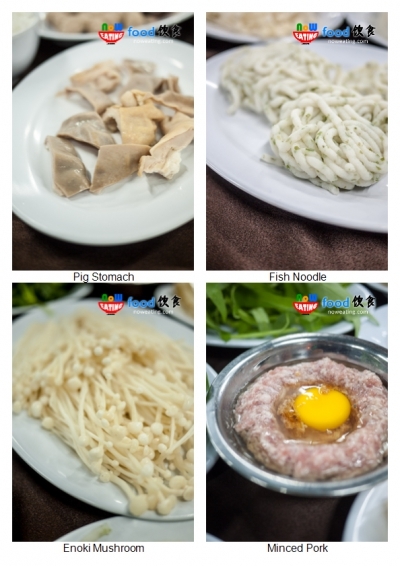 My other favorites included minced pork, fish noodle, Enoki mushroom, and pork stomach. Except for pork stomach, the rest are best cooked in short period of time before netting them out from the hot pot.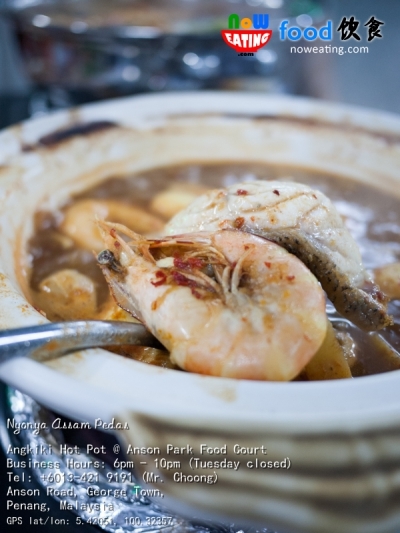 Each table will be given one or two gas stove to heat up the metal/clay pot. Personally, I liked their Nyonya Assam Pedas pretty much as it is quite appetizing yet not too spicy. The same goes to Tom Yam. Again,you can always customize the spiciness and sourness by notifying the kitchen crew. Also, try combining both Tom Yam and Nyonya Assam Pedas soup. Some said it tastes even better.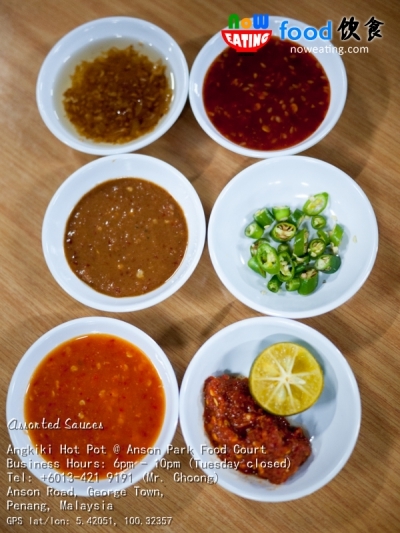 Last but not least, enjoy various dipping sauce prepared by the Thai chefs themselves.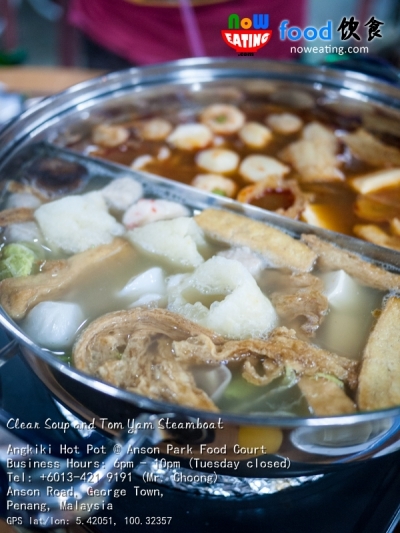 Sets come in 3 varieties:
Set for 2: RM38 (Promo: RM29)
Set for 4: RM58 (Promo: RM49)
Set for 8: RM128 (Promo: RM99)
In conjunction with new opening, until 31-Jul-2014, only pay at the promotion rate specified above.
Update 2-Jul-2014: Promotion extended to 31-Aug-2014.
Opened since 11-May-2014, Angkiki Hot Pot is worth visiting thanks to its unique Nyonya Assam Pedas soup base which will surely tranquilize your taste bud. If you are not a hot pot lover, they do have Tomyum Bee Hoon Soup and Clear Soup Bee Hoon as well.
| | |
| --- | --- |
| Place Name: | Angkiki Hot Pot 红支支火锅 |
| Cuisine: | Chinese |
| Address: | Anson Park Food Court, Anson Road, George Town, Penang, Malaysia |
| Tel: | +6013-421 9191 (Mr. Choong) |
| Website: | http://www.angkiki.my |
| Working Hour: | 6pm - 10pm (Tuesday closed) |
| Tax: | No |
| Last Visit: | 20140612 |