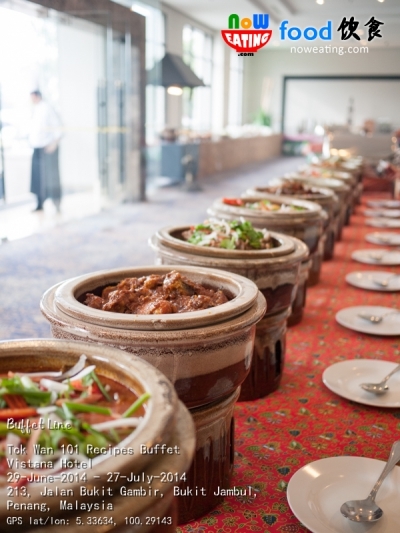 In conjunction with the upcoming holy month of Ramadhan, from 29 June to 27 July 2014, Vistana Hotel is proud to present "Tok Wan 101 Recipes" Ramadhan buffet at an unbeatable price of RM48++ per adult. Did I mention that total of 101 items will be served?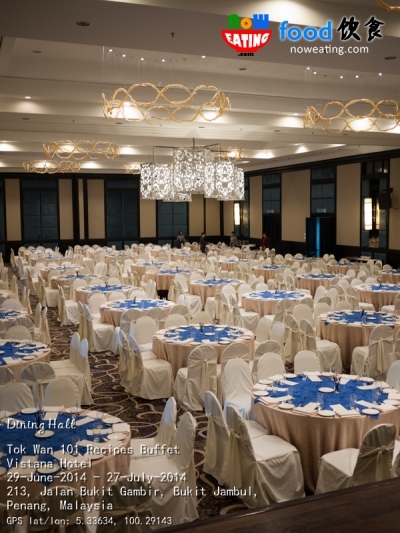 The Ramadhan-inspired buffet will be held in the ground floor Ballroom and is available throughout all Vistana Hotel outlets. The round table setup is very suitable for "buka puasa" experience in which families and friends sit down to pray and eat together in this festive season. I myself had been to this ballroom for wedding dinner previously and it was pretty cozy even when fully occupied. Ample parking space is available at the basement and outdoor. Prayer room is also available for Muslim guests celebrating this blessed month.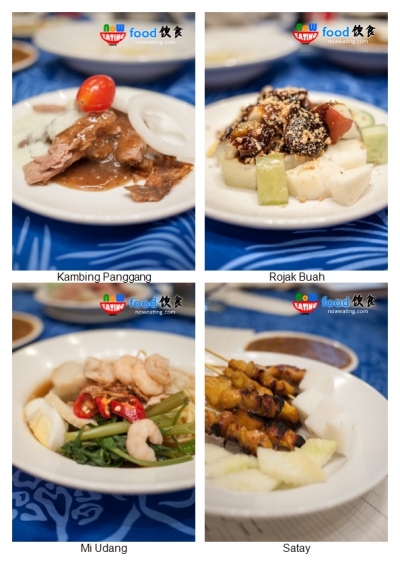 Tok Wan is a colloquial Pahang state term for grandmother, which means you will find many "grandmother's recipes" here. Do not expect Japanese or sashimi counter. Tok Wan 101 Recipes is truly Malaysian buffet with total of 101 items including appetizer, main course, dessert, and beverage.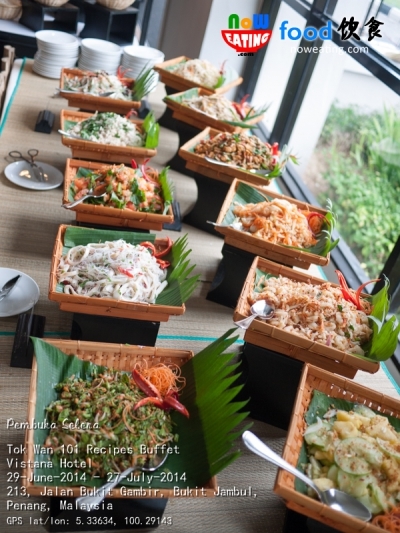 Our buffet begun with Pembuka Selera (Appetizer) consists of various Kerabu such as Kerabu Mangga, Kerabu Sotong, Kerabu Ayam, and Cucumber Salad.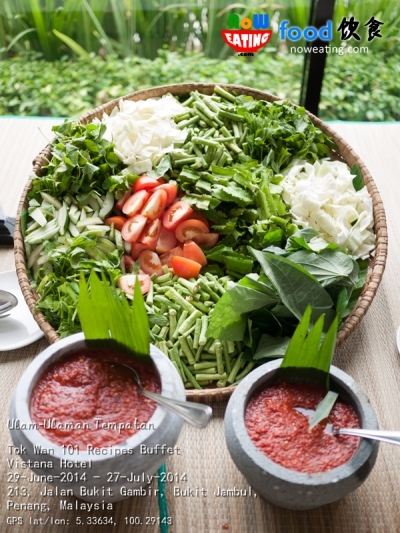 Ulam-Ulaman Tempatan (Herbal salad) such as kacang panjang, kacang botol, kobis, daun kaduk, and etc are also available. They are best dipped with various Sambal and dressing provided.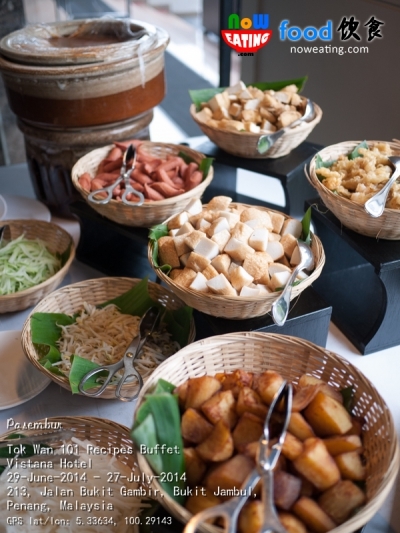 Pasembur is a Malaysian Indian salad consisting of shredded cucumber, turnip, potato, beansprout, tofu, prawn fritter and other seafood topped with sweet and spicy nut sauce. I like the fact that Vistana Hotel's version even comes with sausage.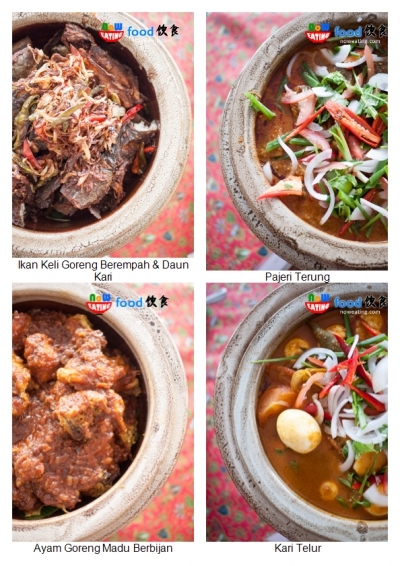 Tok Wan's main course spread features succulent Ayam Goreng Madu Berbijan, Ikan Keli Goreng Berempah & Daun Kari, Pajeri Terung,  Kari Telur and many more.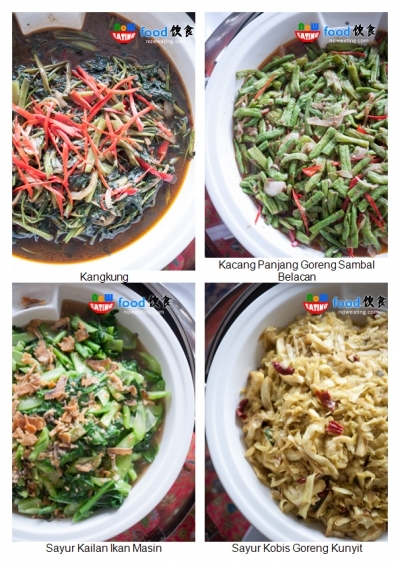 Vegetable lovers or environmentalist? No problem. Assorted vegetables such as Fried Kangkung (Morning Glory), Kacang Panjang Goreng Sambal Belacan, Sayur Kailan Ikan Masin, and Sayur Kobis Goreng Kunyit are readily available in the hot trays.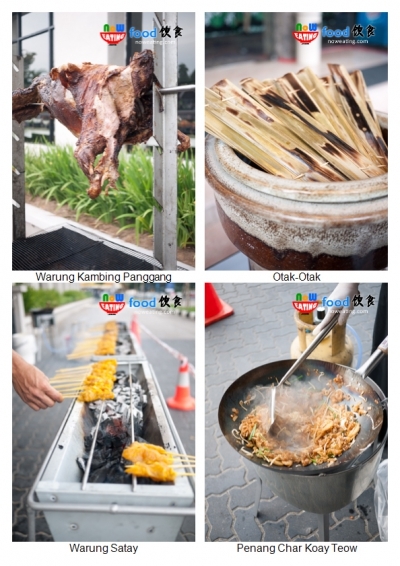 Warung Satay, Warung Kambing Panggang, and Warung Koay Teow are the famous stalls in which guests are willing to queue up few meters  just to taste the juicy and tender roasted lamb, satay, or Penang Char Koay Teow. During our visit, we even found Muar's famous Otak-Otak.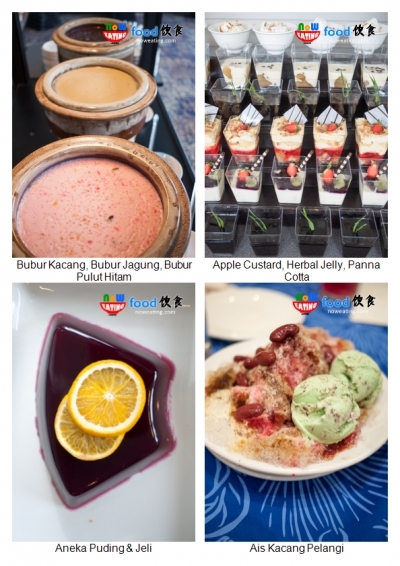 End it your way with the variety of desserts, be it traditional Malay kuih-muih, mouth washer such as bubur kacang, bubur jagung and bubur pulut hitam, or Western with assorted mini French pastries, cheese cake, panna cotta, English trifle and creme brulee. Refreshing ice cream, ice kacang, and cendol are also available.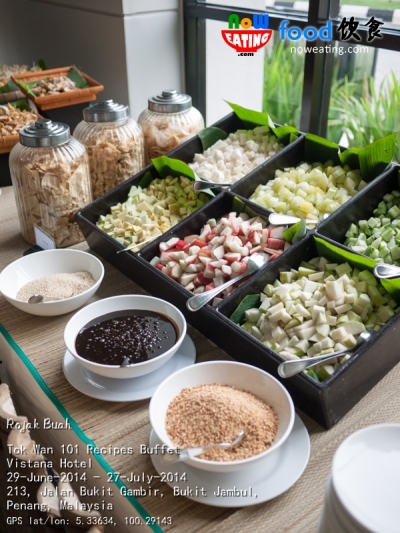 Previously, we introduced Barista coffee bar's signature Rojak Buah. This time, it is part of the buffet and be sure to try its scrumptious prawn paste.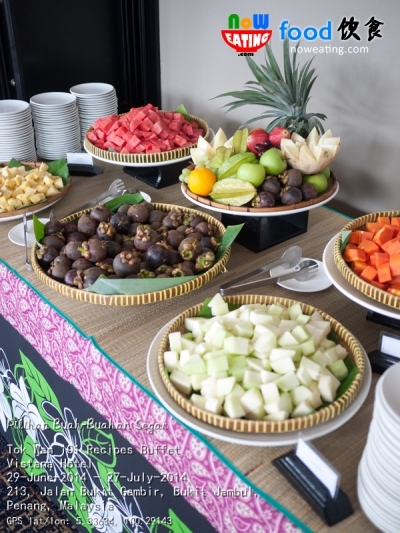 Last but not least, enjoy fresh tropical fruits such as watermelon, papaya, pineapple, honeydew, and mangoesteen. Tips: Grab some mangoesteen to your table first as it finishes real fast.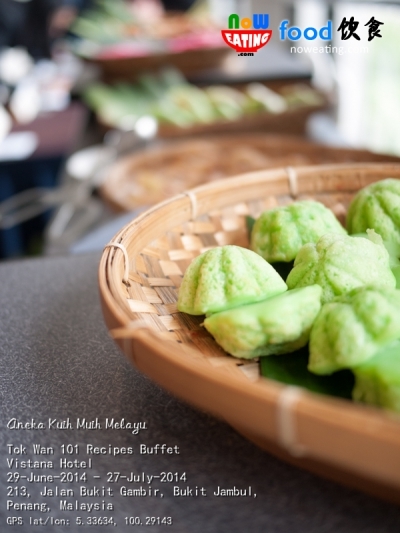 The Tok Wan 101 Recipes is priced at MYR48++ per adult and MYR30++ per child aged 4-12 years old and is available from 29th June to 27th July 2014. Guests are recommended to make reservation at +604 646 8000 as seats are limited to 500 seats each day.
| | |
| --- | --- |
| Place Name: | Vistana Hotel Penang |
| Cuisine: | Buffet |
| Address: | 213, Jalan Bukit Gambir, Bukit Jambul, 11950, Penang, Malaysia |
| Tel: | +604 646 8000 |
| Website: | http://www.vistanahotels.com/ |
| Tax: | 10% Service Tax, 6% Government Tax |
| Last Visit: | 20140617 |