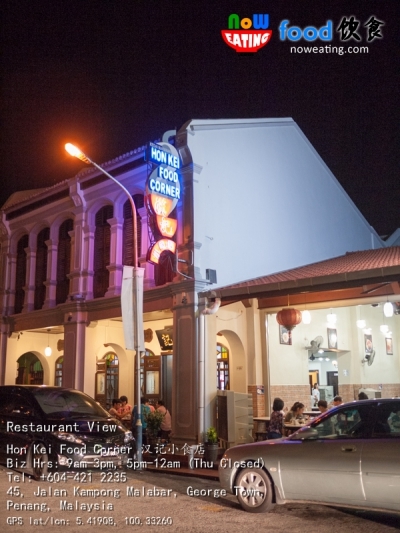 Jalan Kampong Malabar 日本新街 is more happening now due to opening of some new restaurants. One of them, however, is not new and already been there for decades. Hon Kei Food Corner 汉记小食店 previously was a stall in Ho Ping Coffee Shop at the junction of Penang Road and Jalan Kampong Malabar selling famous Bak Moi (Pork Porridge). Recently, it moved to its own premise few shops away.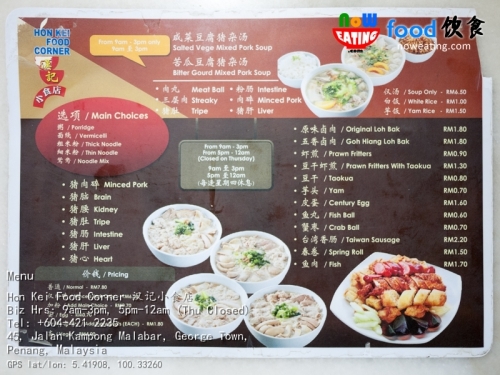 Hon Kei opens daily from 9am-3pm, 5pm-12am and closed on Thursday. From 9am-3pm, other than porridge and noodle, Hon Kei also serves Salted Vege Mixed Pork Soup 咸菜豆腐猪杂汤 and Bitter Gourd Mixed Pork Soup 苦瓜豆腐猪杂汤.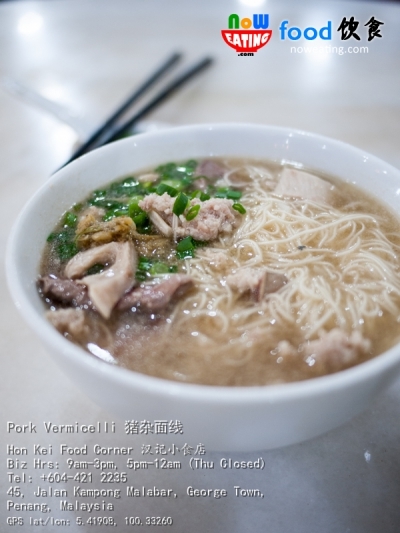 Porridge used to be a healthy food one usually eat when they are sick or just recovered from illness. For Hon Kei case, we don't dare to say that it is a healthy choice due to the heavy usage of pork innards such as pork kidney, tripe, intestine, liver, heart, and even brain! The broth has strong porky taste in which you will either love it very much or run away.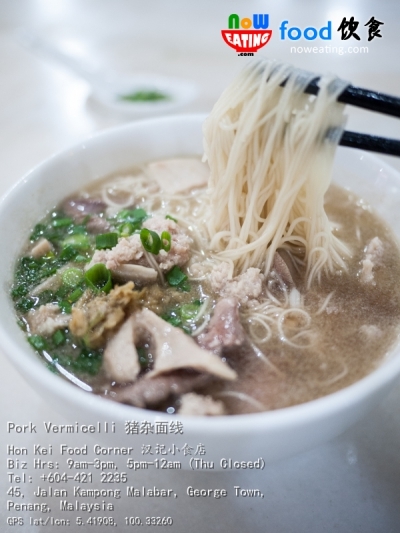 We ordered a bowl of Pork Vermicelli 猪杂面线 (RM7.80) consists of generous amount of pork innards. If you like pork innards, this will be one of the best pork noodle in George Town area.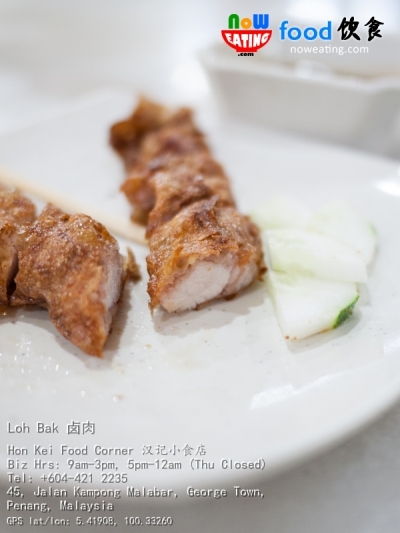 Hon Kei also sells some fried products such as Loh Bak and Prawn Fritters. However, you can't order them from the menu but have to go to the food counter to make order, which is kind of weird.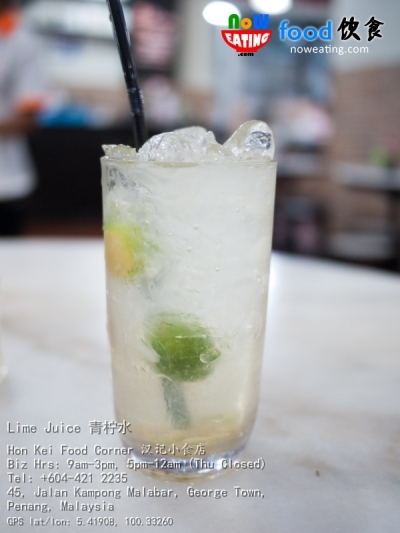 Last but not least, we had a glass of lime juice to cleanse away some oil.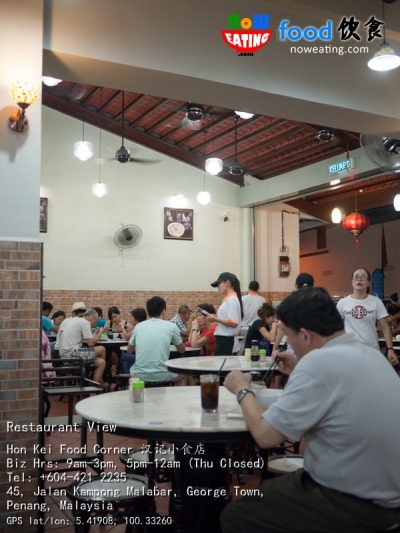 Overall, you can't be wrong with Hon Kei as they had upgraded from a small stall to a two-shop restaurant with waitress taking orders using iPad. Pricing-wise, it can be a bit premium for a bowl of porridge but it appears to be a norm for George Town restaurants nowadays.
| | |
| --- | --- |
| Place Name: | Hon Kei Food Corner 汉记小食店 |
| Cuisine: | Chinese |
| Address: | 45, Jalan Kampong Malabar, George Town, Penang, Malaysia |
| Tel: | +604-421 2235 |
| Working Hour: | 9am-3pm, 5pm-12am (Thu Closed) |
| Tax: | No |
| Last Visit: | 20140729 |