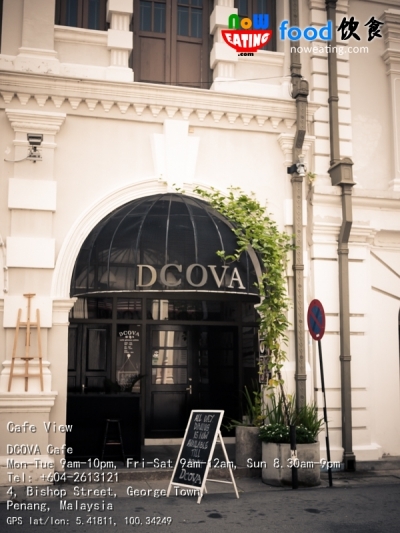 DCOVA recently launched its new menu. For us, everything is new as this is our first visit to the cafe. We seldom travel down to George Town for a cup of coffee as some of them have their coffee bean outsourced, making it lack of uniqueness. However, DCOVA has proven that having a cup of coffee can be both unique and authentic.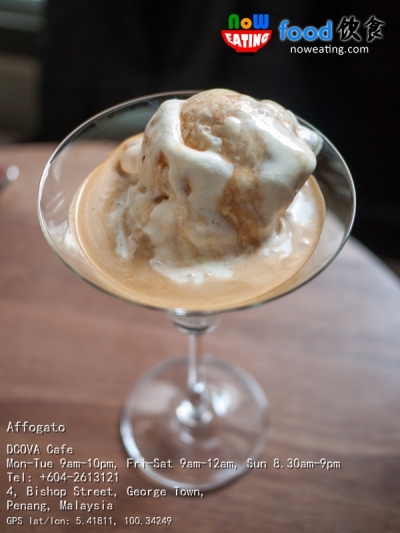 Taking this signature Affogato on a cocktail glass for example, it comes with vanilla ice cream equivalent to two normal scoops to an extend that we almost forgot we are having espresso topped with ice cream (more like a glass of ice cream topped with espresso). Ice cream lover will definitely love it. Pricing-wise, it is only RM8.50. No service charge applied.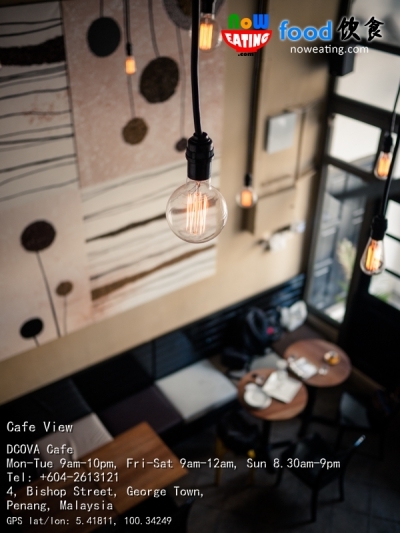 DCOVA is located at Bishop Street, same row with GohKaki. It consists of two floors with first floor remained unused at the moment. About 12 coffee tables are available at the ground floor with some come with power sockets, allowing you to power up your gadgets while having a sip of coffee.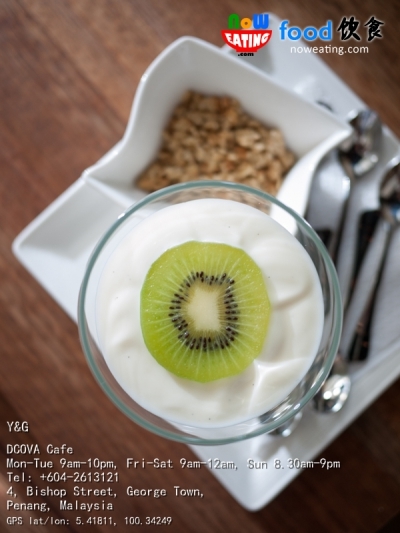 Our meal begun with a signature starter – Y&G (RM8.90) which stands for Yogurt and Granola – a kind of breakfast food famous in America. The sweet yogurt will eventually make you forgetting that you are eating plain yogurt.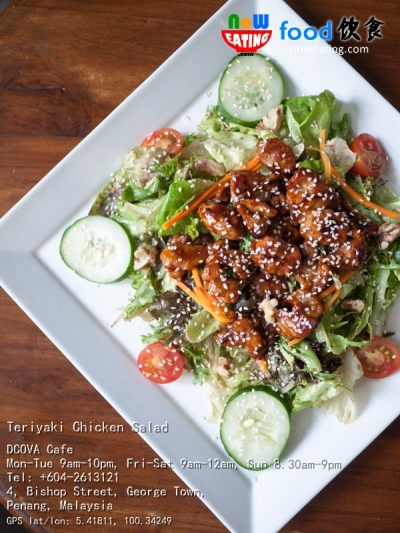 Teriyaki Chicken Salad (RM17.90) – Hearty chunks of Teriyaki glazed chicken served on a bed of fresh mixed salad tossed in Japanese goma (sesame oil) sauce and topped with chopped walnuts. A great combination if plain green salad is too boring for you.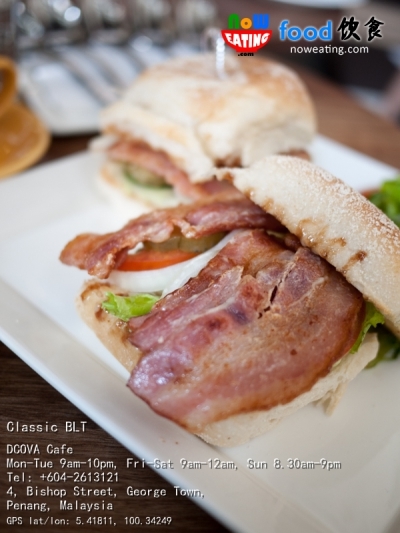 Our main course started with Classic BLT (RM18.90) – The all time favourite Bacon, Lettuce and Tomato sandwiches served with fresh mixed salad tossed with balsamic vinegar on the side. The bun reminded us of the bun of Spicy Chicken McDeluxe. This authentic burger in general is pretty delighted and will not make you feel stuffy after the meal.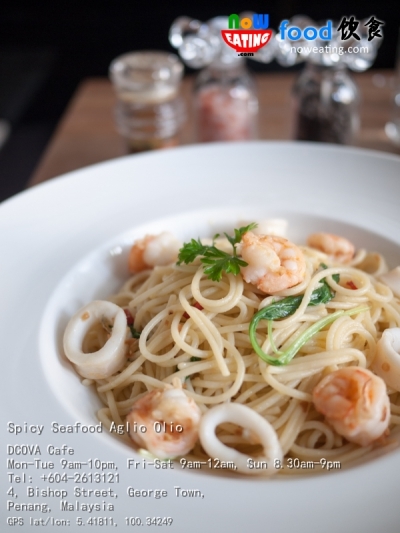 Spicy Seafood Aglio Olio (RM18.90) – Spaghetti tossed into succulent prawns and squid rings lightly sautéed with garlic and extra virgin olive oil. Beware of the bird's eye chili added for an additional punch. A must try for spicy food lovers!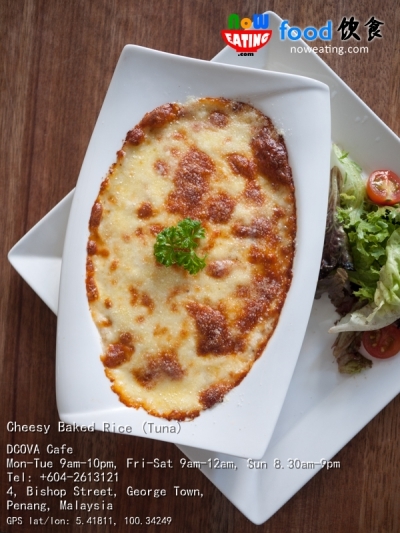 Cheesy Baked Rice (RM18.90) – Fragrant rice infused with a selection of herbs covered with a layer of our special homemade sauce then topped with a tuna, shredded Mozzarella and Cheddar and baked till a golden brown melt.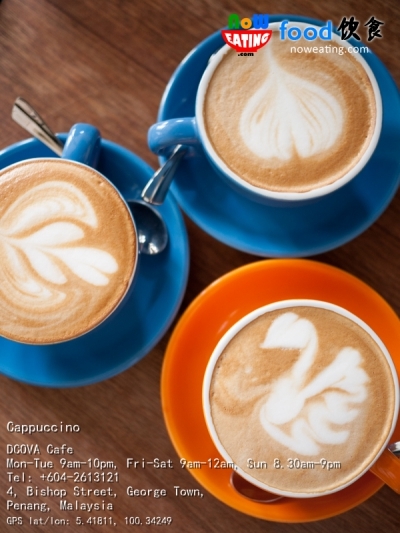 The Cheesy Baked Rice is best accompanied with a cup of cappuccino (RM8.50) made of Papa Palheta's Throwback coffee bean. Papa Palheta is an independent coffee boutique, specialising in roasting and purveying specialty coffee in Singapore and Malaysia. Taste-wise, it has added dark chocolate with rich and heavy body. I am not a coffee addict but the one sitting next to me is, and her first impression was, "Mmm, this coffee is good!". End of story.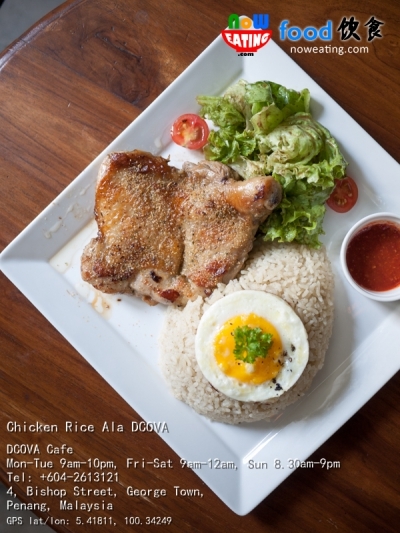 Chicken Rice A La DCOVA (RM18.90) – Juicy chicken thigh marinated with DCOVA own secret ingredients and grilled to perfection. Served with fragrant flavoured rice. According to the owner, they learned this recipe from Taiwan and converted it into their own version of the Asia's famous Hainanese Chicken Rice.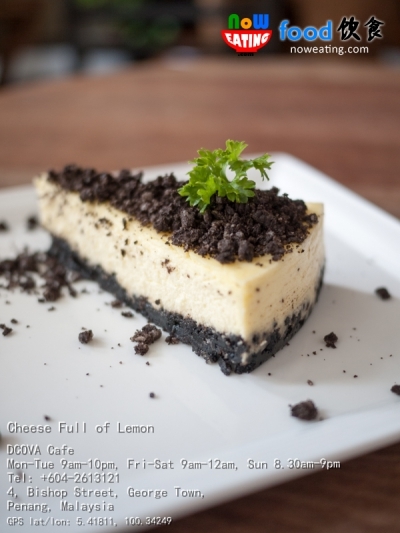 As for the desserts, we were being served with homemade Cheese Full of Lemon cheesecake (RM11.90). Comes with Oreo cookies crust.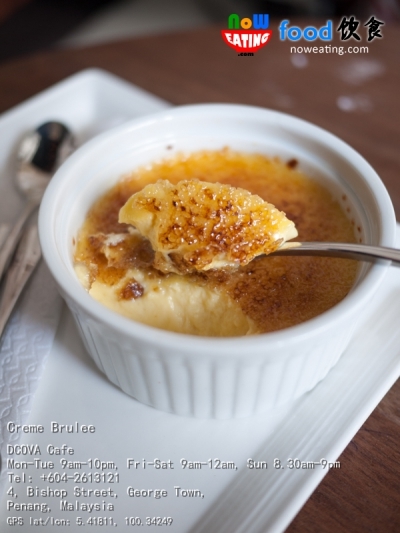 Creme Brulee (RM13.90) – Rich custard base flavoured with vanilla and topped with a contrasting layer of torched to perfection hard caramel. Perfect with espresso and simply a match made in heaven.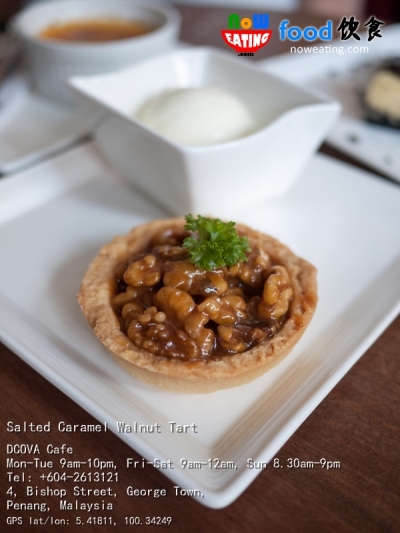 Salted Caramel Walnut Tart (RM13.90) – Sweet and nutty caramalised walnut tart with a hint of salt. Served with a scoop of Vanilla ice cream.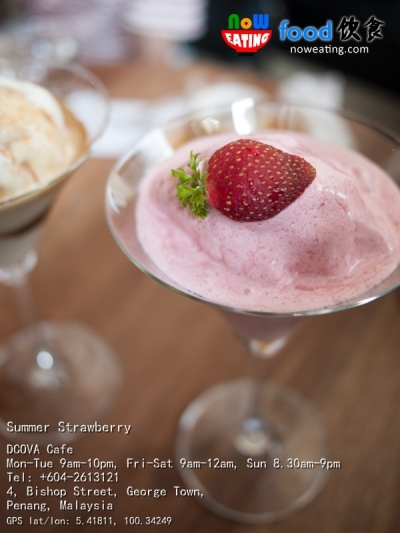 Summer Strawberry (RM12.50) – Fresh strawberries blended with milk and ice into a smooth delectable smoothie. A definite refresher cum thirst quencher in this tropical island. This item is seasonal and is a must-try for strawberry lover.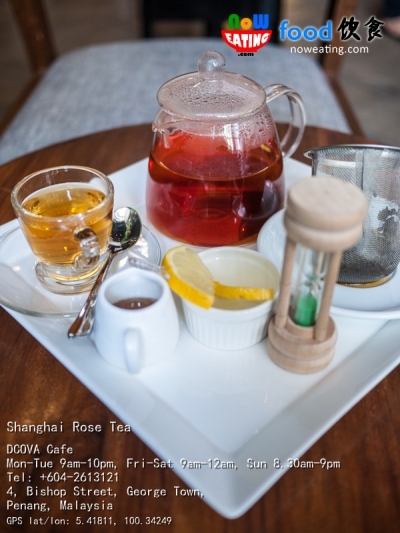 Other than coffee, DCOVA also has its own exclusive teas made from tea leaves. We tried Shunghai Rose – made of high quality Ceylon black tea leaves and is scented with natural essential oil (lychee). It has floral rose aroma with a slight nuttiness. High in antioxidants and is caffeine free. A sandglass is provided to determine time required to soak the tea leaves in hot water before taking it out and putting it aside. As a rule of thumb, regardless of Chinese or English tea, do not soak tea leaves in hot water for too long.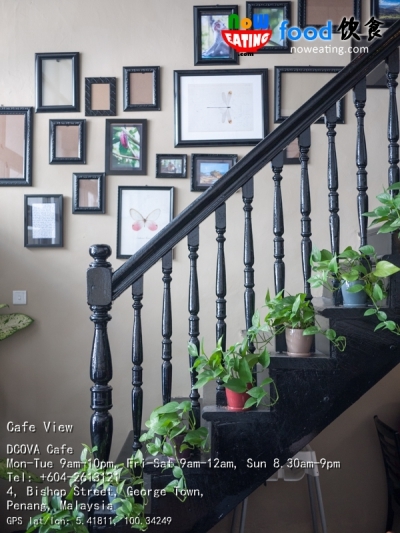 Overall, we like their Aglio Olio as the spiciness and oiliness are well-controlled, making it one of the best pasta in town. Cheesy Baked Rice is not bad either as the added herbs covered the cheesy and fishy taste of cheese and tuna respectively, making it more delightful to enjoy. Opens daily from 9am onward, do pay DCOVA a visit for a cup of Papa Palheta's Throwback cappuccino.
| | |
| --- | --- |
| Place Name: | DCOVA |
| Cuisine: | Western |
| Address: | 4, Bishop Street, George Town, 10200, Penang, Malaysia |
| Tel: | +604-261 3121 |
| Working Hour: | Mon-Tue 9am-10pm, Fri-Sat 9am-12am, Sun 8.30am-9pm |
| Tax: | No |
| Last Visit: | 20140802 |