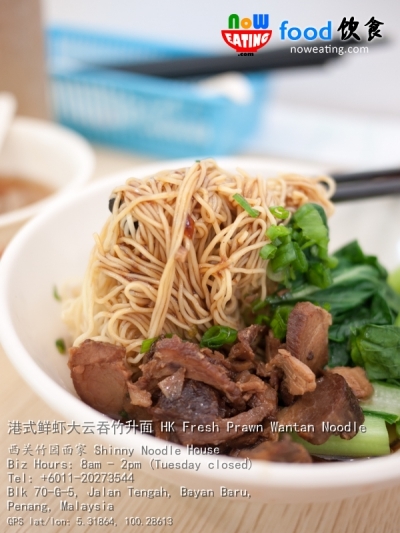 As mentioned in my previous post, Jook-Sing noodle 竹升面 is a type of egg noodle similar to Wantan noodle but is produced using bamboo instead of machine. Today, we introduce you a new noodle house selling purely Jook-Sing noodles – Shinny Noodle House 西关竹园面家.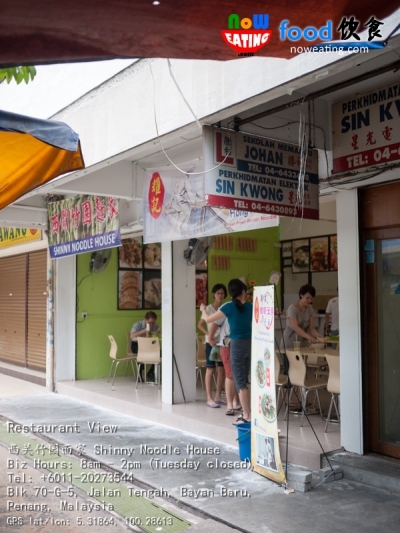 Bayan Lepas workers are now in luck as the noodle house is just located same row with Selera Sim at Jalan Tengah, Bayan Baru – the coffee shop under a flat famous with its Jawa Mee.  It is opened since mid of July 2014, opens daily from 8am until 2pm and is closed on Tuesday.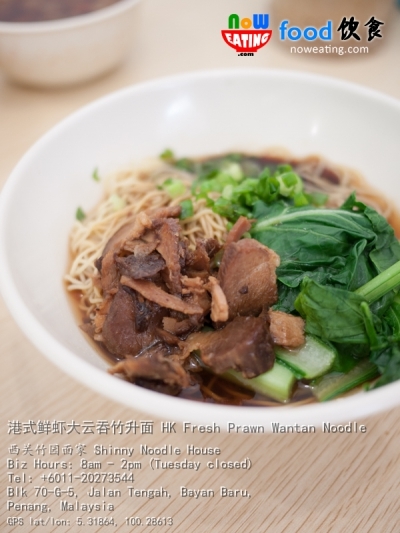 The Wantan noodle (RM5.50 small) definitely reminded me of Gou Lou Wan Tan Mee at Jalan Kampong Malabar which uses the same Jook-Sing noodle. Compared to the later, Shinny has the same springy texture but thinner noodle. Instead of clear broth, Shinny's broth was darker with added spices. Personally, I prefer thinner noodle as it reminded me of good old days when parents brought me to HK-style restaurants for similar Wantan noodle, some even with green spinach Jook-Sing noodle (e.g. a Chinese restaurant inside Komtar decades ago).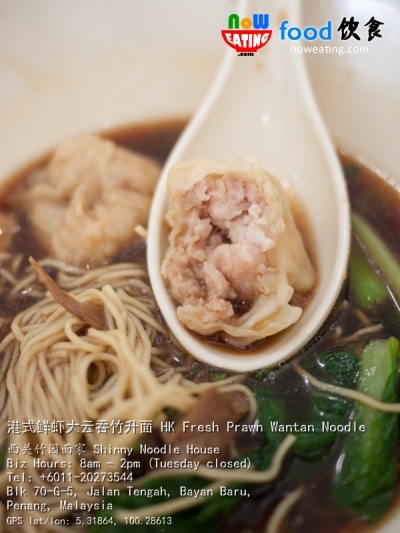 Dumplings-wise, it is similar to Gou Lou – big with rich content. Freshness-wise, Gou Lou still at its advantage especially on its fresh shrimps.
Shinny Noodle House has its advantage by introducing two more variants using Jook-Sing noodle – Pork Leg Noodle and Pork Ribs Noodle. The pork leg noodle (RM6.50 small) is also known as (take a deep breath)… 秘制猪八戒劈腿竹升面. It comes with generous amount of pork leg with unique broth similar to five-spice (Loh) gravy with an exception that it has added oregano leaves commonly found in spaghetti, making it taste like a fusion food.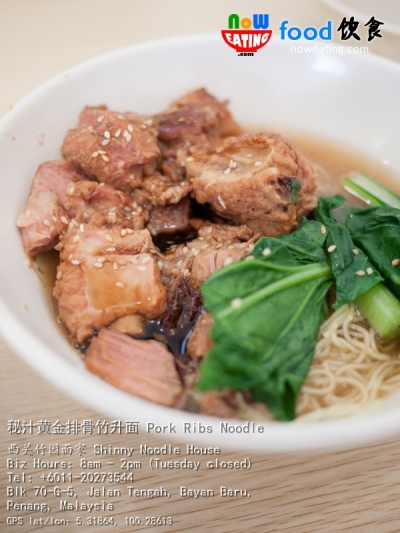 Pork Ribs Noodle 秘汁黄金排骨竹升面 (RM6.50) again comes with generous amount of pork ribs but beware of bone fragments. The unique broth is similar to the broth of braised 红烧 pork ribs but is more delighted than the later one.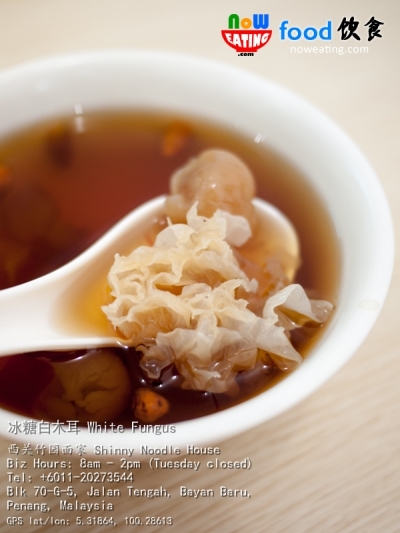 The shop also does provide some homemade desserts such as White Fungus 冰糖白木耳 (RM1.50) and Barley Fu Chok 腐竹玉米 (RM1.00). During our visit, we were given second bowl of dessert free of charge as the shop was closing and they were clearing the stock. We ended up going home with stomach full of water.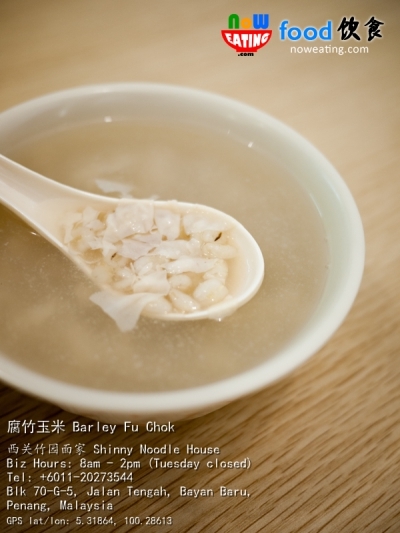 Similar to many newly open restaurants, there were some areas of improvement need to be taken care of (e.g. billing and ordering system) but taste-wise, Shinny Noodle House has the potential to become a famous Wantan house in Bayan Baru area (the nearest match is BBee Park at The One).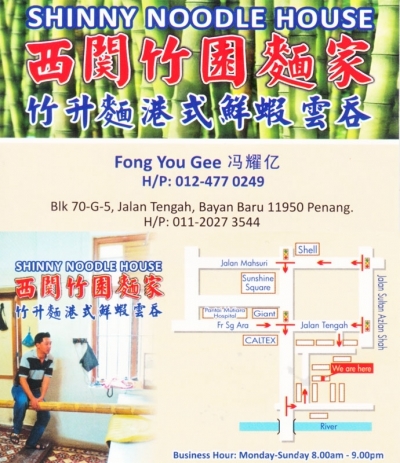 | | |
| --- | --- |
| Place Name: | Shinny Noodle House 西关竹园面家 |
| Cuisine: | Chinese |
| Address: | Blk 70-G-5, Jalan Tengah, Bayan Baru, 11950, Penang, Malaysia |
| Tel: | +6011-20273544 |
| Working Hour: | 8am-2pm (Tuesday closed) |
| Tax: | No |
| Last Visit: | 20140801 |