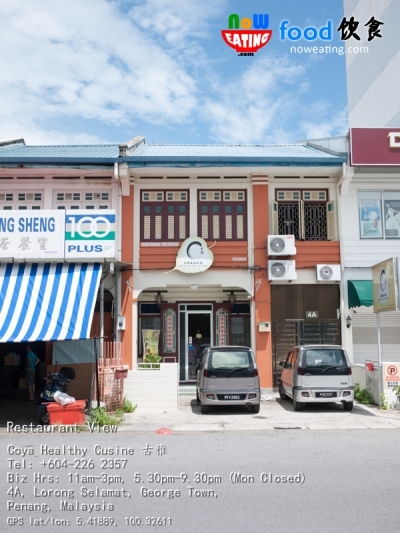 Our first visit to Coya Healthy Cuisine at Lorong Selamat was back in January 2014 and were pleased with their healthy cuisine promising three things: 1)  Freshly prepared food, 2) No gluten vegetarian product, 3) No added MSG and preservative. Recently, they released a new menu and we revisited it again.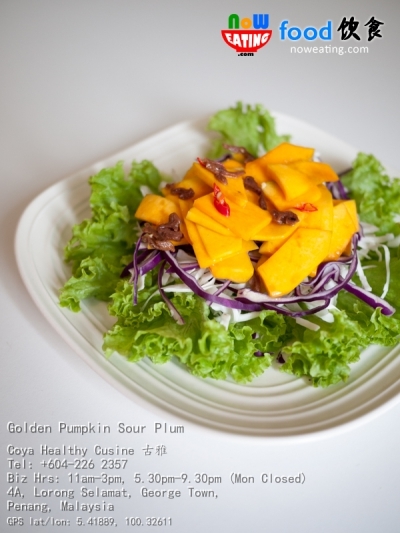 Let's start with appetizer – Golden Pumpkin Sour Plum (RM6.50). Pumpkin is quite popular in healthy cuisine restaurants recently. It can be an appetizer, main course, or dessert. The crunchy pumpkin slices marinated with chilies and sour plum turns out to be the best dish of the day. You will be surprised that it actually tastes more like mango than pumpkin itself.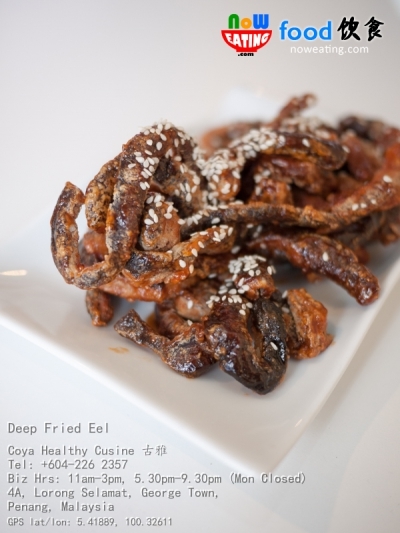 Previously known as Deep Fried Mushroom, Coya improved this snack by making it easier to consume while maintaining its crunchiness. It is now known as Deep Fried Eel (RM10.50).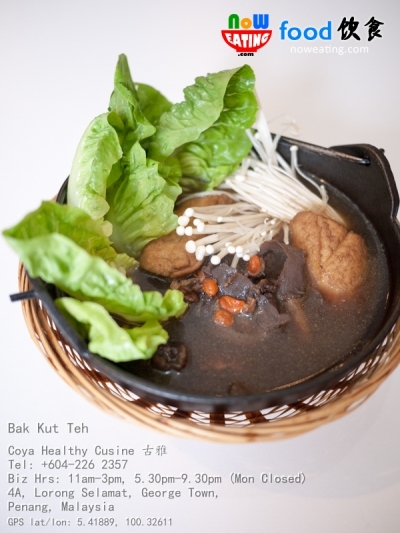 My first encounter with healthy version of Bak Kut Teh (BKT) was at a healthy chain restaurant in Penang. Coya version turns out not bad as well with sweet broth cooked for 6 hours using various spices and herbs. What amazed us was the artificial pork belly with texture just like the real pork belly. It is also slightly cheaper (RM12.00).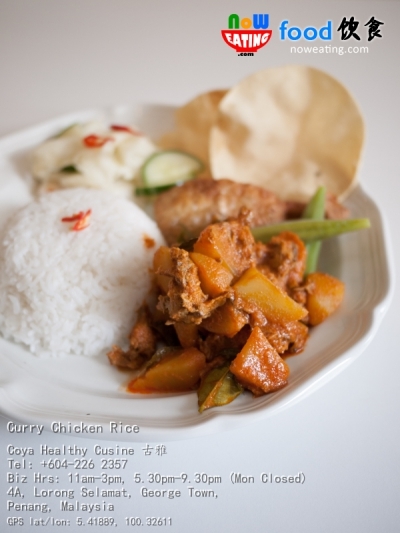 Some Penaangites do not like to visit healthy restaurants as they are used to hot and spicy food out there and the food here is simply too plain/mild for their liking. Coya knew about this and released some spicy dishes, such as Curry Chicken Rice (RM12.00). Of course, there is no real chicken here but the spicy potatoes sure will kick start your taste bud.
Craving for Thai food? They do have White Tomyam (RM8.50) with homemade dumplings. Best served hot and consumed with a bowl of rice.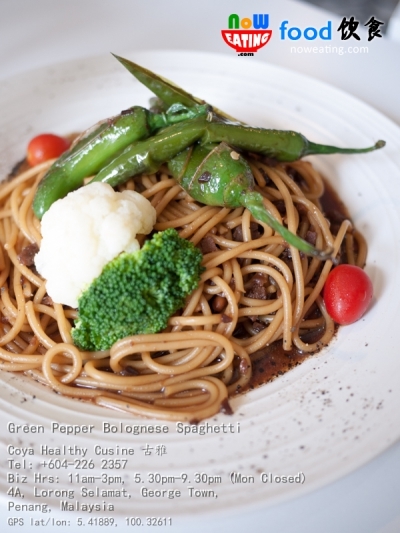 Another new spicy dish is Green Pepper Bolognese Spaghetti (RM15.50). The spaghetti is stir fried with minced mushroom, black pepper, and green pepper. Its spiciness will sure let you order second glass of beverage.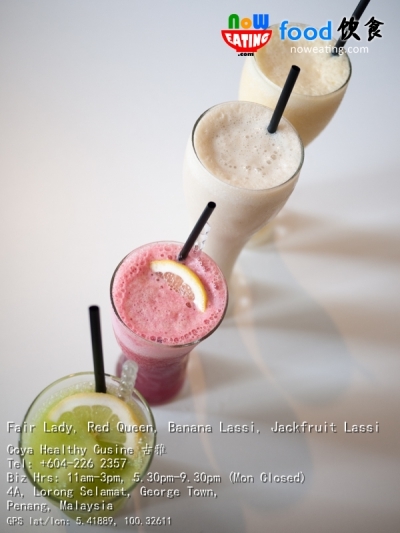 Speaking of beverage, we were served with Fair Lady (celery, apple, bitter gourd) (RM10.90), Red Queen (pineapple and beetroot) (RM12.00), Banana Lassi (RM9.90), and Jackfruit Lassi (RM10.90) . We tried the Jackfruit Lassi (RM10.90) which was pretty special considering most restaurants out there did not provide such lassi.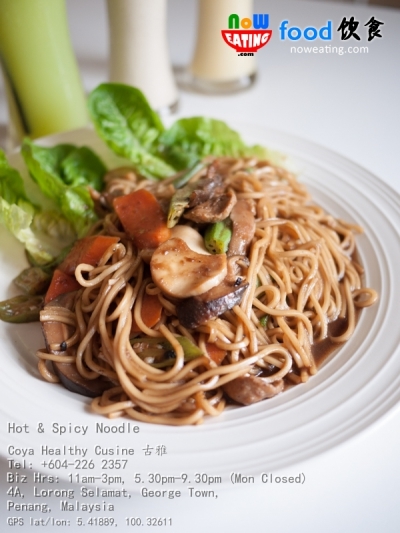 Prefer something less spicy? Try Hot and Spicy Noodle (RM10.50). Personally, we still prefer Green Pepper Bolognese Spaghetti than this one.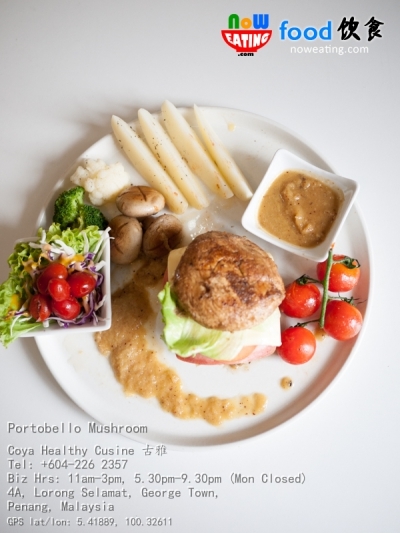 Perhaps the highlight of the day was this breadless Portobello Giant Mushroom Burger (RM49.90) which requires two days reservation in advance. The "bread" itself is made of Portobello mushroom 龙葵菇 which is marinated in mild spiciness pineapple paste and cook under low heat to maintain its tenderness and juiciness. As for the patty, Hericium Erinaceius mushroom 猴头菇 is used instead together with mashed potato, herbs and spices. Portobello mushroom is rich in vitamin D, able to improve our immune system and reduce the risk of breast cancer.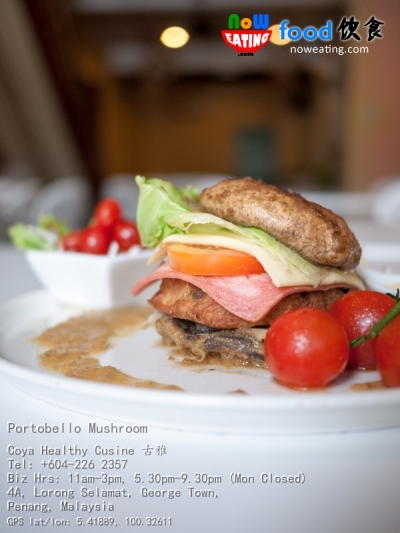 The verdict? This is perhaps the healthiest burger we ever tried, from top to bottom, side dish to the sauce. Be sure to call for reservation first at  04-226 2357.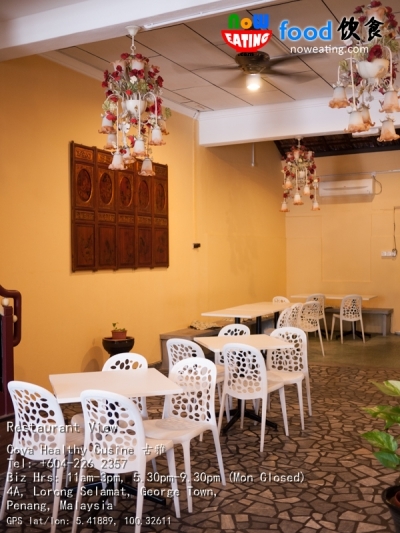 In general, we are satisfied with their new menu. In conjunction with coming Nine God Emperor Festival, Coya will provide 10-days bento to some orphanage homes in Penang from 23-9-2014 until 2-10-2014. Each bento costs RM5. If you are interested in donating, feel free to stop over Coya or visit the event page at Facebook.
| | |
| --- | --- |
| Place Name: | Coya Healthy Cuisine |
| Cuisine: | Vegetarian |
| Address: | 4A, Lorong Selamat, George Town, 10400, Penang, Malaysia |
| Tel: | 604-226 2357 |
| Email: | [email protected] |
| Working Hour: | 11.00am-3.00pm, 5.30pm-9.30pm (Closed on Monday) |
| Last Visit: | 20140906 |