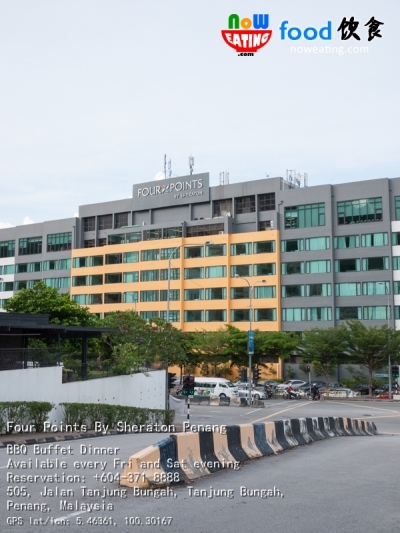 After operating for more than a year, Four Points by Sheraton Penang (Four Points) is pleased to announce the launch of their very first non-festive season buffet dinner, namely BBQ Buffet Dinner.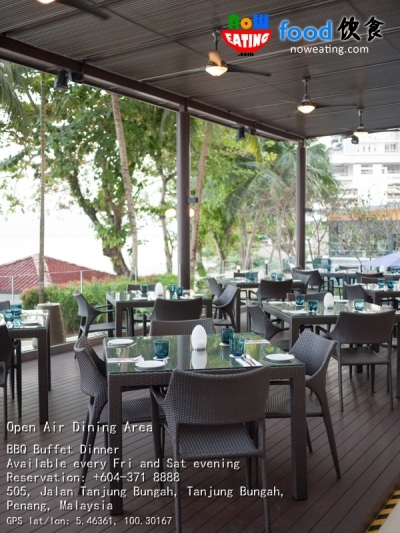 The buffet is available every Friday and Saturday starting from 7pm at The Eatery . The Eatery is also the main restaurant in Four Points serving buffet breakfast to hotel guests. Sunday Brunch buffet is also available. For other evenings, ala-carte menu will be served.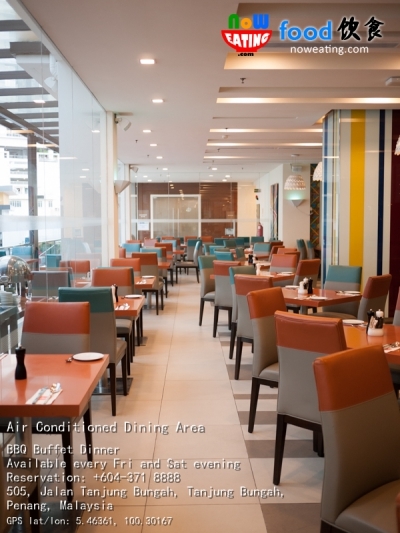 The Eatery consists of both al fresco and air-conditioned dining area. For this BBQ buffet, food are served at open air area. Personally, we prefer to dine in air-conditioned room as it is more comfortable especially during humid night.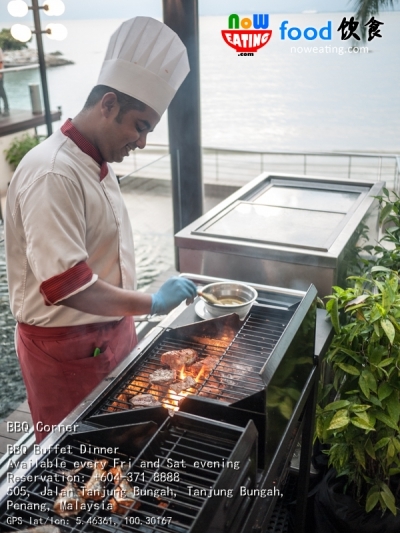 The highlight of this BBQ Buffet Dinner is this grill stove producing many delicious BBQ items including lamb, beef, chicken, Mackerel fish, prawns, and sausages.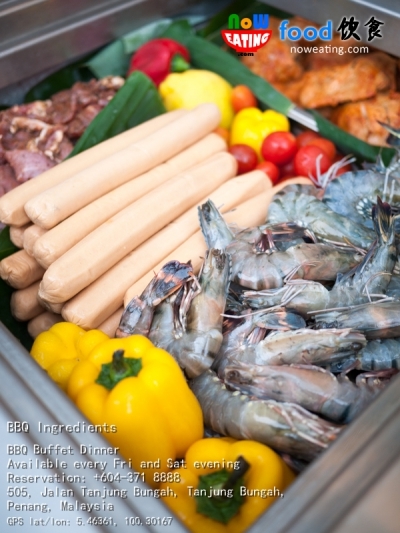 Most of the ingredients are pre-marinated with spices before grilling by the experienced chef. Food is juicy with added smoke flavor thanks to the use of charcoal as the heating source.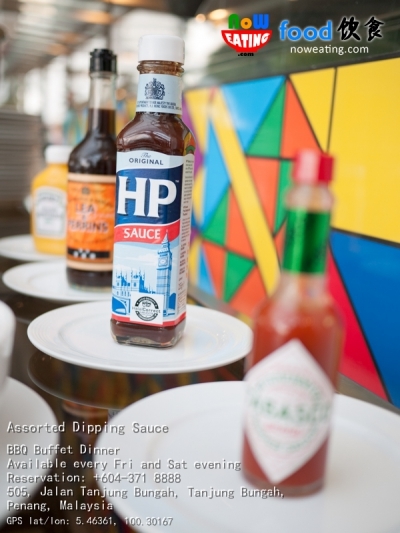 A plus for Four Points is that they provide assorted dipping sauces for your BBQ food, including their homemade black pepper sauce which is a perfect match for red meats.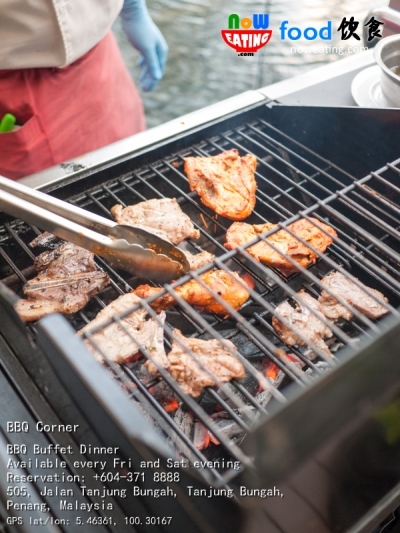 Personally, we liked the grill lamb, Mackerel fish, and chicken. They were grilled to perfection while retaining its juiciness by the chef who sweat himself out in front of the stove. A little wait time is required especially during peak hour.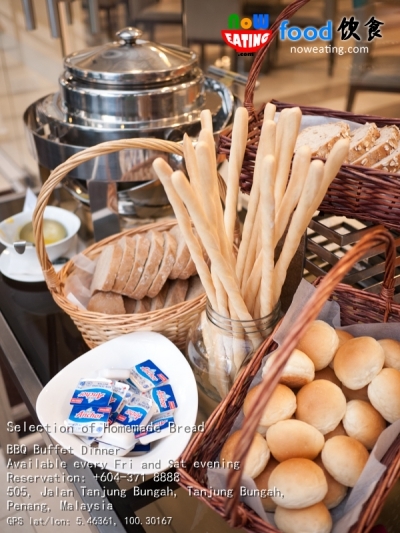 While waiting, perhaps you can try their homemade bread. Best accompanied with Soup of the Day such as pumpkin soup.
As for other appetizers, they are pre-mixed and presented in glasses so that all you need to do is to take one (or more) and enjoy at your dining table. Instead of presenting in a salad bowl, garden salads are also present in a cup. Figure above shows Calamari Kerabu with Ginger Torch and Lemongrass.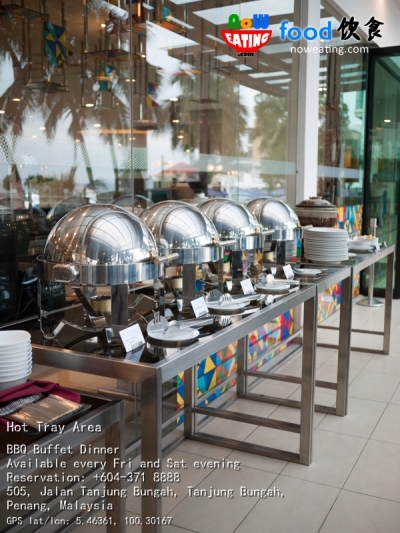 Compared to other hotels, the hot tray items are pretty limited. During our visit, the hot tray items available were fried rice, corn on cob, Roasted Herbs Potato, and Butter Roasted Vegetable.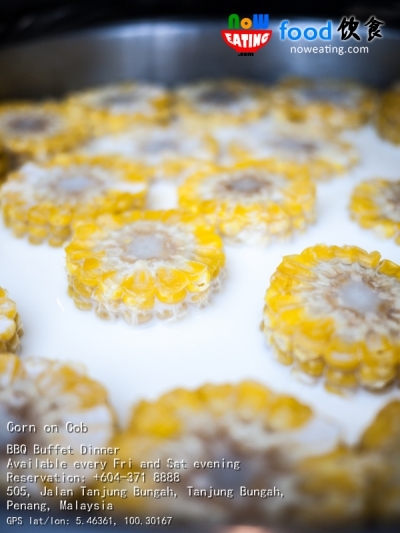 It looks pitifully few but when we took a closer look by trying everyone of them, we found out that the chefs really took effort in preparing them and not just for the sake of filling up the hot tray. We particularly liked their corn on cob, which boiled to softness in milk while retaining its sweetness.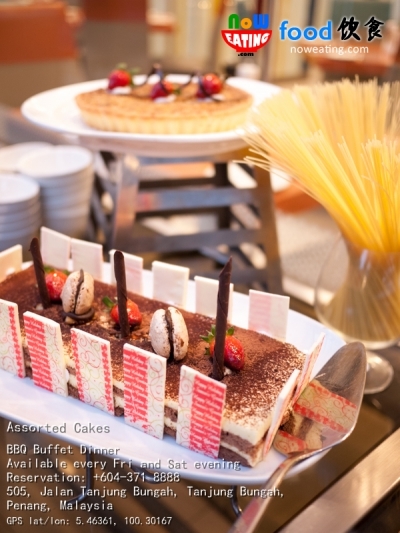 As for the desserts, our favorites was the moist Tiramisu cake. All their cakes are made from the hotel's bakery.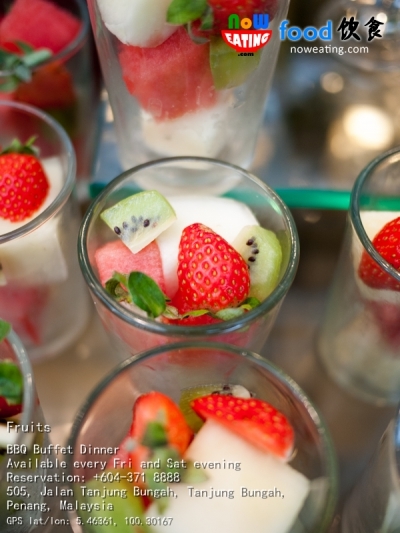 Fruits are also nicely presented in glasses.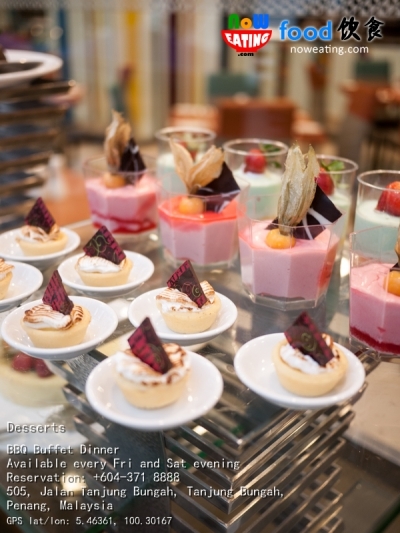 Other desserts included Lemon Meringue Tart, Bread Butter Pudding with Vanilla Sauce, Chocolate Brownie and etc.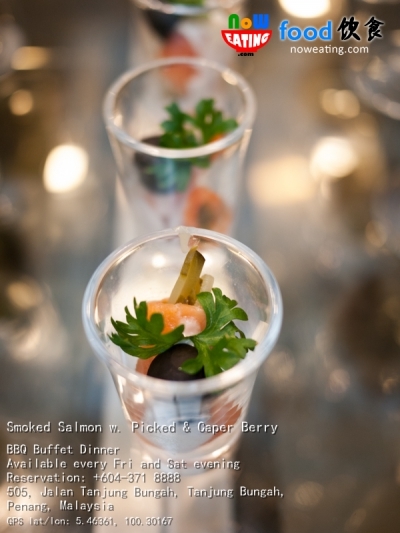 To benefit from this BBQ Buffet Dinner, our suggestion is to begin with salads-in-a-cup and look for "precious" item such as Smoked Salmon with Picked and Caper Berry. When the BBQ items are ready, grab them especially the lamb and dip it with homemade black pepper sauce. Revisit the BBQ corner if needed. If feeling sinful, take some vegetables on hot trays. End your dinner with their homemade cakes.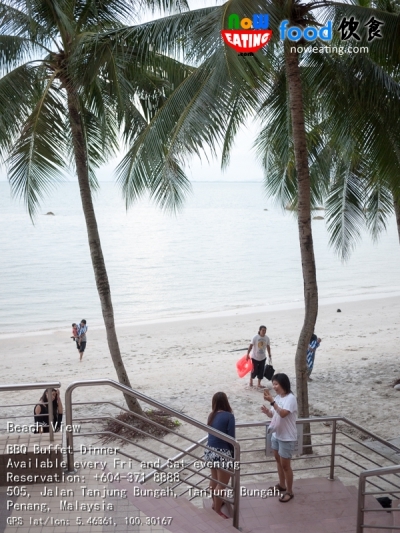 BBQ Buffet Dinner is priced at RM68+ per adult and is available until end of March 2015. For reservation, please call +604-371 8888. We suggest you to arrive early to have a walk at one of the most beautiful beaches in Penang island before your dinner.
| | |
| --- | --- |
| Place Name: | Four Points by Sheraton Penang |
| Cuisine: | Buffet |
| Address: | 505, Jalan Tanjung Bungah, Tanjung Bungah, 11200, Penang, Malaysia |
| Tel: | +604-371 8888 |
| Website: | www.starwoodhotels.com/fourpoints |
| Working Hour: | Every Fri and Sat 7pm onward |
| Tax: | 6% Government Tax |
| Last Visit: | 20150109 |