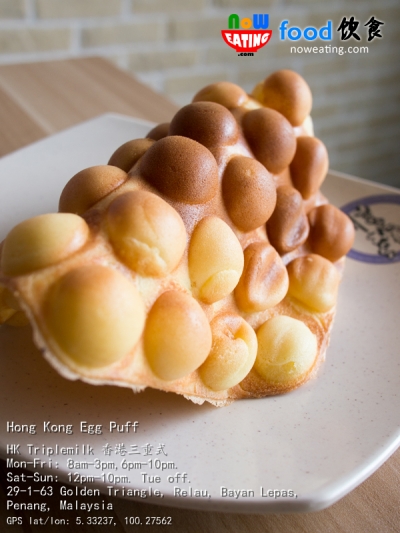 For those who like waffle, they will probably fall in love with Hong Kong's famous egg puff 鸡蛋仔 as well. The making of egg puff is pretty similar to our local waffle, except that it is molded into shape of eggs (and hence egg puff). Now, there is no need to travel to Hong Kong to enjoy this street food since 1950's as you can grab one in Penang.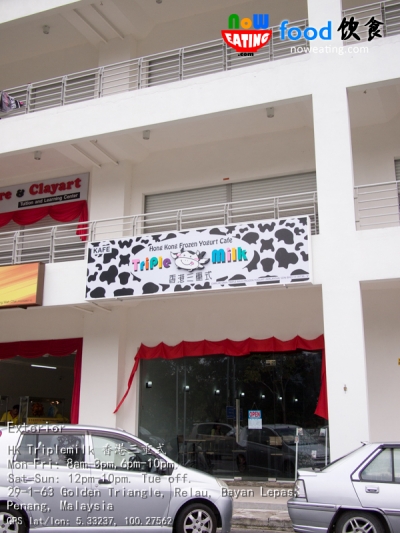 You can find the famous HK egg puff at the newly opened HK Triplemilk 香港三重式, Golden Triangle, Relau, Penang. The dessert shop has few outlets in Hong Kong and is specialized in frozen yogurt just like Crumbs, Tutti Frutti and MooCow.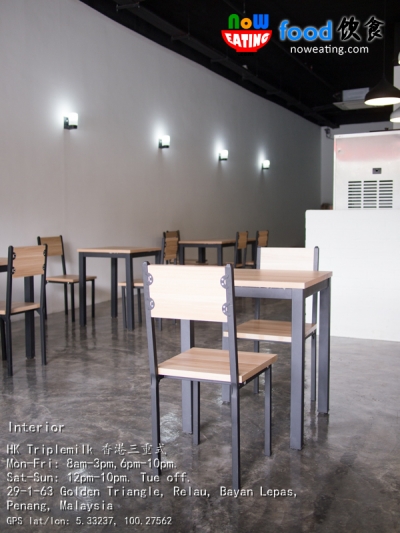 Fortunately, the dining area is spacious without the need to share tables with others just like in Hong Kong. We arrived there one hot afternoon thinking to have a cup of yogurt after our lunch. To our surprise, they do serve simple set lunches so we ended up having lunch there as well. We were welcomed by the owners who probably came from Hong Kong with fluent TVB Cantonese. They briefly introduced their menu which was displayed on wall.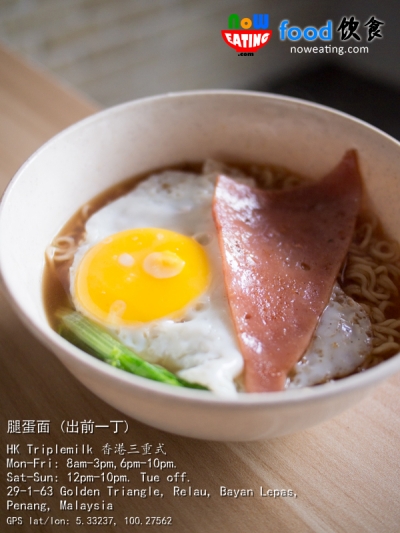 Currently, they have only two simple set lunches – Ham Macaroni Soup and Ham Egg Noodle. Each set comes with half portion of egg puff and drink of your choice. Each set was priced at RM10.90 and fortunately there was no additional GST imposed. In other words, the price displayed on the wall is the amount we paid after the meal.
We placed our order with our "broken" Cantonese. Ham Egg Noodle 腿蛋面, seriously, was just our normal 出前一丁 instant noodle topped with a sunrise egg and a slice of ham.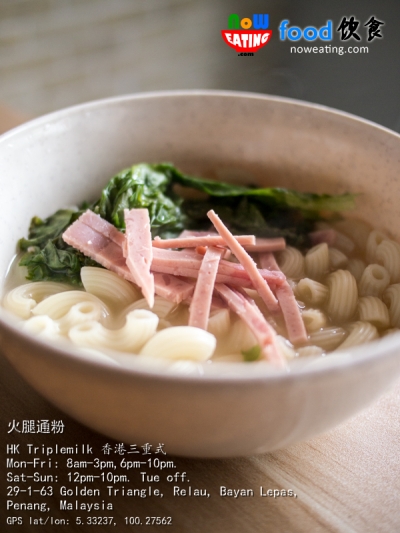 Like it or not, macaroni soup is Hong Kong's famous breakfast. It is not the cheesy version found in our Western restaurant, but a clear soup version usually made of chicken stock and topped with ham (also known as 火腿通粉).  For us who used to plain and healthy food, it is fairly acceptable but for some, it may be a bit too plain.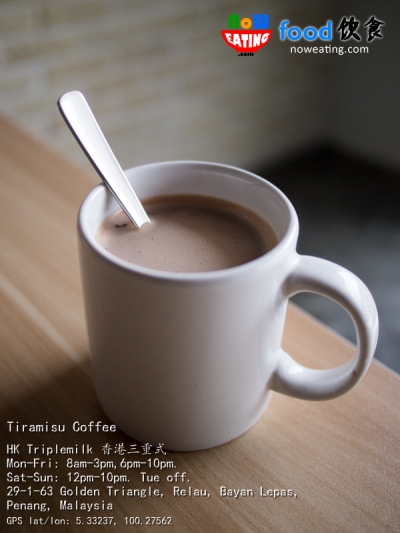 As for the drink, we ordered a glass of Tiramisu Coffee as we found it pretty unique. Taste-wise, it was like "drinking" Tiramisu cake.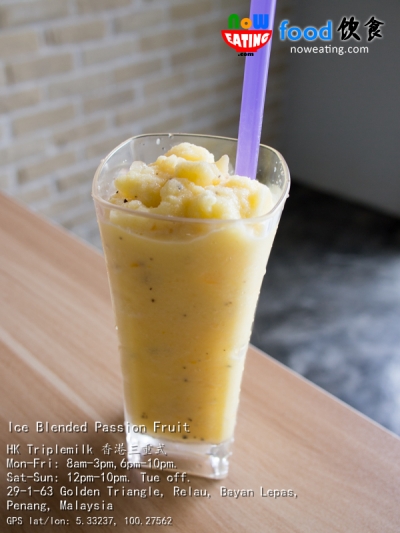 Ice blended passion fruit is another drink we ordered for our set lunches. In general, the food served here are pretty simple to keep things fast, just like the fast pace Hong Kong lifestyle. After all, it is managed by Hongkongers.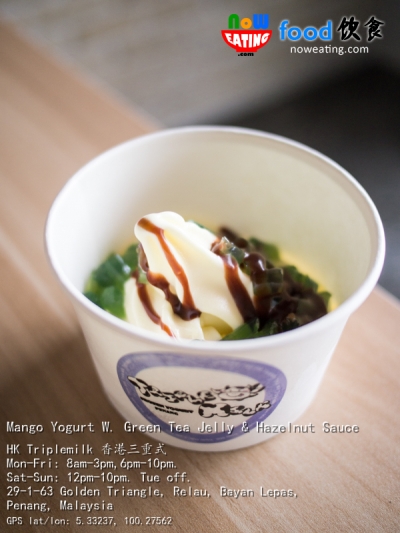 How could we skip a cup of frozen yogurt in a frozen yogurt specialized shop? Two flavors available during our visit – original and mango frozen yogurt. A small cup is priced at RM6.90 and come with one topping and one sauce of your choice. We select mango frozen yogurt topped with Green Tea Jelly and Hazelnut Sauce. Taste-wise, it did not have creamy texture and was more like a sorbet. We pretty much enjoyed the combination of hazelnut sauce with mango yogurt which tasted a bit like toffee candy. As one of their specialties, customers can top the egg puff with a scope of frozen yogurt as well.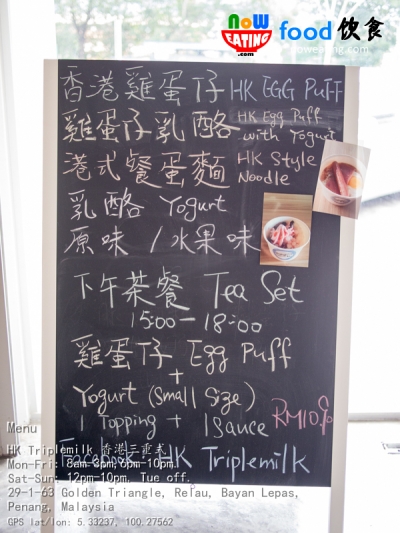 Similar to most newly opened restaurants, there are still things to be ironed out such as to finalize their menu (currently items are written on blackboard), POS system and improvement on wait time. The dessert shop opens from 8am daily except Tuesday so it can be a good place for a piece of egg puff as your breakfast. The egg puff is best consumed immediately.
Place Name:
HK Triplemilk
Cuisine:
Chinese
Address:
29-1-63 Golden Triangle, Jalan Paya Terubong, Relau, Bayan Lepas, 11900, Penang, Malaysia
Tel:
+6017-9671105
Working Hour:
Mon-Fri: 8am-3pm,6pm-10pm.
Sat-Sun: 12pm-10pm. Tue off.
Last Visit:
20150402