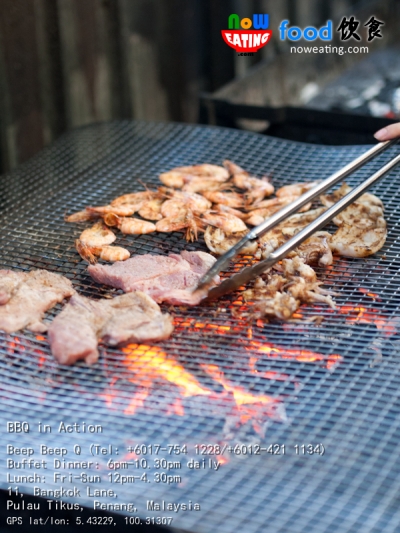 BBQ is perhaps one of the activities we enjoyed back in school days in which a group of friends bring along raw ingredients, drinks, paper plates/cups, and charcoal to setup fire in an open space or BBQ corner in some apartments.  This group activity is getting lesser and lesser as we started working or moving into city. In Penang islalnd, if you miss the smokey chicken, Beep Beep Q is the answer.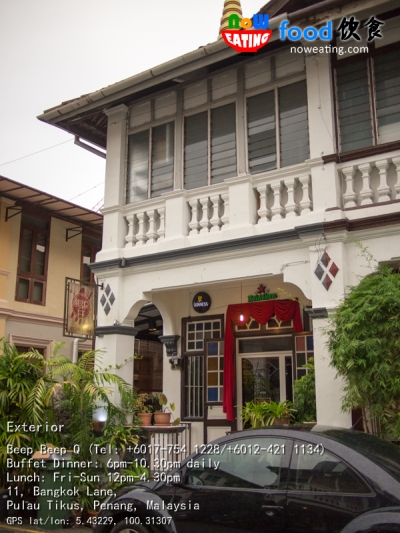 Beep Beep Q is located at the one-way street of Bangkok Lane, Pulau Tikus and is right behind the lane where famous Siam's Wat is located. The best way to reach it is to use the one-way Kelawai Road, passing through Siam's Wat and Bangkok Lane, and turn left when reaching traffic light. When you reach Pulau Tikus main road, turn left and left again into Bangkok Lane. Beep Beep Q is on your right near the end of Bangkok Lane.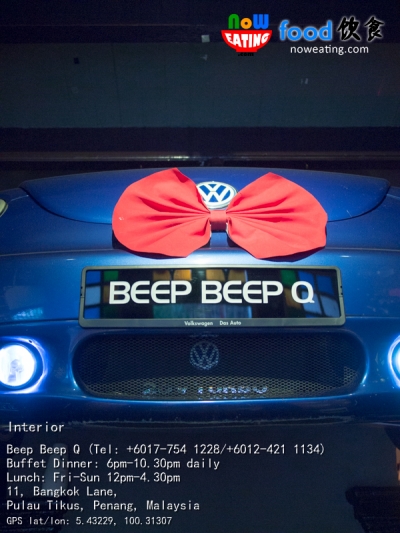 Beep Beep Q is operated by a young couple since year 2014. The moment you walked into the cafe, you will be welcomed by a Volkswagen on the wall. The couple are car lover. They sourced car spare parts from chop shops in the region and decorated the dining area with wheels cover, engine components, car plates and etc.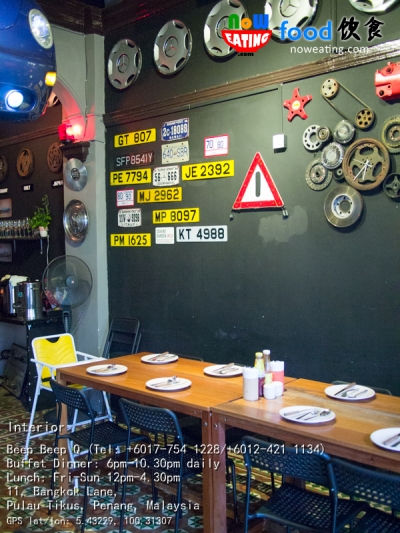 The dining area has limited tables with two reasons – to control the number of customers at one time and to ensure that the owners can serve them on time. Yes, the grill master will grill the food for you and all you have to do is to wait for the food to arrive. It takes time but the good thing is that your cloth will not be stained compared to some steamboat+BBQ buffet restaurant.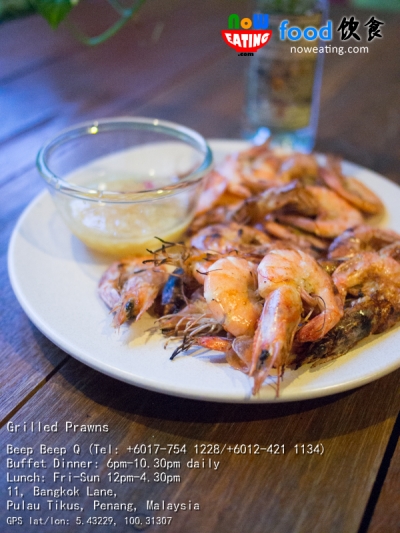 Speaking of the buffet, Beep Beep Q is actually offering buffet dinner seven days a week. Price is RM60 per adult and RM30 for per child (6 – 12 years old). More than 20 items are available in the menu and we will introduce some of them in this post. Buffet is made-to-order to ensure that food is arrived hot (and smokey) on your table. If buffet is not your type, Beep Beep Q has recently revised its menu to include a la carte items for dinner. On top of that, a la carte lunch is available on Friday, Saturday and Sunday from 12pm – 4.30pm. The portion shown here is for a la carte. Prawns (RM20), for instance, is grilled to perfection. Best dip with the spicy garlic sauce provided.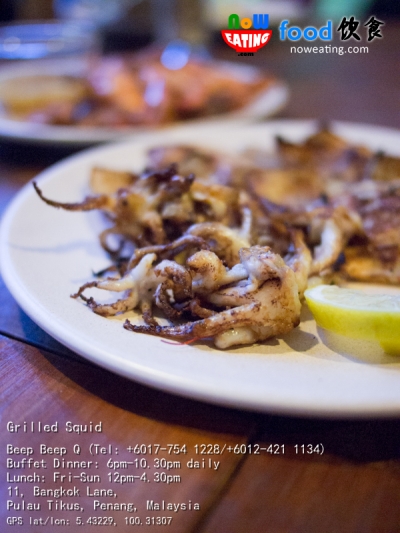 Grilled Squid (RM20) impressed us with its Japanese shoyu and ginger marination which removed the fishy taste of the squid. A clever idea.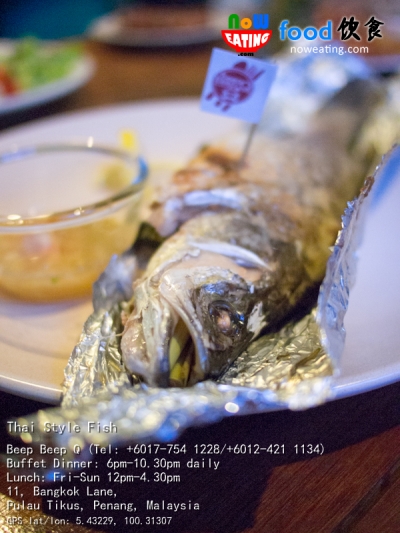 Thai Styled Fish (RM30) is a pre-order item (Tel: +6017-754 1228). It is not the ordinary Ikan Bakar (Baked fish). The Barramundi (Siakap) was stuffed with lemongrass and Kaffir Lime leaves before wrapping it with aluminium and baked it with charcoal. The result? Juicy and aromatic salted fish. Note that this item is only available for a la carte.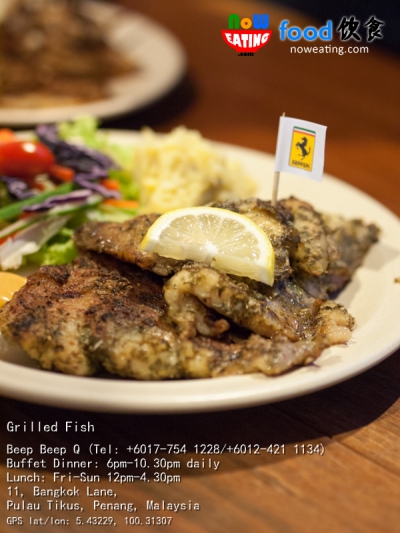 Don't feel sad if you happened to visit it during dinner time for its buffet as you still can enjoy Grilled Fish (RM20) made of Dolly fish topped with aromatic garlic butter sauce. Tips: ask for and dip it with spicy garlic sauce which come with Grilled Prawn.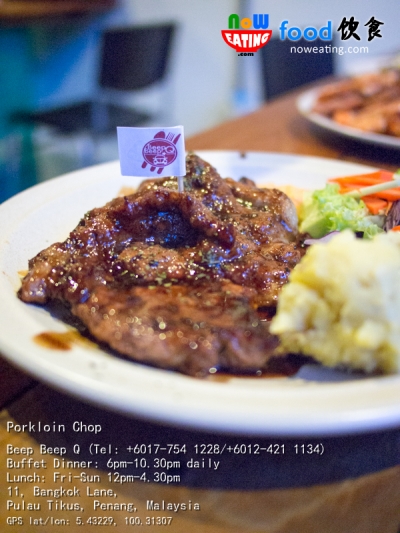 Porkloin Chop (RM16) is grilled with homemade sweet honey sauce, served with mashed potato and salad. Note that both mashed potato and salad are free-flow for buffet. This was our second top pick during our visit.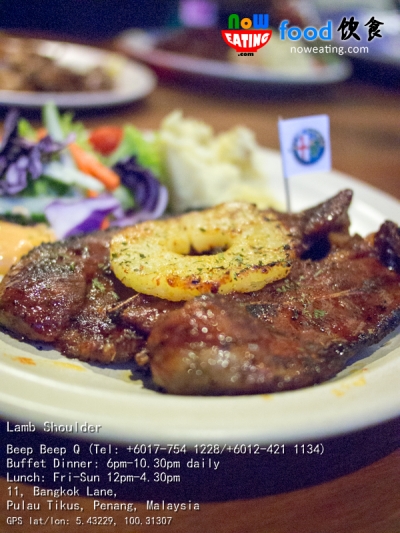 Our top pick is Lamb Shoulder (RM25) which is the best lamb shoulder in town (according to the owner). The smoked shoulder has its gamey taste almost fully removed while retaining the juiciness thanks to the skillful grill master. We hardly get such a great texture and taste by barbecuing at our own.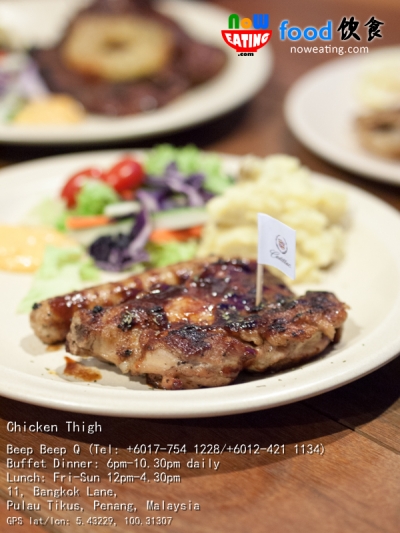 Chicken is perhaps the most fundamental food for BBQ. Chicken Thigh (RM16) comes with a black pepper sausage coated with barbecue sauce.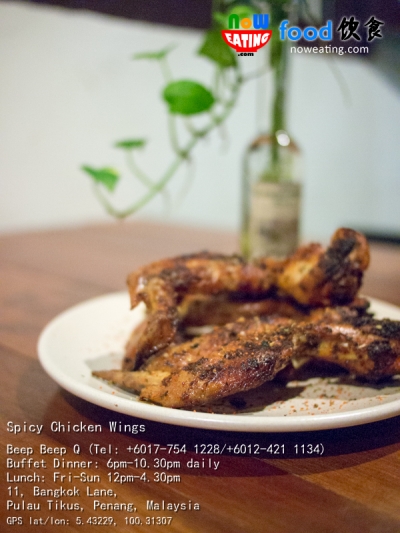 As for the chicken wing (RM15), again, it is hard to get such an excellent texture by barbecuing on our own. Compared to chicken thigh, it is dry with added spiciness.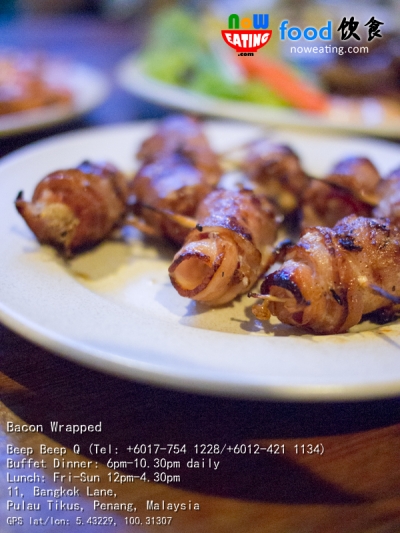 Bacon Wrapped with juicy Enoki Mushroom (RM15 for 8 pieces) is perhaps the reason one will come back to Beep Beep Q. One can find similar item in Penang night markets but at Beep Beep Q, it is unlimited (for buffet).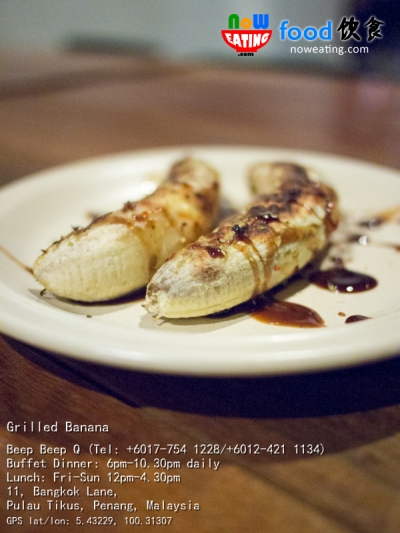 If you think that you have tried all the BBQ items under the sun, wait until you tried Grilled Banana and Mango (RM15) topped with sweet honey sauce. Note that some fruit items are seasonal and during our visit, mango was not available so we ended up just having grilled banana.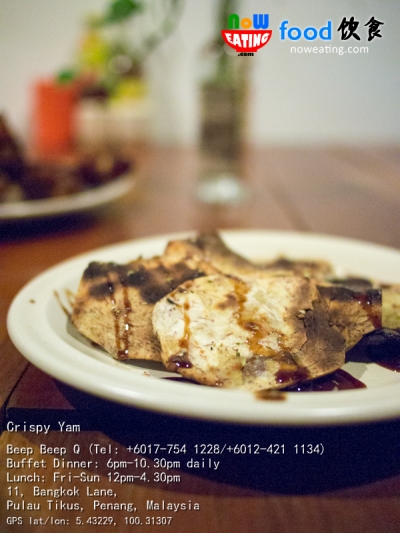 Another unique BBQ item is Crispy Yam (RM10). Other BBQ items include Mix Grilled Vege, Wild Mushroom, Meatballs, Sirloin Steak, Jumbo Sausage, and Sweet Potato.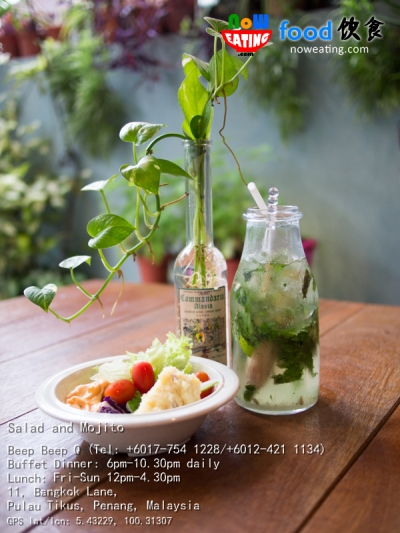 Last but not least, remember to begin your meal with their homemade mashed potato and salad available at the counter during buffet dinner. Free-flow of drink is also available. Alternatively, you may order one from the beverage menu, including Mojito – a cocktail made of lime, mint, soda and for Beep Beep Q case – lemongrass as well. It also comes with two versions – without alcohol (RM15.90) and with rum (RM25.90).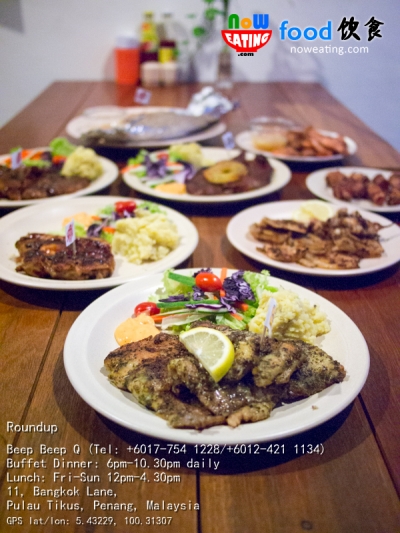 As a whole, Beep Beep Q cafe is a unique cafe hidden in the busy street of Pulau Tikus providing hassle-free full BBQ menu. Unlike its Korean and local competitors, Beep Beep Q cafe is "pocket-friendly" while keeping your hair and cloth away from smoke stain. Rest assure that all the food are worth the waiting.
Place Name:
Beep Beep Q Restaurant
Cuisine:
Western, Buffet
Address:
No. 11, Bangkok Lane, Pulau Tikus, 10250, Penang, Malaysia
Tel:
+6017-754 1228 (Imin Chan)
Email:
[email protected]
Working Hour:
6pm-10.30pm daily (A la carte, Buffet Dinner)
12pm-4.30pm Fri-Sun (A la carte only)
Last Visit:
20150423