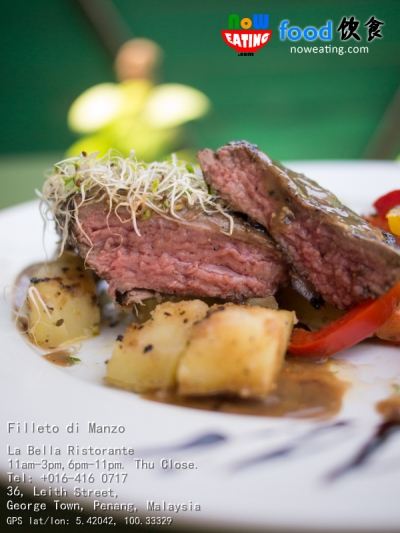 Filleto di Manzo (RM38) – so juicy and tender. Marinated with herbs, the steak is weighted 220g and is imported from New Zealand. This is the highlight of the day at La Bella Ristorante – the Italian restaurant at Leith Street, Penang. By the way, Filleto di Manzo = Beef Fillet. Ristorante = Restaurant. Welcome to Italy.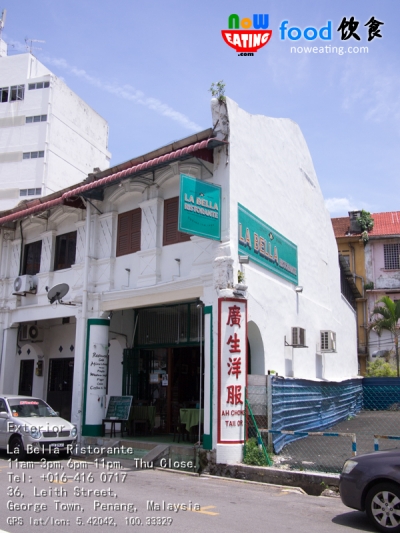 La Bella is replacing Kwong Sang House at Leith Street. Locating La Bella is pretty easy as it has an old pillar labelled 广生洋服. However, it was a beautiful mistake in which the pillar was previously owned by the shop next door, which was now turned into a car park.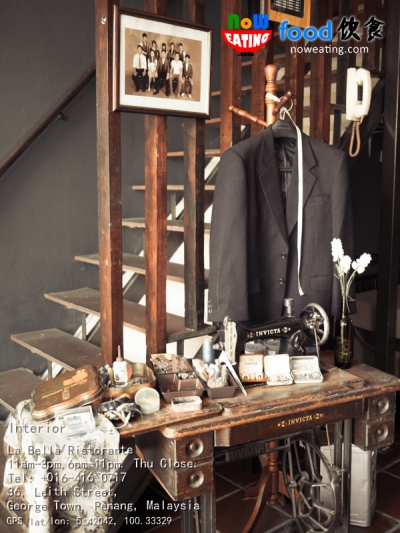 The current shop has nothing to do with tailor shop even back to the early settlement but due to the eye-catching pillar (of next door), customers tend to refer this shop as Kwong Sang House. Inside the cafe, you will be greeted with decors of tailor shop, such as a traditional sewing machine and sewing tools. Due to limited seats, reservation is suggested for big groups.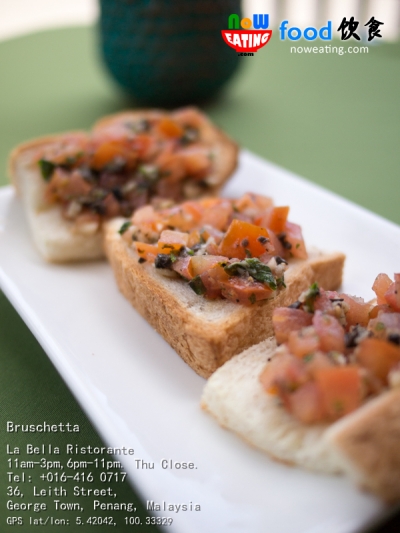 We were told that the previous Kwong Sang House was also serving Italian cuisine but we didn't have a chance to visit it before it was taken over by La Bella. As a result, no comparison can be made in this case. In general, La Bella serves pasta, pizza, seafood and steak but first, we were welcomed by their Bruschetta (garlic bread) (RM8 for 4 pieces) topped with tomato and herbs. Compared to other cafes, its uniqueness is that it is made of Bengali loaf.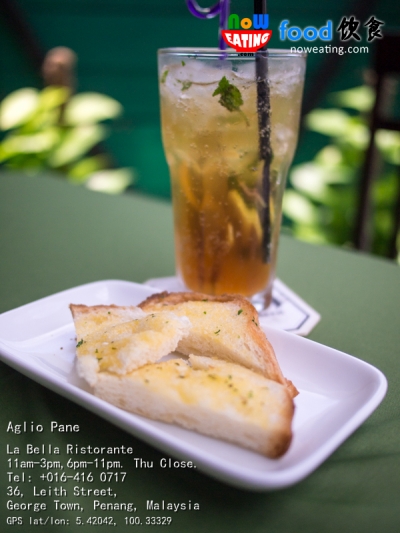 Aglio Pane (another term for garlic bread) is also using Bengali loaf instead of Italian bread. One thing we noticed about La Bella was that despite being an Italian restaurant, the management is quite supporting local products and talents. Occasionally, they have live music performed upstairs by local bands so be sure to check out their Facebook page.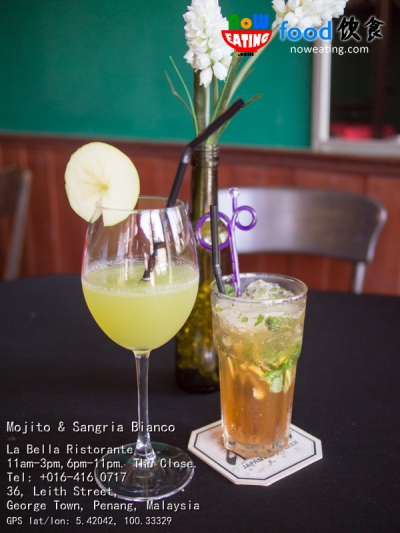 The drink behind the garlic bread? It was Mojito (RM16) – one of three cocktails available on the menu. It consists of rum, sugar, lime, sparkling water and mint. The rum was a bit strong and if you are looking for a thirst quencher under the hot sun, the owner strongly recommend Sangria Bianco (RM16) – a refreshing cocktail made of white wine, fresh apple juice, lime and a bit of Whiskey. Taste-wise, it is like apple juice with a hint of white wine. We can easily go for second glass for this one.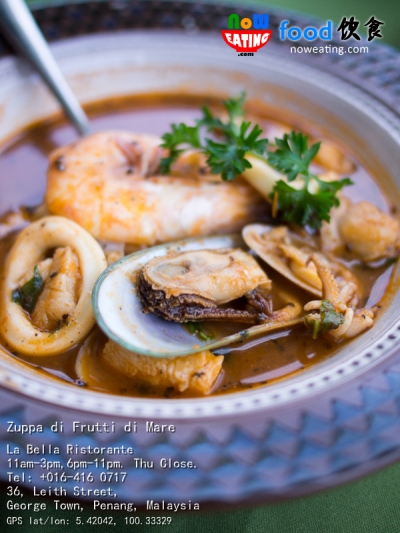 As for the soup, we ordered Zuppa di Frutti di Mare (Seafood Soup) (RM14). It consists of generous amount of seafood including mussel, clams, fish, squid and tiger prawn cooked in tomato-rich broth seasoned with herbs. Our last time having Italian seafood stew was perhaps in some hotels but now you can enjoy it at La Bella.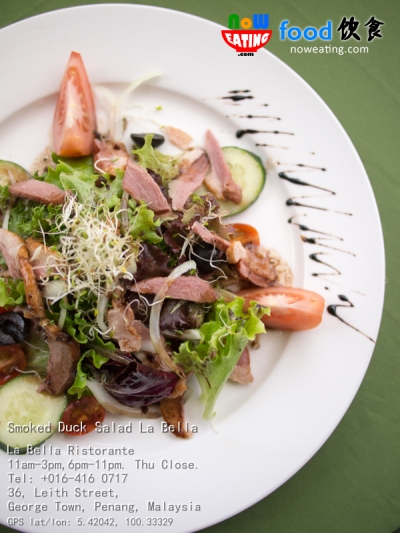 As for the salad, Smoked Duck Salad La Bella (RM12) is their signature dish in which the salad is dressed with La Bella's chef dressing. Things we liked about this salad are the added Zucchini and the equal distribution of the greens and the premium ingredient – smoked duck. In some restaurants, the premium item was pretty limited and we had to save the best for last.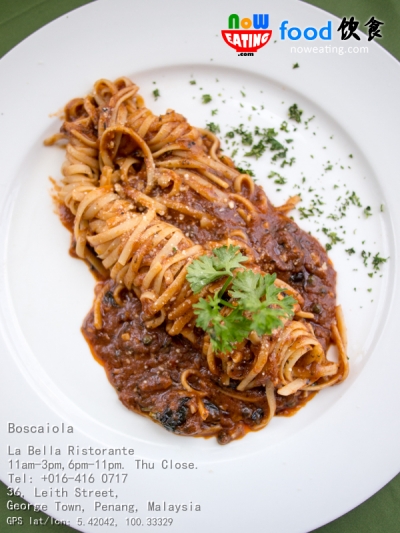 As for the pasta series, there were total of 12 of them and we were introduced with nicely-presented Boscaiola (RM18) made of Linguine pasta. We liked the appetizing red sauce containing tomato puree, mushroom, capers and anchovy sprinkled with Parmesan cheese.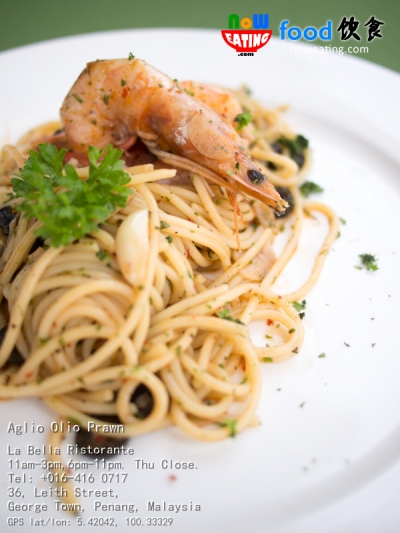 Aglio Olio Prawn (RM22) was pretty unique compared to others. Firstly, it comes with whole fresh prawns instead of peeled prawns. Secondly, it has wet texture in which the spaghetti was stir fried with olive, garlic and chili flakes.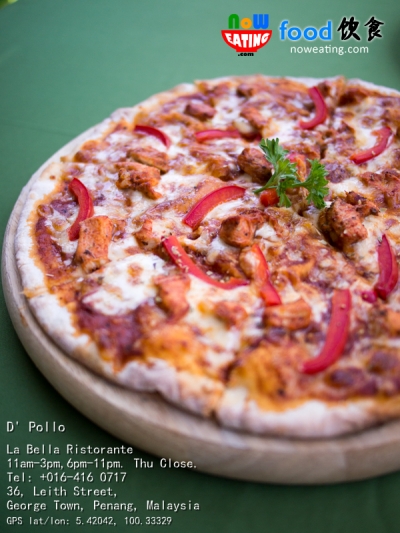 La Bella has about 8 types of pizzas and we were recommended with D' Pollo – a thin and crispy crush pizza topped with char-grilled chicken and margherita (tomato + cheese). Pretty standard topping but still, La Bella has its own uniqueness and we were told that the chef is from another famous Italian restaurant in George Town which was no longer in operation.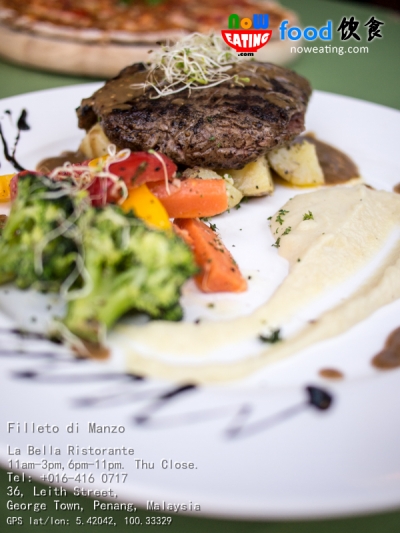 Last but not least, the owner reminded that we are free to bring our own bottle of wine for any special occasion in La Bella (Reservation: +6016-416 0717). After all, Filleto di Monzo is best paired with a glass of red wine. La Bella also serves set lunch from Monday to Friday, 11am – 2.30pm (Not applicable on Public Holiday). Set includes Mushroom Soup/Mixed Green Salad with Italian Herb Dressing and Ice Lemon Tea/Coffee/Tea. If you are looking for rented car, La Bella has a sister company – La Belle Rent-A-Car just a few shop houses away.
| | |
| --- | --- |
| Place Name: | La Bella Ristorante |
| Cuisine: | Western |
| Address: | 36, Leith Street, George Town, 10220, Penang, Malaysia |
| Tel: | +6016-416 0717 |
| Email: | [email protected] |
| Working Hour: | 11am-3pm, 6pm-11pm. Close on Thursday. |
| Tax: | No GST, No Service Charge |
| Last Visit: | 20150426 |