While 22 April is Earth Day in the calendar, every day is Earth Day in the Shangri-La Kitchens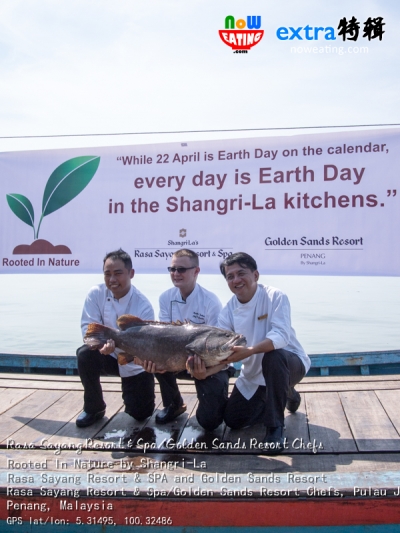 Sustainable sources is perhaps a trending keyword among hoteliers nowadays. Our first encounter with this keyword was during our visit to Hotel Jen Penang – one of the Shangri-La's hotel properties, for its new Italian A la carte menu. Recently, we were invited by Shangri-La's sister properties – Shangri-La's Rasa Sayang Resort & Spa and Golden Sands Resort to witness the global rollout of their culinary sustainability initiative – Rooted in Nature.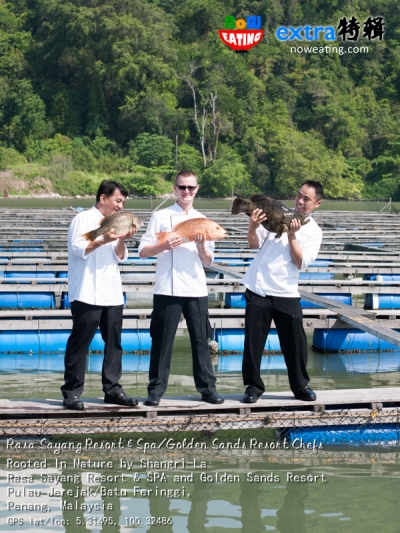 With Shangri-La's Rooted in Nature initiative, the luxury hotel groups aims to:
Support

local

agricultural and fishing communities,
buy chemical pesticide-free local products,
source from free-range livestock and poultry products where possible,
acquire sustainable sourced seafood caught through ethical means,
and serve organic and fair trade products indicated by national and local food safety standard.
According to Peter Finnegan – Shangri-La's group director of food and beverage, their goal is to serve 75% more sustainable sourced food on their menus by year 2020.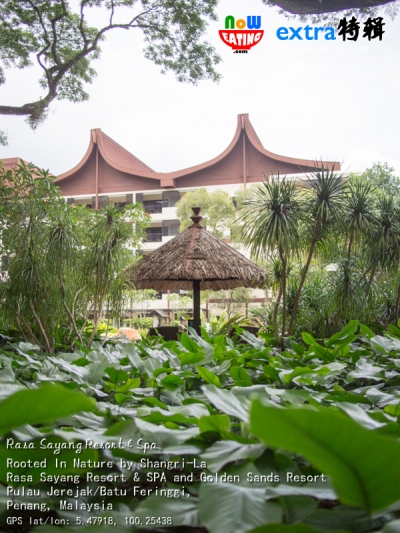 This is not the first year that both Rasa Sayang Resort & Spa and Golden Sand Resort go environmental-friendly and organic. As a matter of fact, they are one of the pioneers in removing shark fin from their menus. From 22-April onward, new menu will be released in both hotels with Rooted in Nature items which meet at least one out of five guidelines as mentioned above.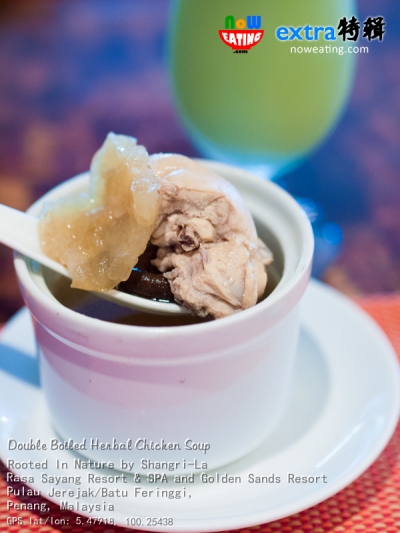 Specifically, they will be offering sustainable seafood and free-range chicken from GST Group and Ayam Plus respectively. Free-range chicken is also referring to "ayam kampung" traditionally used in boiling herbal soup in which the bird is grown freely in farm instead of being caged. Meanwhile, this GST is not the "GST" all Malaysians anticipated recently. This GST exists since year 1985 and is named after the initial of the founder – Goh Siong Tee.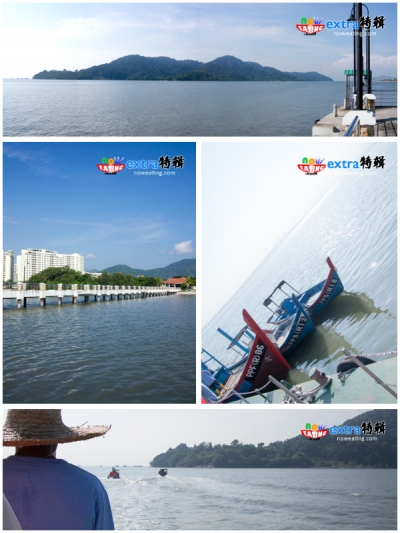 We were invited to visit GST fish farm located at Pulau Jerejak which was once an asylum/prison and turned into a resort nowadays. Instead of landing at the west side of Pulau Jerejak with a resort where team building activities were usually conducted, we boarded on special appointed boats, circling half of the island to the east side of Pulau Jerejak. To our surprise, there are many fish farms behind this island with one of them being managed by the GST Group.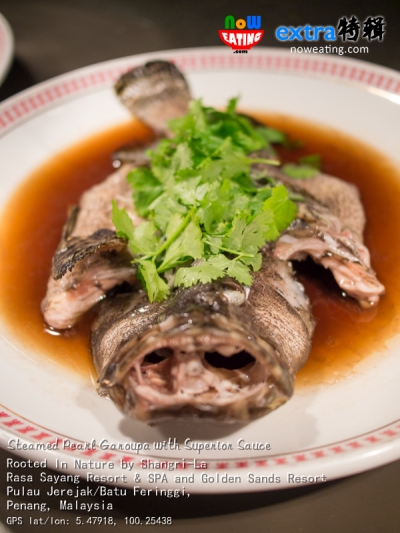 Eating wild caught or farm raised fishes is a long debated topic with both having pros and cons. Traditionally, people prefer wild caught fishes as they are more "natural", tastier and due to "good things come hard" mindset despite with their higher cost. Increase in demand simply means that fishes in the ocean will get lesser and lesser, not to mention currently endangered species. Imagine it as a forest of trees, timbering without re-planting back those trees will turn the forest into a desert eventually. Sustainable in seafood context means (Source: GST):
Fished from fish stocks which are not overexploited and with selective and low impact fishing gears.
Farmed without impacting critical habitat, avoiding pollution and optimizing water and energy use.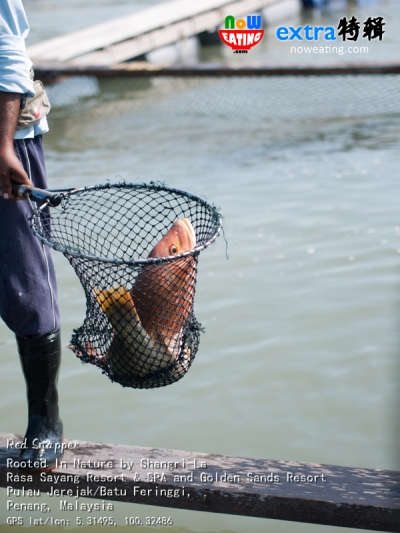 As long as fish farming is concerned, our mind only thought of Red Snapper 红鱼 but turned out that we were wrong. Premium fishes such as Golden Snapper 红皂/红潮 (Hokkien: Ang Zho), Cobia 红鲡 (Hokkien: Ang Lay), Grouper 石斑鱼 (Hokkien: Koay Gao) and even Giant Grouper 龙旦 were just among few species found in GST fish farm of Pulau Jerejak.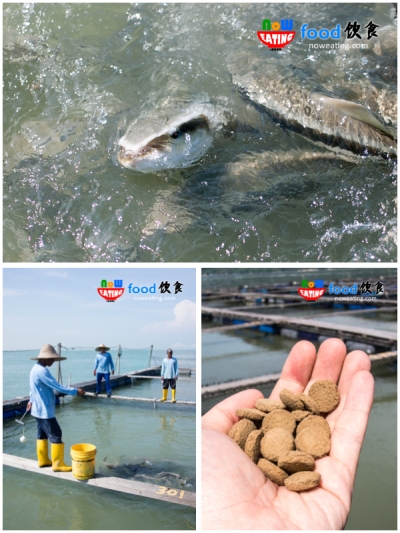 Among them, Cobia is of fresh sashimi grade with texture similar to white tuna and is fed using dry foods.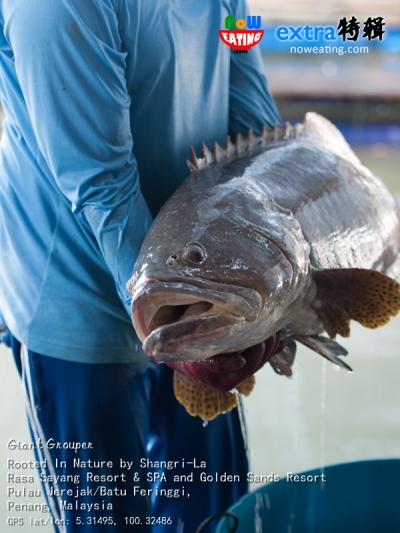 Giant Grouper is perhaps the largest in grouper family and can grow as big as 400kg. Figure shows a 17kg farmed Giant Grouper which takes two years to grow to this size.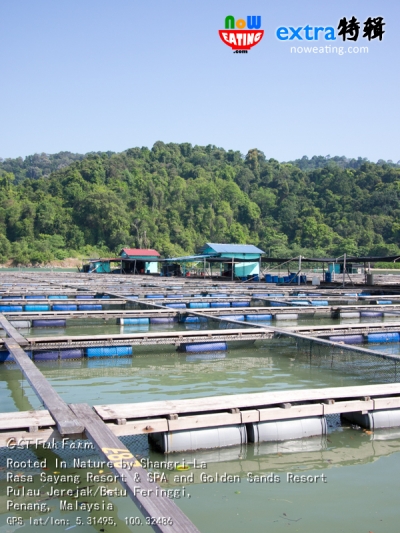 GST fish farm consists of multiple open-water "cages", each holding a type of fish with certain size so that the workers know which cage to look for when customers ask for certain fish of certain weight. Below the cage holds a net preventing fishes escape from the farm (after all, it is open water).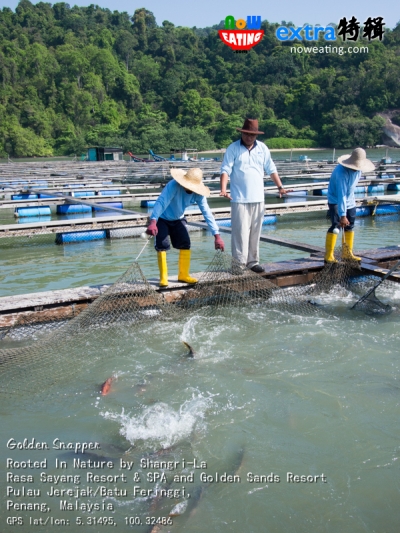 Fishes are hardly noticeable from the platform unless the net is leveraged by workers.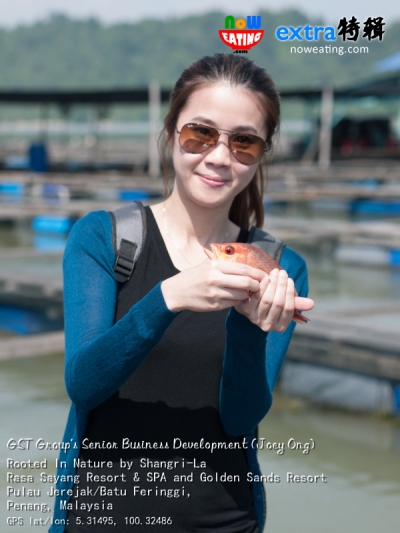 The size of fish can be as small as a palm or as big as a child.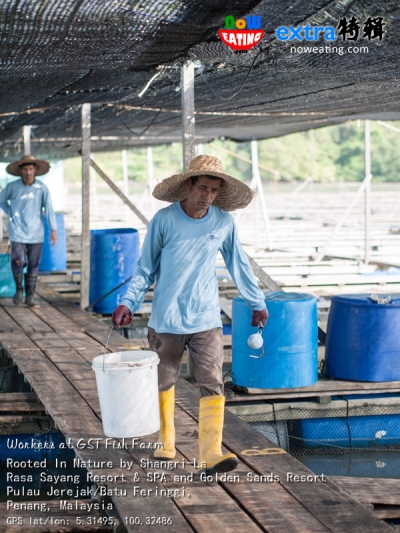 Each day, it is GST's responsibility to ensure that the water quality is within specification and the seabed is not contaminated. When Penang Second Bridge was under construction, they actually moved the whole farm from Pulau Jerejak to Pulau Pangkor until the construction was finished and confirmed that the farming spot was safe for breeding. Currently, GST has fish farms in Pulau Aman, Pulau Pangkor and Pulau Jerejak. Retail shop is available at Simpang Ampat. GST's customers are mainly restaurants and hotels from Asia, Europe, Hong Kong, Australia and United States. Frozen and fresh products can also be found in some hypermarkets such as Sam's Groceria.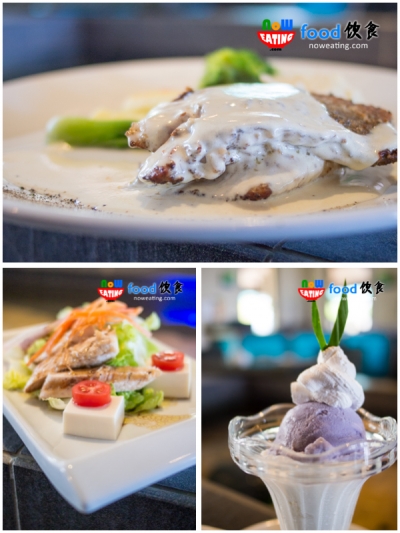 How's the farmed fish tasted like? From Grilled Sea Bass presented by SIGI's Bar & Grill of Golden Sands Resort, we can safely assure that it has the similar sweetness from the wild-caught sea bass, not to mention the excellent recipe from SIGI's chef using lemon butter as the creamy yet refreshing sauce, served with mashed potato and vegetables of the day. Not to forget is their Grilled Free Range Chicken, Organic Tofu in which the free-range chicken breast is as tender as a chicken thigh. We ended our meal with SIGI's signature dessert – smooth Double Scope Yam and Coconut with Fresh Whipped Cream.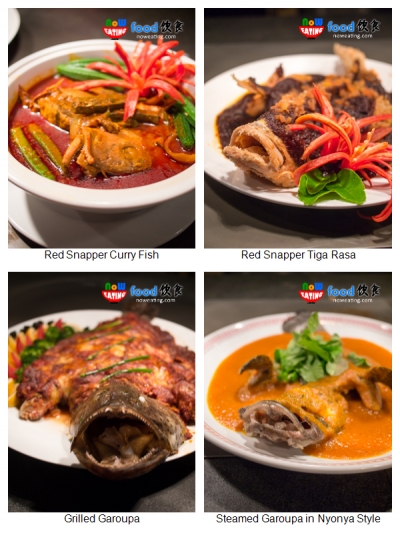 More sustainable sources of fish can be found in the buffet spread in Spice Market Cafe of Rasa Sayang Resort & Spa – a stone-throw away from Golden Sands Resort. The dishes include Steamed Pearl Garoupa with Superior Sauce which is commonly served in banquet, Red Snapper Curry Fish, Red Snapper Tiga Rasa, Steamed Garoupa in Nyonya Style, and Grilled Garoupa (Western style).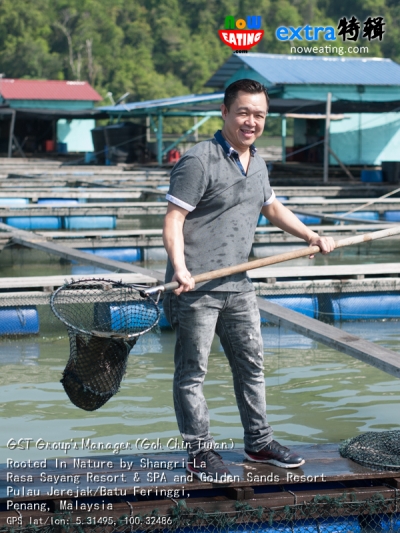 More important, when you dine in Shangri-La's hotels, you are making contribution to protect our ecosystem. Special thanks to GST Group's Manager – Mr. Goh Chin Twan, GST crews, Shangri-La's Rasa Sayang Resort & Spa and Golden Sands Resort teams for this special event.
Ayam Plus HQ can be reached at the following address:
AYAM PLUS FOOD CORPORATION SDN. BHD. (5440705-P)
No.1759, Jalan Bukit Panchor,
14300 Nibong Tebal ,
S.P.S., Penang, Malaysia.
Tel: 04-5931651
Fax : 04-5932651
GST Penang HQ can be reached at the following address:
No. 9, Lorong IKS Simpang Amapat D,
MK 15, Kws. Industri Simpang Ampat,
14100 Simpang Ampat,
S.P.S. Penang, Malaysia.
Tel: 04-568 2277 (Hunting Line)
Fax: 04-568 2278
Email: [email protected]
Website: www.gstgroup.com.my