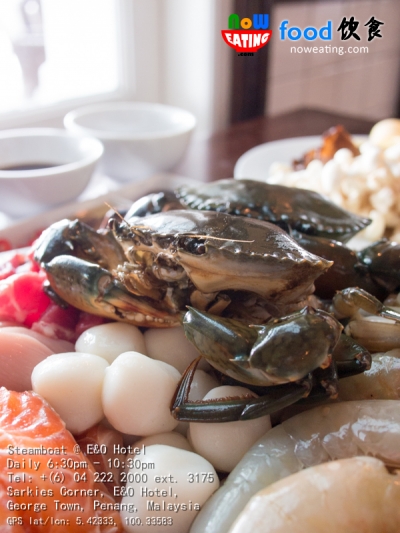 In Penang, there are two types of hot pot (or commonly known as steamboat) – buffet or set meal. While buffet style is usually value for money (provided you are big eater), it usually lacking of premium seafood such as crab and big prawns. Even some set meals only offer medium size prawns at most. The steamboat in E&O Hotel is, however, the most luxurious steamboat we have ever tried.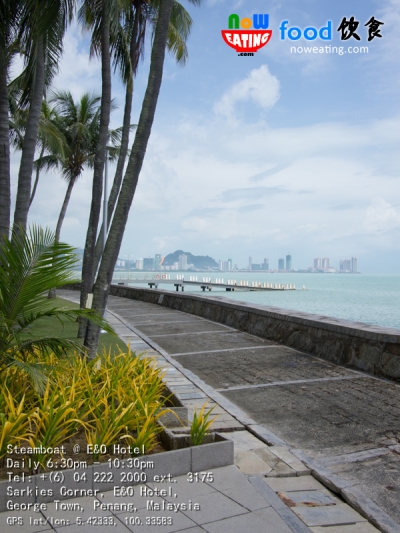 It was still early when we arrived at the Sarkies Corner at the old wing of E&O Hotel and our usual activity was to stroll outside of the restaurant for some sea breeze.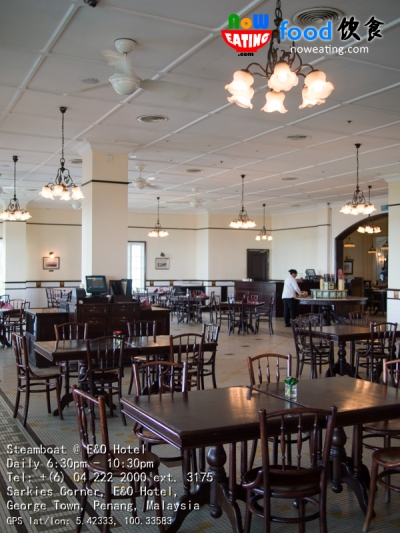 Compare to most steamboat restaurants which are humid in open air environment, Sarkies Corner provides a spacious and air-conditioned dining area for steamboat which is really a plus especially if you do not wish to have your next event proceeded with stained cloth.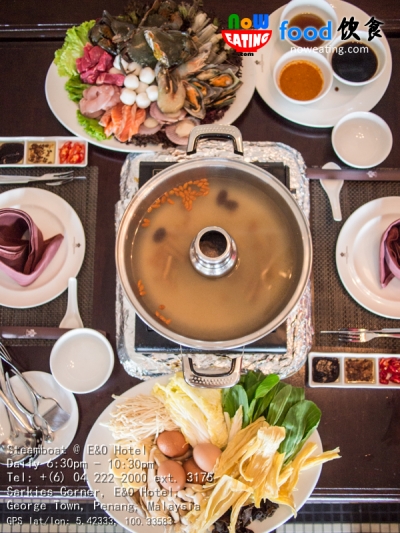 Similar to most steamboat restaurants, you can select 3 type of broths, including Chicken, Tom Yam and Chinese Herbal. We selected Chinese Herbal during our visit. One thing to compliment about E&O's broth is that it is pretty natural with the use of actual herbs instead of MSG. You will hardly feel dehydrated after the meal.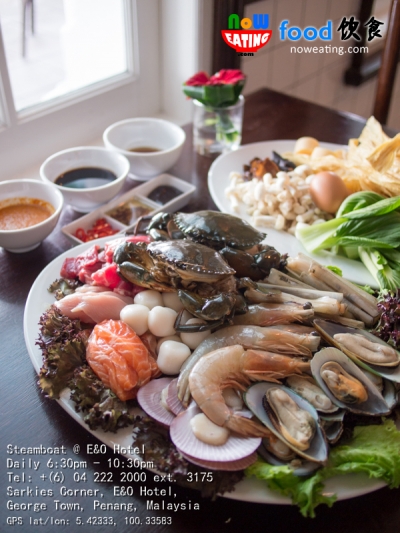 Four of us were given two big plates of ingredients, including a premium plate containing crabs (one person each), prawns, salmon, mussels, scallops, bamboo clams, beef, chicken, and fish balls. Figure shown is for the portion of four persons.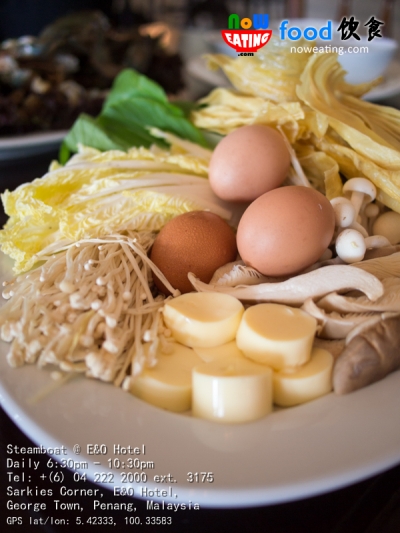 As for the side plate, it comes with Japanese Tofu, Enoki and various mushrooms, Chinese cabbage, egg, Tofu skin, black fungus and etc.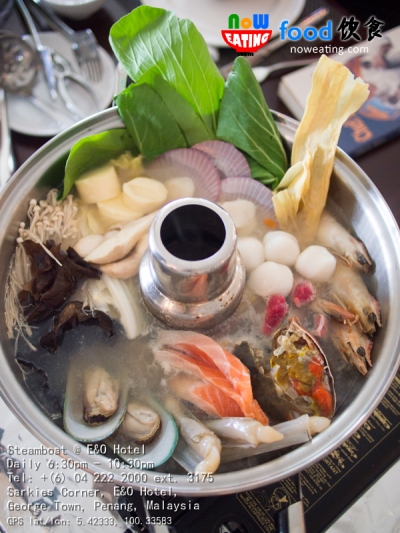 As a whole, E&O Hotel's steamboat is one of the premium steamboat we have ever tried out there. Anything better you have to prepare yourself. The pork-free set meal is priced at RM88 nett per adult and RM35 nett per child. It is available daily from 6:30pm – 10:30pm.
| | |
| --- | --- |
| Place Name: | Sarkies Corner |
| Cuisine: | Chinese |
| Address: | E&O Hotel, George Town, Penang, Malaysia |
| Tel: | +(6) 04 222 2000 ext. 3175 |
| Working Hour: | Daily 6:30pm - 10:30pm |
| Tax: | All nett price inclusive 10% service tax and 6% GST |
| Last Visit: | 20150809 |