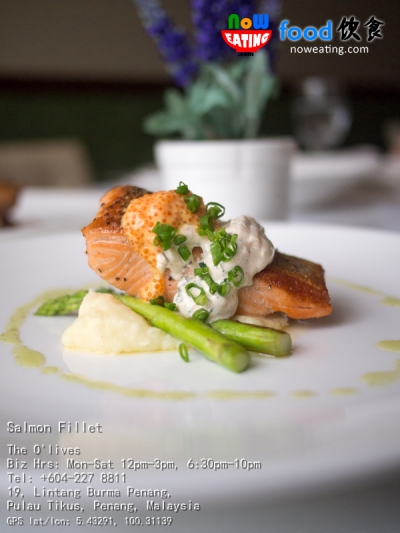 This is probably the freshest Salmon Fillet we've ever tried. It comes with pommes puree (another fancy name for mashed potato), asparagus, dill cream (a tangy sauce), and surrounded by tarragon oil. The salmon fillet is crispy-outside, soft-inside and hardly has any fishy taste commonly found in frozen seafood product. This is one of the set lunch's main courses in The O'lives at Pulau Tikus, Penang.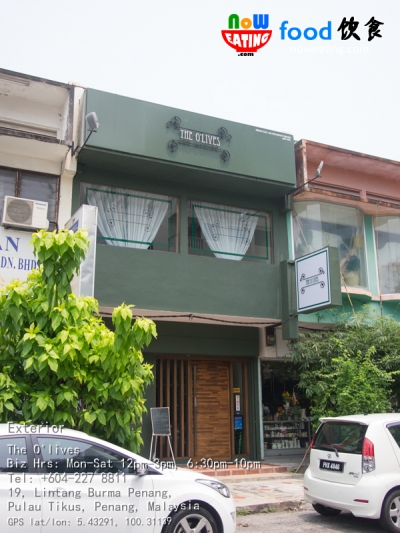 The O'lives is hidden in a one-way street of Pulau Tikus, in Lintang Burma after the Belissa Row building. The same row also housed The Wine Shop. The O'lives opens daily from 12:00pm – 3:00pm, 6:30pm – 10:00pm and closed on Sunday.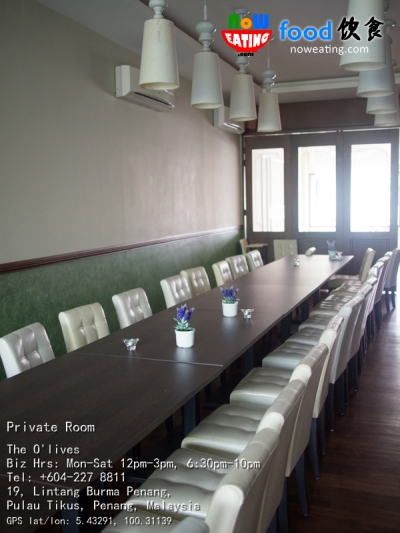 The O'lives is a semi-fine dining restaurant offering unique western cuisine crafted by the chef. The double-storey building consists of a dining area at the ground floor whereas the first floor is reserved for private functions.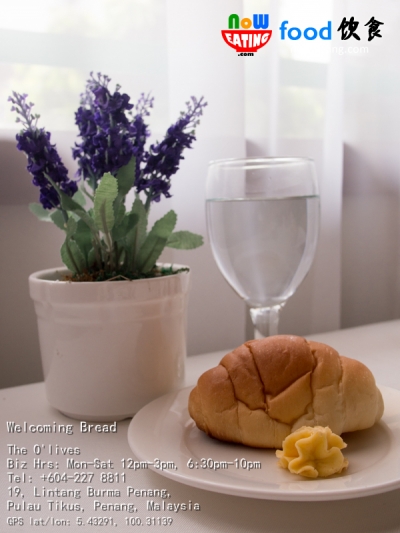 We went there to try out their set lunch which is available daily starting at the price of RM35+ including a starter, main course, and dessert/coffee/tea. Is the price reasonable? Let's find out but first, let's have a welcoming bread with homemade butter.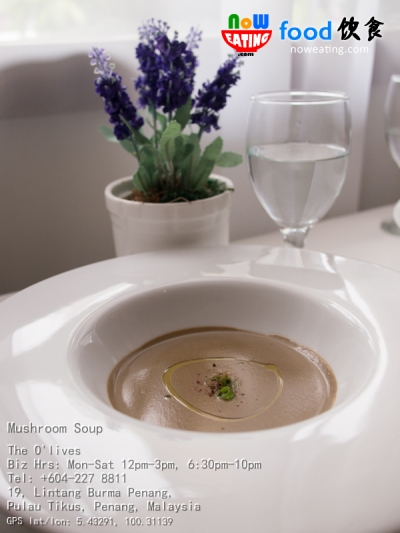 For the starter, customers have a choice of fresh made soup, Mesclun Salad or Salmon Carpaccio. We were lucky to have two options for the soup that day, such as mushroom soup and tomato soup. The mushroom soup is finely blended into a texture similar to Chinese's black sesame dessert. Other than using high quality wild mushroom, the chef also uses truffle oil as the ultimate weapon to enhance the overall taste.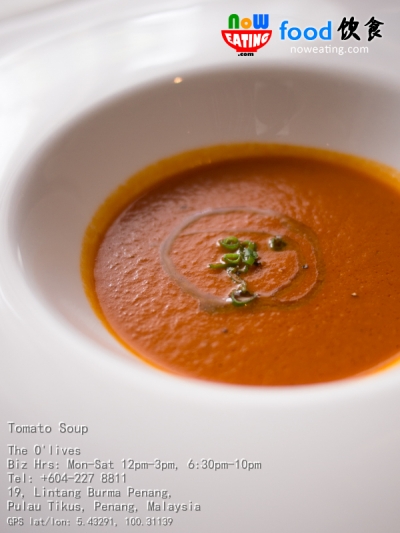 As for the tomato soup, it is another winner – rich and creamy on every sip.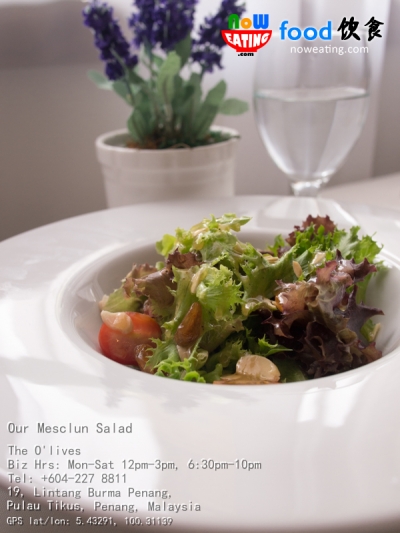 Mesclun Salad is made of mixed leaves, nuts, dried fruits and homemade dressing. We liked the added dried fruits and the refreshing dressing.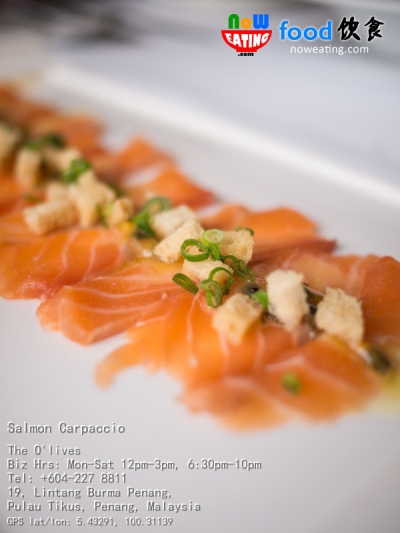 By adding just another RM5, you will get Salmon Carpaccio as the starter – thinly sliced fresh salmon coated with Passion Fruit Vinaigrette, Tarragon Oil, and Garlic Butter Crouton. This is a rather unique starter and the freshness can easily outperform Sashimi out there.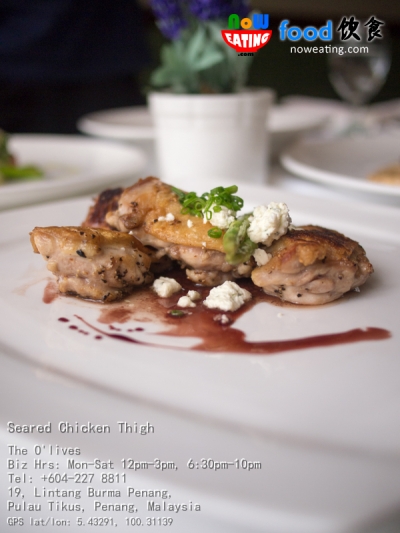 As for the main course, other than Salmon Fillet, Seared Chicken Thigh is another winner. It looks like a normal grilled chicken thigh but trust us, it is unlike those chicken thigh in casual restaurants. The thigh is quickly browned at the perfect temperature so that it unleashes its juice on Pinot Noir Glaze (black grape cooking wine) while maintaining the tenderness. Served with Sauteed Corn and Crumbled Cheese, this is a recommended dish by The O'lives.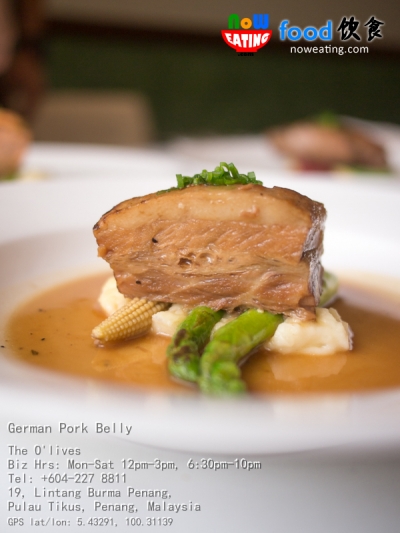 By adding another RM10, you are entitled for German Pork Belly. It has mild porky taste and is braised to an extend that it will melt in your mouth. Served with Pommes Puree (mashed potato), vegetables, and Port Jus (red wine jus).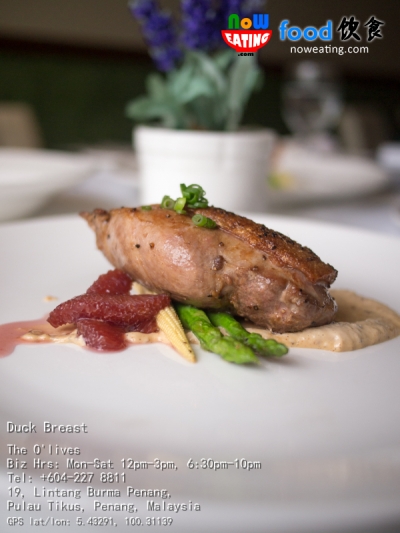 We had something special that afternoon – Duck Breast imported from French which was cooked to medium well, served with Asparagus, Marinated Orange Segments, and Whole Grain Dijon Mayo.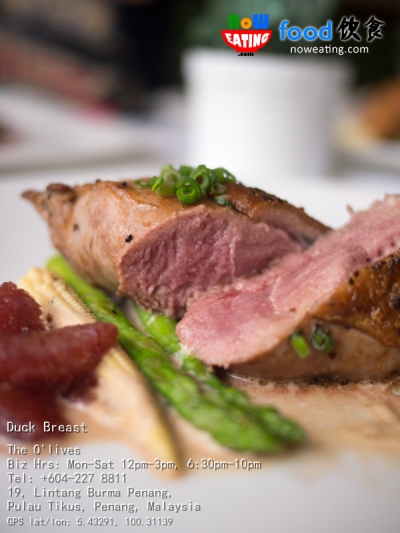 This duck breast is unlike sliced smoked duck breast commonly found in salad bar. The later is nice to eat but at the same time is also a pre-processed food. This whole duck breast, on another hand, is fresh and tasted more natural. It is available as one of Set Dinner items but feel free to ask the host to see if it is available for lunch during your visit.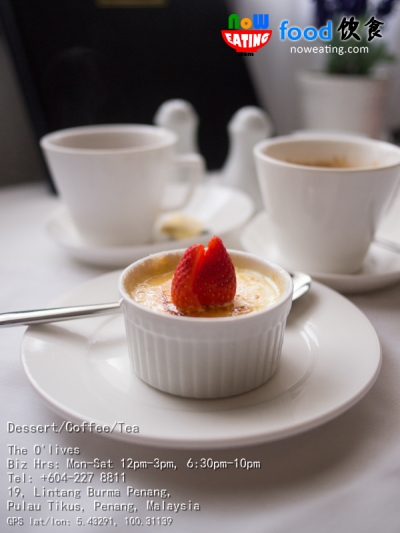 Last but not least, one can choose from dessert, coffee or tea. Our dessert of the day was Crème brûlée, which was again surprised us with added orange flavour versus the normal egg custard taste.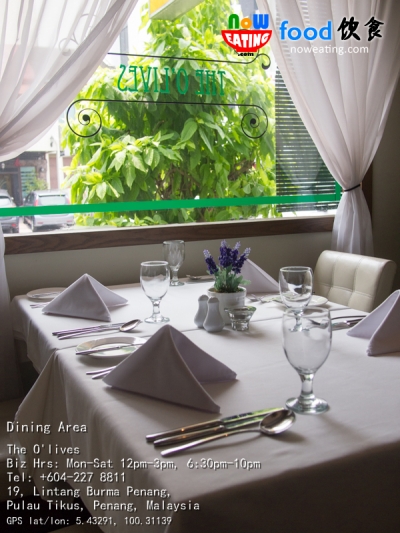 As a whole, The O'lives is worth a visit thanks to its emphasis on freshness of their food by using better quality ingredients even some fine dining restaurants are not able to provide. The set lunch is definitely worth it. You may download its menu below:
| | |
| --- | --- |
| Place Name: | The O'live |
| Cuisine: | Western |
| Address: | 19, Lintang Burma Penang, Pulau Tikus, 10250, Penang, Malaysia |
| Tel: | 042278811 |
| Working Hour: | Mon-Sat: 12:00 pm-3:00 pm, 6:30 pm-10:00 pm |
| Tax: | 10% Service Tax |
| Last Visit: | 20150919 |