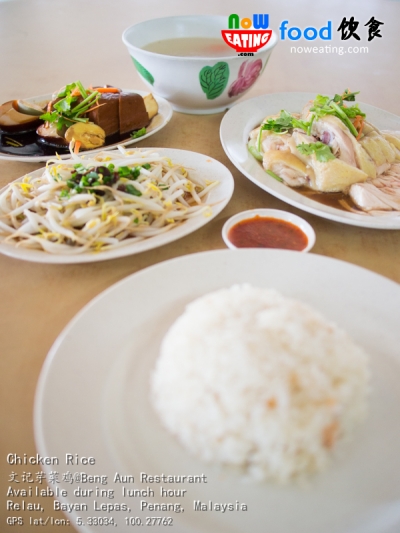 Chicken rice is a type of hawker food so common that you will find it in almost all coffee shops. The birds can be either roasted to deep golden brown or boiled to retain tenderness. Today, we bring you to a stall selling boiled chicken 白切鸡 which is probably the best in Bayan Lepas, Penang area.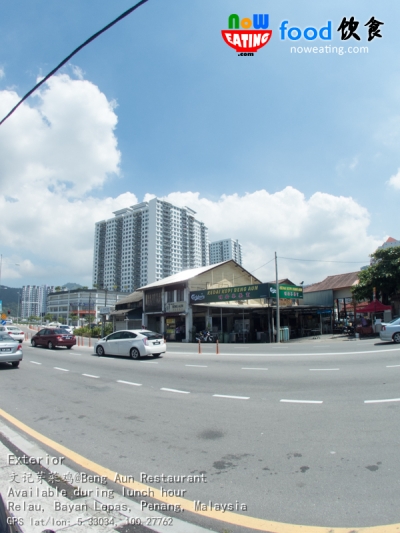 The chicken rice stall is called 文记怡保芽菜鸡. There is no official English name for it so for this article, we call it "Boon Kee". It is the only stall in Kedai Kopi Beng Aun 明安茶餐室 selling food during lunch hour. In the evening, the same premise is serving Chinese "Choo Char". Parking-wise, you may try your luck behind the restaurant via an alley to Relau Tua Pek Kong Temple.
Bean sprout chicken rice 芽菜鸡 is originated from Ipoh with its signature fat bean sprout, probably due to better water quality surrounded by limestone hills. However, as the time went by, we observed that the food quality was degraded, be it the chicken or the bean sprout itself. The once legendary bean sprout chicken rice of Ipoh is no longer the privilege of Ipoh as you can find the same food with same quality in other parts of Malaysia.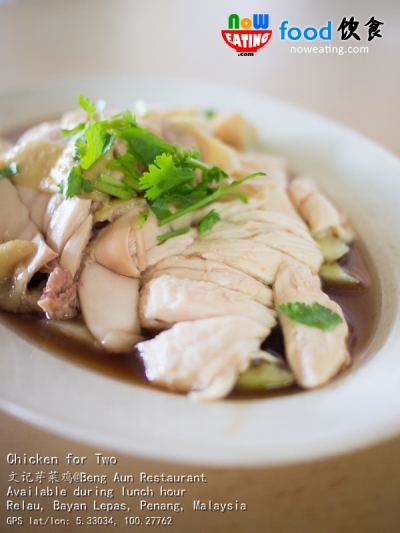 Note that the stall only offers boiled chicken instead of roasted chicken commonly found in the island. A plus about Boon Kee is that they are using "Bearded Chicken" 胡须鸡 – a genetically bigger and "fatter" species of meat chicken.
Another plus is that the Chinese owner is not stingy at all in term of portion. Two of us usually had difficulty in finishing a plate of chicken for two so we ended up just ordering single portion. Note that the bean sprout is ordered separately.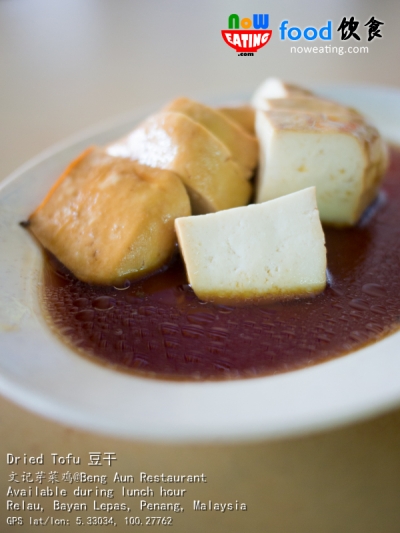 We still remembered our last visit to this stall in which two of us only spent RM7.20 including chicken for one, a piece of dried tofu 豆干, a plate of bean sprout and two plates of rice. Really poor guy friendly.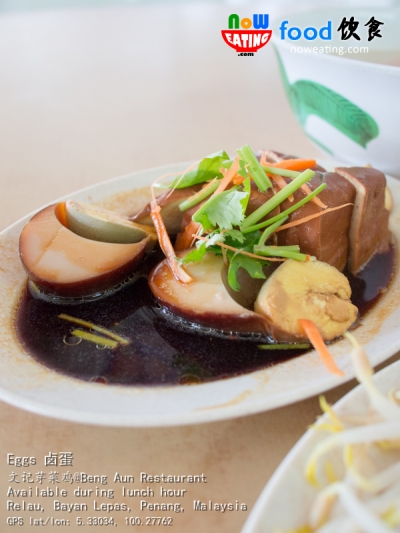 Other than Dried Tofu, Simmered Eggs 卤蛋 is another side dish the owner will ask you to add to complement your meal.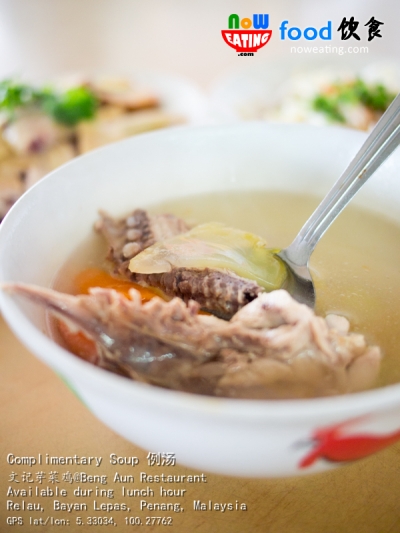 Chicken rice comes with complimentary soup.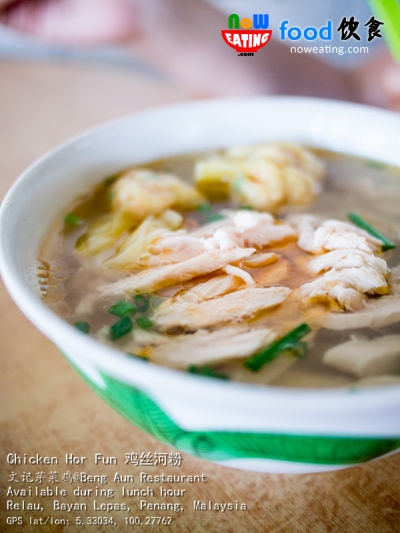 No appetite in rice? Try the Ipoh Style Chicken Hor Fun 鸡丝河粉. Again, it has generous amount of shredded chicken to an extend that you are not sure you are eating Koay Teow topped with chicken, or chicken topped with Koay Teow. Similar to Koay Teow Soup, the broth itself is cooked separately.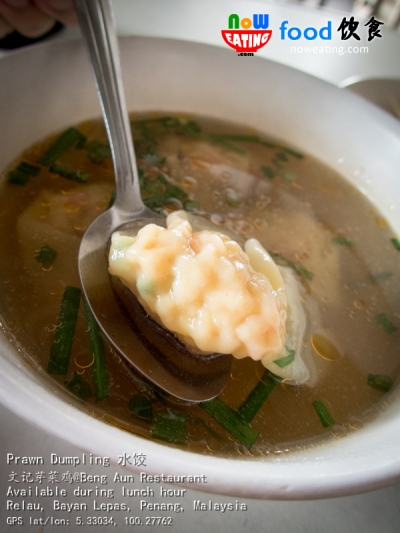 Notice the dumplings 水饺? Yes, the prawn dumplings can be ordered separately as well.  It had been a while since we last enjoying homemade dumplings like this.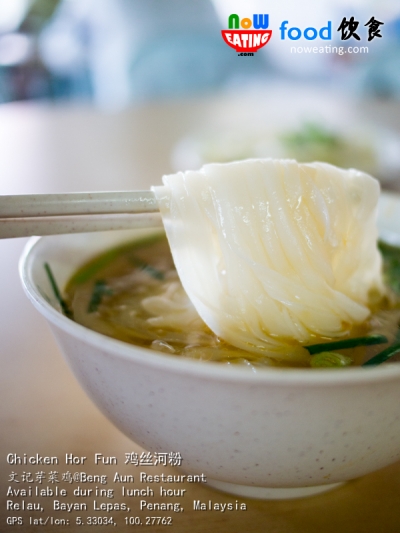 Alternatively, you can just order a plain Hor Fun (Koay Teow) without any topping to go with other dishes. Note that both Hor Fun and dumplings are usually selling fast.
In our own opinion, Boon Kee is probably the best place in Bayan Lepas for boiled chickens. Perhaps the only drawback is that occasionally you need to wait a bit longer as the owner is the only person taking orders and chopping the birds. The chicken rice stall is opened daily during lunch hour and is closed on Monday.
GPS: 5.33034,100.27762
| | |
| --- | --- |
| Place Name: | Kedai Kopi Beng Aun 明安茶餐室 |
| Cuisine: | Chinese |
| Address: | Relau, Bayan Lepas, Penang, Malaysia |
| Working Hour: | Open daily during lunch hour. Close on Monday. |
| Tax: | No service charge, no GST |
| Last Visit: | 20160721 |