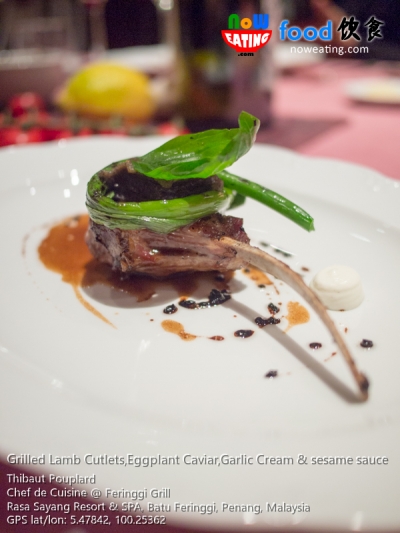 Grilled Lamb Cutlets topped with eggplant caviar, dressed with garlic cream and sesame sauce. So soft and pleasing that it melts in your mouth. This is probably the best lamb we've ever tried and you can grab it at Feringgi Grill in Shangri-La's Rasa Sayang Resort & SPA in Penang.
(Menu available at the end of this article)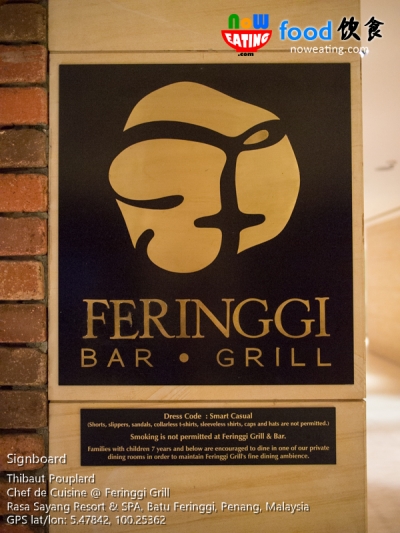 Feringgi Grill – the fine dining restaurant in Shangri-La's Rasa Sayang Resort & SPA can be easily misunderstood as a place for BBQ due to the "Grill" keyword. As a matter of fact, it is a fine dining restaurant in Batu Feringgi since year 1973 and is the one of the oldest fine dining restaurants on the island still in operation.
We recently visited it to try out the new menu introduced by the newly appointed Chef de Cuisine of the Feringgi Grill – Thibaut Pouplard. Chef Pouplard is known for his unique blend of artistic panache, strong business sense and engaging personality. His earliest influence was his grandmother, Andree, who kindled his interest in fine cuisine during his formative years at the Loire Valley region in France. The passion for fine cuisine has taken him to properties ranging from five-star hotels and resorts, to prestigious dining restaurants including InterContinental Hotels in Europe, Middle East, Asia and the Michelin-starred UNICO by Mauro Colagreco in Shanghai, China.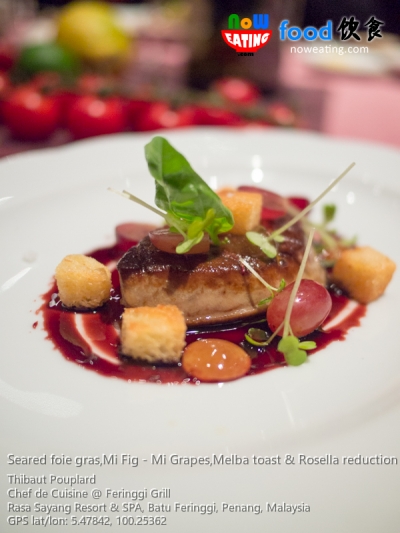 "New creative cuisine, French traditional food with a touch of modernity and creativity" is Chef Pouplard's motto in culinary.  The Seared Foie Gras is a great example in which Chef Pouplard turns the popular and well-known delicacy in French cuisine into a luxury food with well-balanced taste.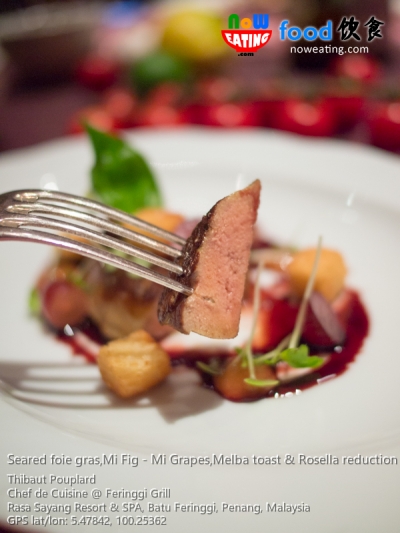 The addition of grapes and Rosella reduction add sweetness and acidity to the rich foie gras, while the Melba toast adds crunchiness to the silky texture of foie gras. Quelle bonne idée! (What a clever idea!)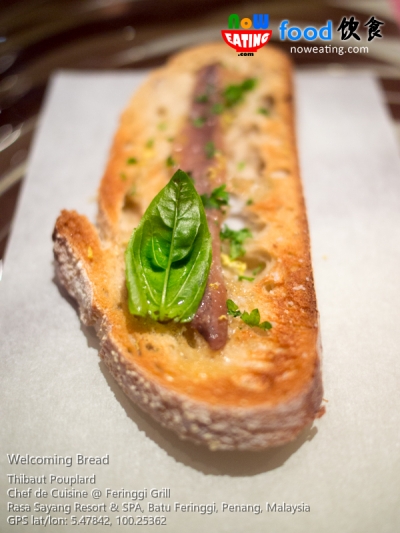 Our menu in that evening was actually a special Degustation Set Menu prepared by Chef Pouplard containing 10 items, from Amuse-bouche to Petits fours. Some of them are available in current menu. First of all, we were welcomed by… Welcoming Bread including toasted sourdough topped with marinated anchovy.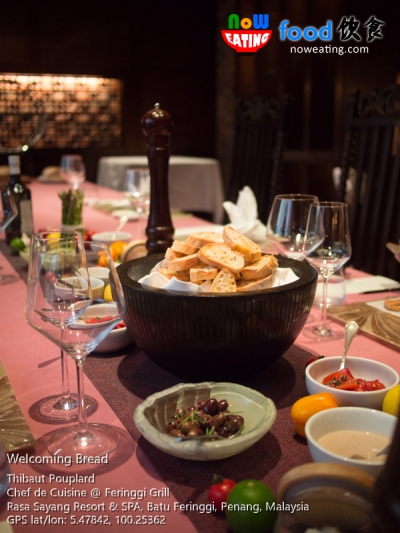 Not satisfied with a single slice? Do not worry as assorted breads and spreads are available on the table. All these settings can be arranged with Feringgi Grill.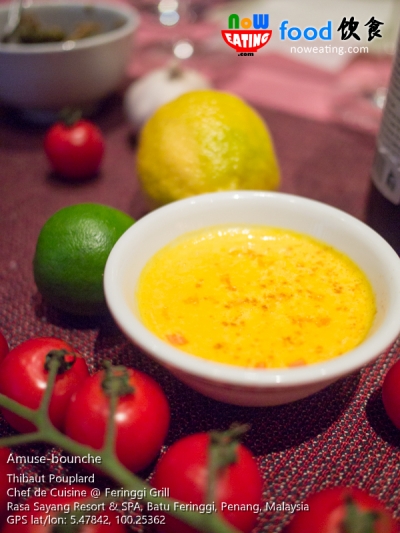 Amuse-bouche is a France term meaning "mouth amuser". Unlike appetizer, it is usually not in the menu and is served gratis by the chef. Our Amuse-bouche of the evening was creamy orange and carrot soup – a delightful dish to begin with.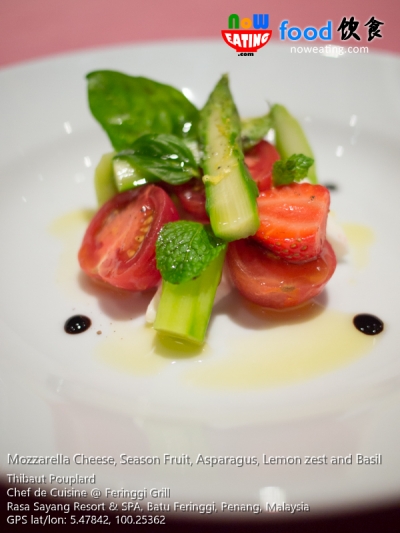 Another delightful dish was the salad made of Mozzarella cheese mixed with season fruit, asparagus, and basil with a touch of Lemon zest. Definitely an appetizing and colorful starter.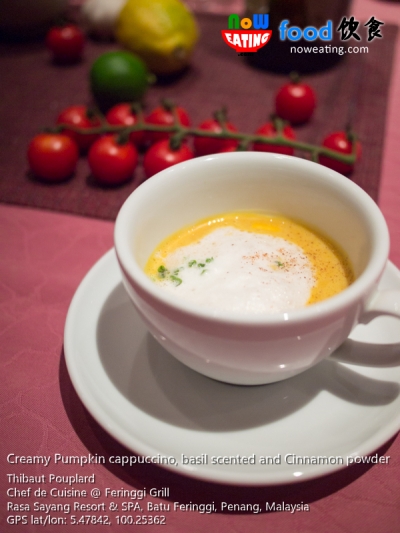 Pumpkin Cappuccino (RM18) – Unlike ordinary pumpkin soup, the creamy soup is infused with herbs such as basil and cinnamon powder to make it more aromatic to enjoy.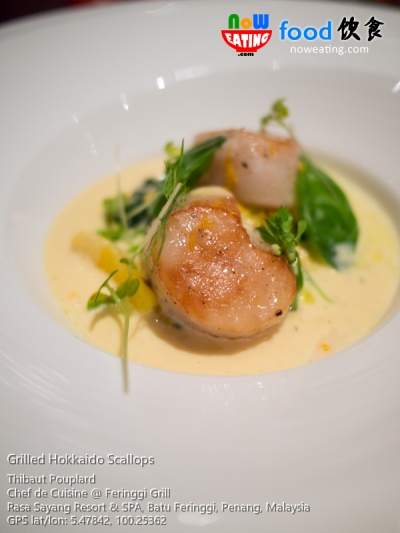 As for the main course, other than foie gras and lamb cutlets as mentioned, Grilled Hokkaido Scallops is another wonderful dish. Hokkaido Scallops are world renowned for its freshness and high quality. It tastes heavenly good when mixed with spinach, vegetables, orange segment and saffron & citrus sauce from Chef Pouplard's kitchen.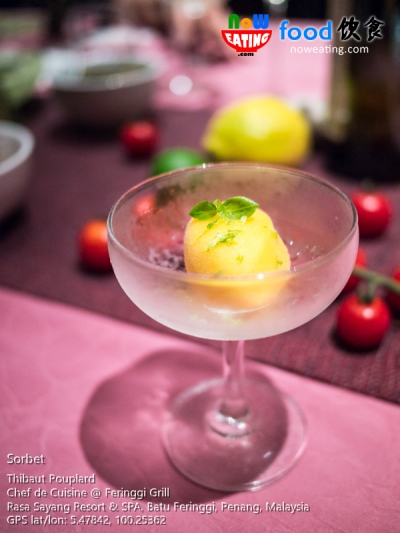 We paused our meal with mouth washer – Sorbet made of fresh mango with lime zest.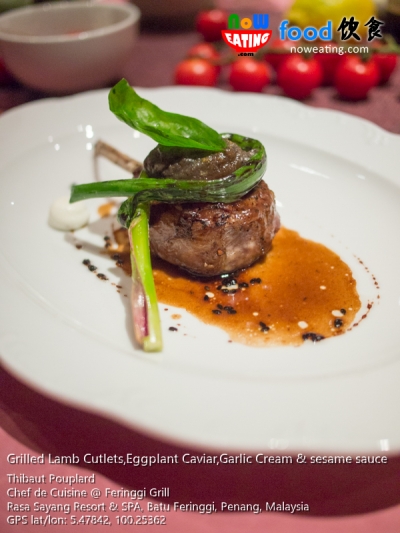 The best among the best? Grilled Lamb Cutlets, of course.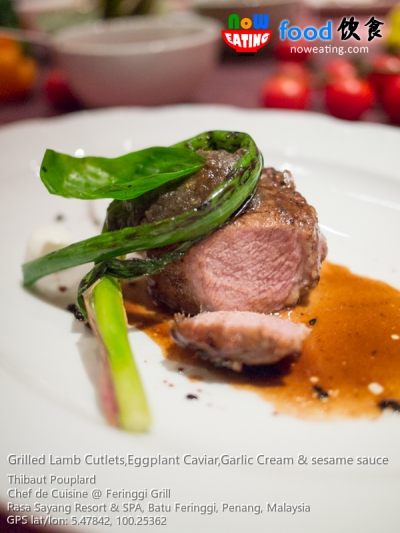 Tender, juicy minus the gamy taste, it is simply the best lamb in the region thanks to creative Chefl Pouplard and Feringgi Grill offering many opportunities for experimenting and incorporating an array of local spices, citrus, fruits, vegetables from Cameron, Genting Highland or even other provinces.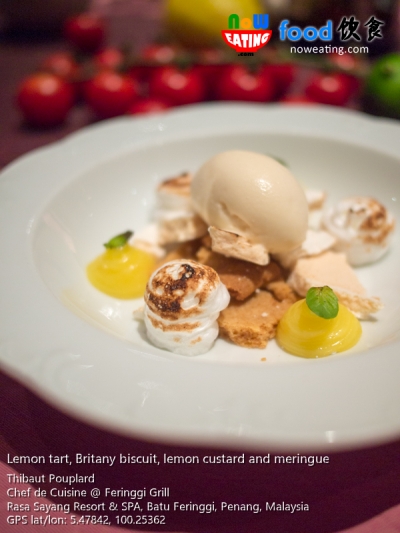 Our desserts of the evening was Lemon Tart, Britany Biscuit, Lemon Custard and Meringue (RM38) with moderate sweetness and a taste of natural lemon. A truly creative dish.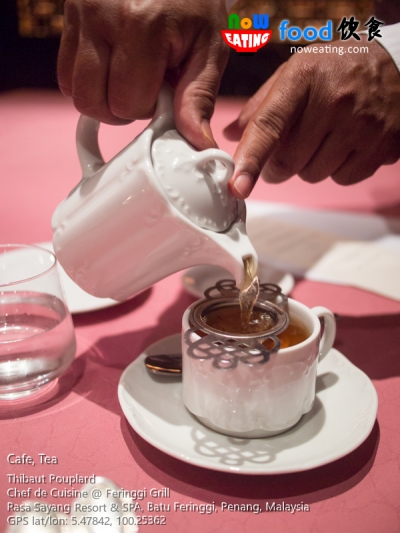 Coffee, tea, or me?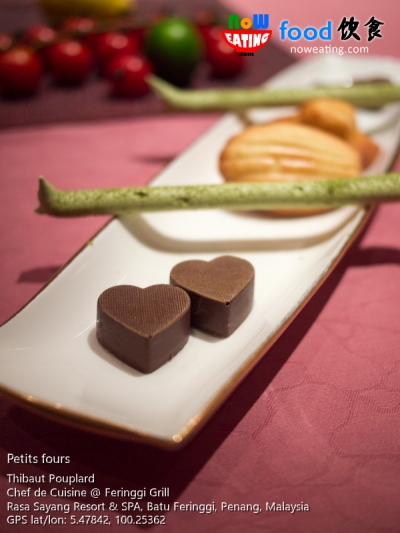 We ended our evening with sweet memory – petits fours – another French term meaning "small oven" usually consisting of small confectionery and savory appetizers.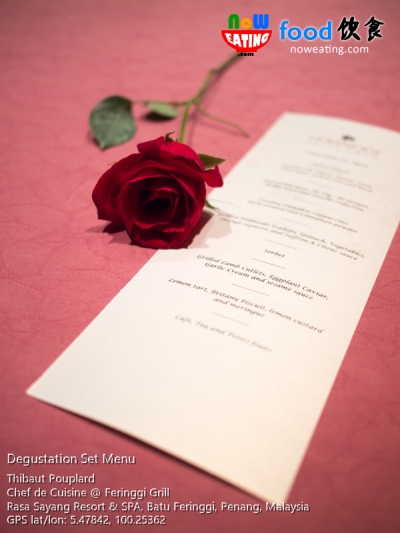 As a whole, Feringgi Grill is a great fine dining place in Penang and is ideal for special events such as anniversary celebration and marriage proposal.  The friendly and experienced staffs are more than happy to help you in arranging the event.
Feringgi Grill is opened daily for dinner from 6:30pm until 10:30pm. Dress code is smart casual (e.g. long pants and covered shoes for men). Smoking is not permitted. For reservation and more information, kindly call +604-888 8888.
| | |
| --- | --- |
| Place Name: | Feringgi Grill |
| Cuisine: | Western |
| Address: | Shangri-La's Rasa Sayang Resort & SPA, Batu Feringgi, Penang, Malaysia |
| Tel: | +604-888 8888 |
| Website: | www.shangri-la.com |
| Working Hour: | 6:30pm-10:30pm daily |
| Tax: | All prices inclusive 10% service charge and 6% GST |