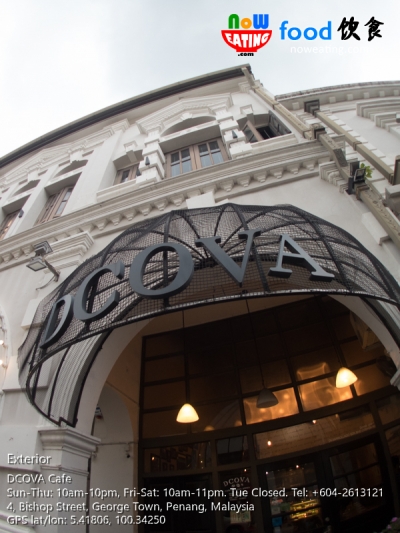 About six months ago, DCOVA (GPS: 5.41806,100.34250) introduced two new items (Teriyaki Tori and Ebiko Alfredo). Today, DCOVA completely redesigned its menu and at the same time, introduced more items to indulge customers with more pasta and beverage. We recently visited it for its preview session.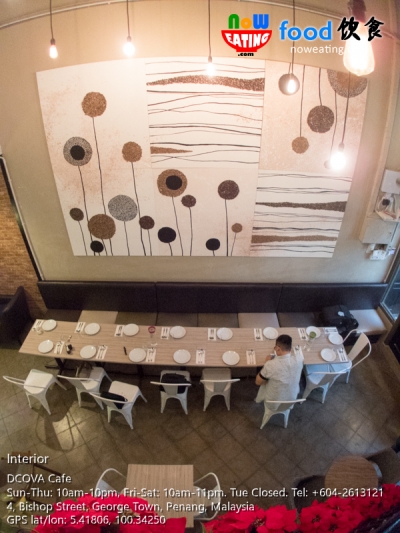 DCOVA is well-known of its pasta and coffee since DCOVA first opened its door more than two years ago. Located at Bishop Street with banks surrounding the area, one may need to spend little effort in finding parking space especially during office hour. The cafe is opened daily from 10am-10pm daily and is closed on Tuesday. On Friday and Saturday, operation hour is extended to 11pm.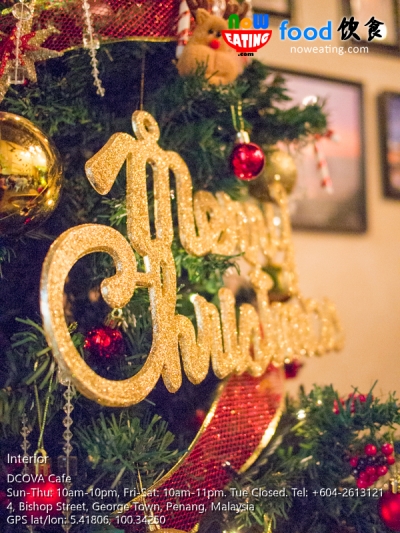 It was a raining evening when we arrived at the cafe. We parked our car near Maybank (a street away) and walked all the way to the Bishop Street. Compared to our last visit, the cafe now has Christmas feel thanks to staffs' hard work in decorating the interior.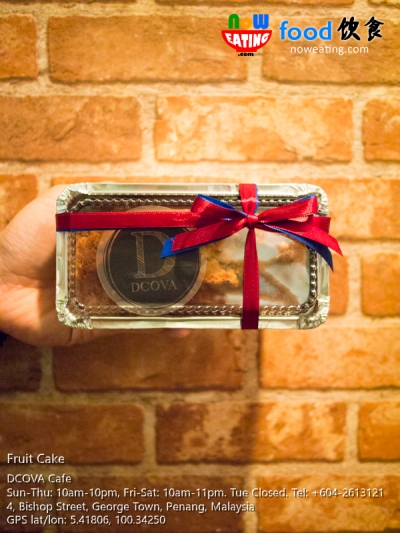 Before we forget, DCOVA is giving away a box of fruit cake with every purchase of RM150 (while stock last). We personally tried the alcohol-infused fruit cake and it was one of the best fruit cakes we've ever tried with moist texture and mild citrus zest (we don't particularly enjoy strong citrus zest in some fruit cake).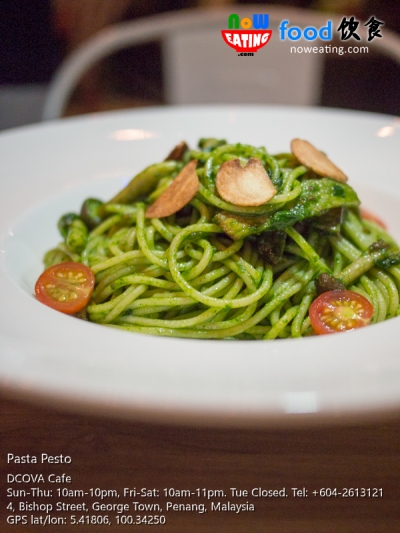 In general, the new menu introduced three new dishes while keeping their best sellers intact. The first new item is Pasta Pesto (RM25.90+) with the spaghetti tossed in their unique blend of pesto sauce made from scratch with fresh basil leaves, garlic and olive oil. With back back bacon thrown in, you are in for additional zest.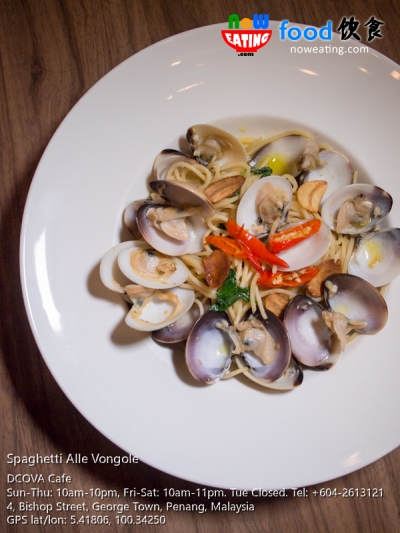 For clam lover, do not miss the new Spaghetti Alle Vongole (RM27.90+) – a sublimely simple Italian pasta dish made of generous amount of clams, garlic, olive oil with added chili padi for a dash of local flavor and oomph.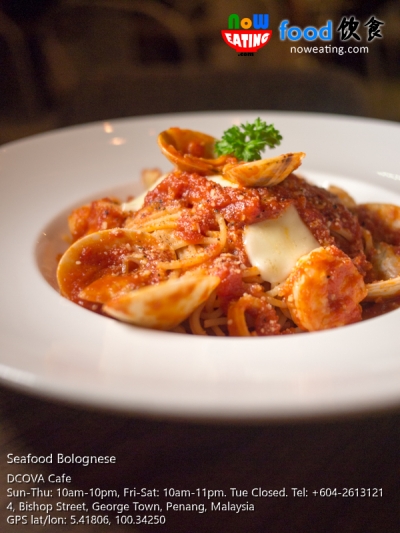 The new items basically tried to fill in the gap DCOVA created in its first menu. While Riz Alnero Di Seppia (squid ink spaghetti) and Carbonara DCOVA remained as their best sellers, the cafe added in traditional Seafood Bolognese with homemade Bolognese sauce.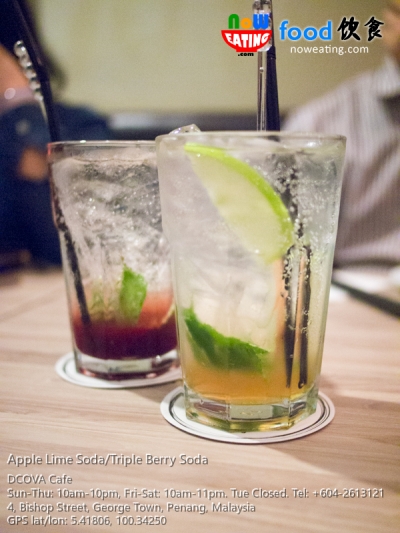 DCOVA also introduced few sparkling juices in its new menu, such as Apple Lime Soda and Triple Berry Soda (Price is not available when this post is written).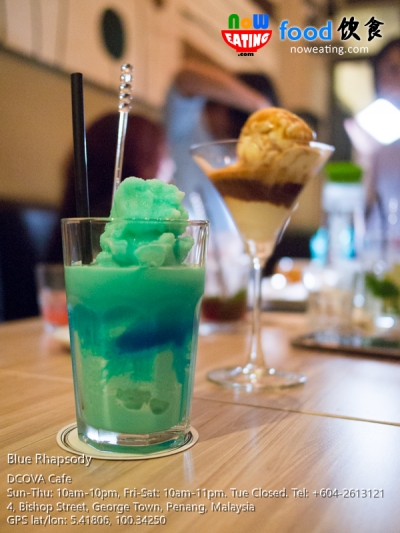 A new ice-blended beverage is also added – Blue Rhapsody with lemonade, orange peel, vanilla ice cream, fresh milk, and yogurt as secret ingredients.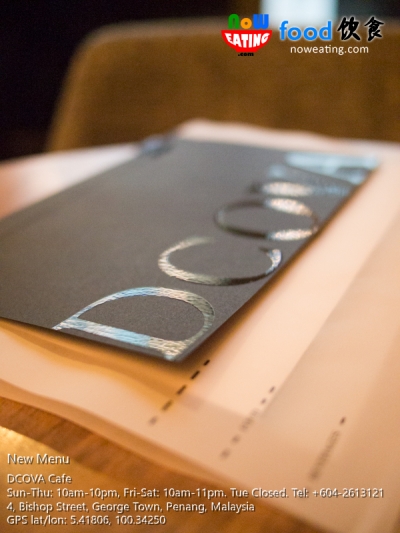 As a whole, DCOVA new 2017 menu is definitely a much-improved version to cater for customers of different age group. For readers who missed our previous posts, kindly refer to the link below:
| | |
| --- | --- |
| Place Name: | DCOVA |
| Cuisine: | Western |
| Address: | 4, Bishop Street, George Town, Penang, Malaysia |
| Tel: | +604-2613121 |
| Working Hour: | Sun-Thu: 10am-10pm, Fri-Sat: 10am-11pm. Tue Closed. |
| Tax: | 6% GST |
| Last Visit: | 20161118 |